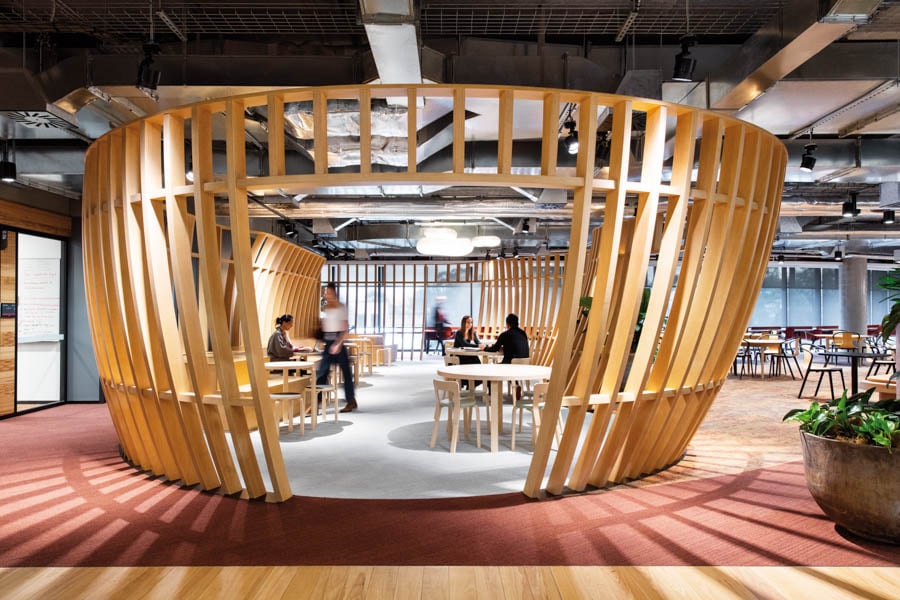 September 4, 2020
A Financial Campus in Sydney Takes a Holistic Approach in its Pursuit of Sustainability
Woods Bagot's design for Axle, a new office campus for the Commonwealth Bank of Australia puts sunlight—and sustainability—front and center.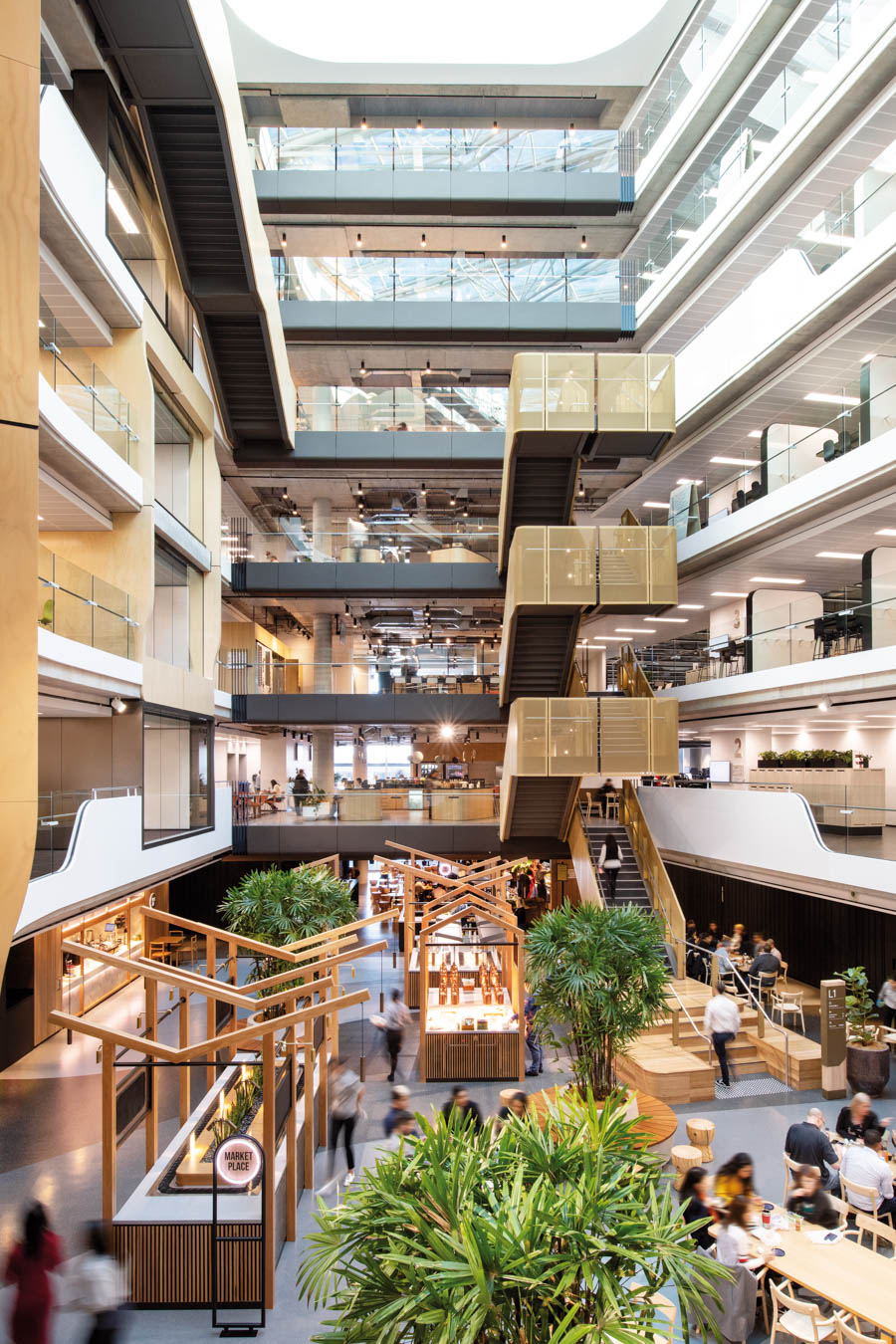 ---
It's an understatement to say that Australians love their sunshine. Part of a culture that thrives on its connection to the outdoors, antipodean architecture has long prioritized access to natural light.
Axle, the new campus for the Commonwealth Bank of Australia, goes beyond delivering this amenity: It also harnesses that sunlight to power the building itself—one of myriad sustainable threads integrated into its design to make it one of Australia's greenest workplaces.
Designed by fjmt studio with interior fit-out by Woods Bagot, Axle is the first commercial building to open in the South Eveleigh precinct, a rising tech and start-up hub on the site of historic railway workshops on Sydney's outskirts. The 452,000-squarefoot building incorporates two large plates anchored by a top-lit atrium.
---
More from Metropolis
---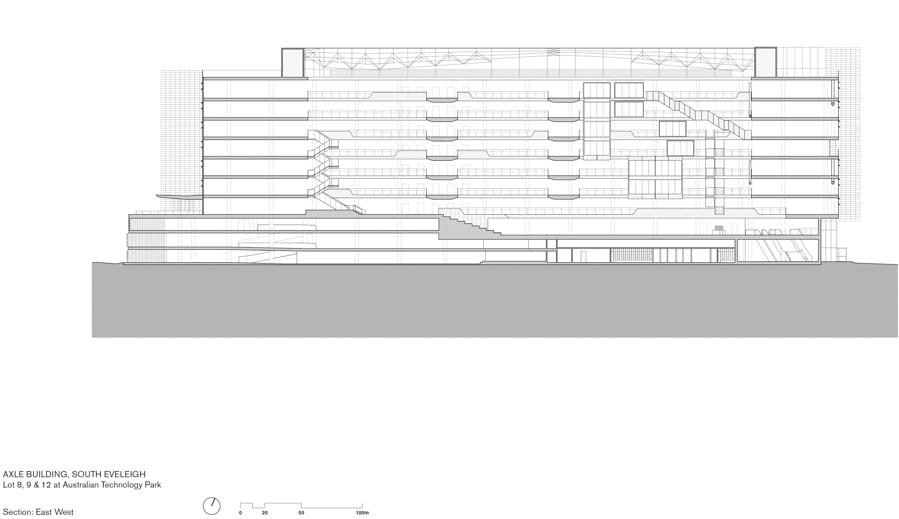 ---
"Axle brings together the long eastwest alignments of the adjacent historic railway workshops with a fluid, curvilinear form inspired by the landscape of the adjacent park," says Sean McPeake, project principal and head of architecture at fjmt. "These forms are interlocked in a dynamic embrace opening and closing, with natural light drawn in between them to fill the workspaces below."
The seven-story structure's environmentally sustainable bona fides have earned it abundant accolades from the Green Building Council of Australia and NABERS, an environmental performance rating system.
So how, exactly, does all that successfully translate into a human-centered smart building accommodating around 5,300 employees?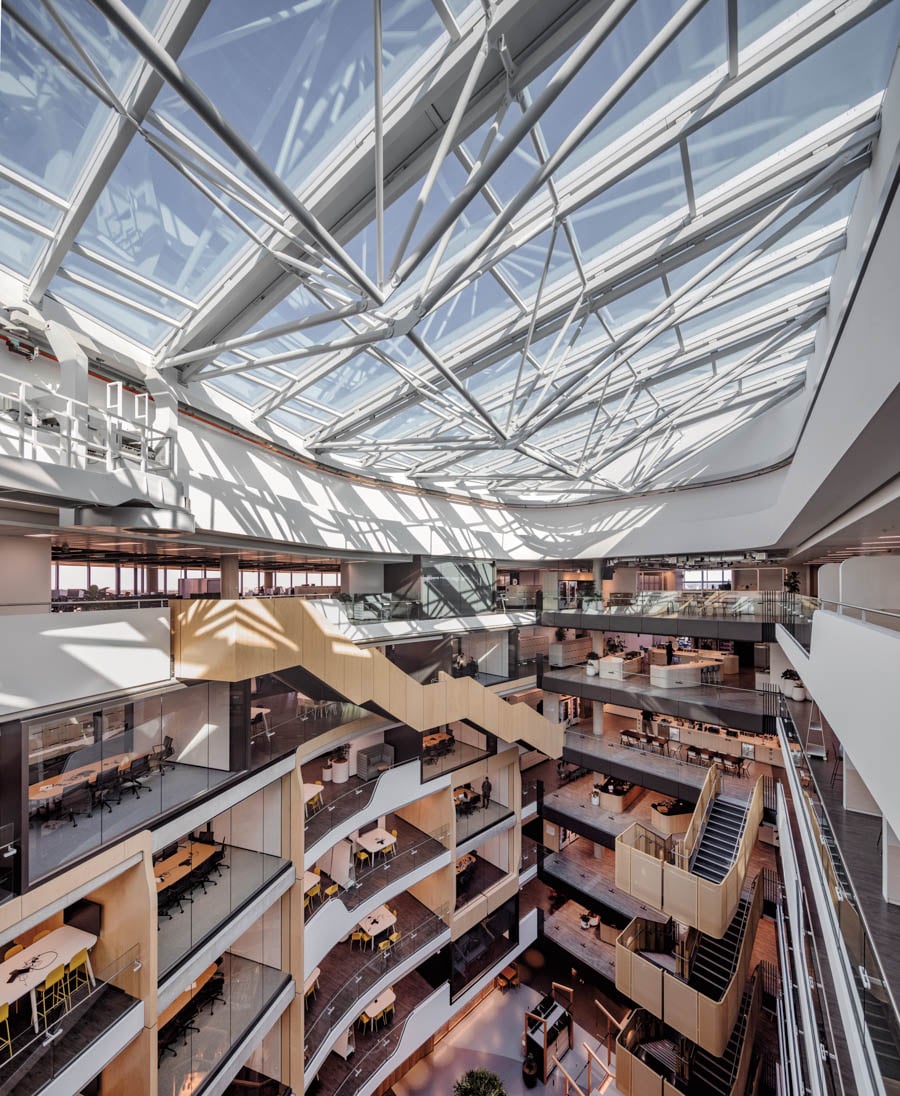 ---
Let's start with that sunlight. A rooftop photovoltaic system of 646 solar panels generates approximately 400,000 kWh of renewable energy, eliminating approximately 328 tons of carbon dioxide–equivalent emissions from grid-supplied electricity. Parts of the building—which is currently open 18 hours a day, seven days a week to accommodate the bank's call centers—can be powered down when not in use.
Energy- and water-efficiency initiatives dominate Axle's mechanical, electrical, hydraulic, and vertical transportation services, from rainwater harvesting and reuse to high-efficiency plumbing. Along with daylighting, the building boasts a 100 percent fresh air rate that eliminates pollutants and the use of recycled air. And these conditions don't just improve the well-being of Axle's human occupants—they also allow its ecosystem of more than 4,000 plants to thrive.
---
"The fact that the building has strong aspirations for how it contributes to community, and to sustainability, made it much easier to translate that into the interior components," says Woods Bagot principal Amanda Stanaway.
The base building comprises recycled concrete, postconsumer recycled structural reinforcement, and FSC- and PEFC-certified timber. Blinds throughout the campus are crafted from ecofriendly fabric woven from recycled materials. Similarly, the building's acoustic insulation contains 80 percent recycled fiber content from postconsumer PET packaging, such as empty drink bottles.
Using recycled materials brought a humble tactility to the interiors, Stanaway says. "Because it's recycled, you have to accept the imperfection. The timber has knots in it, the grain is not always identical, the color is not always identical. But that variance is actually very much a part of creating a human-centered outcome."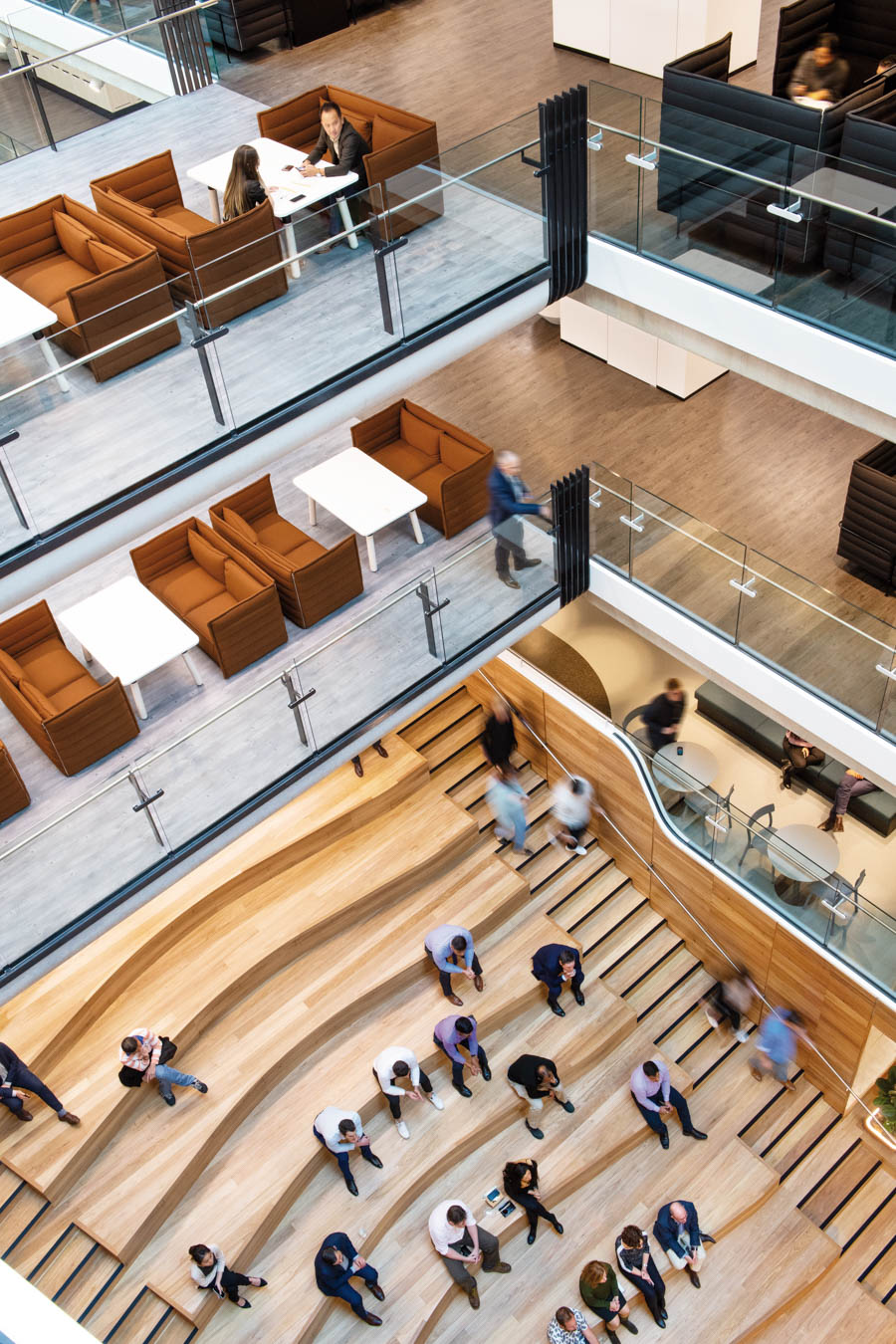 ---
Axle's focus on occupant well-being also earned it a Leesman+ certification, which measures how much employees feel that their workplace environments support their activities. Though expansive, the building is designed as a series of interconnected, human-scaled spaces. Flexibility runs throughout—there are no assigned desks, but employees have access to lockers for stowing away personal items, as they might transition to different workspaces throughout the day. And two terraces provide space for staffers to catch some rays outdoors. The campus also includes a childcare center, a wellness center, and a rooftop garden with 2,000 edible and medicinal plants overseen by the local indigenous community.
But what makes the building so calming, Stanaway says, is that sunshine. "The level of light dapples and moves as the course of the sun moves throughout the day. That makes it feel a lot more natural than a very homogenous, perfect interior environment.
You may also enjoy "Game Changers 2020: Kevin Kimwelle and ICON on Social Equity in Building"
Would you like to comment on this article? Send your thoughts to: [email protected]
---
Register here for Metropolis Webinars
Connect with experts and design leaders on the most important conversations of the day.