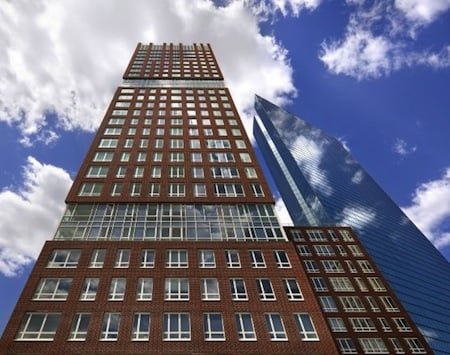 September 6, 2013
All Concrete, No Steel? Rethinking High Rise Living in New York CIty
While other cities favor steel structures for apartment living, the Big Apple is not so welcoming to the material
Behind every great apartment building is a structural system, and in cities it's usually steel or concrete. But not in New York. For decades, the city's residential high rises have largely favored concrete architecture.
Issues surrounding trade organizations and perceptions about steel's efficacy for residential applications are at play here. Clients question its cost, while architects have concerns surrounding floor-to-ceiling heights, acoustics, and aesthetics. But are they warranted? Cities around the world are building high-rise residential and mixed-use projects with steel, creating structures that have long-span spaces and tenant flexibility—traits that have become ubiquitous in office buildings, and seem to make sense for large residential developments as well.
In Boston, the Robert A.M. Stern Architects-designed Clarendon is a 32-story, 400,000-square foot structural steel residential tower with 177 apartments and 103 condominiums, as well as a mixed-use program including street-level retail and below-grade parking. Set diagonally from I.M. Pei's John Hancock Tower, the building's setbacks on the north and east faces create green spaces and mitigate wind conditions created by its neighbor.
---
More from Metropolis
---
Nearby, in Cambridge, CBT Architects has been working on the three-phase Watermark development a block from the Kendall MIT subway and next door to Genzyme's global headquarters. Also built with a structural steel system, the mixed-use plan will create a new technology-focused neighborhood of residential, office, retail, and performance space.
Architects are creating aspirational structures in cities around the world, helping to shape future economic outlooks. Mixed-use developments are being constructed with steel to allow plans to adapt over the long term; if and when office and retail tenants change, structures require little demolition to accommodate new spatial arrangements.
New York could learn from these models as it faces its own technology boom and population increase—predictions indicate the city will add one million more residents by 2040. Though prized for its architecture, the city may have to look elsewhere for examples of how to house the coming urban influx.
Metropolis, the Steel Institute of New York, and the Ornamental Metal Institute of New York invite visionary ideas for  the residential high-rise of tomorrow. To help balance out NYC's building materials preference, enter the Living Cities Design Competition.  More info here: www.metropolismag.com/living-cities
Jennifer Krichels writes about architecture and design for a range of national and international publications. She has been an editor at The Architect's Newspaper and Metals in Construction magazine and advises architecture and design organizations on internal projects including magazines, books, web content, educational events, and design competitions.