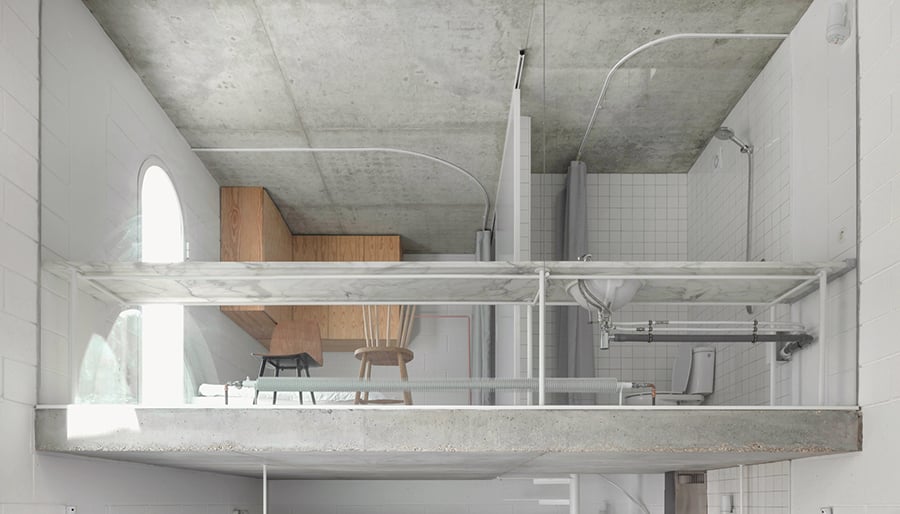 July 9, 2019
A Dramatic Glass-and-Concrete Interior Spreads Light Throughout This Lisbon Dwelling
The building's full-height void is defined by three partial floors that gradually increase in size—a configuration that resembles architectural cross-section.
---
In the same way that derelict buildings become blank canvases for graffiti, the economic crisis that emptied swaths of Lisbon and Porto, Portugal, a decade ago left blocks of empty buildings ripe for creative intervention. That emptiness—and a newly flourishing Airbnb economy—has attracted a generation of architects rebuilding the cities' historic centers. Among these is Swiss-born Daniel Zamarbide, who recently built his four-story Dodged House in Lisbon with Leopold Banchini. The architects kept "her eyes closed" throughout construction, Zamarbide says: The window openings on the street-facing frontage are filled in with concrete, recalling the shuttered facades of the past decade's economic ruin.
A bright, full-height void defines the interior, flanked by living spaces on three polished-concrete partial floors, resembling an architectural cross-section. The 430-square-foot ground level connects by a white spiral staircase to the floors above, which project farther into the void as they ascend. "The section and internal void work as a space where light travels around and produces a very calm sense of interiority," Zambaride says, "but also, from the rooms, it becomes a sort of interior courtyard." The result—a mix of architecture and emptiness—enables light to move throughout with great expression.
The architects combined locally sourced materials—Portuguese white marble from the eastern municipality of Estremoz and white square tiles from Lisbon—with straightforward custom elements, such as the book-matched pine plywood cabinetry in the bedrooms and living room. "All materials are bare, exposed, presented so we live with them," Zambaride says. One rather unusual element, an arched floor-to-ceiling glass door, opens along a central axis onto a patio paved with Portuguese calçada cobblestone.
---
More from Metropolis
---
There's beauty in the simplicity of the architects' composition, but especially in how that simplicity allows space and light to freely intermingle throughout the house. "The goal is quite simple," Zamarbide says, "to create a beautiful, practical living frame, a place for thinking and reflecting."
You may also enjoy "Cool Customer: With Restrained Finishes and Custom Craftsmanship, This Bermuda Boutique Cultivates a Relaxed Atmosphere."
Would you like to comment on this article? Send your thoughts to: [email protected]