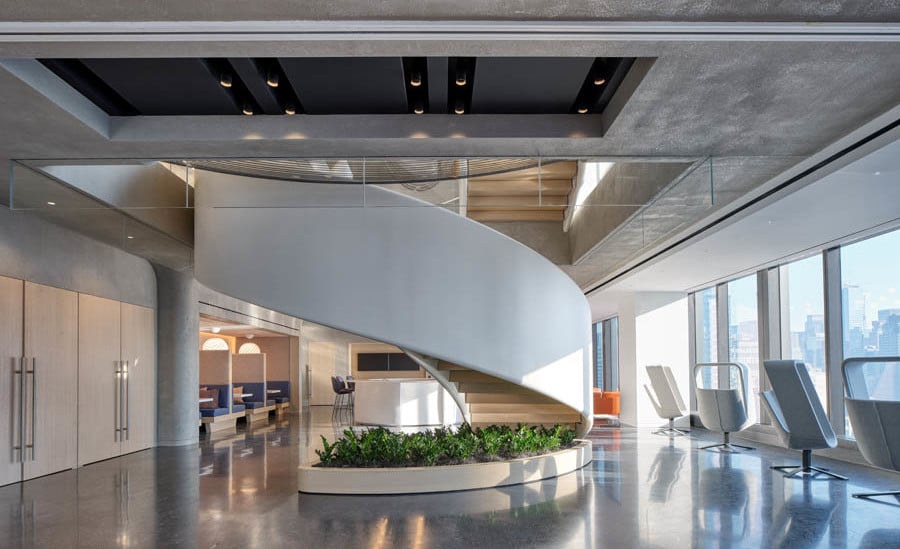 October 24, 2019
How Data Shaped a Law Office in New York City
For BSF's workplace in Hudson Yards, Schiller Projects worked with their client to optimize space for productivity—without sacrificing dramatic design gestures.
Suits aren't the only things tailored for the lawyers at Boies Schiller Flexner (BSF)—now their offices are, too. When the international law firm decided to move out of their dated midtown Manhattan office in 2015, the data-driven design consultancy Schiller Projects worked closely with BSF to reimagine their workplace. (New York City–based Spacesmith was also a collaborator, acting as executive architect on the project.) Previously inhabiting a space with limited daylight and an isolating floor plan, BSF now occupies a four-story outpost at 55 Hudson Yards, designed uniquely for the company's culture and workflow. 
Stepping off the elevator onto the 19th floor of 55 Hudson Yards, you can already catch a glimpse of the grandeur of the interior concept. A custom-made artwork, called The Ribbons, ripples from the ceiling alongside a spiraling staircase. The city skyline acts as a backdrop past the floor-to-ceiling windows, which are framed by the orthogonal platform of the office's mezzanine. This curvature continues throughout the office's butterfly-shaped layout.
Schiller Projects' permanent offices, also recently relocated to be in closer proximity to their client, sit just a floor below. The design team spent over 17 weeks surveying and running workshops at the law firm's midtown location to inform design solutions that would streamline work in the new space. "Our solution is dialed in to who they are and how they work," explains Schiller Projects founder Aaron Schiller. Through the survey, the team determined that an extraordinarily high percentage of meetings—90 percent—were impromptu. Accordingly, the architects gave the new offices a greater distribution of small meeting rooms, where workers can hold spontaneous sessions to talk through cases or ideas.
---
More from Metropolis
---
Traditionally at law firms, it's partners who enjoy the window views and daylight afforded by corner offices, with associates sitting in at the center of the workplace footprint. Schiller Projects' data showed that these single-occupancy offices fail to optimize space, so BSF's new digs flips the equation. There, partners are situated centrally, and meeting rooms, communal lounges, and employee workstations look out over the Hudson River and the Manhattan skyline. 
Since the tenants moved into their Hudson Yards office in January of this year, Schiller says the workers are self-reporting a 60 percent higher turnout rate, even though lawyers aren't required to come into the office. This statistic might not come as a shock considering the workplace's new host of amenities, including conference lounges and a coffee bar, which provide more opportunities for coworkers to interact. According to Schiller, a BSF attorney who previously knew only a handful of people at the law firm says they have met everyone there within three days at the new office. "So the new office had a huge impact from day one," remarks Schiller. "It's a whole different energy with a better sense of community." 
You may also enjoy "Hospitality Ward: A Centuries-Old Lyon Hospital Is Converted into a Five-Star Hotel."
Would you like to comment on this article? Send your thoughts to: [email protected]