August 3, 2017
Design Advocates: 5 People Making American Cities Better for All
American cities are in the midst of an urban renaissance, pursuing design, sustainability, and social good. Here are five people helping architects and designers to make our cities better.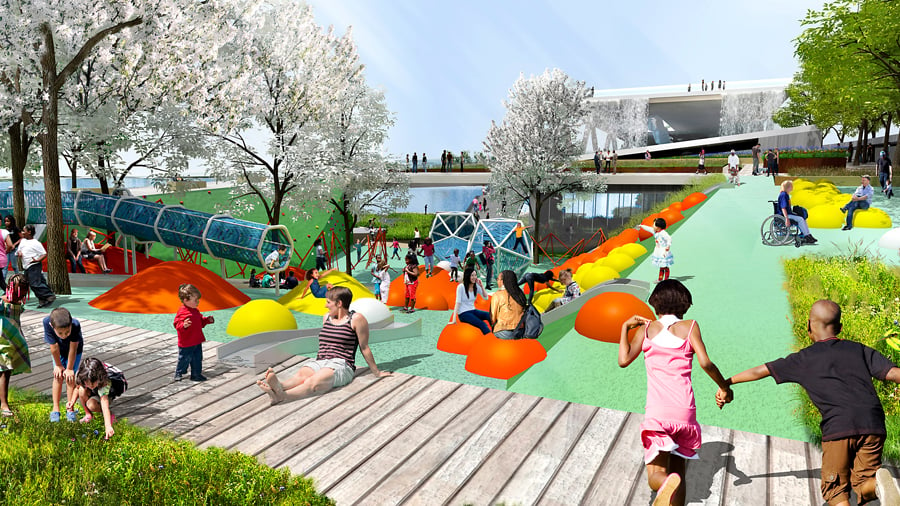 At the turn of the 20th century, American urban planning and architecture was defined by the City Beautiful approach—what Daniel Burnham referred to as "municipal art"—which emphasized grandeur and linked public spaces with civic morality and virtue. Those values are now being reimagined in a 21st-century version of the City Beautiful movement. Instead of desiring to upstage Paris or London, American cities are engaging in friendly competition with one another. Whether it be in New York City, Atlanta, or Little Rock, Arkansas, policy makers and private enterprises are seeing the benefits of investing in urban amenities that will create desirable places to work and play. "We're seeing that good urban design and good planning is not a partisan issue," says Trinity Simons, executive director of the Mayors' Institute on City Design. "Cities may couch the reason why they're investing in these projects differently, but at the end of the day they're talking about the same thing."
And unlike City Beautiful, this urban renaissance is pursuing a holistic model of development, weaving together great design with environmental sustainability and social equity. "The era of single-objective funding is over—every urban design project now has to have multiple outcomes," Simons says. Across America, in Newark; Washington, D.C.; Minneapolis; Houston; and Santa Fe, New Mexico, a diverse group of design advocates is pursuing projects that position their cities as globally competitive while improving local residents' quality of life. And these projects, from large-scale park systems to design-conscious midmarket housing to innovative arts venues, are becoming part of a new narrative and identity for these places, and raising the bar for urban centers everywhere. "City residents are now demanding a certain array of amenities—fabulous public spaces and cultural offerings," says NBBJ principal Alex Krieger. "It's this accumulation of amenities that will make cities more attractive."
Bridge Building in Washington, D.C.
---
More from Metropolis
---
Scott Kratz is a resident of Barracks Row, one of two very different communities on either side of the Anacostia River in Washington, D.C., that will soon be relinked literally and metaphorically by an old freeway bridge that is being transformed into the multiuse 11th Street Bridge Park. Kratz is the director of the park, which is a project of the nonprofit Building Bridges Across the River. He served as a volunteer on the project for two years before leaving his role as the vice president of education for the National Building Museum.
"This bridge is an opportunity to put all of the lessons I learned from eight years at the National Building Museum, working with some of the leading thinkers in city design—folks like Jan Gehl and the High Line founders Joshua David and Robert Hammond—to bear on a single project in my hometown," he says.
The final design of the project, by OMA and OLIN, builds on input from hundreds of meetings with members of the community on both sides of the river. When completed in late 2019, the park—with a distinctive X shape—will support multidisciplinary uses, including a performance space, an education center, a plaza for farmers' markets and festivals, lawns, urban agriculture, and public art that speaks to the area's rich history.
Also on top of Kratz's list of priorities in leading this project is anticipating and candidly addressing the unintended consequences of rising real estate prices and gentrification that are plaguing similar projects like the Atlanta BeltLine and the High Line. "The big question is, how do you invest in neighborhoods of need without displacing the residents you're trying to serve?" he says. In addition to leading the design, construction, and fund-raising for the project, Kratz and his team have set up a home buyers club for local residents to have a stake in the rising equity of the area, as well as a community land trust. They are also investing in building the skills and capacity of residents so that the $45 million budgeted for the project's construction can be used to hire locally as much as possible.
Santa Fe's Museum Alternative
In a disused bowling alley in Santa Fe, visitors find themselves immersed in a 20,000-square-foot Alice in Wonderland–meets–Salvador Dalí interactive, multisensory, multiroom exhibition. House of Eternal Return is the brainchild of Meow Wolf, a 1,000-plus-member arts collective that is working in cities like Santa Fe; Austin, Texas; and Denver to transform abandoned industrial spaces—think manufacturing facilities, printing shops, and computer chip plants—into large-scale immersive installations. "Architecturally, we want to create buildings that are kind of insane in how they look—the type of thing that only large museums have been able to pull off in urban centers," says Meow Wolf cofounder Vince Kadlubek. These projects have the potential to draw in tourists (Return has already seen over 500,000 visitors and generated a million dollars in profit in its first year), provide significant employment opportunities for the local cultural economy, and position their host cities as creative hubs.
In order to support Meow Wolf's expansion plans into new American markets, the collective has recently purchased a 52,000-square-foot former Caterpillar factory in Santa Fe and plans to add 250 new full-time creative employees to its team over the next five years. Meow Wolf will be investing $750,000 to transform the facility into a state-of-the-art creative manufacturing facility—the scale of which would typically only be found at companies like Disney and Universal Studios.
"Cities are recognizing that there is real value to authentic, creative vibrancy and that it occurs in nontraditional spaces," Kadlubek says. "They're seeing how this energy that happens spontaneously in spaces that go relatively unnoticed can end up creating an attraction and a value to an area or a city as a whole."
Greening Houston
The image of Houston most frequently evoked is one of a massive, sprawling web of freeways. But over the past ten years the city has been undertaking an effort—led by the Houston Parks Board—to redefine itself by its natural landscape. "A big impetus for this project was the question 'How does Houston stay competitive in the world?'" says Chip Place, managing director of capital programs for the board. "It hasn't necessarily had the best reputation over the years in terms of quality of life, and there's been a recognition among the city's leadership that we have to improve in that regard."
This includes the redevelopment of Buffalo Bayou Park, Discovery Green, and the Memorial Park and Hermann Park Conservancies. But the widest and most ambitious of these initiatives is Bayou Greenways 2020—a 150-mile linear walking and biking trail and park network inspired by the 1912 vision of urban planner Arthur Comey to connect Houston's vast bayou network. The Houston Parks Board worked with landscape architecture firm SWA Group to identify where trails and trailheads would be placed, to establish gateways that tie back into surrounding communities, and to tie the network into the city's new bike infrastructure plan.
"In a city without zoning, Bayou Greenways has become a de facto organizing principle for the city, from a planning perspective," Place says. "Now it's organically acting as a catalyst for open space and other forms of development in Houston."
Minneapolis's Cultural Leadership
The 75th anniversary of the Walker Art Center, Minneapolis's anchor multidisciplinary institution, has provided it with an opportunity to reimagine its grounds and the Minneapolis Sculpture Garden and redefine its relationship to the city. The Walker is nearing the completion of a $33 million redesign that creates a unifying master plan for the 19-acre campus—one that unites cultural and sustainable infrastructure. The entire Sculpture Garden employs a storm water management system (including an 80,000-gallon underground cistern adjacent to the garden's most iconic artwork, Spoonbridge and Cherry, by Claes Oldenburg and Coosje van Bruggen) that is expected to recycle over four million gallons of storm water each year.
The Walker Center redevelopment ties in to larger city planning efforts throughout Minneapolis, with the parks system redoing the city's riverfront and a 1.7-mile corridor of the West Downtown cultural district, all connectively dealing with landscape, programming, and branding. "When all these projects finish by 2018, downtown Minneapolis will be a much greener place through everyone's collaborative efforts," says Olga Viso, executive director of the Walker.
Viso sees this urban initiative as inseparable from her mission at the Walker. "This collaborative spirit has created something that is special and cohesive and integrated and elevates the visitor experience," she says. "It didn't happen overnight—we've been building on 30 years of partnerships between public and private entities in Minneapolis."
Lessons from Newark
Developers are not always seen as the heroes of today's urban development story. But in Newark it is Ron Beit of RBH Group who has taken the initiative, drawing inspiration from an unlikely group as part of his economic revitalization strategy for downtown. "Only 15 percent of the teachers working in Newark schools were actually living in Newark," he says. "The rest had been traveling from all over the region to teach here." Beit's solution: Teachers Village, a new mixed-use community designed by Richard Meier & Partners Architects that combines affordable residences for teachers, three charter schools, a day-care center, and mixed retail.
"It was challenging in terms of financing to advocate for international-quality design for the development, but if you're looking at this project as the starting point of a master plan or redevelopment of a neighborhood, it's worth the effort," Beit says. "We had to create a community and a sense of place on this site—which was previously 92 percent surface parking lot—overnight. From our standpoint the only way to do it was through good design."
Sustainability is built into the development, and it is one of the first in the United States to pursue the USGBC's LEED Neighborhood Development designation. The sixth and final building of the village opened this spring, and RBH is currently leading the development of the Teachers Village model in Hartford, Connecticut, and Chicago.
If you liked this article, you may also enjoy "The High Line Effect: Are Our New Parks Trojan Horses of Gentrification?"