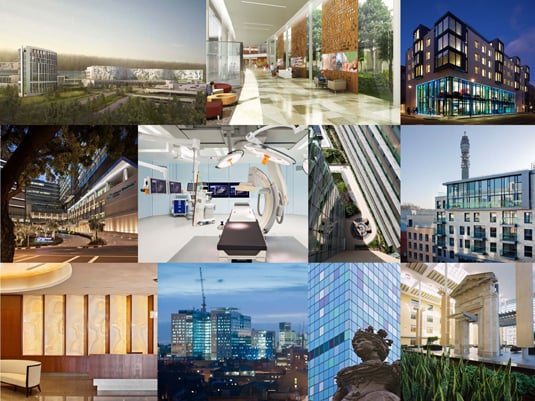 November 7, 2012
Designing Hospitals in Asia With Cultural Sensitivity
How can architects expand Western science and medicine into parts of the world with different cultural and traditional values?Western designers have been designing healthcare facilities across the world since colonial times. For centuries, the flow of medical knowledge — as with the flow of military and financial power — was one-sided. But over the past […]
How can architects expand Western science and medicine into parts of the world with different cultural and traditional values?
Western designers have been designing healthcare facilities across the world since colonial times. For centuries, the flow of medical knowledge — as with the flow of military and financial power — was one-sided. But over the past two decades, as medicine became an important Western export, the world has become flat and this knowledge transfer has turned into a two-way street.
---
More from Metropolis
---
Today, we are participating in the globalization of Western medicine – its science, commerce, and philosophical underpinnings. We see evidence of the regionalization of the delivery of Western medicine with leading healthcare brands such as Johns Hopkins, Harvard Medical International, and The Cleveland Clinic placing their facilities and operations in emerging regions. The healthcare environments that Western architects are designing in Asia Pacific, the Middle East, and India are becoming living laboratories for global cultural integration.
This trend is forcing the convergence of scientific treatment with culturally responsive delivery. I call this "bridging the empathy gap." By this I mean that we must hear what our clients in the countries where we work are not telling us and see what they are not showing us. We need to decipher their hidden messages.
Here are three stories that reveal how even subtle cultural differences can significantly impact the design of hospitals.
A story of rice
Mount Elizabeth Novena Hospital in Singapore contains 333 inpatient beds and comprehensive clinical services. We designed this hospital to deliver 100 percent Western-style medical care, and be one of the best in Singapore. It accommodates local residents and is a destination for medical tourism.
Our design team included architects from HOK offices in San Francisco and New York — two cities where gourmet dining is a familiar concept. Even in these cities, however, people don't expect to have a gourmet dining experience on a hospital bed.
We proposed to place a large kitchen on the lower floor and a reheat kitchenette on each patient floor. To our surprise, the clients voiced a strong disagreement with this arrangement. They pointed out the importance of the dining experience, which is reflected in the quality of the rice: it must be delivered at the right temperature and soon after it is cooked. And so we changed our design to make room for a fully functional kitchen on each patient floor, with a material management system that delivers raw ingredients so that all meals can be freshly prepared. We learned that health in this Singapore hospital would not mean much if good food — the leading quality of life indicator — was not provided.
A story about heads and feet
Also at Mount Elizabeth Novena Hospital, our design team encountered a request for patients to be wheeled out of a room headfirst. It turns out that in this part of the world, moving a patient out of a room feet-first symbolizes death. We worried that accommodating the 180-degree turn that would be required to move a patient out of the room headfirst would eat up more space. In the end we were able to devise a solution that did not require larger rooms.
A story of cutting to the core of how clients perceive architects
A professor of economics from Yonsei University once told me of his impression that, in new and developing economies, the value of hard goods is more tangible and easily appreciated than the value of design concepts. As a result, architecture needs to be more than just a concept; it needs realistic representations that make it tangible and easily understood.
It is also easier to sell concepts when architects have a clearly recognizable brand. When working with international clients, a powerful brand helps us build confidence in our design solutions.
Western designers can leverage their experience, branded treatment ideas, and use innovative planning tools to develop healthcare environments that produce better patient outcomes for less resources — and that fit each client's unique needs. As a result, the savings they realize can be reinvested  in developing appropriate, culturally sensitive design solutions that allow our clients to deliver outstanding care–and a perfectly cooked bowl of rice.
Henry Chao is a principal at HOK and is based in the firm's New York City office.