April 2, 2019
El Dorado Is Pushing the Edges of Architecture and Public Art
The Kansas City, Missouri practice's continued commitment to the integration of art, architecture, and fabrication has made it endlessly interesting to follow.
---
If you know anything about the architects at El Dorado, it's that they hail from Kansas City. You may not know which Kansas City—Kansas or Missouri—and that there are two may itself surprise you. But since the firm's founding in 1996 in Kansas City, Missouri, the city has in many ways defined El Dorado, just as the office has helped define it. Composed of 24 employees (about 80 percent of whom are architects) who move fluidly between a second-floor studio and a fabrication shop below, the practice has racked up an impressive and wide-ranging portfolio in the metropolitan area, much of it within walking distance of its office in the Crossroads Arts District.
Over the past five years, however, El Dorado (also known familiarly as Eldo) has begun working farther and farther afield, taking on commissions in Seattle, San Francisco, even the Middle East. Project types exhibit a similar range: In Knoxville, Tennessee, the architects are designing a hunter-education facility for the University of Tennessee's Lone Oaks Farm; in Denver, they are nearing completion of a mixed-use project that occupies an entire city block. The latter, whose buildings sport pixelated brick facades, represents Eldo's continuing obsession with deploying prosaic materials in unexpected ways.
The firm's geographic expansion has been "part strategy and part organic growth," says Josh Shelton, one of El Dorado's three principals. Diversifying its clientele was necessary during the Great Recession. But the firm has also gained a reputation for old-school craftsmanship and singular details, from doors to screens to custom-timber-beam connections. Today, Shelton splits his time between Kansas City and Portland, Oregon, where he can more easily oversee projects on the West Coast.
---
More from Metropolis
---
---
If El Dorado's growth follows a trajectory familiar to other small, ambitious studios, it is the firm's continued commitment to the integration of art, architecture, and fabrication that has made it endlessly interesting to follow. Since its earliest days, El Dorado has stretched the definition of architecture, operating variously as an arts organization, an urban design atelier, and a general contractor. "From the beginning, it was design, fabrication, and art," Shelton says, "and it's really been a question of how those things have blended and morphed over the years, but also how they've scaled up."
In 2017, El Dorado hired Hesse McGraw, then vice president of exhibitions and public programming at the San Francisco Art Institute, as a principal. It was an unorthodox move. And yet the architects had seen firsthand the power of enfolding artists into the creation of even the most mundane buildings, most memorably in 2004, when McGraw, then the owner of the Kansas City gallery Paragraph, cocurated a show in a self-storage building in a Topeka, Kansas, strip mall. The result—a series of works that examined the nature of self-storage facilities and the broader sociopolitical issues that surround them—is a "good example of the supercharging that happens when a curator is part of the [process]," says David Dowell, El Dorado's longest-serving principal.
For McGraw, the possibilities inherent in joining a design firm were tantalizing: "The conversation with El Dorado flipped [the role of a curator] on its head to say, OK, what if we're not tethered to a specific institution but rather just doing that work out in the world?"
---
At least one answer to that question now exists two blocks north of the firm's office, at the newly opened Crossroads Hotel. Inserted into a former warehouse and bottling plant for the Pabst Brewing Company, the 131-room boutique hotel, owned and operated by the Chicago-based Aparium Hotel Group, stitches together a four-story brick building erected in 1911 and an adjacent two-story office building, added in 1917.
El Dorado restored the brick facade and converted the street-facing loading bays into oversize windows and a main entry. To bring light into the rooms, which were created by the addition of double-loaded corridors on the upper floors, the architects punched a hole in the center of the structure, creating a four-story atrium wrapped with reclaimed wood flooring and a combination of new and original brick. For structural support, El Dorado added transverse beams and steel tension rods to the existing steel columns and floor beams, creating an Erector Set–like armature for theatrical lights that climb the columns like glowing vines.
Throughout the hotel are vestiges of its former life, like the rusted pulley systems that once operated its bay doors. Even by Eldo standards, the space is raw. "Our job was to be reserved and to strip away," Dowell says. "The interior designer's job was to add layers back on."
There are, of course, custom details, including 131 warehouse-style sliding doors that separate bathroom from bedroom in each room, which Eldo fabricated in-house. But by far the most notable space within the hotel is an open area to the right of the main entry. Punctuated by bell-bottomed columns with broken concrete footings, the split-level space—2,000 square feet in total—serves as a public art gallery, which hosts rotating shows by artists with ties to Kansas City.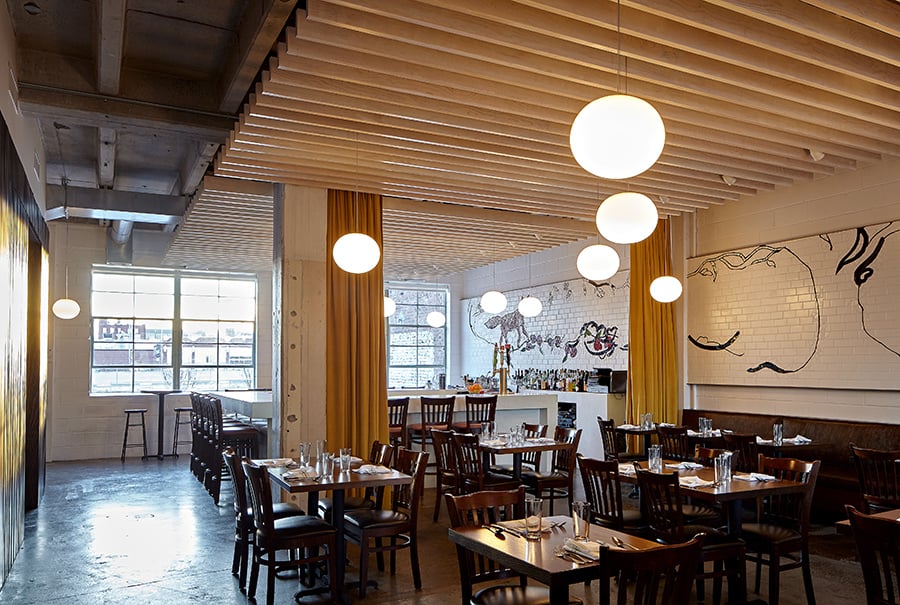 ---
The gallery is unusual for two reasons. First, it's a massive amount of space for a hotel to devote to public programming. Second, the architects are the curators, with a one-year contract to program the space—an arrangement that bucks the usual client-architect relationship. The inaugural artist in October 2018 was Rashawn Griffin, a textile artist who grew up in Kansas City and is best known for his sculpture and large-scale fabric "paintings." This spring, the space will be given over to portraits of Kansas City artists' studios, taken by the photographer Mike Sinclair (who also supplied images for this story).
McGraw says he hopes the integration of art into the hotel will not only provide a platform for Kansas City artists but also connect the hotel to the neighborhood's history. "We want to literally turn this space over to artists and trust that they can make this space feel not just unexpected but somehow vital, and vital within the legacy of the neighborhood," he says.
Such experiments—and they are not limited to the lobbies of hotels—feel especially timely. Museums have struggled to address today's most pressing social issues, from immigration to racial inequality. McGraw points to the response of Adam Weinberg, the Whitney Museum's executive director, to a letter demanding the resignation of a board member whose company's products were used to attack asylum seekers along the U.S.-Mexico border. A museum "cannot right all the ills of an unjust world," Weinberg wrote in an open letter, quoting a colleague who called such institutions "safe space for unsafe ideas."
McGraw sees El Dorado's role very differently, whether it's designing reStart housing, a project for individuals aging out of Missouri's foster-care system, or a series of overpasses that link two Kansas City neighborhoods. "We're not working within safe spaces," he says. "We're working in the charged, actual spaces of the world. And in many ways, we're seeking out unsafe spaces."
---
You may also enjoy "The Kansas City Fabricator Quietly Exporting Its Architectural Prowess to the World."
Would you like to comment on this article? Send your thoughts to: [email protected]