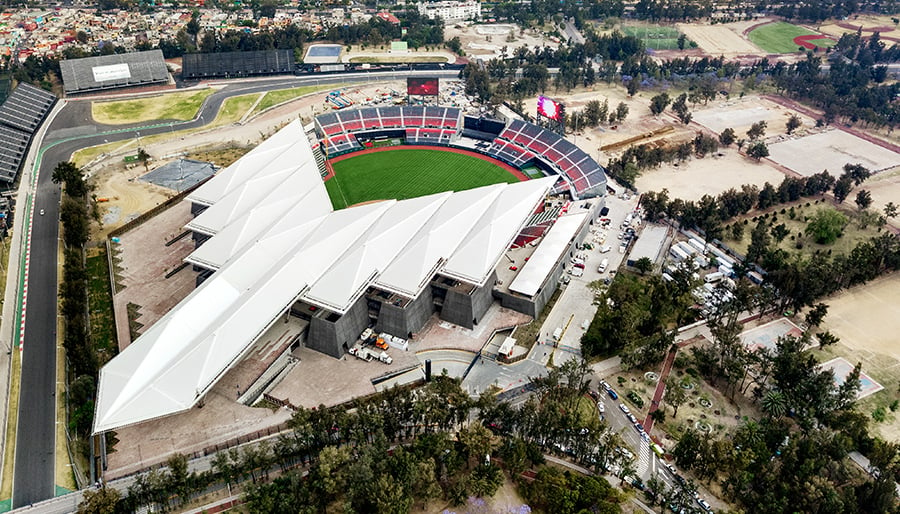 January 1, 1970
In Mexico City, a New Ballpark Serves as a Center for Culture, Community, and Commerce
Designed by architects Francisco Gonzalez Pulido (FGP Atelier) and Alonso de Garay (Taller ADG), the stadium also blends sleek design with references to ancient Mesoamerican architecture.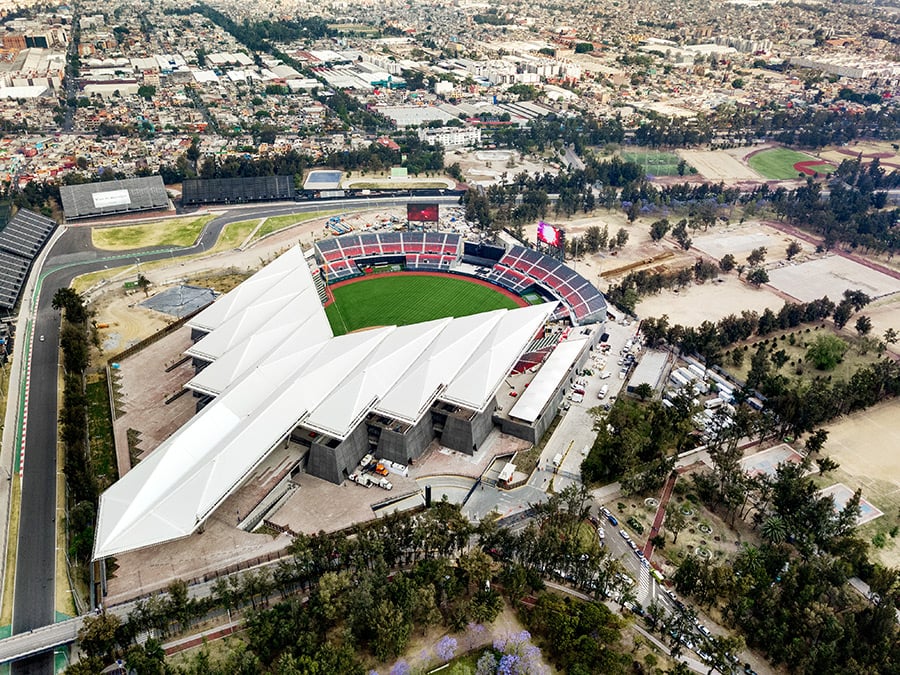 Mexico's long-standing love affair with the pastime of baseball has manifested in an innovative and visually dramatic ballpark in Mexico City designed by architects Francisco Gonzalez Pulido (FGP Atelier) and Alonso de Garay (Taller ADG). The stadium, Estadio Alfredo Harp Helú, opened this March (at the start of baseball season) as the new home for AAA Minor League Baseball team Diablos Rojos del México to much fanfare: The inaugural games were sold out—impressive considering the venue hosts up to 21,000 spectators—and drew notable figures and national heroes including the country's president, Andrés Manuel López Obrador; the celebrated Mexican boxer Julio Cesar Chavez; and, naturally, the team's owner, for whom the stadium is named.
The stadium itself is a display of national pride as well, with a design and layout that hint at the country's rich history. "The procession from the stadium grounds into the ballpark alludes to climbing an ancient Mesoamerican temple," explains Gonzalez Pulido. "As the spectators approach the grand entrance, they encounter six truncated pyramids." Batten-like precast concrete panels that integrate volcanic rock clad the latter, evoking the original dark tones of the nearby ancient pyramids. The volumes' striking slatted design additionally filters sunlight inside while facilitating fresh air ventilation—both of which are efforts that contribute to the project's sustainability goals. Along the same lines, a ring just inside the entrance connects all seating sections while keeping sight lines open toward the field, which in turn maximizes sunlight and air for every seating area.
Whereas pre-Hispanic architecture inspired the stadium's the lower levels, the roof is a statement on contemporary innovation and engineering. Right off the bat (no pun intended), visitors will notice that, unlike the typical rounded-corner roofs that outline most baseball diamonds, this stadium's canopy is angular, faceted, and dynamic, forming a shape that fittingly recalls a devil's pitchfork. It appears to float, but is actually mounted onto the truncated pyramid roofs via trusses and pin connections. Achieving such a structure in a seismic zone with difficult soil conditions proved challenging, but the architects pulled it off by tweaking the weight of each roof module and utilizing the largest crane in the world to assemble them. Its PTFE textile material shaves off some of the structural weight, provides shelter and shade, and draws the eye with its translucence.
---
More from Metropolis
---
More than just presenting a handsome backdrop for baseball games, the stadium functions as a center for culture, community, and commerce. "Successful spaces must encourage strong social engagement, incorporate Mexican traditions, and respect existing natural conditions," says Gonzalez Pulido. Situated within the city's Magdalena Mixhuca Sports City park—home of the 1968 summer Olympic Games—the project reclaims underutilized land in a relatively poor neighborhood. With a new Formula One racetrack and and plenty of open, public spaces, the park has the potential to draw visitors of every background—including the affluent kind. The stadium has created jobs and vendor opportunities for locals, and plans are in place to develop a weekend market for additional local vendors and makers to sell their wares. Meanwhile, the project's second phase will see the addition of an urban farm and children's practice batting cages. Adds Gonzalez Pulido, "Open space is as important as the built space, which is a prominent architectural feature within Mexican culture."
You may also enjoy "LINK."
Would you like to comment on this article? Send your thoughts to: [email protected]