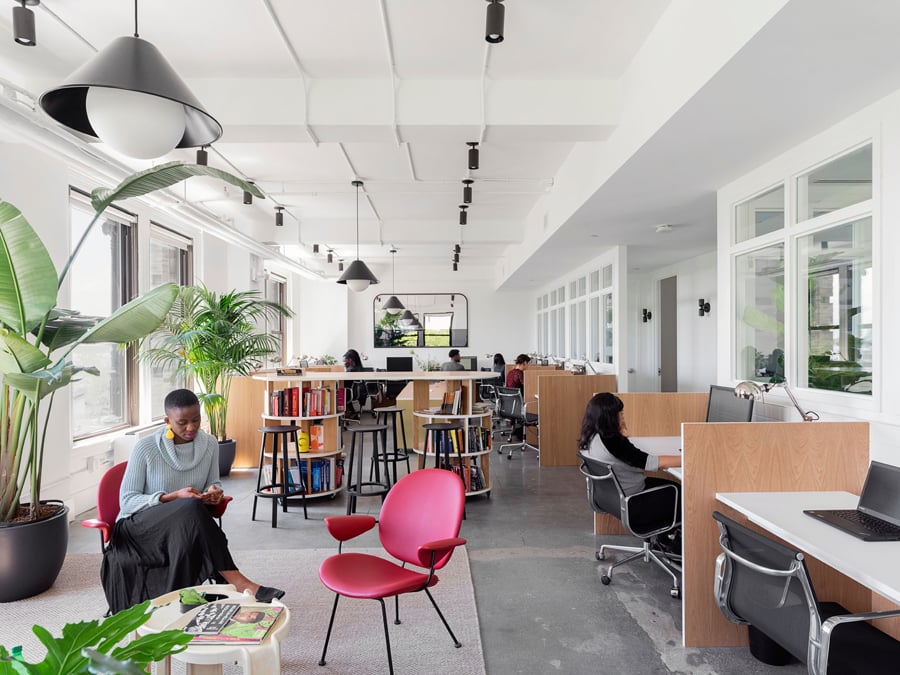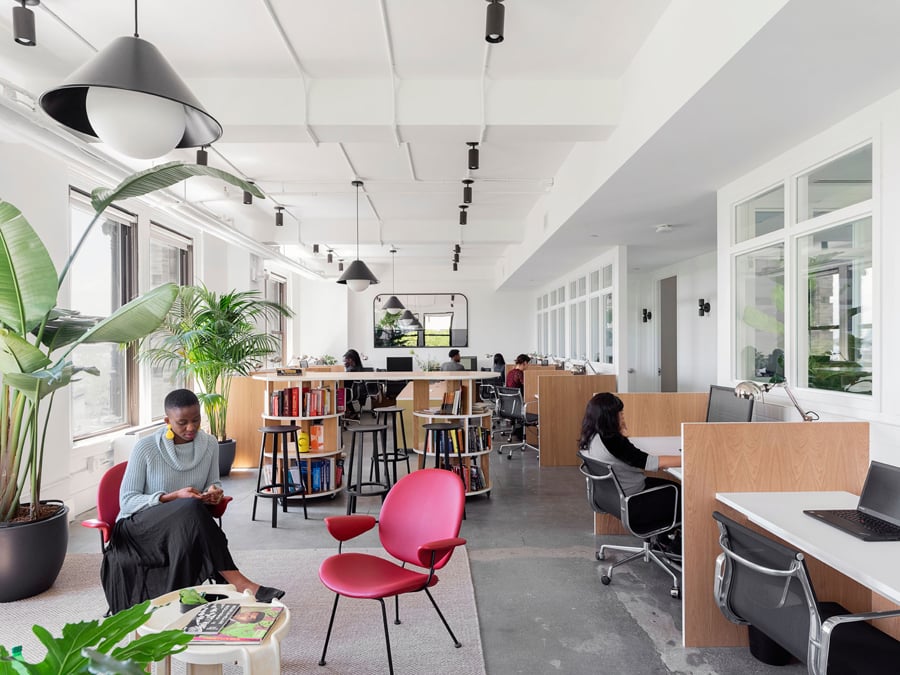 March 4, 2020
A Nonprofit Office Stylishly Maximizes Space For Students to Grow
The New York project from young local firm Civilivn utilizes contemporary furniture pieces for a powerful impact.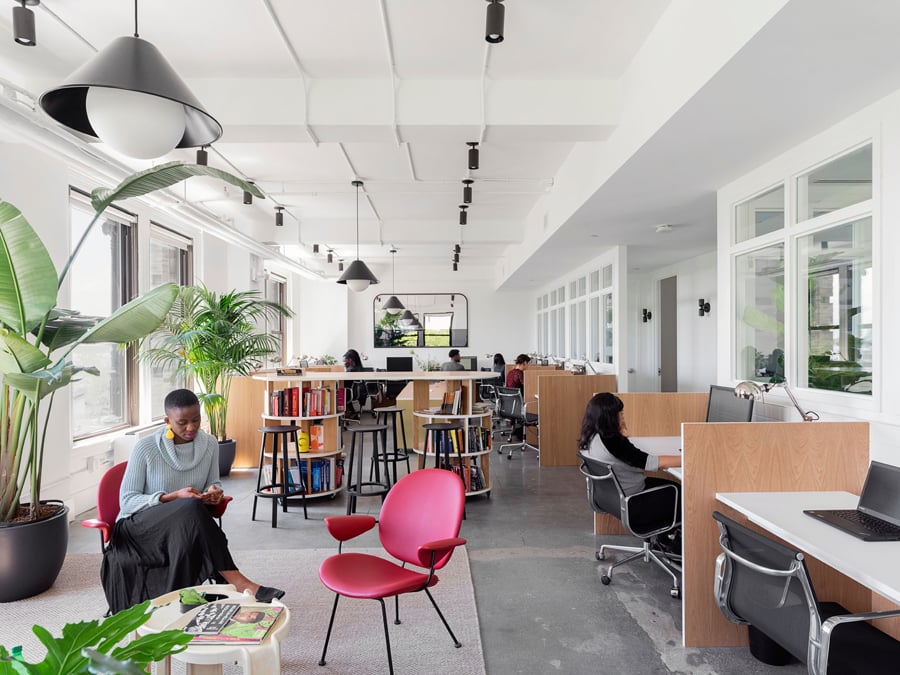 Whether it be a space to learn, fundraise, or devise solutions for the future, the way a workspace is set up can maximize the ability to succeed. Civilivn (pronounced "civilian"), a design firm founded in 2018 that seeks out projects with forward-thinking partners, has elevated the workspace of New York City nonprofit Exalt, which offers training to young women and men seeking paid internships, in an effort to provide alternatives to criminal activity.
Completed last spring, Exalt's headquarters in Lower Manhattan combines classrooms and workspaces with collaborative, lounge-centered areas for its small staff and the students they serve. When they first found the space, Nicko Elliott, principal of Civilivn, called it a "diamond in the rough," but not too rough that they couldn't turn it into something warm and welcoming. The organization had a view of Battery Park through large windows, allowing light to bounce off of the mostly white walls. Together, they began planning. "We had conversations and we learned about the day-to-day operations, and learned more about their future expansion goals," Elliott says. "It came down to maximizing space as much as possible and trying to provide them with the best tools to expand their impact." 
The main area has an unconventional layout that the nonprofit seamlessly settled into. Desks line the perimeter of  the space, while the middle is divided by a bar-height communal workstation. "It was a lot of stuff to fit into the space, which then prompted this idea of creating these furniture pieces that have overlaid different uses," Elliott says. One example: The countertop also functions as a lending library and can easily be disassembled and rolled away. The south part of the room, meanwhile, is a charming seating area with pops of color that balance it all out.
---
More from Metropolis
---
Exalt is focused on lowering the prison recidivism rate by providing youth with alternatives to criminal justice involvement; this includes training for students who enroll in their six-week immersion program. "We spent a lot of time doing tests and spatial studies in order to sort of find the right [way] to maximize occupancy in the classroom," Elliott says. The classrooms have potential for unlimited configurations, and bright colors on the walls are welcoming without becoming distracting. Elliott credits the professional look of the office to the sensible mix of midcentury and contemporary furniture choices. Throughout, he sought to keep costs low on elements such as the light fixtures above the workstations, so that Exalt could retain resources and further advance its impact.
Civilivn's work here serves as an example of how design can help change the situations of different communities in the city. "The students have very different backgrounds than I have. Things that seem cool in a design exercise are less appropriate in this kind of environment. It was so interesting and valuable to … be more open to how other people interpret things." 
"I was extremely lucky to have this project," he says.
You may also enjoy "In Rwanda, Coffee Farmers Envision a Low-Carbon Pre-Primary School."
Would you like to comment on this article? Send your thoughts to: [email protected]