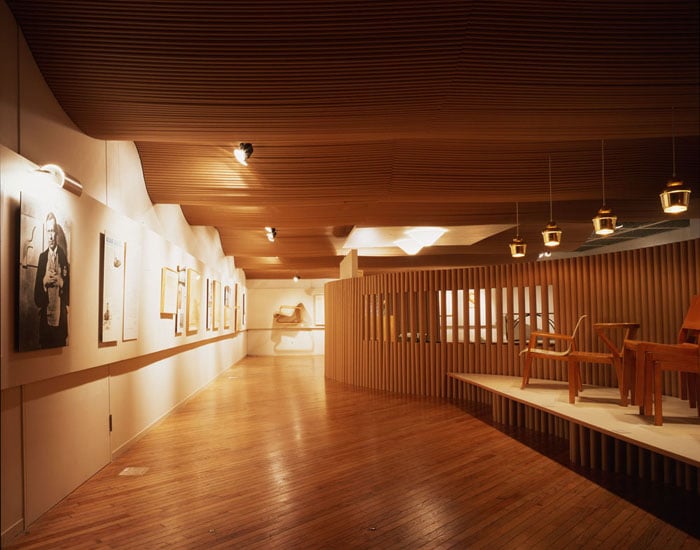 March 24, 2014
Meet The 2014 Pritzker Prize Winner, Shigeru Ban
The Japanese architect and cardboard innovator is the prize's 37th laureate.
"You know the British TV program Thunderbirds," asks Shigeru Ban, a playful glint in his eye. The seeming non-sequitur comes in the middle of our conversation with him, in the lobby of a Japanese hotel a stone's throw away from Grand Central Station in New York City. The interview was occasioned by this year's Pritzker rollout, whose top-secret protocol even precluded the architect from revealing the news to his studio (but not to his mother). Ban's quip—about "an international rescue team hidden in an island, with special training and technology to rescue people in danger"—was less a question than an answer; a joke, he says, whose purpose is to deflect journalists' interrogations into the source of his "social," "activist" architecture.
Ban is the 37th Pritzker laureate, and his selection signals a shift in the prize's history, which has privileged issues of form and "touchy-feely" experience over social concerns. The 56-year-old, Tokyo-based architect has amassed an eclectic body of work since opening his own practice in 1985, only a year after completing his formal training at Cooper Union. There, Ban explains, he studied under architect-thinkers like Diana Agrest, Bernard Tschumi, and Peter Eisenman. He fell out of favor with Eisenman and other professors, however, who took issue with his idiosyncratic approach to his studies and consequently delayed his graduation. "I had to postpone it. I had to do a few more months to do my thesis, and I then I presented it only to John Hejduk, not Peter [Eisenman], so then it was okay," he says, laughing.
After finally graduating, Ban traveled to Europe to visit the modernist masterworks that formed the major point of reference for the Cooper Union curriculum. He admired buildings by Mies and Gropius, but most of all Alvar Aalto, whose work he encountered and photographed in Finland. Aalto's architecture, he says, was exceptional in its attention to cultural and regional context and materials—values which he would come to prize in his own architectural research and work. Returning to Tokyo he embarked on a series of curatorial projects, including exhibitions on the works of architect Emilio Ambasz, photographer Judith Turner, and, more crucially, Aalto. For the latter show, opened in 1986, Ban developed lightweight, modular installations that rendered the master's undulating timber walls and surfaces in cardboard. It would mark the introduction of the material in Ban's catalog.
---
More from Metropolis
---
Ban's Alvar Aalto Exhibition (1986) in Tokyo, where he first began experimenting with spatial applications for cardboard tubes.
Since then, Ban's name has become synonymous with the water- and fire-proofed cardboard tubes he's used to build temporary chapels in Kobe (1995), Taiwan (2008), and Christchurch (2011-13), emergency shelters for refugees in Rwanda (1994) and disaster victims in Sri Lanka (2004) and in Haiti (2010), classrooms in Sichuan (2008), and most recently, housing in the Philippines. Still, despite their shared material affinities, the architect insists that each project is uniquely tuned to its respective context. Ban explains his process: "There are no standard solutions, that's why I have to go there myself to find out what exactly is the problem, what materials are available locally, what kind of team can I put together locally. So I cannot just bring my former experiences to a project."
Paper Log House Kobe. The disastrous earthquake in 1995 prompted Ban's interest in temporary shelters and housing using water- and fire-proofed paper tubes.
Courtesy Takanobu Sakuma
Paper Emergency Shelter for UNHCR. Ban continued his explorations in Rwanda in 1999, where he constructed some 50 shelters for the displaced. Some 2 million people were left homeless by the civil war, and Ban himself petitioned the UN to realize his proposal.
Courtesy Shigeru Ban Architects
Paper Log House Turkey
Courtesy Shigeru Ban Architects
Paper Log House India
Courtesy Kartikeya Shodhan
Kirinda House
Courtesy Eresh Weerasuriya
Soon, Ban expanded his repertoire, playing with different notions of "temporary" architecture that he had developed for nearly a decade. He built perma-temporary structures in Turkey (2000), India (2001), and Sri Lanka (2005).
It would be simple, but ultimately inaccurate to label Ban the architect for disaster relief. The Pritzker jury singled out Ban's humanitarian causes, although they represent a single facet of his diverse output. (Ban, for instance, has used the same paper tubes to build structures for both luxury brands like Hermès, and hip shoemaker Camper, while also authoring signature buildings for the Centre Pompidou-Metz and displaying a brilliant facility for the design of private villas.) Tom Pritzker, Chairman and President of The Hyatt Foundation, which sponsors the prize, commented specifically on the architect's interventions in disaster relief, saying that "Shigeru has made our world a better place."
It's easy to imagine Ban squirming in his chair if fed such a compliment in person. In fact, he is surprisingly ambiguous about the inspiration for his social-oriented work. (Hence, the Thunderbirds joke.) He suggests that such focus is the product of his personality and his education, and not born out of a strong-felt altruism, though this is of course at play in the building projects themselves. "Since I was a student, I didn't like to be influenced by others," Ban says. Only when pressed does he begin to list off the names of "a few architects who were not influenced by fashion." Chief among them is Frei Otto, the German engineer and polymath whose interest in economical, self-standing structures inspired Ban's own. The pair collaborated on the ambitious 2000 Hannover Expo pavilion, a sprawling cardboard-shell structure that was constructed without joints. The structural model is complicated at Ban's Metz Pompidou, where hexagonally-arranged wood members are contorted into the whimsical shape of a Chinese bamboo hat at great expense. A luxury condo steps from the Highline in Manhattan does away completely with the paper tubes, making use, instead, of costly spans of glass and steel.
The architect's design for the Centre Pompidou-Metz (2010) is a far cry from his inexpensive, but elegant paper tube structures. The Metz museum made use of a bespoke timber structure rather arbitrarily shaped into the outline of a Chinese bamboo hat, for one reason or another.
Courtesy Didier Boy de la Tour
Ban acknowledges that the architectural profession is geared to "working for privileged people." Yet, he is among few practitioners who dare to imagine an architecture that really "serves society." Show here, the Paper Partition System 4 (2011), built to give evacuees of the great Japan Earthquake and Tsunami some privacy.
Courtesy Voluntary Architects' Network
Last year, Ban completed the Cardboard Cathedral in Christchurch, which replaced the original stone church that fell victim to the February 2011 earthquake. The church, which incorporates massive cardboard members in its structure, will stand 10 years.
Courtesy Stephen Goodenough
The architect is seen here helping to construct the Paper Emergency Shelter Haiti (2010). Commenting on the Pritzker jury's decision, Tom Pritzker noted that "Shigeru has made our world a better place."
Courtesy Shigeru Ban Architects
It's a contradiction that Ban doesn't shy away from. He admits culpability with his fellow architects for "mainly working for privileged people who have money and power," for people who "need architects to visualize that power." At the same time, he understands the financial need to continue such work, so that he may pursue more valuable projects. "Architecture is such a lucky or easy profession, you're always working with people who are happy to make a house," Ban says. "But a medical doctor or lawyer is always working with someone who has a problem. So I think we, as architects, can use our experience and knowledge more for society."