November 3, 2022
To Attract Gen-Z Customers, One Firm Reimagines Retail as Theater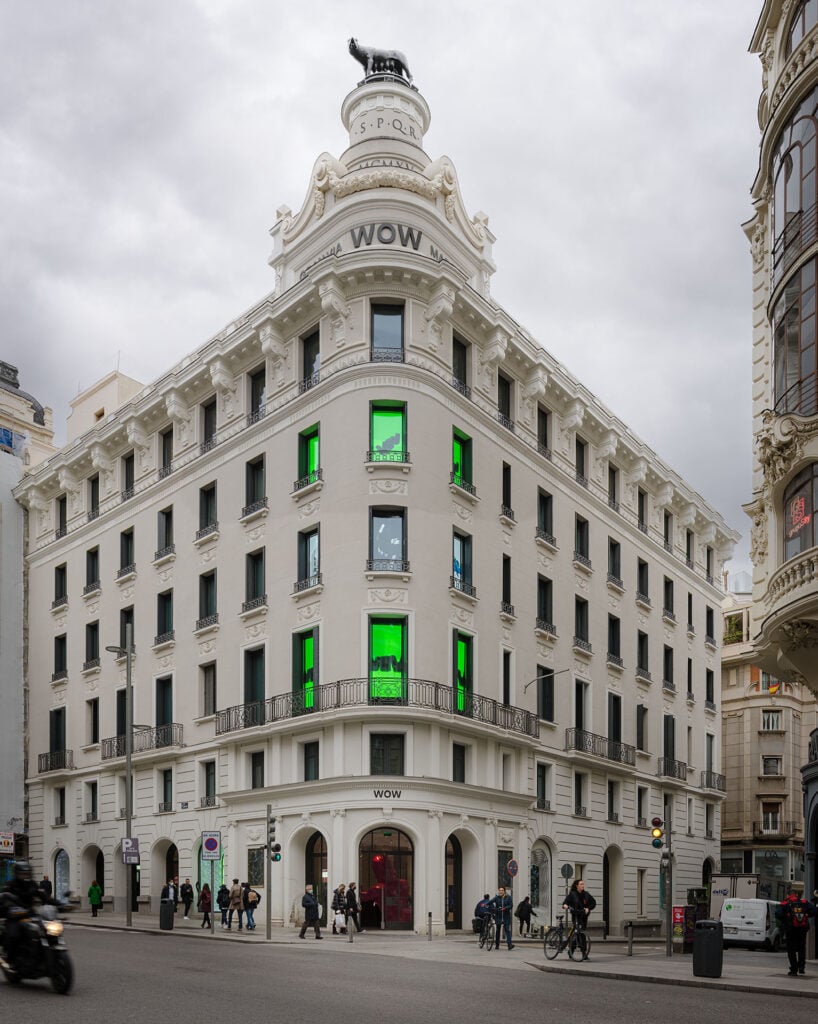 Since founding External Reference in 2007, Zappulla has brought his blend of digitally inspired morphologies and advanced fabrication to bear on projects around the world, including the Spanish Pavilions at Expo 2012 in Yeosu, South Korea and the 2020 World Expo in Dubai. Another retail project for high-end streetwear retailer Presentedby opened in September in Riyadh, Saudi Arabia.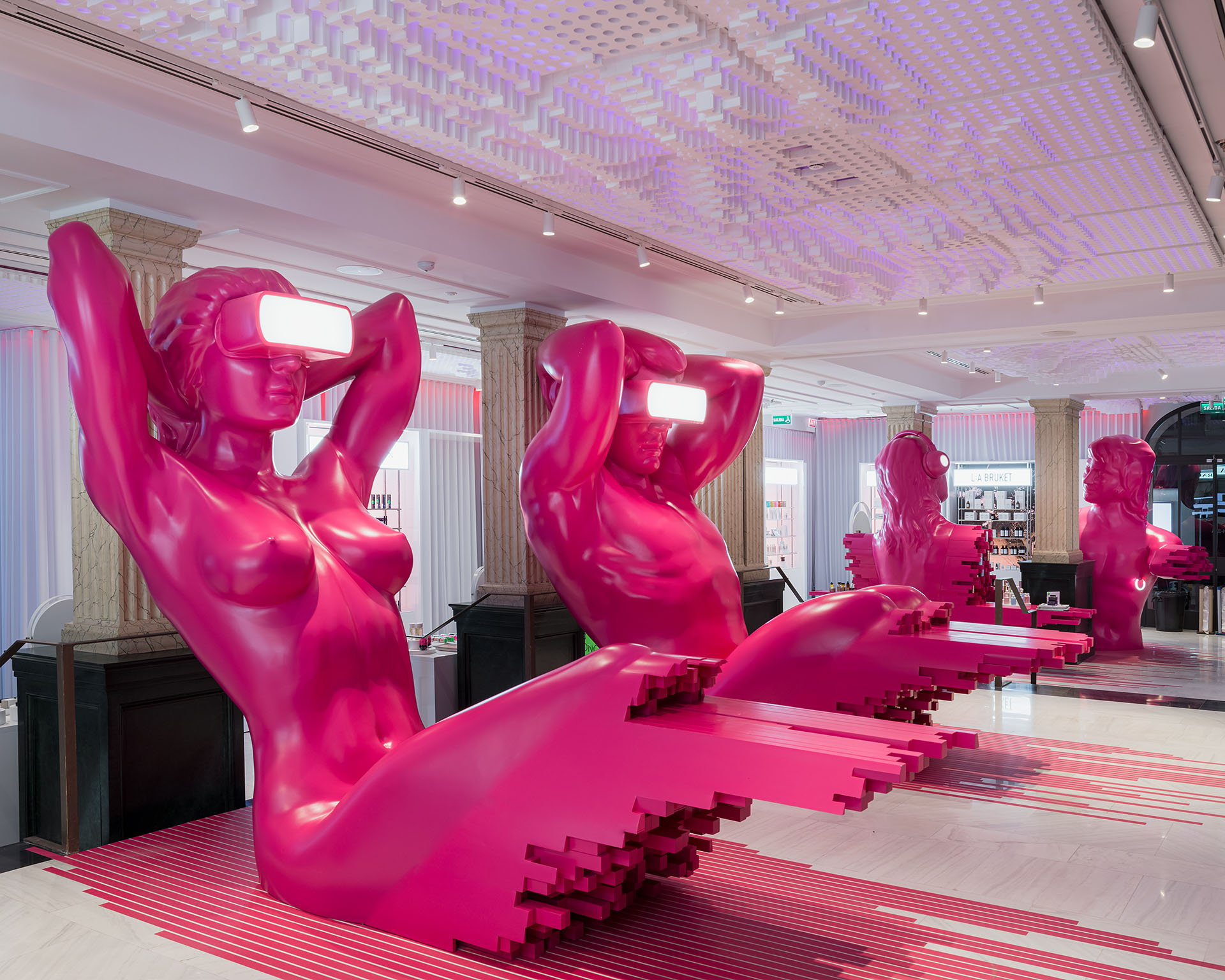 Physical retail is facing problems worldwide, according to commercial real estate services and investment firm CBRE, in the U.S., the e-commerce share of total retail sales was 11.8 percent in 2021, growing at an average of 16 percent annually since 2011. To reverse the tide, Zappulla proposes making the physical world more like the online one.
"Having digital layers animating the space engages people, and it produces social media impacts." Vital for any retailer's success in the influence economy. At WOW, he says, "We designed a retail space that works like a large theatrical stage on which the elements constantly change so that people who visit will always find something different."
---
More from Metropolis
---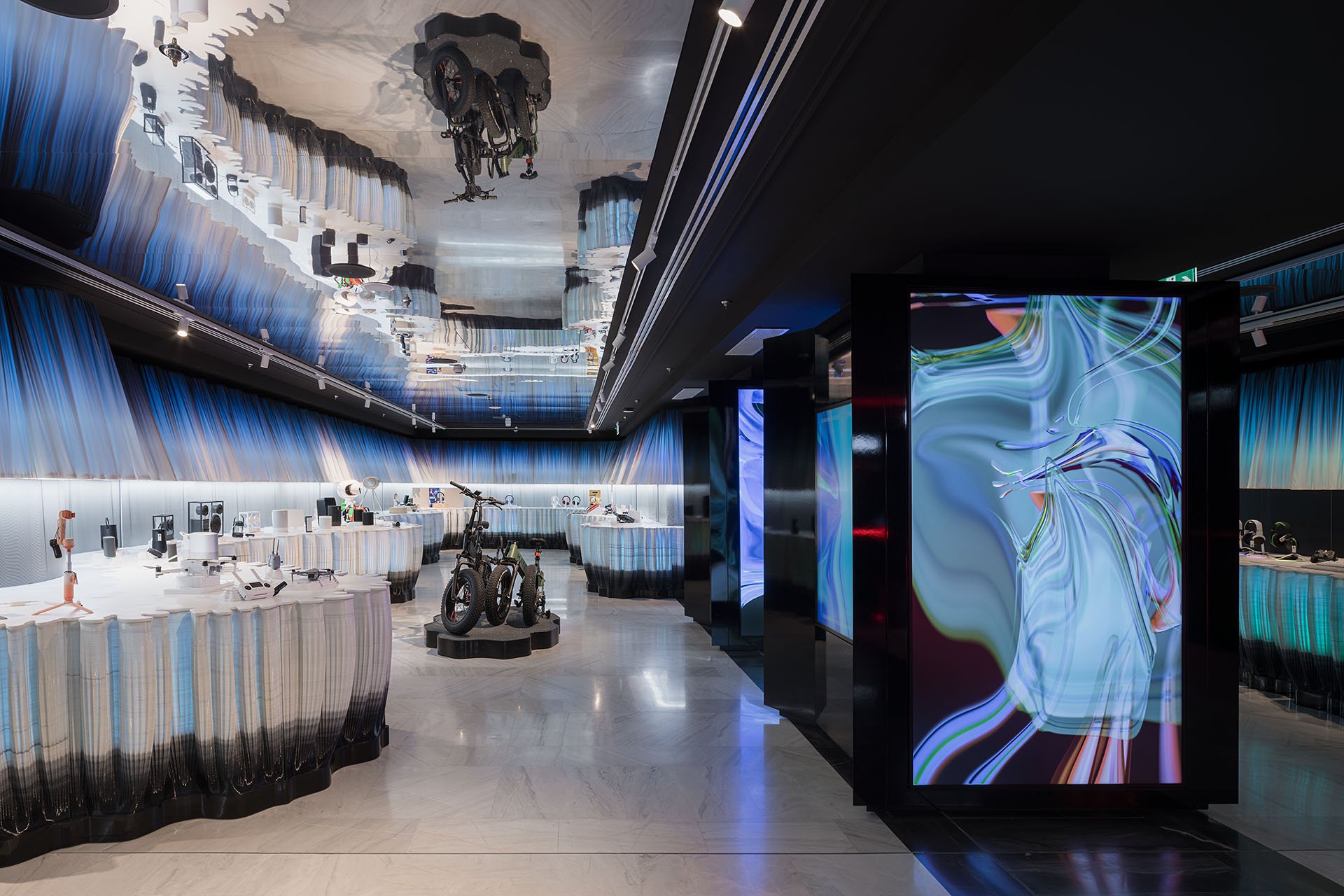 Each of the building's six floors dedicated to retail and two devoted to gastronomy is designed in a different aesthetic, encouraging shoppers to explore. The main entrance from Gran Via announces the store's unusual contents with two storefronts inside the existing arcade that feature a kaleidoscopic display of digital imagery.
The lower basement houses the Tech Garage. Here visitors discover tech products among a 3D-printed landscape of marine corals that are made with PURE.TECH, a mineral compound that draws carbon dioxide, volatile organic compounds, and nitrous oxides out of the atmosphere and converts them into inert minerals.
On the ground floor, eye-catching pink statues showcase cosmetic products. External Reference imagined them as classical Italian sculptures crossing time and space.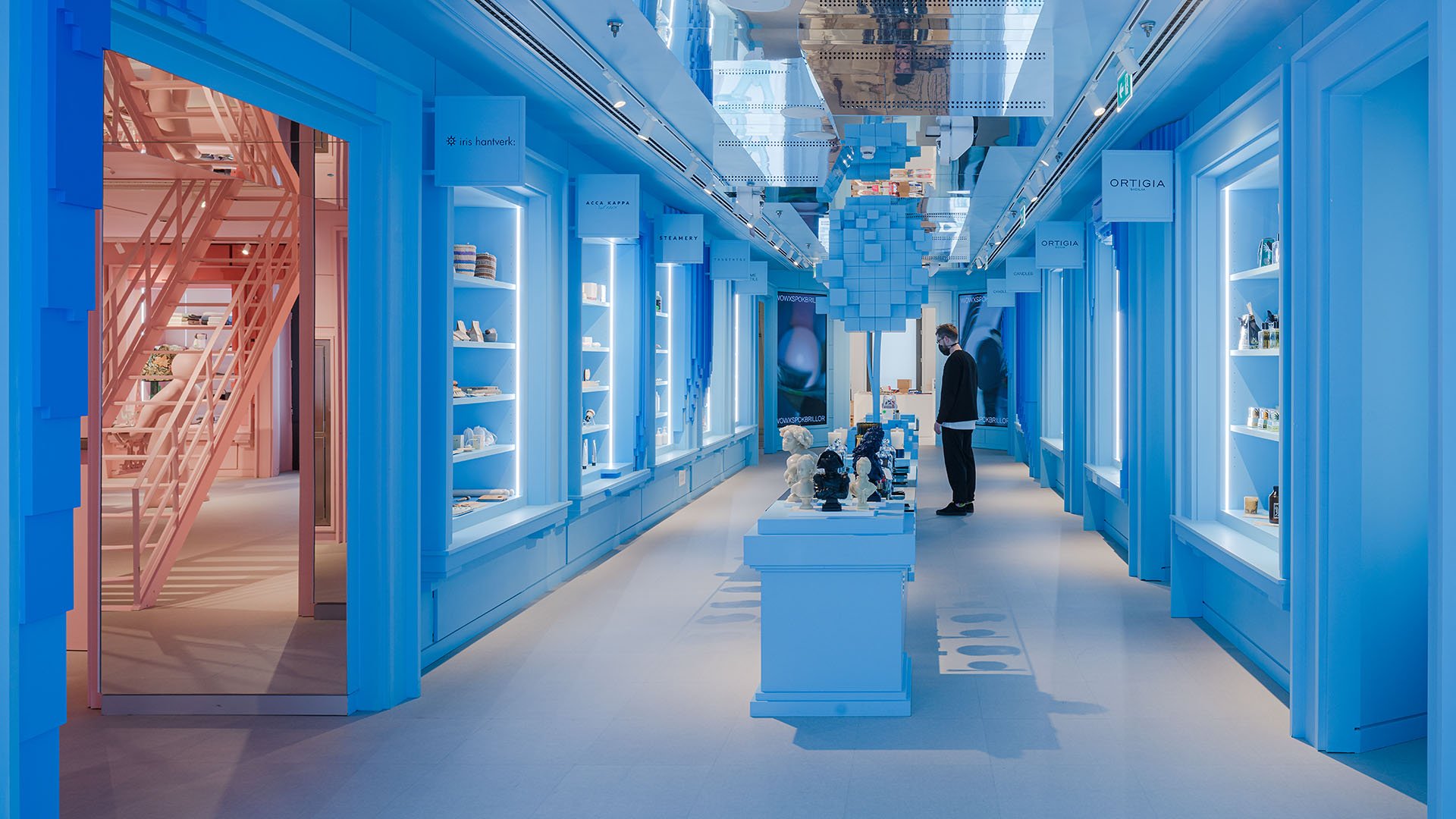 The first through third floors are dedicated to fashion, and the second floor is designed as a large venue to host fashion shows. Luminous fiber optic curtains dress the walls, while stands on both sides integrate a system that displays clothing and accessories. Digital content, responding to visitors' movements, is projected onto the catwalk from above.
Inspired by sports and street aesthetics, the Urban District on the third floor immerses the user in a technical-urban space. An independent structure organizes the commercial space through three bays: one for circulation and two for display, covered by a metal skin that integrates programmable lighting systems.
Theatricalizing a game situation where reality becomes pixelated, External References breaks the stereotype of stores that imitate domestic spaces to display housewares. For the Home Boulevard on the fourth floor, the team recreated the streets of a city, from which shoppers can observe the houses' interiors through their windows. Meanwhile, avatars move through the streets and the benches displaying products change positions, giving the entire performance a sense of transience.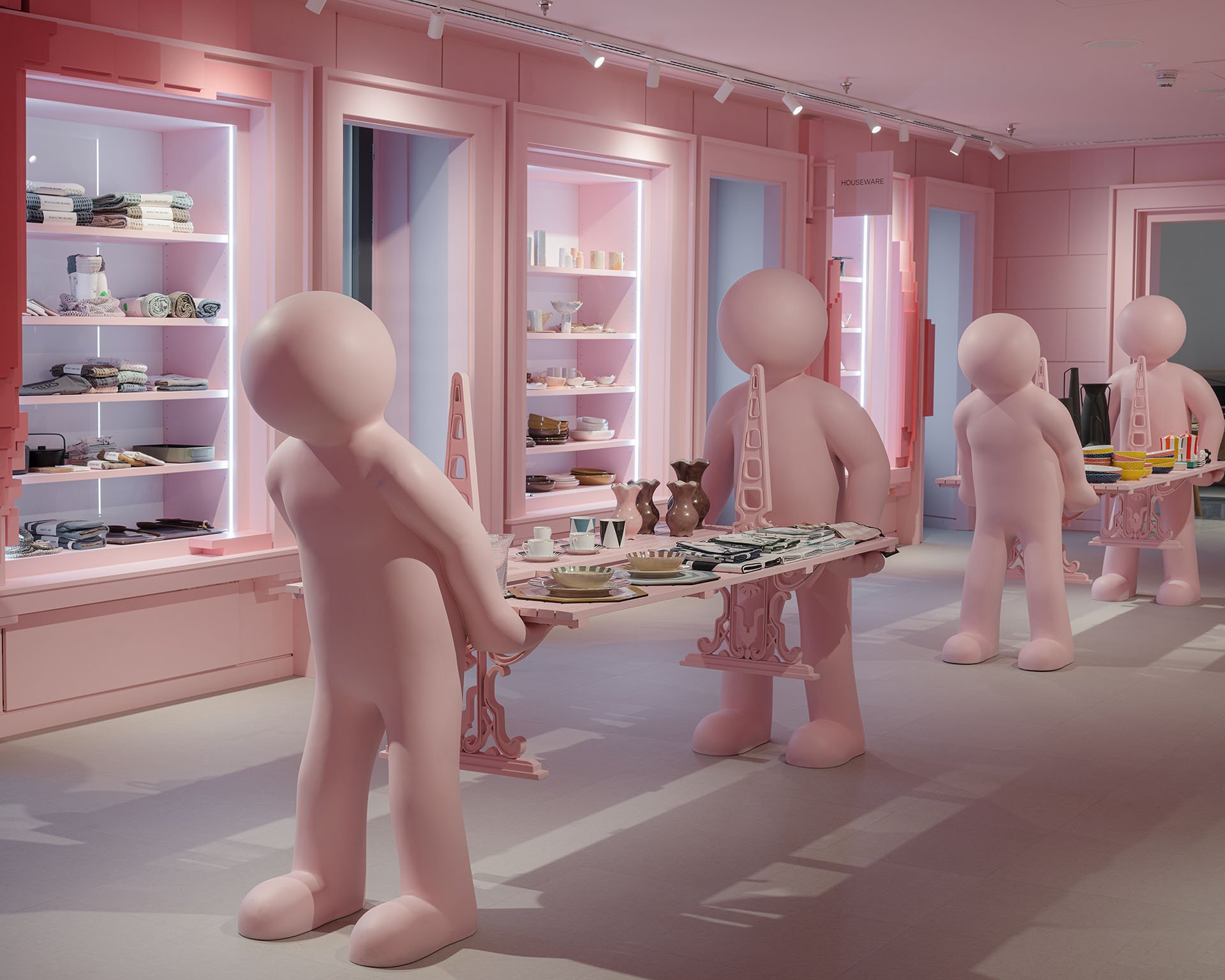 To pull off a project with such a varied aesthetic language, "we became pioneers in mastering 3D printing," says Zappulla. "Once you do a project with special complexity and it becomes challenging to build, you must grasp the technologies to produce it."
He's no stranger to advanced design technologies, having developed his interest in computational and parametric design while studying for his PhD in architecture at the Polytechnic University of Catalonia. The native Italian is now director of the Masters in Experiential Design program at LCI Barcelona and a professor of Architectural Design at the Institute for Advanced Architecture of Catalonia. At WOW, he's been able to put his research into geometric patterns, complex morphologies, and digital fabrication into action with 3D-printed landscapes, sculptures, and the CNC cuttings on the fourth floor.
While Zappulla dreams of designing a prominent cultural space one day, for now it seems his path leads to the USA.
"I'm working with MGM," Zappulla says without revealing more details.
Would you like to comment on this article? Send your thoughts to: [email protected]