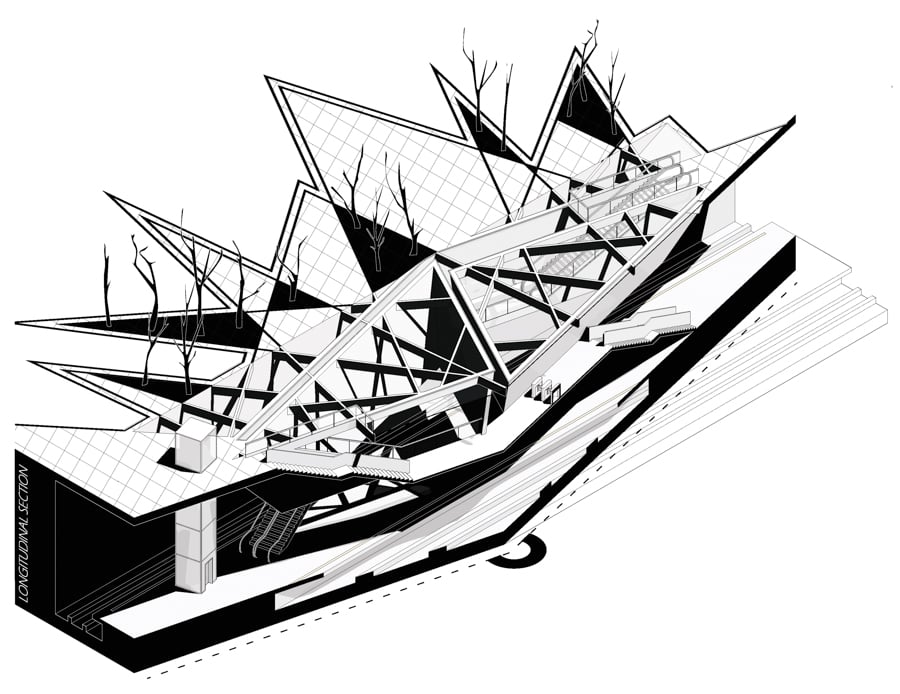 April 1, 2021
Future100: Design Students Rethink the Commons
In the wake of the pressures of the pandemic and a crisis of social cohesion, students draw up concepts for more permeable urban futures.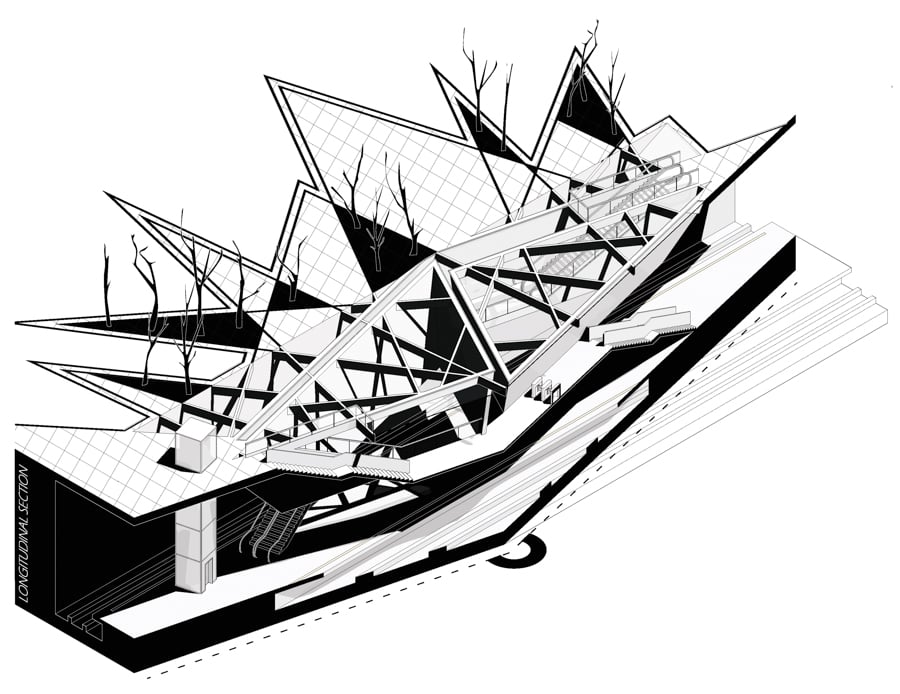 The past 12 months have, for many of us, been a time of confinement and profound social isolation. The world shrank, and our routines became even more circumscribed, with little time, if any, spent in public or communal spaces.
In a time of such forced retreat, what constitutes a commons? Where is it located? What is its shape? These are questions today's design students are contemplating. Despite being developed, with some exceptions, before the pandemic, the work presented here interrogates and subverts the notion of the "threshold," the permeable barrier that separates indoors from outside, public from private, and that has taken on new meanings in the context of an airborne plague and an epidemic of police violence.
Porosity can be deadly, and yet without it, we could die: The human body is inseparable from its environment, and this is equally true from a social perspective. In this moment, architecture students have a special understanding and appreciation of the role of permeability. Some design public libraries with atrium-like reading rooms, where transparency becomes a metaphor for universal accessibility and democratic ideals. Others conceive high-rise housing whose architecture is perforated not only by breeze-blocks but by spaces dedicated to social programs. Still others envision "amphibious" science centers where site, surface, and program are all porous. Rainwater seeps into the ground, and the public seeps into the building.
---
More from Metropolis
---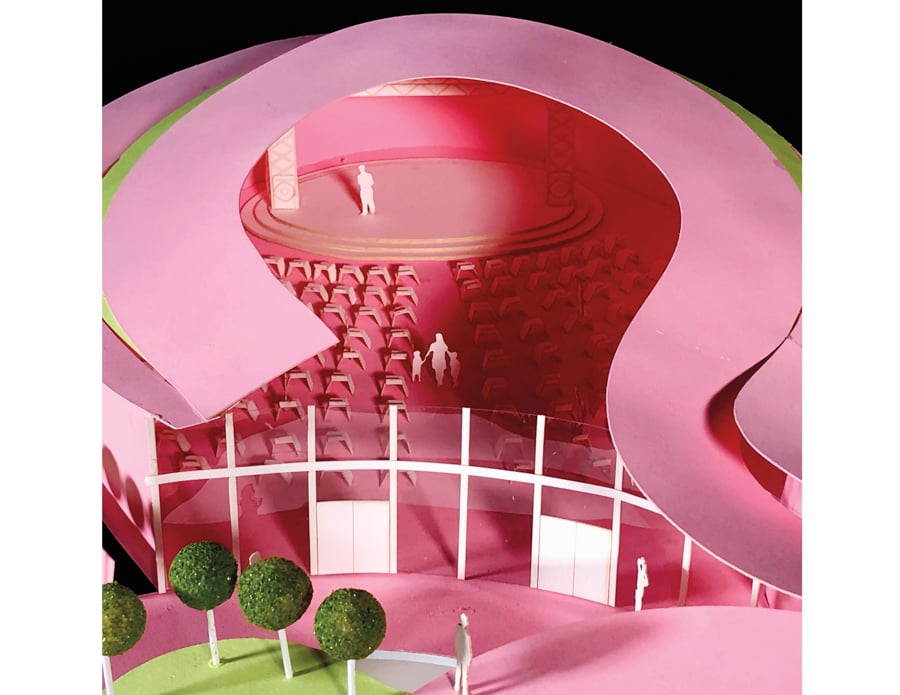 The nature of this porosity is determined by the threshold. In The Looking Glass, Guy Lafôret, an undergraduate at the University of Southern California School of Architecture, was inspired by Japanese torii and the idea of a threshold "as a tether that connects the real world to the world of the nonphysical." The concept visually connects the subterranean concourse of a Metro station serving Los Angeles's Little Tokyo neighborhood to the streetscape above through light wells fitted with fritted glass. In The Super Super Block, a scheme for Barcelona's largely industrial Marina del Prat Vermell, Lafôret proposes building within, on top of, and through existing warehouses to preserve elements of the industrial fabric. That project takes its cues in part from Catalan sculptor Eduardo Chillida, whose concept of space, as Lafôret puts it, "revolves around the forced introduction of voids in a solid."
Another meditation on connectivity, Valeriya Velyka's design for a communal housing project in San Francisco's Haight-Ashbury neighborhood, challenges traditional ideas about thresholds by dissolving the backyard fences between neighboring buildings. Multistory towers are instead arranged on a grid but rotated so that units look out onto communal courtyards. "There is a dialogue between the units, which gives the residents peace of mind in terms of the visual access created by the geometry," says the California College of the Arts undergraduate architecture student.
Velyka carries this idea further in Backyard Nooks, which explores ways to create a temporary writers' retreat in West Los Angeles. Two private residential lots separated by an alley are connected by a series of private pods, sleeping lofts, and communal spaces that serve four to six people at a time. Elevated and mostly open-air, the structures make use of a simple assembly of cross-laminated timber, steel, and plywood. "I was already working on the design and concept when the pandemic hit," she says. "After a month of quarantine, I realized how relevant this idea was."
Reciprocal Walls, whose origins also predate the pandemic, treads similar ground. Created by University at Buffalo graduate student Letícia Ávila, it is ostensibly a design for three houses and three detached studio spaces. But Ávila treats the wall as a typology in and of itself. While private living spaces are set back from the street, the studios are semiprivate, visible through openings in an outer wall that surrounds the complex and serves as a locus of activity, with a "bookshelf wall" that functions as a community lending library and a "garden wall" that creates a semipublic garden. The whole thing feels prescient. "Although the walls create a certain barrier, the openings still allow for distant human interaction," Ávila says. "I see restaurants moving indoor dining spaces outdoors to comply with health and safety requirements or stores with curbside pickup, and I can see how the 'garden wall' and 'library wall' could fulfill the social-distancing necessity as the public could just grab and go."
Ávila's vision recalls other informal architectures born of the pandemic that blur the line between public and private, interior and exterior. Not just the sidewalk cafés and outdoor classrooms but the fleets of "book bikes" created by public libraries or the homemade candy chutes that safely delivered sweets to trick-or-treaters in Brooklyn, New York. Prior to 2020, the notion of "the commons" might have conjured up images of a public plaza or town square. But in quarantine, it seems to find its most potent expression in the small, intimate spaces of daily life: the backyard, the garden, the local tool library.
Permeability makes us vulnerable. It is this vulnerability that we attempt to counter with our Plexiglas barriers and cloth masks. But permeability also connects us to the wider world, as these projects innately recognize. They may not use the word, but the future they imagine is nothing less than revolutionary.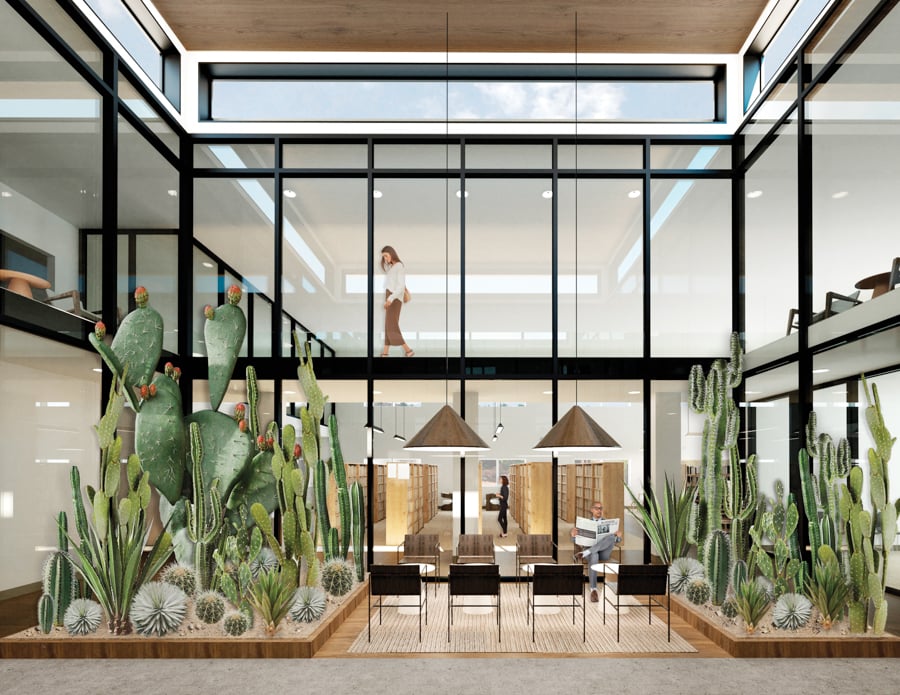 Visit metropolismag.com/future100 to see more groundbreaking student work.
---
LETÍCIA ÁVILA
University at Buffalo
Graduate Architecture
NOMINATOR: Miquel Guitart, Assistant Professor
Ávila's public institutional work translates ideals and themes into buildings, as in Poetry Square and Chimneys, which thoroughly conceive accessible institutions by exploring the ground level. Reciprocal Walls creates new commons in in-between spaces.
---
RUINA DU
University of Idaho
Graduate Architecture
NOMINATOR: Bruce Haglund, Distinguished Professor
Du utilizes local Idaho wood for market and housing projects, a consideration of sustainable factors that also shows up in a light-filled, biophilic design for a round-the-clock fire station in Boise, Idaho.
---
SOPHIA LE
Cal Poly Pomona
Undergraduate Architecture
NOMINATOR: Achille Michelizzi, Professor at the University of Florence, Founder of Achille Michelizzi Architects
Le uses a mix of meticulous drawings, blocky renderings, and models to represent projects focusing on preserving structures and framing views. The Alley examines the potential of Hollywood's back alleys as a means of expanding density and connectivity and showcasing art.
---
KELLI McGRATH
Pratt Institute
Undergraduate Interior Design
NOMINATOR: Keena Suh, Associate Professor
Two projects by McGrath aim to revitalize bits of New York's dense and unrelent-ing built environment: The Tool Shed transforms a closed park structure into a hub for material and information sharing, while a redesign of the Brooklyn Public Library's Pacific Branch includes a textile recycling drop-off.
---
ADAM MOQRANE
Harvard University
Graduate Architecture
NOMINATOR: Eric Höweler, Associate Professor, Academic Adviser, Cofounder of Höweler + Yoon
Moqrane proposes three stations for a new Tube line in multicultural suburban London, which harness community context as well as local forms such as the roundabout. Other projects explore the unique housing settings and challenges in California, Japan, and Massachusetts.
---
JACQUELINE PILEGGI
New York Institute of Technology
Undergraduate Architecture
NOMINATOR: Manuel Garza, Adjunct Instructor, Principal of Et Al. Collaborative
Pileggi advances an iterative style in devising mixed-use public spaces that combine ecological concerns and recreational needs. Waterfront designs demonstrate a desire to grapple with storm surges, recycling flows, and water filtration.
---
NAVYA SHARAD
California College of the Arts
Undergraduate Architecture
NOMINATOR: Antje Steinmuller, Associate Professor, Chair
Sharad's work encompasses many scales, from product to neighborhood, all with an attention to the experience of light. A museum design maximizes light for different purposes, while several projects including a built parklet imagine a denser and more efficient San Francisco.
---
KATS TAMANAHA
Pratt Institute
Graduate Interior Design
NOMINATOR: Jack Travis, Adjunct Professor
Tamanaha's detailed studies and drawings communicate solutions to local problems, especially related to the food chain. Corridor transforms the urban grid into a patchwork of agricultural corridors, leisure paths, and gathering nodes as part of an accessible and efficient streetscape.
---
WING MAN CHAN
NewSchool of Architecture & Design
Undergraduate Architecture
NOMINATOR: Daniela Deutsch, Associate Professor, Fourth-Year-Level Coordinator
From master plans to multifamily housing, Chan's portfolio betrays a focus on questions of how we live relative to one another in the contemporary city. Model making, mass timber, and sight lines are other significant themes.
---
GABRIELLA FEUILLET
Rice University
Undergraduate Architecture
NOMINATOR: Viola Ago, Wortham Fellow
Simple shapes are merged, stacked, and warped in Feuillet's design for a farmers' market, including green space, seating, and covered zones. Feuillet also designs at the product scale, experimenting with textiles, jewelry, and graphics.
---
GUY LAFÔRET
University of Southern California
Undergraduate Architecture
NOMINATOR: Luciana Varkulja, Lecturer
With a stark, eclectic style of representation, Lafôret focuses on some overlooked aspects of the urban environment, including transit stations and even a public pool. Many projects respond to social issues like homelessness and ableist development.
---
MARIA ALEXANDRA LLERENA
The New School
Graduate Interior and Lighting Design
NOMINATOR: William Watson, Visiting Assistant Professor
Llerena intersperses shared functions with housing blocks in Perforated Solid, a mixed-use master plan. Celebrating Tradition takes advantage of a biodiverse Quito, Ecuador, neighborhood to elevate tradition, knowledge sharing, tourism, and economic development. Both projects reveal an attention to broader communal economic forces.
---
VEDYUN MISHRA
Syracuse University
Graduate Architecture
NOMINATOR: Paul Crovella, Assistant Professor
Many of Mishra's projects explore modularity as a way of addressing pressing social challenges, such as in Recondition, a veteran support facility, and Jan Connect, which amalgamates public functions in shipping containers for underserved districts.
---
YUEER NIU
Cornell University
Undergraduate Architecture
NOMINATOR: Naomi Frangos, Professor, Internship Adviser
Niu's process includes painting, site studies, and clear-eyed renderings to explore the uses of buildings. Projects such as the Roman Floating Citywalk aim to help pedestrians discover and use underutilized space within a dense urban context.
---
EMMA SCOTT
Rice University
Graduate Architecture
NOMINATOR: Troy Schaum, Associate Professor, Partner at Schaum/Shieh
Scott embraces complexity and dualities in her projects, exploring how difference can coexist within a single structure. Other projects delve into the potentialities of small-scale architecture, such as rooftop water tanks and bicycle parking systems.
---
ALESSANDRA SHORTEN
Virginia Tech
Undergraduate Interior Design
NOMINATOR: Lisa Tucker, Interior Design Program Chair
Many of Shorten's designs are based in a single point of inspiration that guides the entire project. Comprehensively developed projects include an attention to site and fine-grained consideration of materials, furnishings, and circulation.
---
VALERIYA VELYKA
California College of the Arts
Undergraduate Architecture
NOMINATOR: Antje Steinmuller, Associate Professor, Chair
Velyka focuses on exploring the possibilities of warping, scaling up, and serializing simple geometric shapes, an emphasis that courses through furniture design to public space design. Simple design conceits produce novel castings of structures such as libraries and parks.
---
You may also enjoy "At Dallas's Hall of State, a Return to Majesty"
Would you like to comment on this article? Send your thoughts to: [email protected]
---
Register here for Metropolis's Think Tank Thursdays and hear what leading firms across North America are thinking and working on today.