January 16, 2019
A Former Playground for Strippers and Slayer Is Reborn as a Music Lover's Dream Hotel
Gold-Diggers, an East Hollywood bar/boutique hotel/recording studio, mines its eclectic past while stepping into the future of music.
---
The adage "If these walls could talk" resonates quite literally at Gold-Diggers, a multi-hyphenate new boutique hotel, bar, music venue, and recording studio that recently opened in East Hollywood. "The buildings presented the idea," insists owner and hospitality and music industry vet Dave Neupert of the two-building complex, which came with its own eccentric lore and history. Neupert's deep connections to both businesses put him in a singular position to develop Gold-Digger's "Drink. Sleep. Record." concept.
Three years ago, Neupert acquired the three-story, 1925 structure when it still operated as a dive bar and exotic dance hall. (The establishment was the first in Los Angeles to be built with an "inn above a tavern" license back when Santa Monica Boulevard was Route 66.) Neupert and his team knew they wanted to craft a certain vibe while capitalizing on the allowed uses that would be grandfathered into the project's multifarious programming.
The property's "cherry on top" he says, however, was a low-lying building in the back. This structure has plenty of its own eccentric Hollywood history, from serving as the soundstage and studio of infamous director Ed Wood, through L.A.'s 1980s heavy metal and punk scenes, when bands such as Slayer and Hollywood Rose (later renamed Guns N' Roses) rehearsed under its roof.
---
More from Metropolis
---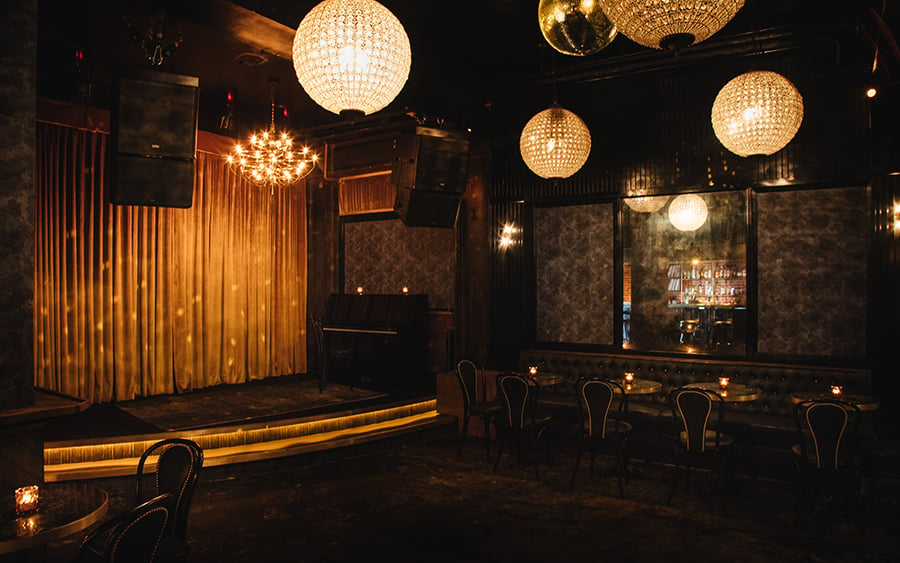 ---
While Gold-Diggers retained its distinctive yellow sign, the two structures had long seen better days. After a meticulous restoration, Gold-Diggers reopened as a chic new hotel this summer. Its recording studio, meanwhile, reopened the first week of December as an outpost of Kingsize Soundlabs, whose engineer Dave Trumfio understood first-hand the need to offer musicians a convenient—and stylish—place to crash.
Gold-Diggers' target market comprises a self-selecting crowd of musicians, music fans, and design enthusiasts—all niches Neupert understands well. Members of the design team all had their own connections to music, too, and immediately got the brief.
"If you are going to this hotel, you know what you're signing up for," says Andrew Lindley of LAND Design Studio. "It's a rock 'n' roll hotel, and you're above a bar." The result, however, boasts plenty of creature comforts and thoughtful acoustics.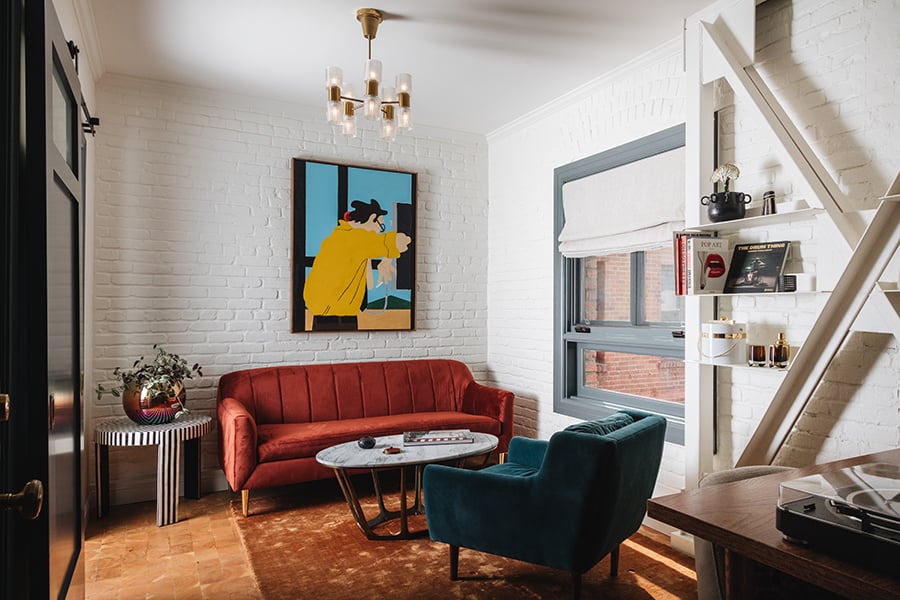 ---
Lindley and David Wick of Wick Architecture and Design got to work designing 11 compact rooms and suites located on the second and third floors, which required taking the previously seismically-retrofitted brick building down to the studs. "Whatever was done then becomes the blueprint," Wick notes.
A few design decisions resulted from the constraints of rehabbing this type of 1920s structure. Take the narrow bathrooms, with some located between sleeping and sitting areas and separated by sliding barn doors. Strategically positioned bronze-toned mirrors make select areas feel bigger and help "soften that reflection," Wick explains. Shelving was incorporated into functional X-braces. All windows were replaced for improved sound-proofing.
Neupert also tapped interior designer Tiffany Howell, who also owns the Night Palm home decor boutique in Silver Lake, to bring in "the softness and lushness…and the oddities in the rooms," he says, which include curated vinyl selections and turntables, naturally. Howell says she felt compelled by "the music connection, and the idea of making [rooms and suites] feel like apartments" where musicians can retreat. That said, food delivery will have to suffice, since there aren't kitchenettes. (Additionally, many of the hard surfaces—notably bathroom tiles and wood flooring details—were chosen before Howell came on board.)
---
In addition to restrained-yet-sophisticated furnishings—Gold-Diggers isn't intended for ascetic reclusive types, after all—Howell selected linens and accessories from Hawkins New York and Australia-based Kip & Co., along with original artwork by Jessalyn Brooks and Kristi Head, while Neupert commissioned 20 pieces by musician Andrew Savage of the band Parquet Courts.
The Gold-Diggers bar features Howell's mix of bedazzled pendant lighting fixtures and vintage pieces. Those, plus tufted black leather banquettes and non-fixed seating, result in a moody, retro 1970s glam atmosphere that functions both as a neighborhood hang and a flexible performance space. Much like Kingsize Soundlabs, it's adaptable to the shifting needs of the music industry. (Justin Gage of the music blog Aquarium Drunkard serves as the music supervisor.)
Inside Kingsize, Neupert and Trumfio offer a mix of nine recording rooms and configurations, including a substantial "Studio A," smaller writing/composing rooms, plus a screening room, all with state-of-the-art equipment. Wick points to how the designers retained "opportunities where we can have special moments," notably the catwalk that's a significant remnant from the Ed Wood phase, and the existing mezzanine that's been adapted into an enclosed "chill space."
"It's really about discovery," Neupert observes. "Everybody working in the campus is a fan and speaks the language, and wants to see cool stuff going on."
You may also enjoy "Vancouver's Caffè La Tana Channels Old World Beauty."