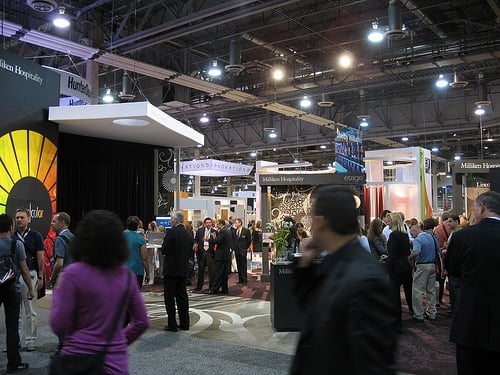 May 16, 2008
Green Hospitality?
The HD Expo in Las Vegas suggests that hospitality design is going green. Well, sort of.
A graphic at Toto's booth at this year's HD Expo
The annual HD Expo, in Las Vegas, is the country's largest exhibition of hospitality-design products, from meat-and-potatoes wares like carpets and wallcoverings to more recherche fare like smart minibar systems and flat-screen TVs disguised as abstract paintings. Think of it as a sort of networking and speccing Mecca for interior designers, hoteliers, and restaurateurs. And, like the rest of the industry, hospitality design is going green—sort of.
---
More from Metropolis
---
This year's show kicked off, on Wednesday, with a daylong green conference to address such issues as energy savings, eco-tourism trends, and the USGBC's planned LEED standards for hospitality. Yesterday, fueled by the new-carpet smell wafting through the air, I tromped around the massive Sands Expo & Convention Center to see how these big-picture concerns were trickling down to a handful of the 1,200 or so exhibitors on the show floor.
The scene on the show floor
Admittedly, I was feeling a little skeptical. These days it's hard to find a company that's not making grand claims about its environmental friendliness, and unfortunately a lot these are greenwashing or sheer nonsense. And hotels and restaurants are a particular challenge: incredibly resource-intensive by their nature, they seem an unlikely venue for true eco-innovation.
Nevertheless, there were some heartening trends. As you would expect, the big companies I talked to all had established green practices, and many were working toward new benchmarks. The Japanese manufacturer Toto, for example, is introducing faucets that use 1.5 gallons per minute—about half a gallon less than a typical faucet—and changing its toilets from 1.6 gallons per flush to 1.28. Similarly, Philips is pushing down the amount of energy required to run its televisions: the second-generation Smart Power LCD TVs, launching around the end of the month, will run on 52 to 55 watts; the company says that similar models by its competitors require at least 100 watts.
Smaller manufacturers can have a harder time making bold environmental claims. Barlow Tyrie says that the teak it uses in its outdoor furniture is all sustainably grown, but that not all of it is FSC-certified simply because they can't find enough supply. Advanced Technology is trying to figure out ways to incorporate recycled material into its thermoplastic laminates without compromising the texture of the finish.
But the small guys don't lack for big ideas. Conneaut Leather has adapted a German technology used in the auto industry to create the country's first chrome-free, biodegradable leather, which will be distributed by CF Stinson beginning next month. And the industry is actively looking for more dramatic innovation: the Radical Innovation in Hospitality contest is accepting concepts until August 1, and will give the winner $10,000. (Download the entry-form PDF here.) Regretfully, the contest doesn't require that projects have a sustainable focus–but, let's face it, what could be more radical than a greener hospitality industry?