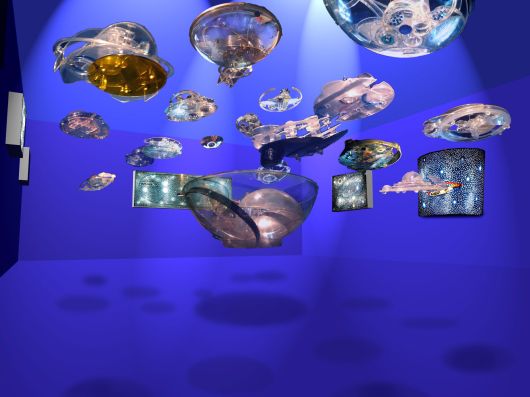 June 4, 2009
Gyula Kosice's Hydrospatial City Lands in Houston
The Argentinian artist's space-architecture installation is being shown in its entirety for the first time.
Images: courtesy the Museum of Fine Arts, Houston
"Man is not to end his days on Earth," the Argentinian artist Gyula Kosice wrote in 1944. Beginning two years later, and continuing for the next quarter-century, Kosice explored the architectural implications of this assertion through the Hydrospatial City, his most ambitious and longest-running project, which depicts a utopian community suspended in space. By the early 1970s, the city had evolved into a series of sculptural maquettes, including 19 three-dimensional space habitats. The Museum of Fine Arts, Houston, recently acquired the installation, and will be exhibiting it in its entirely–for the first time outside Kosice's studio–beginning this Sunday, as part of the new exhibition North Looks South: Building the Latin American Art Collection.
---
More from Metropolis
---
The Hydrospatial City will be presented in a 200-square-foot room, with the nine-by-nine-foot galaxy of clear plastic mobiles dangling from the ceiling. The exhibition will also include drawings and Kosice's 1946 Madí Manifesto, where he argues that architecture should incorporate "habitat and displaceable forms in space."
Each Plexiglas model depicts a living pod–although, as the museum's wall-text points out, these are "habitats full of unclassifiable worlds, places for intermittent vacations, and polydimensional places where one could be dead and alive, hunt from prehistoric auroras, or direct satellites by remote control aboard a Kosicean space craft."
North Looks South: Building the Latin American Art Collection runs from June 7 to September 28 at the Museum of Fine Arts, Houston. You can read more about Kosice on his personal Web site, his Wikipedia page, or his blog, and watch a 3-D animation of the Hydrospatial City on YouTube.