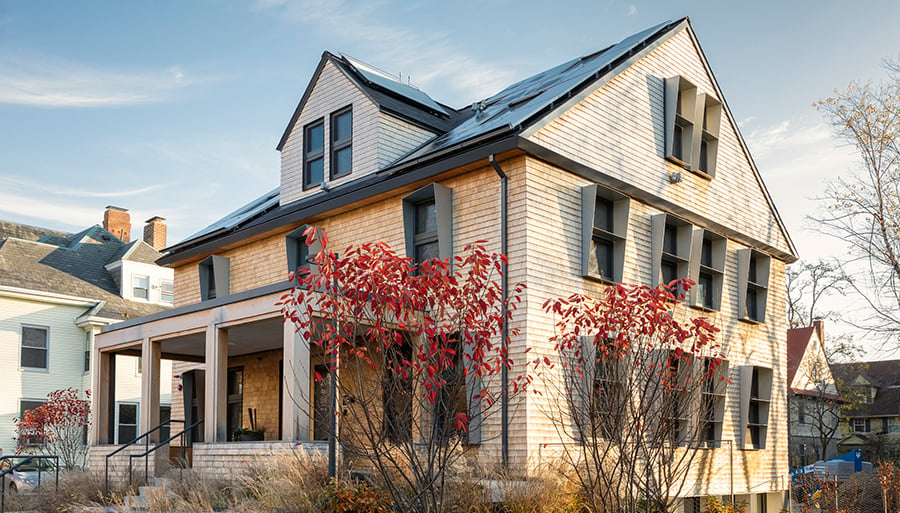 December 5, 2018
Harvard Opens Snøhetta-Designed Prototype for Super-Sustainable Retrofits
Dubbed HouseZero, the building uses data-collecting sensors, passive ventilation, low embodied energy materials, and geothermal wells, among other strategies.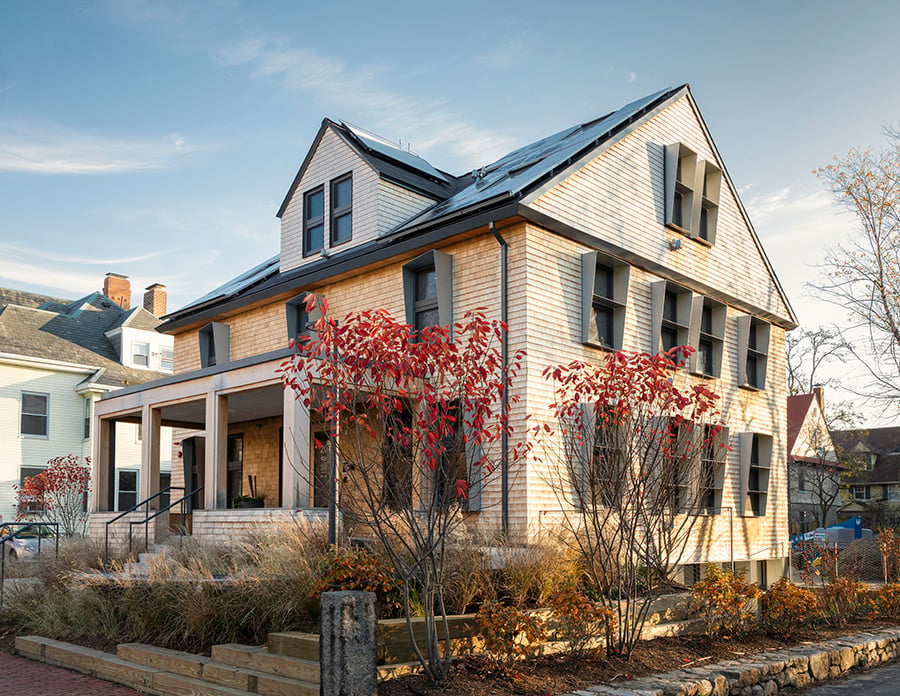 The Greek root of the word "ecology" is oikos, or home.
In a leafy neighborhood in Cambridge, MA, adjacent to the Harvard University campus, a former house has been transformed into a green building on steroids, one that its makers say will generate more energy than it uses and be a worldwide research source for sustainably retrofitting existing buildings. Called HouseZero, it's part of an ambitious and just-announced initiative called the Harvard Center for Green Buildings and Cities (CGBC), which will be under the auspices of the university's Graduate School of Design. The program's headquarters will be HouseZero.
"It began with asking ourselves a question: can we have a building with no heating and cooling?" says Ali Malkawi, a Harvard design professor who heads the CGBC. "With weather in Boston at extremes, what better place? We challenged ourselves, 'Let's make a structure that's a showcase, that generates data and algorithms that can be shared with the worldwide building professions.'"
---
More from Metropolis
---
The house features far more than the usual bells and whistles found in even LEED Platinum projects. Embedded in the floors and the walls are hundreds of tiny sensors that track the indoor and outdoor temperatures minute by minute. Upper portions of the expansive windows open and shut automatically based on this data. Geothermal wells 300 feet below both heat and cool. The house's computers can predict weather a day in advance and adjust these systems accordingly.
HouseZero has a decidedly Scandinavian bent. First, the architect was Snøhetta, known more for large-scale projects like the Oslo Opera House and the Museum Pavilion of the National September 11 Memorial & Museum. Malkawi said he knew of the firm from previous collaborations when he was at the University of Pennsylvania, where he ran the T.C. Chan Center for Building Simulation and Studies. Second, the custom automatic windows are Danish. And third, the central, acoustically-controlled circulation space designed by Snøhetta is paneled in blond wood in a "hexonic" pattern that seems right out of a Swedish architecture magazine.
Malkawi, a native of Jordan who had previous academic stints at Georgia Tech and the University of Michigan architecture schools, admits to an affinity with the Nordic countries. He was coeditor of a book, Sustainability in Scandinavia: Architectural Design and Planning and held a visiting professorship at the Royal Danish Academy in Copenhagen in 2013-2014.
Aaron Dorf, HouseZero project director for Snøhetta, avers that "aesthetic elements that may be interpreted as Scandinavian—a focus on simplicity and functionality, durable natural finishes, the use of wood, a deliberate effort to bring light into the interior—we consider functional components of achieving the project's core goal of reducing both operational and embodied energy throughout."
Within HouseZero on any given day are more than a dozen Harvard staff, Ph.D. candidates, and post-docs poring over the mountain of data the building provides. They work in spaces that need very little artificial light because of the large windows and numerous skylights. The rooms are silent—no whir of air conditioners or fans—with the exception of the faint sound of automatic windows adjusting themselves.
Just as Detroit is developing self-driving automobiles, so Malkawi admits his goal is a building "that thinks for itself … We don't have a lot of information about human interactions with buildings. I want to use artificial intelligence to understand complex building behavior."
Harvard won't say how much HouseZero cost to build. But its architecture dean sees big long-term payback.
"As a living laboratory," says Graduate School of Design Dean Mohsen Mostafavi, "it equips Harvard students and researchers with an unparalleled, innovative infrastructure for exploration as they design the next generation of sustainable buildings around the world."
You may also enjoy "Architecture Firm Ooze Harnesses Natural Systems to Solve Freshwater Crises."