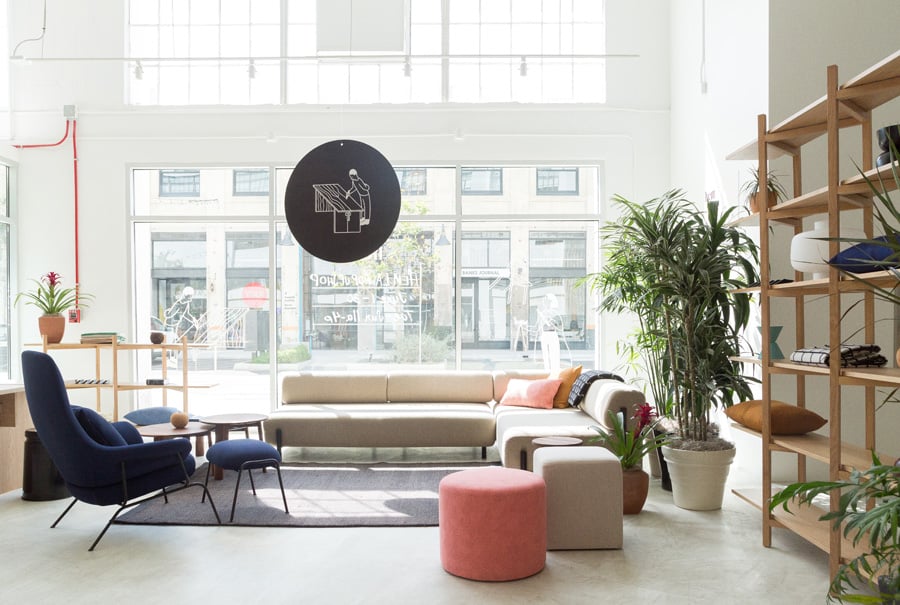 June 13, 2018
Take a Look Inside Hem's Second Ever Pop-Up, Now Open in L.A.
The temporary store for the cult Stockholm-based furniture e-tailer, located in a warehouse in Downtown L.A., showcases a mix of staple pieces and new offerings.
Following up on the hype surrounding (and success of) its New York retail foray last fall, the e-commerce furniture sensation Hem is taking over a stripped-down industrial space in Los Angeles for its second U.S. brick-and-mortar.
The pop-up, which opened last week, displays Hem's signature furniture, lighting, and accessories, and offers a sneak peek at some brand-new releases launching after the summer. "I think we'll just put our furniture in there and it will look beautiful," says Petrus Palmér, founder of the Stockholm-based brand.
The provisional shop occupies a high-ceilinged concrete space in Row DTLA belonging to local e-tailer and Hem partner Poketo. For Palmér, the pop-up signifies the enduring importance of the tangible in the e-commerce era, and of Hem's global community of designers and aficionados. "It's just a natural extension of the brand growing and getting closer to its audience," he says, adding that the U.S. market accounts for roughly 60 percent of Hem's sales.
---
More from Metropolis
---
"What I enjoy most is that we're able to capture the community that we've built online and transform that into a physical community," says Palmér.
And Palmér sees the pop-up as more than an opportunity to connect with fans through cocktail hours—the retail strategy is becoming an inextricable part of Hem's business model. "We can stay for a short time and meet customers," he says. "And then we go back home, gather our forces, and plan for a new venue."
The Hem L.A. pop-up will be open through June 30 at 777 S. Alameda St. #174.
You might also like, "Hem Launches First New York Pop-Up."