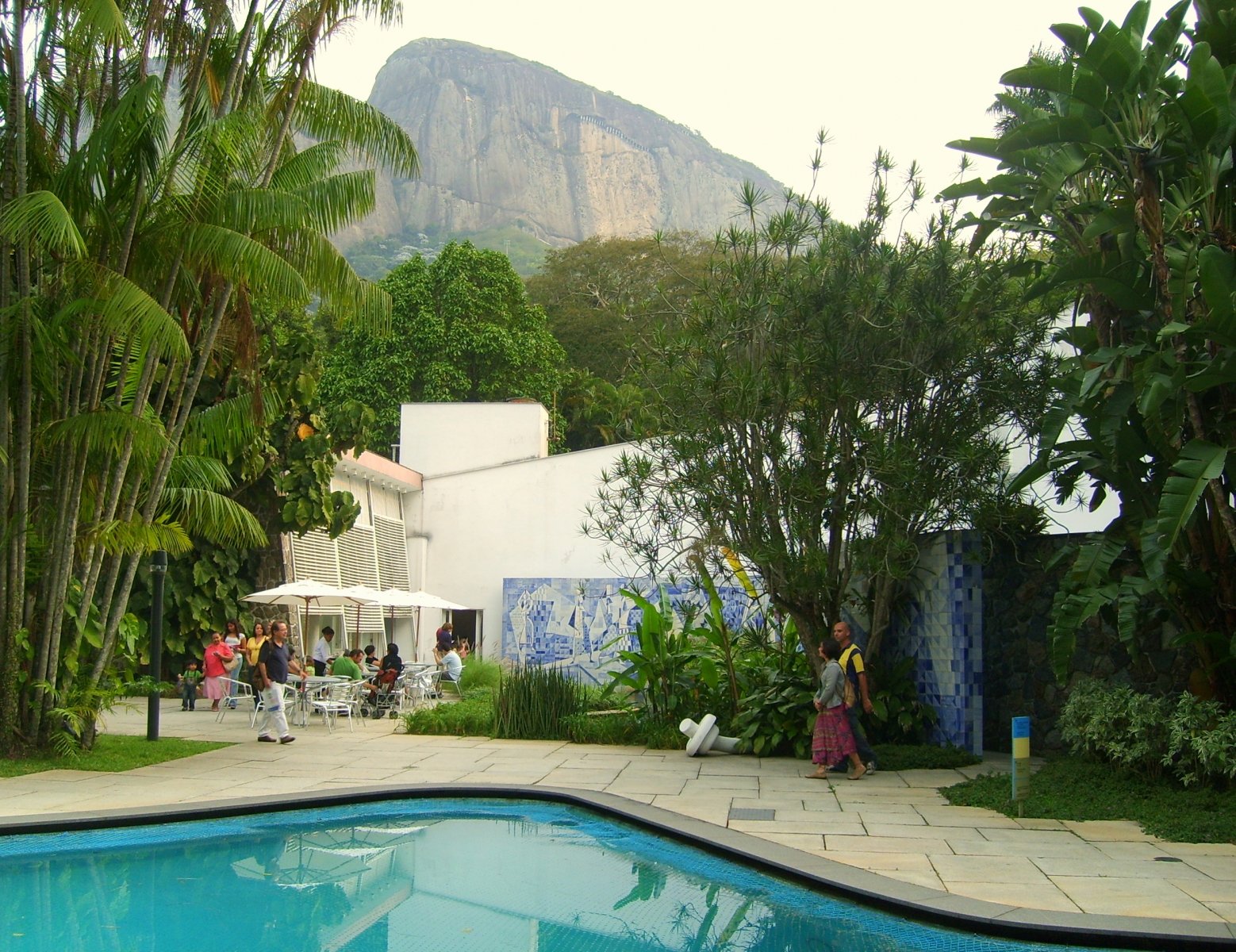 March 11, 2014
Discovering A High Modernist Gem at the Foot of Rio's Hills
Discovering a high modernist gem at the foot of Rio's hills.
After bringing modern banking to Brazil—and making a great fortune in the process—Walter Moreira Salles decided to create a showcase home. So in the late 1940s he hired architect Olavo Redig de Campos and landscape architect Roberto Burle Marx, who together created a high modernist jewel with a distinctly tropical twist. Set on an exclusive hillside in Rio de Janeiro's leafy Gavea district, the complex possesses the geometric scruples of Ludwig Mies van der Rohe, except that the vines and tendrils of the surrounding jungle seem to have worked their way into the very foundations of the builders' plans.
As you approach the main entrance, you see only a monolithic white structure defined by sharp right angles and a large-scale rejection of purely decorative elements. However, as you round the house, your realize that one side of the U-shaped structure is in fact slightly askew, as if it has been pried open by its fertile surroundings. Inside lies a courtyard sheltering an effusion of native plants and trees. Their luxuriant greens and exuberant shapes offer a playful retort to the clean, white lines of the building that encloses them. An undulating roof floats on slender pillars, forming a fourth "wall" that both defines the courtyard and leaves it open to the adjacent pool and gardens.
---
More from Metropolis
---
The house was designed by the architect Olavo Redig de Campos, with landscaping and gardens by Roberto Burle Marx.
As you move from the courtyard into the gardens, the neat, Modernist lines of the building undergo further distortions. A distinctly asymmetrical pool is in turn backed by a long, gentle curving wall. Its blue-and-white tiles are reminiscent of Portugal, Brazil's former colonial master, even if the abstract design is distinctly Cubist. These sensuous curves are continued in the adjacent swimming pool and cabana. Yet despite the effulgence of shapes and colors, the masterful Burle Marx manages to create a sense of human order amid the wildly fertile scene.
Even when you move inside, the minimalist, light-flooded rooms seem designed for formal events rather than intimate living. No doubt this effect was carefully orchestrated, since Salles was a legendary host who counted among his friends prominent politicians, businessmen and artists, including Greta Garbo and even Mick Jagger. These days, you too can visit the Salle home, which has been restored to its original luster and serves a public cultural center, with art exhibitions, films and a lovely outdoor cafe.
The design mixes an assortment of modernist devises—straight lights, thin concrete columns, slatted sun-screens—with local touches, such as an ornamental screen and the aforementioned azulejos.
Peering into the courtyard, through the undulating canopy—what was to become, thanks to Niemeyer and others, an icon of Brazilian modernist architecture.
The house, opaque to the outside, opens up in the courtyard, with glazed screen letting it abundant light.
A stone wall clashes splendidly with the slanted, adjustable sunscreens and glazed surfaces.
---
Robert Landon has written about design, architecture and travel for a range of publications, including Dwell, Lonely Planet, the Los Angeles Times and London's The Daily Telegraph.
Paul Clemence is an award-winning photographer whose work is part of many collections, including the Mies van der Rohe Archives and housed by MoMA, New York.  He exhibits both in the U.S. and on the international fine art circuit, from classic B & W prints to large scale photo installations. A published author, his work can also be seen in major design and lifestyle publications. His "Architecture Photography" Facebook page receives over half a million hits monthly.