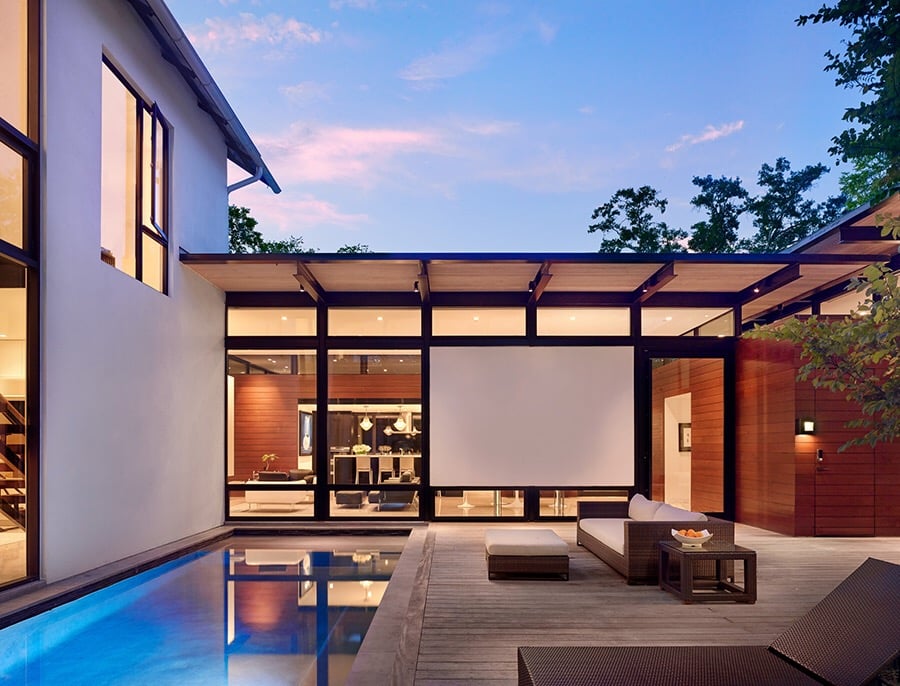 May 24, 2018
Lake|Flato Designs a Texas Home Protected Against Floodwaters and Prying Eyes
Facing a site exposed to floodwater and neighbors' views, Lake|Flato used a variety of strategies to make this family home work.
Designing a home in Bellaire—a Houston suburb ravaged by Hurricane Harvey in August 2017—presents its own special challenges. Homes there have to be prepared for the next hurricane—something Austin-based firm Lake|Flato knew when tasked with designing this family home. "The Bellaire section of Houston is very flat," architect Ted Flato tells Metropolis, "so stormwater runoff from the roofs and the land were critically important in the design of this house."  In addition to the flood risk, the architects had address a second challenge: the narrow site features neighbors close by on either side, meaning the home would have to protect the family's privacy as well.
Consequently, Lake|Flato elevated the residence three feet above the ground to escape future floodwaters. The U-shaped structure also wraps around a courtyard (which is also elevated), creating a secluded outdoor retreat. "The narrow lot already suggested the arrangement of the house," Flato says. "Use the rooms of the house to edit out the neighbors with a central private courtyard and contrast this more intimate heart with expansive garden rooms."
The need for privacy also dictated the exterior treatment of the residence's two main volumes. One section—a two-story wood-framed pavilion that holds the bedrooms—is covered in stucco while steel-and-glass volume contains the living and dining areas. The two sections are connected by an airy glass bridge that also serves as an office overlooking the courtyard.
---
More from Metropolis
---
"The material and construction systems were a response to the function of the rooms," says Flato. "The private elements of the house are located in the more solid [volume], and the public rooms, kitchen and living are skinned in glass and steel so that they can enjoy a seamless connection with the outdoors."
You may also enjoy SCHAUM/SHIEH Designed This New Houston Gallery to Feel Like It Could "Scatter Like Cards"