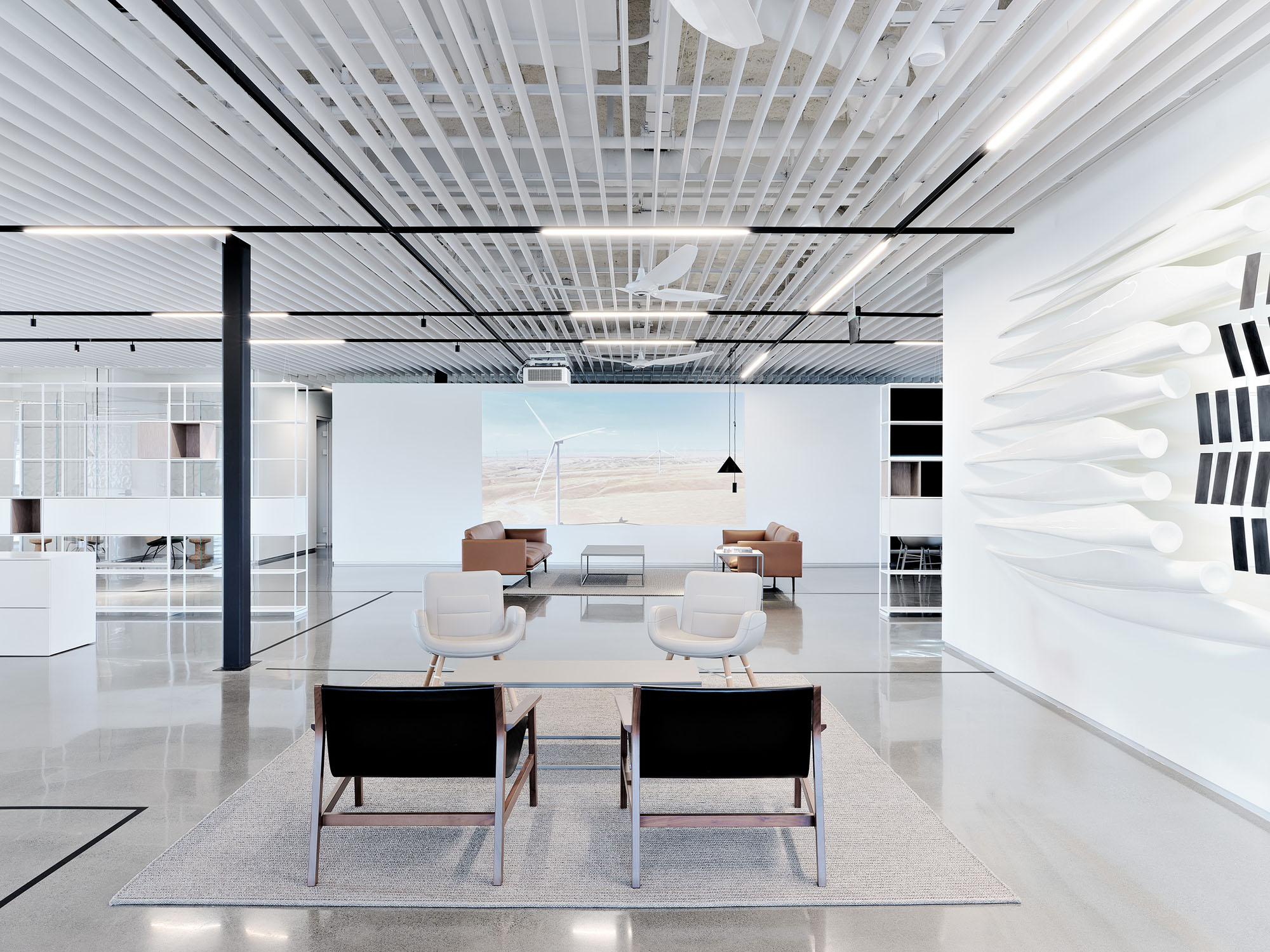 January 3, 2023
Inside a Renewable Energy Company's Monochromatic Office
Minimalism can easily result in bland and sterile design. But San Francisco and Tel Aviv–based Axelrod Architects has demonstrated how the clean-lined, monochromatic aesthetic can be infused with meaning to create a compelling 15,000-square-foot office in the Bay Area town of Burlingame.
Its client Eolian is not your typical tech start-up. The privately held company is instrumental in the development of the United States' clean-energy and clean energy–adjacent infrastructure. For instance, over the past 18 years it has developed or funded about 10 percent of the country's utility-scale solar- and wind-power facilities. The firm recently moved to a new office that would end up marking its official break from a parent company that still had holdings in fossil fuels. Eolian's leaders tapped Axelrod to create a design that would represent its future-facing philosophy while incorporating visual reminders of its pioneering work.
"We wanted a space that was beautiful and also had direct linkages to what we've done together over time," says Eolian founder Aaron Zubaty. "These long-term infrastructure projects can take 10 to 15 years to materialize, and you want to keep that larger fabric in mind while creating the next wave of decarbonization strategies."
The tenant-improvement project, covering one and a half floors of a newly constructed office building, feels industrial yet refined; glimpses of the raw shell of the building—now clad in high-gloss acrylic—are still visible.
---
More from Metropolis
---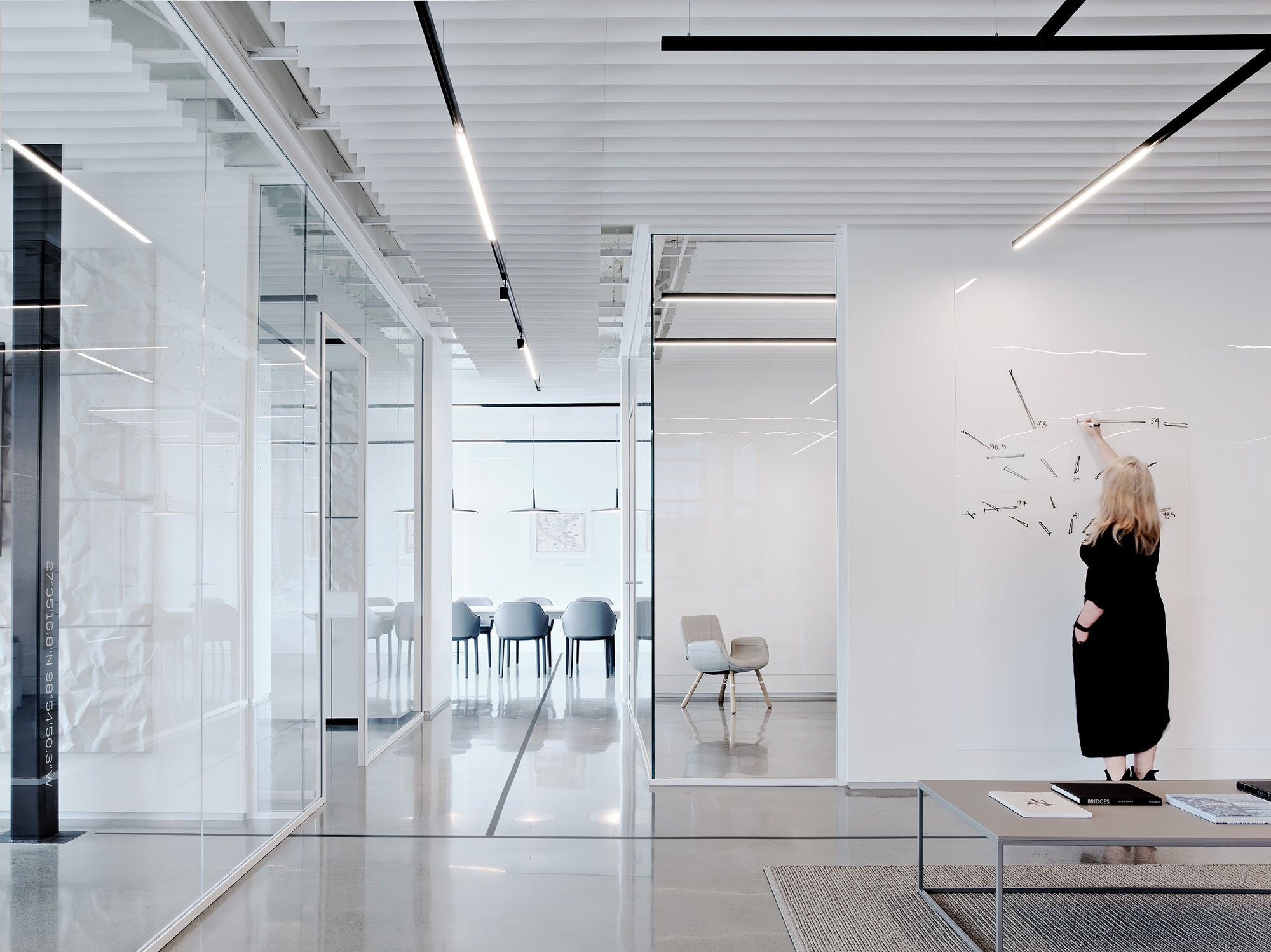 The more-than-50-person staff of engineers, data scientists, finance professionals, and lawyers needed private offices for their long hours of deeply focused work, but Zubaty also wanted a degree of openness to retain natural light and sight lines to views outside. "It was important that people could see each other, so that even if you're entirely focused on a task or thought, you're still able to reach out to someone that could help you think deeper or differently about what you're working on," he says.
These programmatic requirements led to a floor plan with glass-walled rooms arranged around the perimeter and in freestanding clusters, separated by open lounge spaces to encourage chance interactions. (While the office was designed pre-pandemic, this layout turned out to be extremely propitious.) To create a bright, luminous environment, the design team painted the exposed ceiling white, added a drop ceiling of white metal baffles, and installed acrylic panels that double as whiteboards.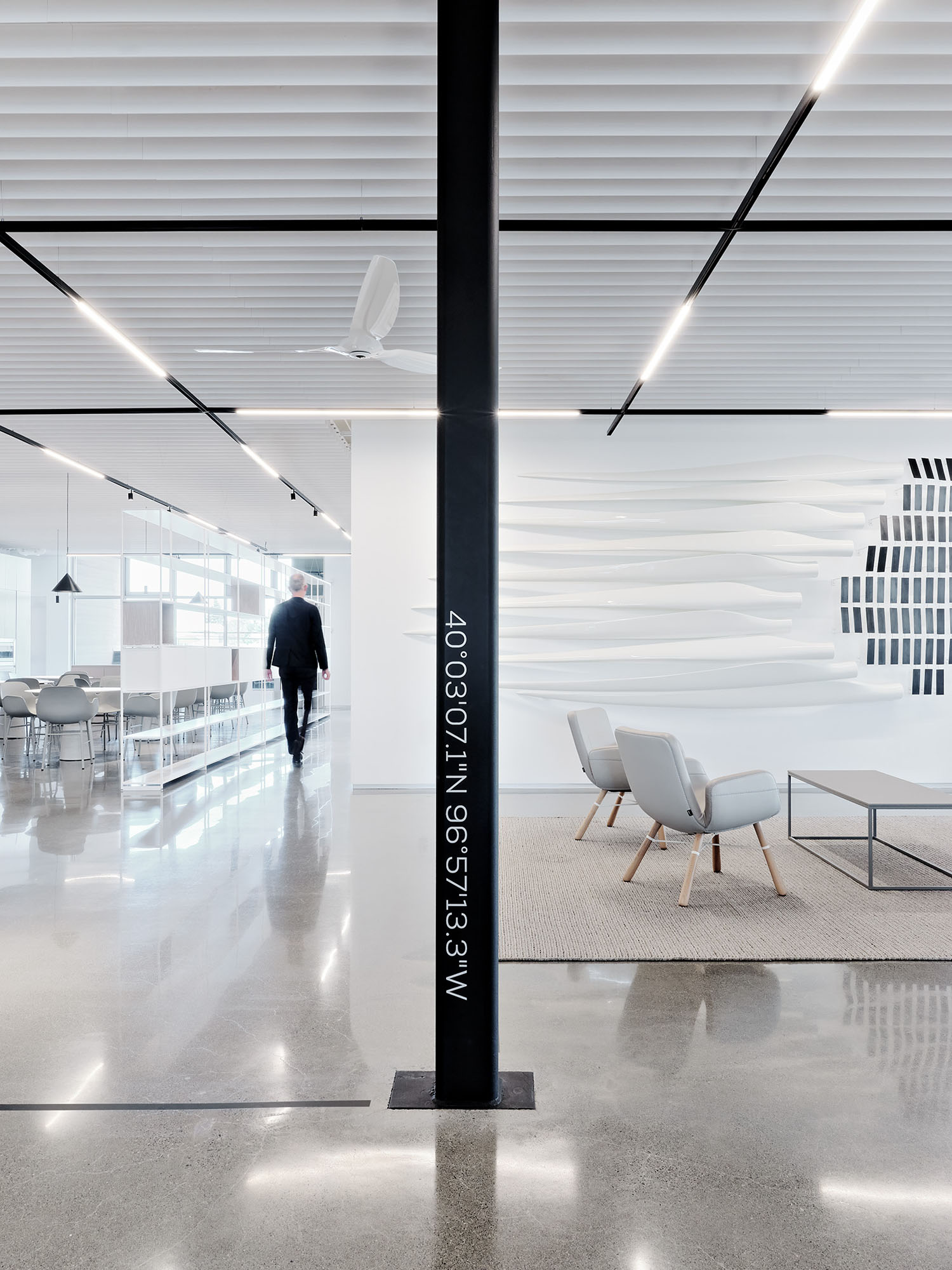 Giving the unadorned concrete slab floor a high polish also helped. "Everything is white, but nothing is simple—there are so many textures," says Axelrod Architects principal Irit Axelrod, who grew up in Tel Aviv, inspired by its many Bauhaus buildings.
To embed Eolian's identity in the design, Axelrod and Zubaty came up with a simple way to represent a turbine layout grid, tying the office together graphically with grids of black lines connected to the office's structural posts. One is overhead: Linear lighting fixtures in slim tracks intersect across the space. Another is underfoot: Painted lines connect the floor's exposed steel columns, which are coated in black paint and labeled discreetly with the geographic coordinates of some of the company's projects. Over the lounge areas, oversize white ceiling fans evoke the company's wind-power developments.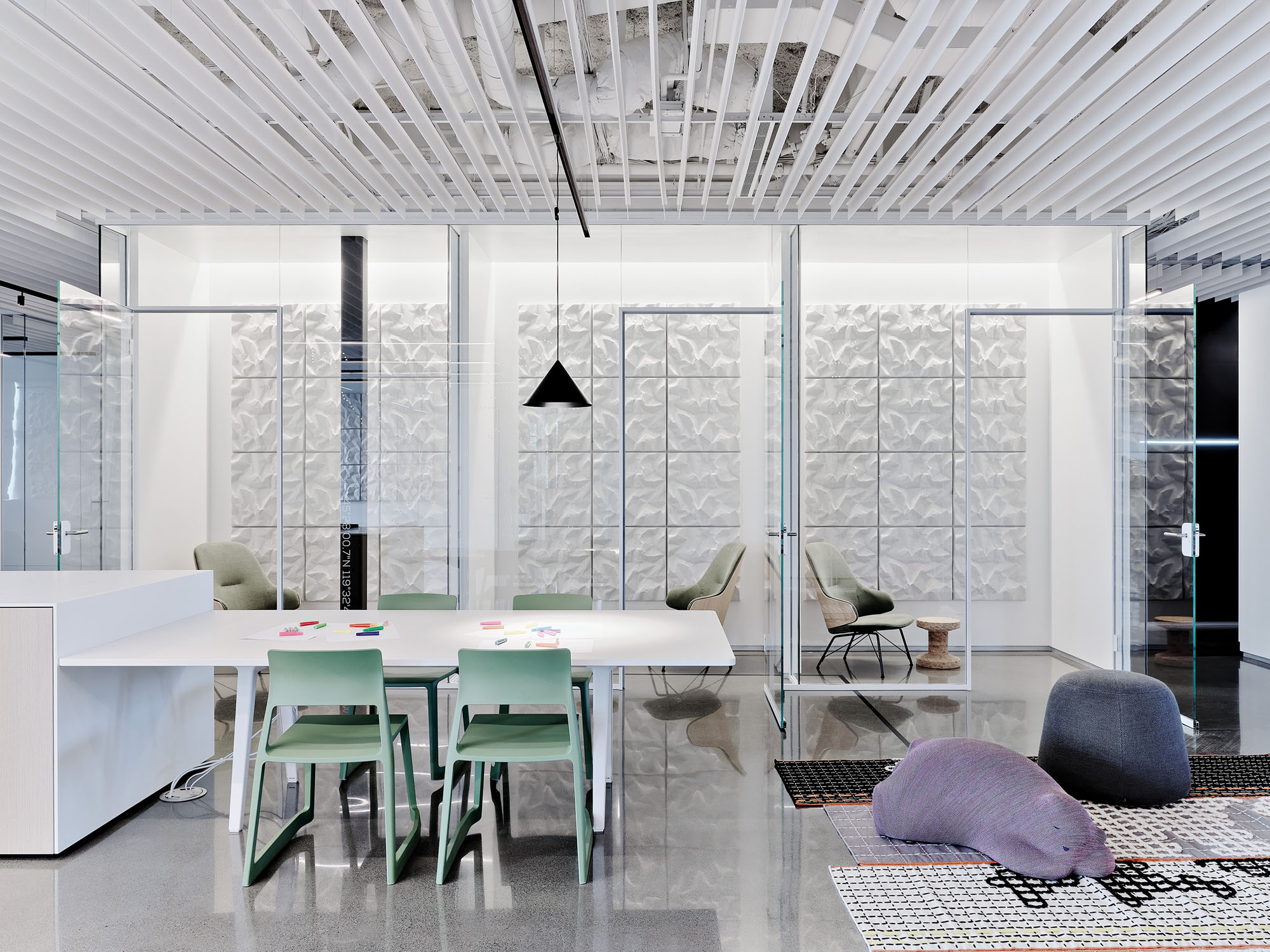 There are also literal representations of Eolian's business. Drone footage and still imagery from project sites are projected on a central wall in the open area visible from the reception, entrance, and open lounge, while an installation in the main lounge by California sculptor Wayne Shaffer showcases an artistic interpretation of wind turbine blades. Another sculpture by the same artist combines miniature models of those fiberglass blades, cast in bronze.
At the beginning of September, when the Bay Area was in the middle of a severe heat wave, the office was dimly lit and comfortable. The thermal mass of the exposed concrete floors, which cool down overnight, helps to reduce the indoor temperature. Individual thermostats in each room allow personalized control, and ensure that only occupied spaces get air-conditioning. Zubaty knew that the battery storage the company had built in Southern California would help with the statewide spike in demand, but doubted that it was enough. "We've been working on this problem for a long time. It's very personal," he says.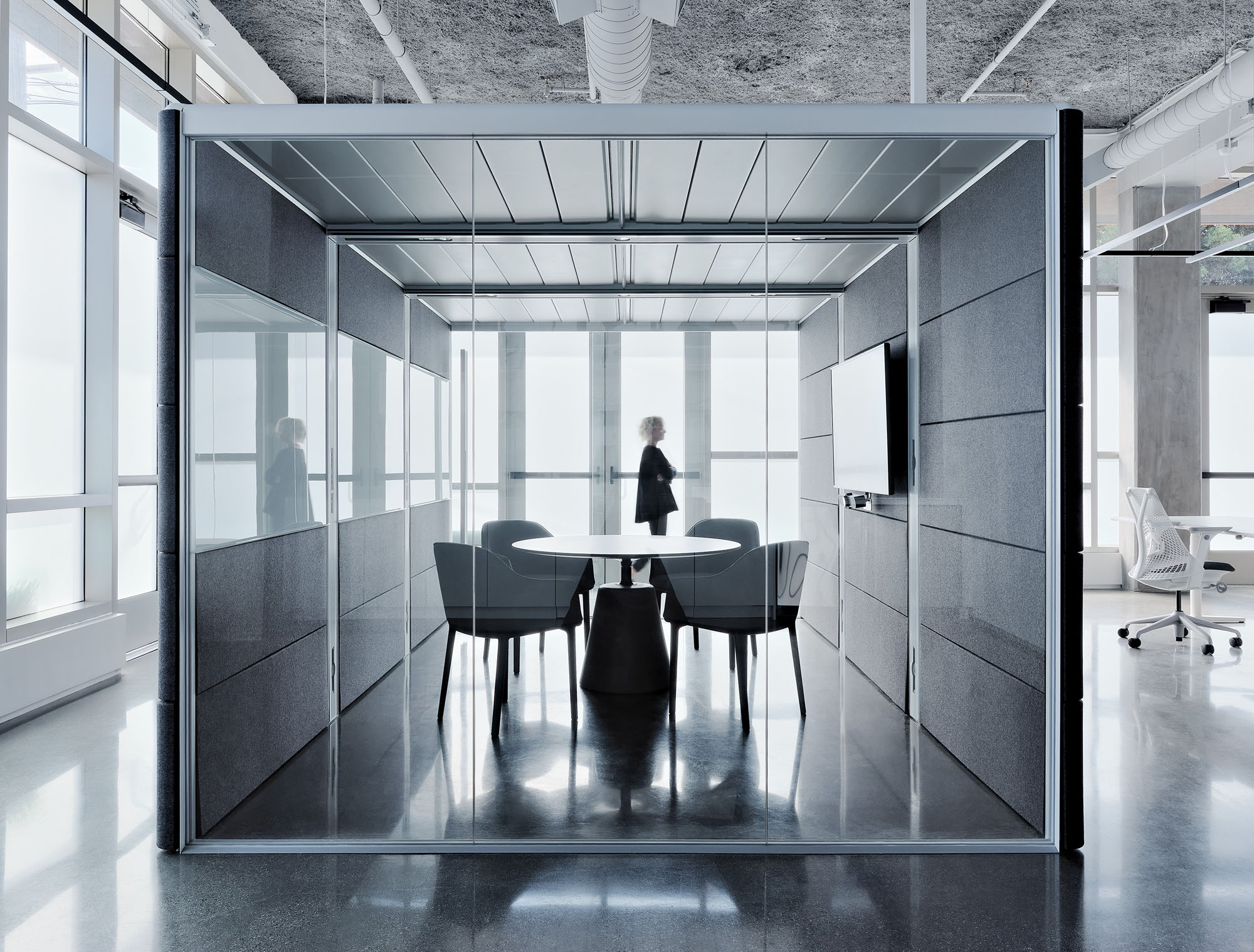 Would you like to comment on this article? Send your thoughts to: [email protected]