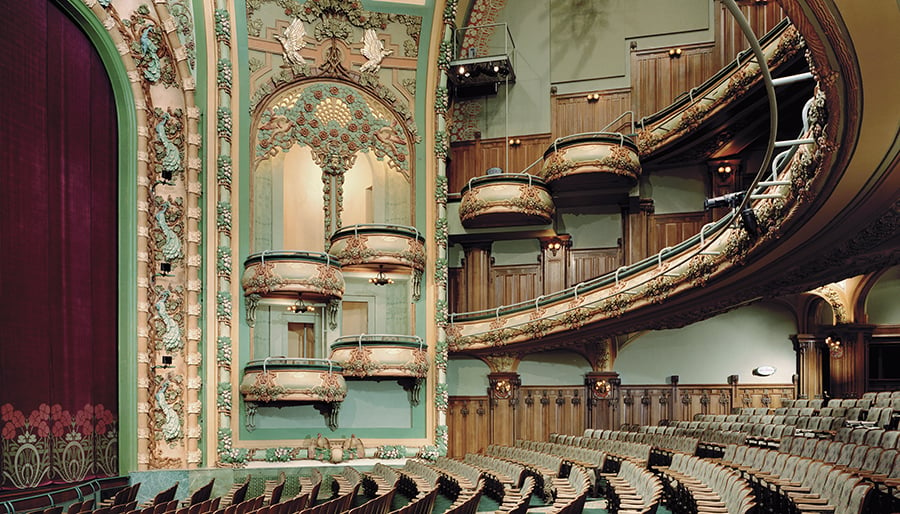 September 10, 2018
Step Inside Three of New York City's Hidden Interior Landmark Jewels
Three excerpted chapters from Interior Landmarks: Treasures of New York, whose new edition is available for pre-order, reveal stunning Art Nouveau and Art Deco architecture.
---
Many of New York City's landmarks are easy to spot on its skyline, however, the city's Landmarks Preservation Commission (LPC) has been naming interior landmarks since 1974.
Interior Landmarks: Treasures of New York (Monacelli Press) showcases 46 of these hidden jewels. Available for pre-order now (with an October 16 release date), this updated paperback edition includes a new chapter on the New York Public Library Main Branch's Rose Main Reading room, which was landmark listed in 2017.
Below are three excerpted chapters written by Interior Landmarks authors Judith Gura and Kate Wood. The excerpts have been edited and condensed for brevity.
---
More from Metropolis
---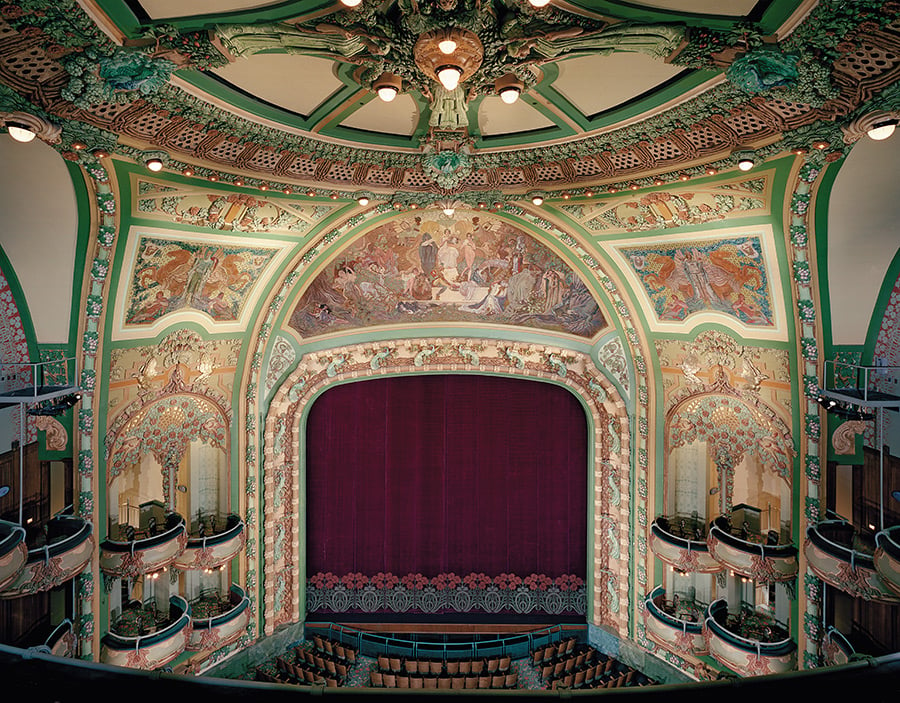 ---
New Amsterdam Theater
Completed: 1903
Location: 214 West 42nd Street, Manhattan
Architects: Herts & Tallant
Interior Designated: 1979
The largest theater in New York when it was built, the New Amsterdam, along with the Lyceum Theater, is the oldest surviving Broadway-area venue. Its rescue is one of New York's great success stories. Spectacular in and of itself, it also stands as a symbol of the revival of 42nd Street and the entire Times Square theater district.
The New Amsterdam marked a significant innovation in design, as the first American theater to depart from the standard model of the European opera house, which favored elaborate and often overwhelming classical schemes. Instead, the architects turned to the more delicate Art Nouveau, a fashion-forward style that had become popular in Belgium and France but was rarely seen in the United States.
In addition to its extravagant decor, the New Amsterdam was technically advanced for its time. It had sophisticated heating, cooling, and vacuum cleaning systems, as well as fireproofing. Most unusual, the stage could be lowered two stories by a system of elevators and electric motors, and it had an electrical switchboard—advantages that made it well suited for elaborate shows. The theater opened in November 1903 with a production of Shakespeare's A Midsummer Night's Dream, and until 1927 it was host to the renowned Ziegfeld Follies.
The financial pressures of the Depression battered many Broadway theaters, and the New Amsterdam was no exception. It went bankrupt and closed in 1937. A new owner converted it into a movie theater, removing the auditorium boxes but otherwise leaving the interiors largely intact. A restoration effort in the 1980s stalled, resulting in further damage.
Hardy Holzman Pfeiffer was commissioned in 1992 by the State of New York…to stabilize and restore the virtually ruined interior. The interiors were transformed—almost every surface was replaced and the colors, finishes, and decorative details were re-created…. The New Amsterdam reopened on April 2, 1997, and since then has thrived as a venue for Disney productions of The Lion King, Mary Poppins, and Aladdin—all appropriate tenants for its fanciful interiors.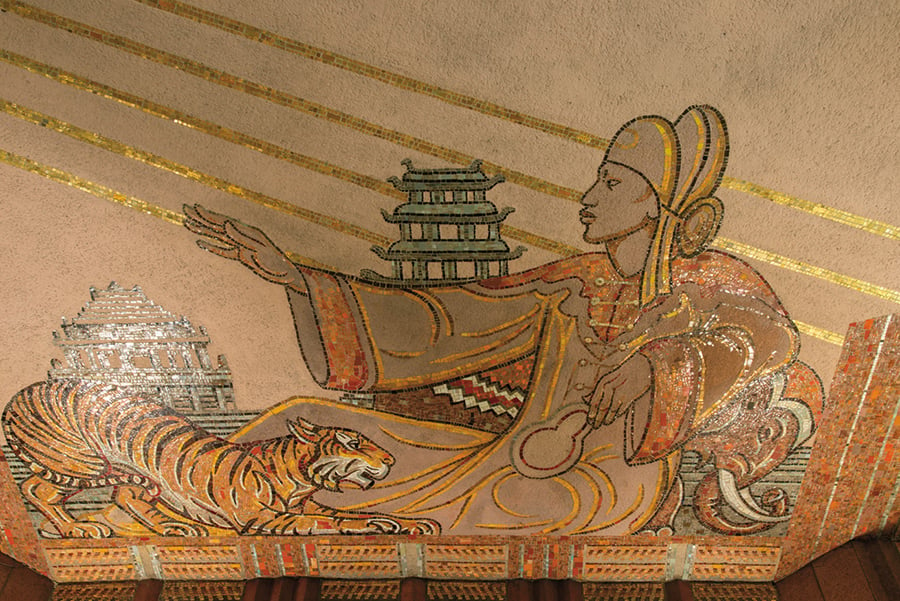 ---
AT&T Long Distance Building
Completed: 1914, 1916, 1932
Location: 32 Avenue of the Americas, Manhattan
Architects: McKenzie, Voorhees & Gmelin; Voorhees, Gmelin & Walker
Interior Designated: 1991
This interior is housed in what was the world's largest long-distance communications center, the last of several major skyscrapers built in AT&T's years of greatest expansion. After Alexander Graham Bell's mid-1870s invention, the telephone business generated many small regional firms, which eventually merged into the American Bell Telephone Company. Its subsidiary, the New York–based American Telephone & Telegraph Company (AT&T), was incorporated in 1885 to handle long-distance traffic connecting the regional companies. It quickly became the heart of the Bell System, and its purpose-built skyscraper reflects that importance.
The original seventeen-story structure was built in 1914…. Seven floors were added two years later as AT&T continued to expand, and the irregular-shaped structure was enlarged once more in 1932 to reach its present configuration, twenty-eight stories high and spanning most of a city block. Cyrus Eidlitz…was lead architect of the original structure, and the successor firms designed the expansions. The final renovation reflects the preferred style of Ralph Walker, a leading proponent of Art Deco.
"Modernistic," as Art Deco was then called, was America's mix of French Style Moderne with images of the Machine Age. The elaborate iconography of the Long Distance Building's first-floor interior proclaimed AT&T's commitment to international communication and a modern aesthetic. Decorative motifs include symbols of telephone and radio and their reach to the farthest corners of the world, as well as elements suggesting weaving, which may refer to "weavers of speech," as long-distance operators were called.
Inside the Sixth Avenue entrance, is a striking mosaic map of the world, and the ceiling is decorated with allegorical figures of four continents, linked by golden telephone lines. Both were the work of Hildreth Meière, the most prominent muralist of the day, who worked on projects in St. Bartholomew's Church, Temple Emanu-El, and the exterior of Radio City Music Hall.
In 2001 Fox & Fowle [now FXCollaborative] completed a renovation that added new infrastructure and restored the lobby to Walker's original design.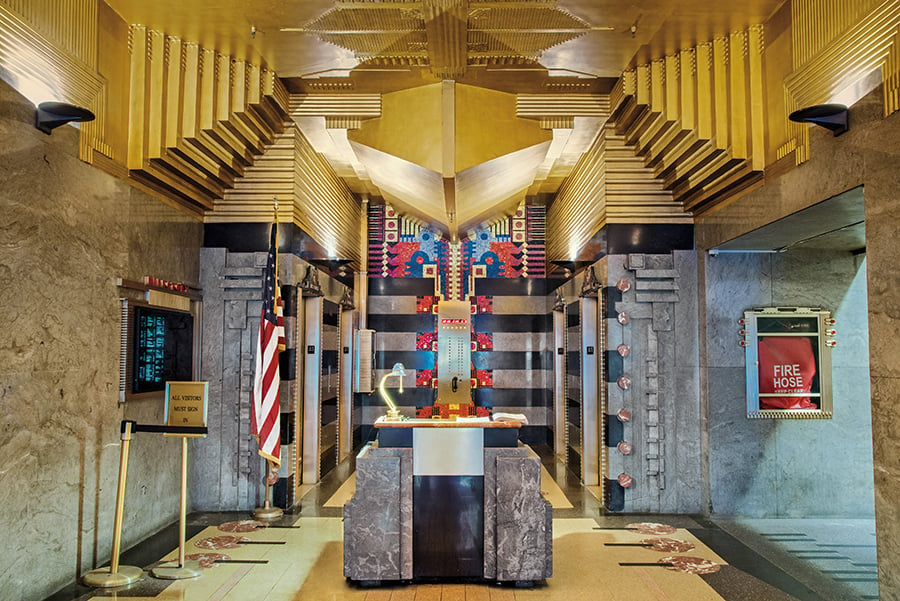 ---
Film Center Building
Date: 1929
Location: 630 Ninth Avenue, Manhattan
Architects: Buchman & Kahn
Interior Designated: 1982
The building boom of the 1920s gave New York a new skyline and, less obviously, a new interior landscape of Art Deco lobbies. One of its finest and most colorful interpretations is the little-known interior of the Film Center Building, an office building west of the Times Square theater district, in the newly gentrified Hell's Kitchen (now Clinton) neighborhood.
The Film Center Building was built to house the offices of film distributors, editing rooms, and related businesses. Design was not its only attraction: to accommodate the specialized clientele, every floor was equipped with steel vaults for storage of nitrate film. Although most of the original tenants have long since departed, the striking ground-floor spaces continue to attract tenants and to delight passersby as well as design aficionados.
In a relatively limited space, Ely Jacques Kahn, one of the most prominent architects working in the new style, ingeniously treated color as part of the structure rather than as decoration alone. The environment he created is strikingly theatrical, contrasting materials and textures with an interplay of light and shadow that eschewed the spare simplicity of the International Style, then in its early ascendance.
The entry vestibule, featuring a geometric pattern of horizontal and vertical bands across the ceiling and down the walls, leads into a rectangular elevator lobby, where broad bands of alternating black and silver-gray stone run horizontally around the walls, visually expanding the relatively narrow space. The ceiling is a gilded landscape of channeled grooves and ziggurat-like projections that frame the space. Cast-bronze elevator doors, vent grilles, staircase risers, and even the mailbox and directory board are adorned with varied abstract motifs, some suggesting stylized movie cameras. The ochre, pink, and gray terrazzo and marble floor is patterned in geometric shapes outlined by a black border.
The Film Center Building…is a rare survivor of the film industry's early years; the building still houses many businesses involved in film, theater, music, and audio production and distribution.
You may also enjoy "In Hong Kong, Foster + Partners Converts a Landmarked Modernist Building Into an Opulent Hotel."
Metropolismag.com is a participant in the Amazon Services LLC Associates Program and earns from qualifying purchases on amazon.com.