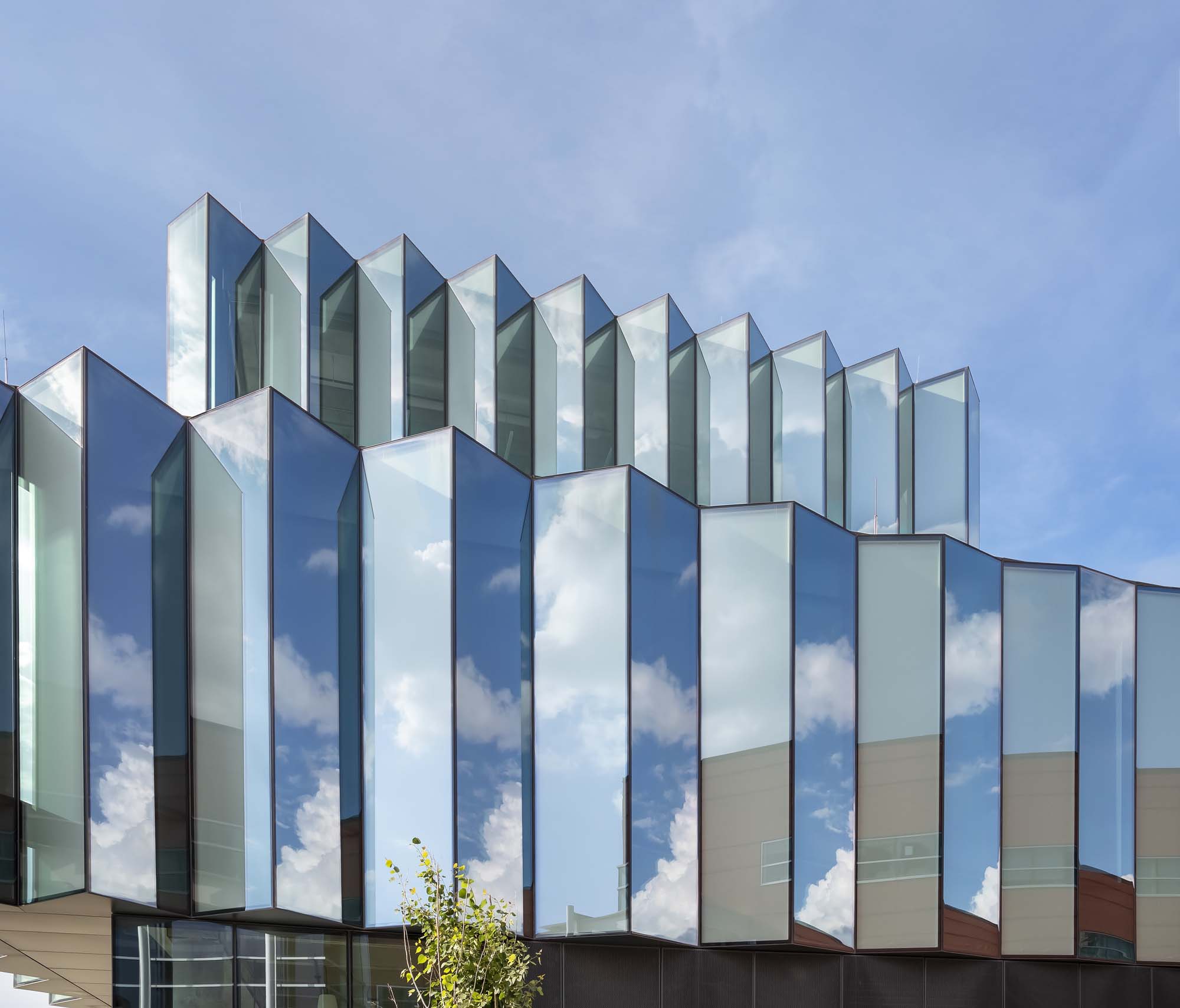 August 31, 2022
Iowa State University Student Innovation Center Encapsulates Its Mission Through Design
"We needed a kind of branding to grab attention since the campus did not have an overall architectural identity," says partner James Timberlake, of the head-turner structure.
A wash of folding glass panels on the 146,000-square-foot, LEED Gold building's surface yields an energetic presence via ever-changing luminosity and alternating reflections. Composed of painted glazing facing the sun and transparent glass pointing away from it, the pleats break down the mass of the mammoth envelope, provide a striking contrast to the building's concrete interior, and fulfill utilitarian needs like the reception of optimum daylight and effective insulation.
---
More from Metropolis
---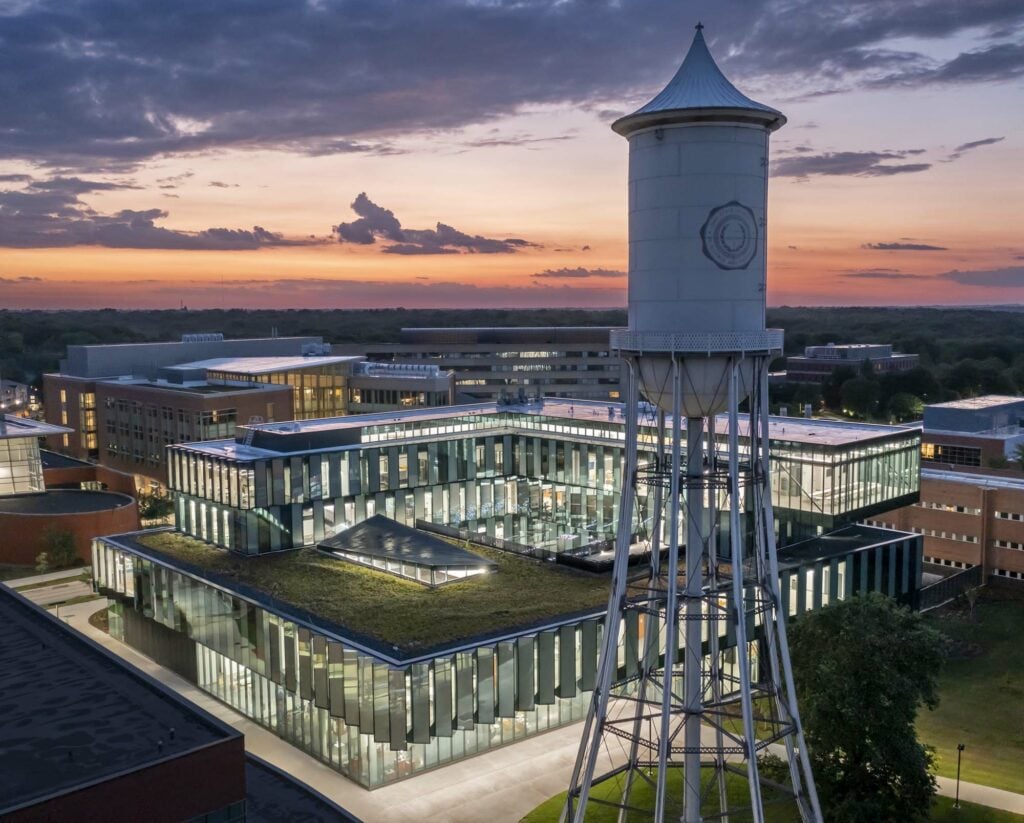 "By pixelating and incrementing the layout," adds principal Laurent Hedquist, "we take a significant amount of energy off of a large surface—this is a highly performative structure." Besides function, the architect considers this half-laminated accent a metaphor for the project's main goal: "an oyster of opportunity awaiting to be explored once stepped in."
The team visited the campus several times and surveyed students and faculty to research all the needs that a building committed to creative production—replacing scattered facilities in declaimed areas like basements, back corridors, and in-between spaces—can cover. Timberlake and Hedquist tie their research findings to welcoming elements like the rhythmic façade, a lofty central atrium and main stair, a cantilevered outlook, and adjacent event yard. (This last space also helps preserve open views to the water tower.) "The building opens up dynamically and asks its users to stay and participate," Timberlake adds.
The team's interior strategy integrates all of the school's undergraduate departments under one roof to help them think outside the box and create within or outside their departments. In addition to designated areas for hands-on activities such as glass blowing, welding, woodworking, and 3-D printing, are interdisciplinary classrooms and co-working spaces where students feel comfortable collaborating. Sixty percent of the building is used as shared space.
To make these areas easier to navigate, not to mention more comfortable and less intimidating, the prevalence of natural light, airiness, and visual connection was paramount. These were enabled through strategies like inter-connected spaces and floors, skylights and clerestories, expansive views outside, and "attractor" spaces like the atrium and a sunken courtyard. "The massing of the building and the orientation of its major pathways creates a series of almost racetracks that do not cut off the abundant natural light and turn the paradigm of many ISU buildings inside out," says Timberlake.
The interior's poured concrete surfaces came from a practical search as a result of steel import issues from China. They offer a smooth, fuss-free finish whose contrast with the light exterior is intended to juxtapose the intense work of making with its (often) more resolved completion. "A too-protective steel structure could have taken away from the building's ethos," says Hedquist.
So the building celebrates the messiness and glory of creativity and making, not to mention Iowa's ample sky and its close relationship to the land (ISU is a land grant university that experienced significant growth after World War II). "It's an example of exploration, innovation, and engagement," adds Timberlake.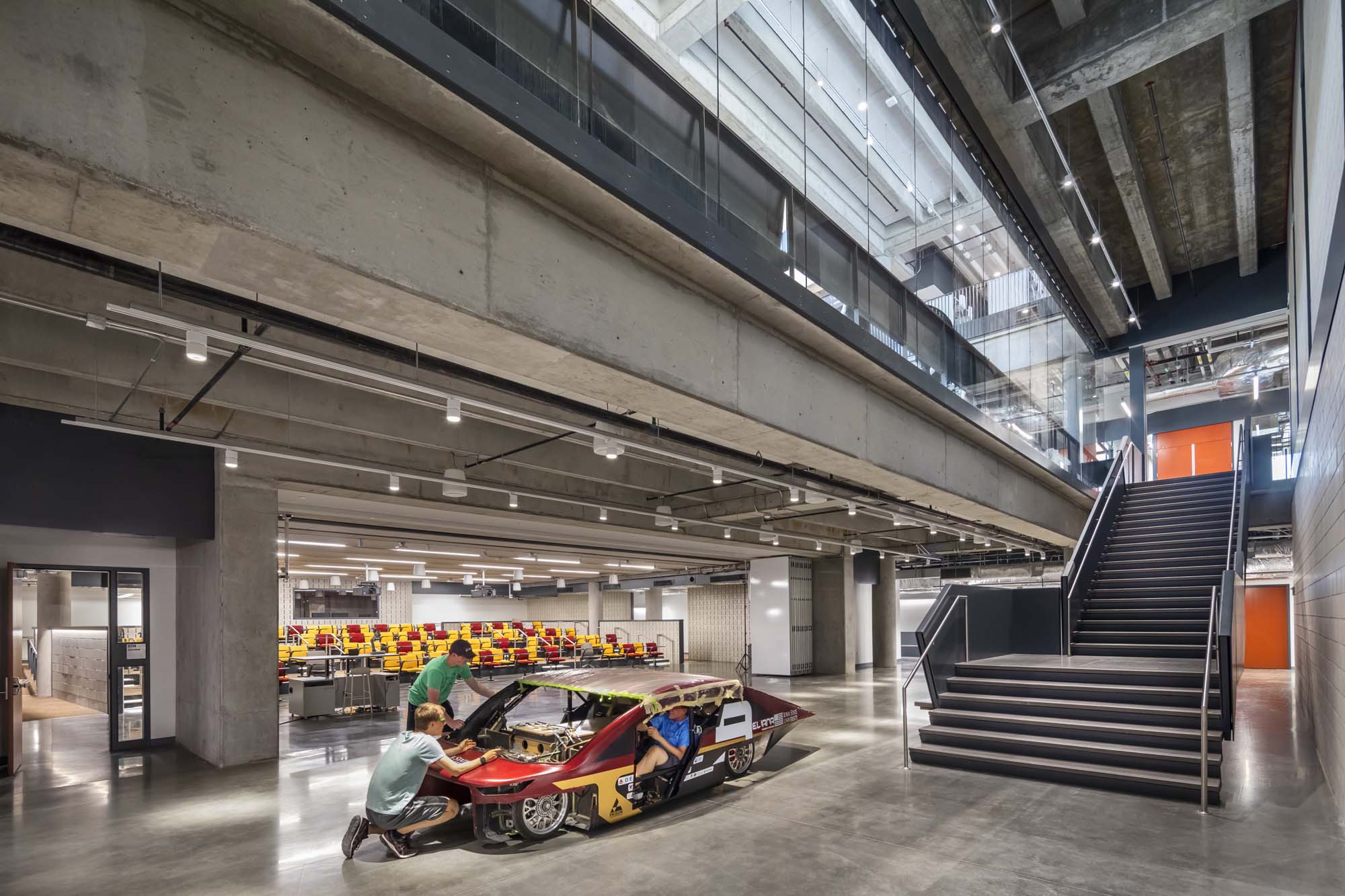 Would you like to comment on this article? Send your thoughts to: [email protected]