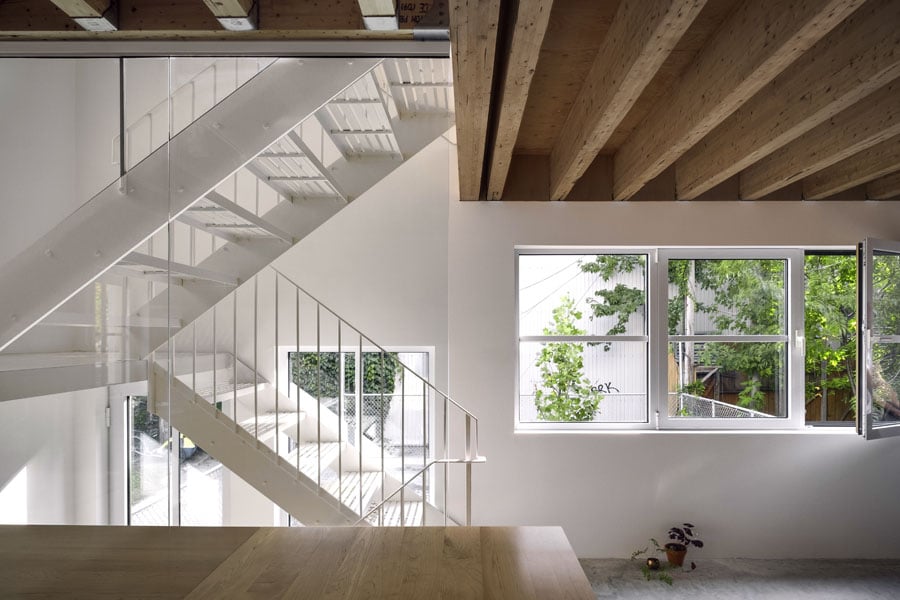 February 5, 2021
Jean Verville's Montreal Triplex Promotes Compact and Communal Living
Once home to a former auto garage, the four-story building now consists of three apartments, a ceramic studio, and multiple gardens.
---
This modest white triplex in Montreal's growing Rosemont–La Petite-Patrie neighborhood may have an unassuming exterior but the narrow four-story building is filled with innovative features that help promote compact living.
The lot, once home to a former auto garage, is located amid residential, industrial, and commercial spaces all with varying architectural styles. The structure itself—built from plaster, painted clay brick, and variously-sized gilded aluminum windows—provides a playful contrast to the surrounding neighborhood.
While most triplexes are stacked, this one includes a four-story single-family home for owners Nancy-Marie Bélanger, Hugo Didier, and their child, Jules, at the back, plus a ceramics studio, and two rental units at the front. Each apartment has its own garden, a rear garden for the family, while there is a spacious front garden for the front flat and a terrace for the terrace apartment. The owners, who wanted the space to also act as an urban oasis, have added vegetable gardens, fruit trees, a beehive, and a henhouse.
---
More from Metropolis
---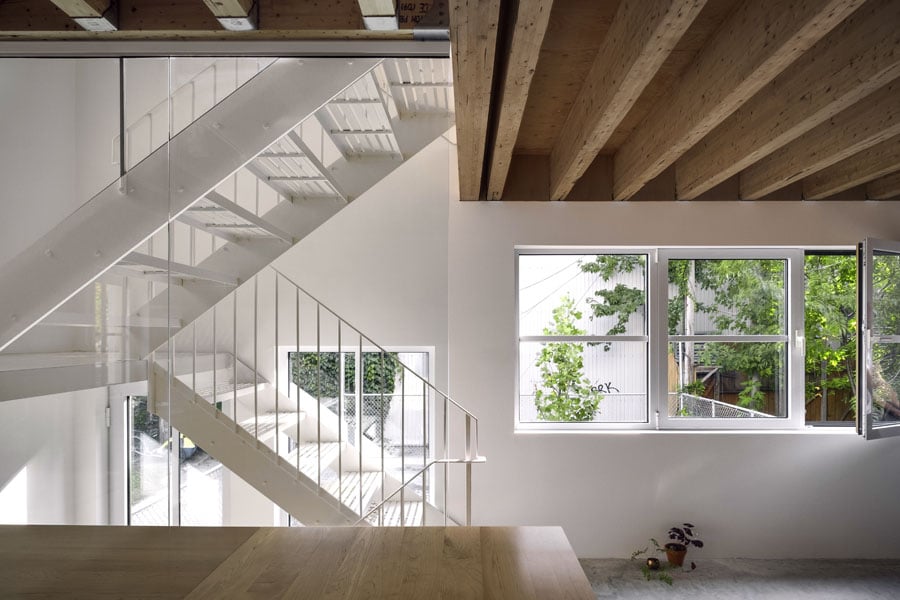 ---
Montreal's rental market has become increasingly difficult over the years as the rental housing vacancy rate has decreased in relation to population growth. That is what makes this triplex that much more important as it aims to "promote cohabitation that contributes to the reduction of urban sprawl," says the architect Jean Verville. "It also questions the demands of the owner's daily routine, their needs for privacy and conviviality, but also their lifestyle and their relationship to compactness."
For the family, whose home consists of multifunctional spaces that were purposefully planned to take up as little square footage as possible, minimal decoration and full-height glass throughout make it feel much more open as light floods into each room. "The clean white walls, structural rough concrete, and beams are about reinvesting in the beauty of the ordinary," Verville says.
---
There's a long-lacquered steel staircase, warm maple kitchen, and white-on-white palette that works in tandem with the ample light shining in. He explains, "Through the orientation of the lot and its location on the street, combined with the distribution of interior spaces, it allows each unit to benefit from at least two sun facades."
The creatively placed windows, which the designer describes as "distinctive and expressive" were inspired by the sizes and shapes of the windows seen elsewhere in the community as a way to tie the building back to its site.
As far as leaving a smaller ecological footprint, the compact nature of each unit was just one of the pieces in Verville's plan. Instead of radiant heating, concrete flooring is used to naturally heat and cool the apartments. Then there's an elastomeric membrane roof—a  long-lasting, weather-resistant rubber roof—that protects against UV rays in addition to the distributed balconies that help reduce energy demands during the warmer months. There's also a rainwater recovery system. In a world of changing needs in the housing market, this unique triplex leads by example in sustainable, communal living.
You may also enjoy "A Historic Shoe Factory Serves as a Model for Environmental and Social Sustainability"
Would you like to comment on this article? Send your thoughts to: [email protected]
---
Register here for Metropolis's Think Tank Thursdays and hear what leading firms across North America are thinking and working on today.