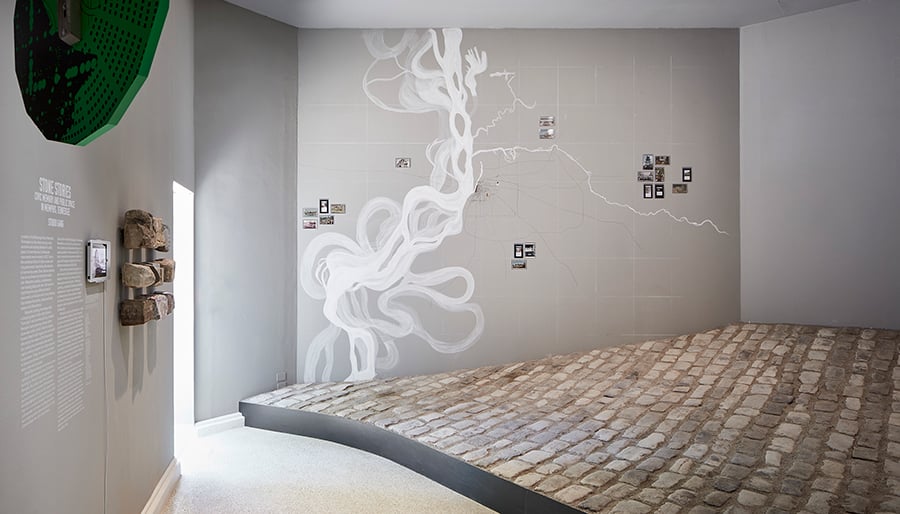 May 23, 2018
At the Venice Biennale, Jeanne Gang Uses Memphis's Cobblestones to Reflect on Monuments and Messy Civic Histories
Gang calls the installation, which will soon open at the Biennale's U.S. Pavilion, the "antithesis of a man on a horse up on a pedestal."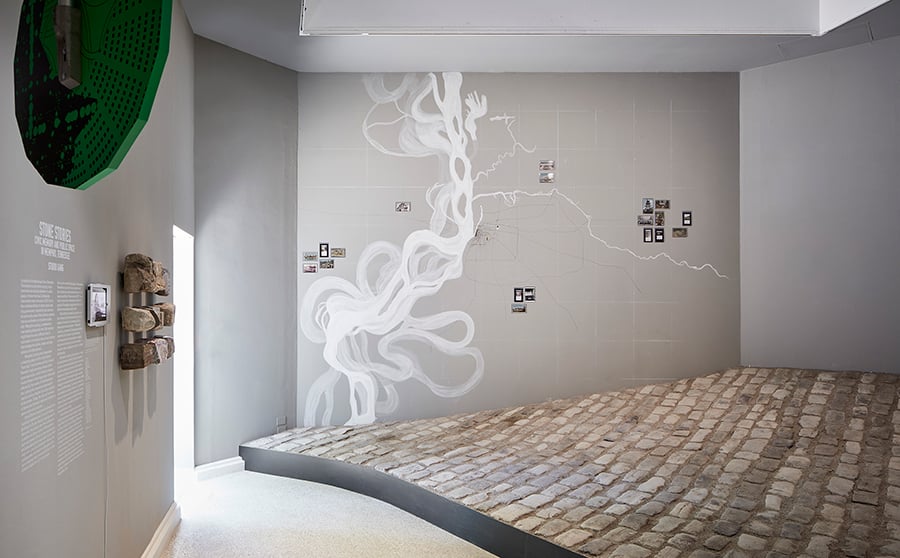 ---
"How do you make the stones talk?" asks the architect Jeanne Gang. It's not a philosophical posture, but an earnest question and one at the center of Studio Gang's soon-to-open 2018 Venice Architecture Biennale installation at the U.S. Pavilion.
The stones Gang refers to were plucked out of storage, but they were originally lodged at Memphis Landing, also called Cobblestone Landing, on the banks of the Mississippi. Famed but now underused, the site is the best-preserved cobblestone river landing in the nation (similar specimens found in Cincinnati and St. Louis aren't nearly as intact) and features in Studio Gang's conceptual regenerative plan for the Memphis, Tennessee, riverfront. Despite their dislocation, the now-twice-orphaned stones should have lots to say: First installed in the mid-19th century, they helped turn Memphis into the epicenter of the American inland cotton trade and a nexus of the slave economy. It could be said that the entire city and its oppressive racial hierarchies grew out of this entry to the river.
Gang's Stone Stories coaxes out this history through a combination of material experimentation and narrative drawn from grassroots community engagement. It asks questions about the nature of monuments, and how ambiguous histories become inscribed in the fabric of cities. And the Memphis cobblestones, a very prosaic sort of monument, are the medium for answering these questions.
---
More from Metropolis
---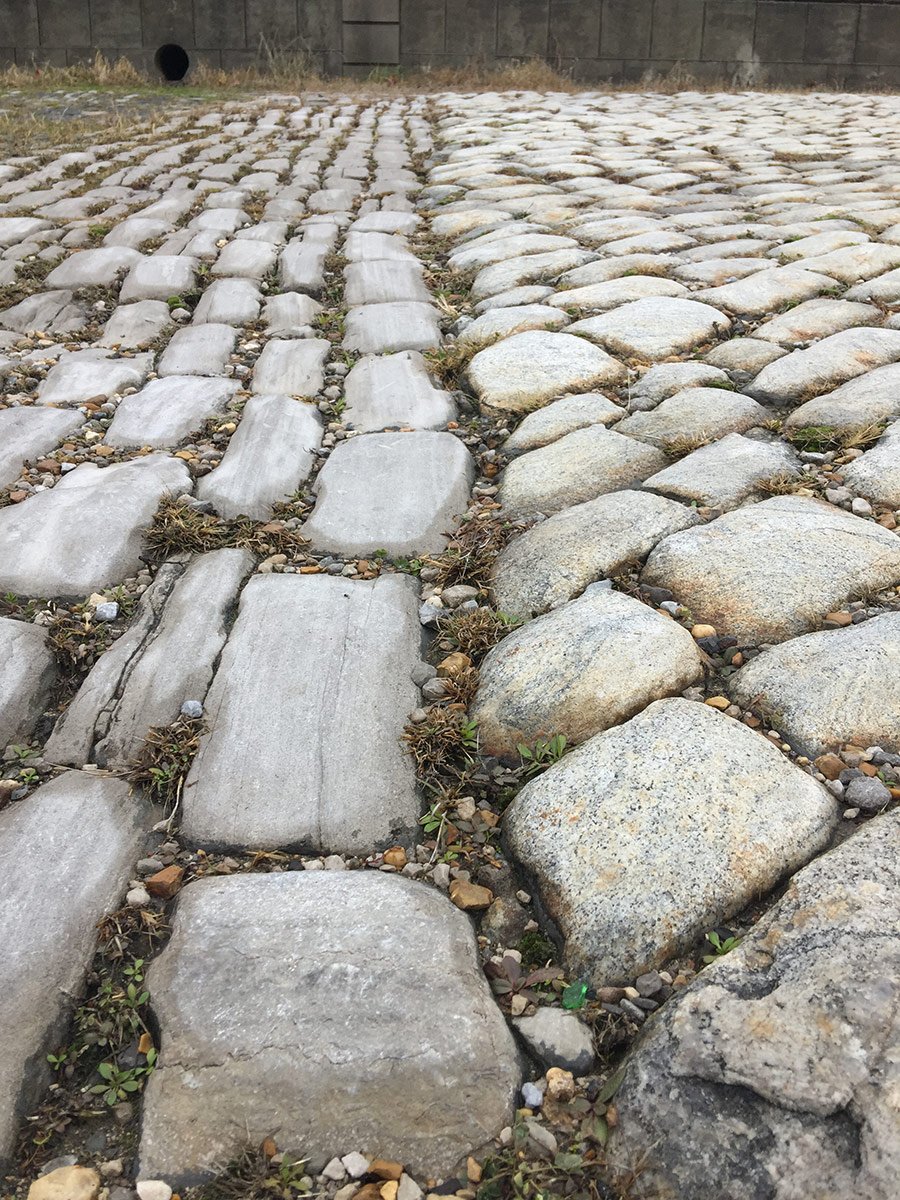 ---
A Strong, Tactile Presence
From Gang's stone foundation, the U.S. Pavilion (commissioned by the University of Chicago and the School of the Art Institute of Chicago [SAIC]) offers myriad takes on similar questions of civic histories. With the theme "Dimensions of Citizenship," the seven participating teams of artists, architects, and researchers work at a wide range of scales, from the personal to the global. Inspired by the Eameses' Powers of Ten, the pavilion's curators—SAIC assistant professor of architecture Ann Lui, Niall Atkinson of the University of Chicago, and writer and curator Mimi Zeiger, with associate curator and SAIC lecturer Iker Gil—present two queries: "What does it mean to be a citizen today?" asks Lui, and "What is the role of architecture in researching, intervening in, and speculating on these questions of belonging?"
Gang's project operates in the middle range—the architectural and civic scales. "Studio Gang specifically speaks to the question of civitas," says Lui, by which she means "the ways that we come together by law and by choice into collective bodies, but also the ways that kind of collectivity is mediated by architecture and the built environment," a strong focus of Gang's work.
Five hundred stones previously held in storage (of about 800,000 at the landing) were transported to Venice, where they were installed inside William Adams Delano and Chester Holmes Aldrich's neoclassical pavilion in the Giardini della Biennale. It's one of the first exhibits visitors see as they enter the pavilion—a strong tactile and physical presence, where the stones gradually slope up into a chamfered corner. Gang's landing is made of nine types of stone that the Memphis landing comprises, arranged to accentuate different colors and textures: brilliant pink granite, intriguingly speckled gneiss, and plain-Jane gray limestone. Off to the side of the entrance, nine augmented cobblestones—diced, spliced, and then pieced back together—thematize stories told by exemplary Memphians in an accompanying film produced by the filmographers Spirit of Space. There is similar scalar diversity at work in the film, from a segment about the mayor's citywide agenda to a clip devoted to local artists working with youth.
This portion of the pavilion sits squarely in Gang's wheelhouse: material inquiries that push their medium to the breaking point. Like her Marble Curtain installation (a thin, glowing series of masonry panels arrayed like puzzle pieces and hung like a set of drapes), Stone Stories revels in its primary material's essential qualities, yet expresses them in new ways. "There is something about material and space that has the power to speak back to us," Gang suggests. "Attention to material history is what led us to think that there's more to this place. The city is more interesting when it has these layers."
---
The Stones That Speak
From Memphis's early-19th century beginnings, the riverfront near the landing was planned as a parklike public promenade for recreation and leisure. That squares well with Studio Gang's expansive concept for the area. But during its heyday, the riverfront was too valuable to Memphis's signature industry for idle strolls.
The Mississippi's water levels in this stretch fluctuated to extremes, and rain made the bank muddy and impassable, inhibiting the flow of goods and people. An even and impervious surface was needed, and in the 1850s, Memphis committed to what was likely its largest public works project in the antebellum era—the cobblestone river landing, estimated to cost $83,000. Paving contractor John Loudon began construction in 1859 but didn't complete it until 1881. Period photos show a bustling pedestrian artery of commerce along the cobblestones. "It looked like a city block," says June West, executive director of the local historic preservation nonprofit Memphis Heritage.
Sedimentary growth that accumulated on a nearby peninsula made the landing harder to use as a port, and in 1937 the city installed a new street along the riverfront and began turning its back on the Mississippi. River cargo traffic underwent a steady decline, and by the late 20th century, the landing was largely seen as a problem to be solved. A 1970 plan proposed an expressway with a dozen or more lanes, while another plan recommended destroying the landing in favor of foundations for apartment superstructures. But it's often been used as a parking lot. The landing, 600 yards long across eight acres, has been underutilized for nearly a century, and preservationists like West worry about what the future holds.
Studio Gang's vision of this future knits together a series of parks that give visitors a powerful civic draw toward the water, and a variety of ways to experience the Mississippi's ecology. The architects' plan reimagines six miles of the Memphis riverfront, with Cobblestone Landing repurposed as a "civic terrace" softened by vegetation and incorporating a boardwalk for strolling. Much of the plan focuses on making the riverfront more hospitable for people, improving pedestrian and bike connections while also adding new programming and event spaces.
---
New Monuments
Construction of the landing was interrupted by the Civil War, though most of its early history was defined by the hum of commerce enabled by antebellum oppression and inequality. According to a historical survey of the landing prepared by Garrow & Associates, Loudon encountered Union general Ulysses Grant at Cairo, Illinois, where the Ohio River meets the Mississippi. Loudon's barges were loaded with stone meant for Memphis, and Grant blasted a cannonball across his bow, bringing Loudon to a quick stop. The general inquired as to whether the stones were meant for Confederate forts down the river, and Loudon assured him that they were not. Grant let the boats go on their way, but he soon reappeared in Memphis to commandeer them and Loudon's craft.
That the landing was worth braving Union cannon fire for is a clear indication of its civic importance. It was the economic linchpin the city sprang from. But "most if not all of the workers on the landing were African-American," West says, and in the South, that meant slave labor. In that part of the country, it's the rule rather than the exception that the infrastructural seeds that grew into great metropolises were sown by slavery. As in many Southern cities, Memphis's civic infrastructure and history of white supremacy are inextricably linked.
That's a connection people are starting to make, with growing demands to remove the most blatant symbols of this regime, like Confederate memorials and statues. Memphis is no exception: The city recently brought down two such statues, including one of Jefferson Davis that looked out over Cobblestone Landing. But while it's one thing to pluck Davis off his pedestal, it's another to attempt rehabilitating sites of historic exploitation that are completely integrated into the fabric of the city, such as the landing. Stone Stories will try to do just that.
Gang says the installation is the "antithesis of a man on a horse up on a pedestal." It's a multifaceted experience in terms of narrative voices (with oftenmarginalized groups like youth or African Americans), geological materials, and crafting techniques. It is conceived to be accessible and tactile, asking the visitor to climb over it and interact with it. And it will certainly prompt dialogue and contemplation, not reaffirmation of dead men's deeds.
"Civic monuments are charged sites," says Lui, "[but] there are many other territories that invisibly enact or produce conditions of inequality or become exclusive spaces to marginalize people." Stone Stories and the other pavilion exhibits "engage with the moments in which architecture and design have been complicit [in] producing these conditions of exclusion"—themes with particular resonance for Venice. The island city's exclusionary policies toward Jews led in the early 16th century to their being cordoned off in a part of the Cannaregio sestière, far away from the centers of trade and culture.
Indeed, it does appear that Venice, "a city of stones and cobblestones" per Gang, is an ideal match for the architect's chosen installation medium. Gang is curious to see how the Memphis cobblestones contrast with their precisely honed Italian cousins. The Tennessee stones, she says, are so "unchiseled and [un]Italian. They're like boulders. There's a rawness to it."
You may also enjoy "Grafton Architects' Venice Biennale Will Celebrate Architecture's Atmospheric Qualities."