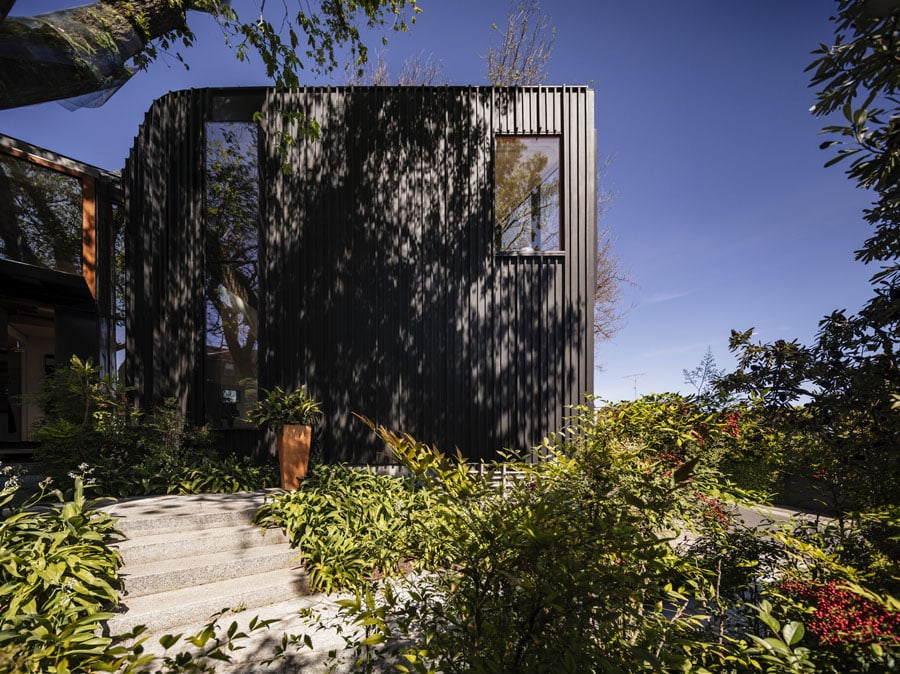 November 9, 2020
John Wardle Renovates His Home to Reflect His Creative Process
Located in Melbourne, the architect's residence is filled unique art displays, custom joinery, and clever storage.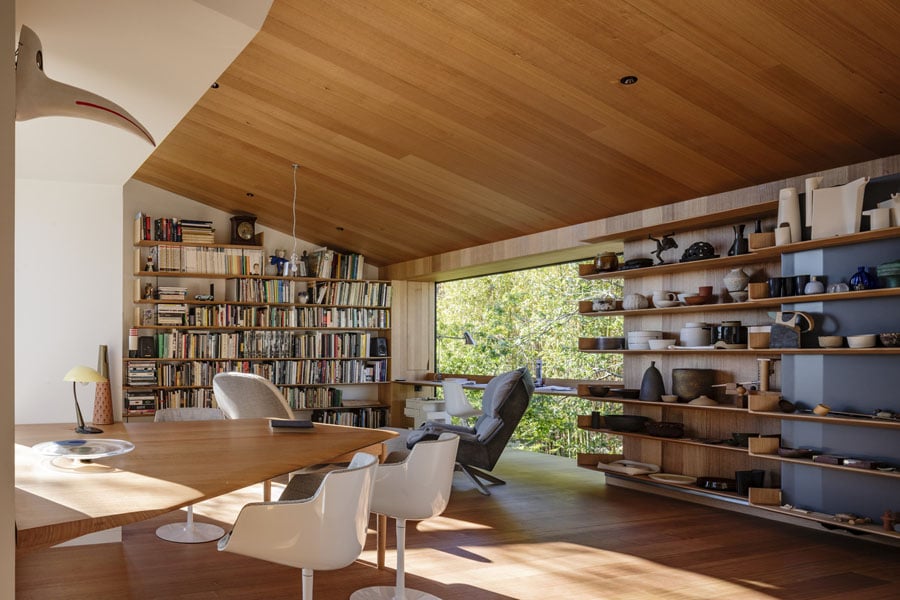 Over the past 25 years that architect John Wardle has lived in his two-story home, he has renovated it three times. All the better, for the house to evolve in step with changes throughout his career and life. Having established his Melbourne-based practice John Wardle Architects in 1986, he purchased the home in 1990 and had to restore it partly to mitigate unexpected termite damage. The home is now a tranquil escape that showcases Wardle's creative process. He and his wife raised their three children here, then as empty-nesters embarked on the latest renovation to upgrade the spots they use the most. "We anticipate being in this home for the foreseeable future, and this renovation reflects that," he says. The 18-month long project included updates to the kitchen, living room, powder room, bath, and study and was completed in December 2019.
The modern zinc-clad home, which over time has gleaned a gentle patina, features vertical blackened timber board-and-batten beams (which are stained every few years), Victorian Ash, a local Australian hardwood, and two asymmetrical front wings that straddle the root zones of two Scottish Elm trees. Located in Kew, a suburb of Melbourne three miles from the city center, the area has always been one to "attract great architectural commissions, particularly during the mid-20th century," Wardle explains. His property is one example of the area's design legacy.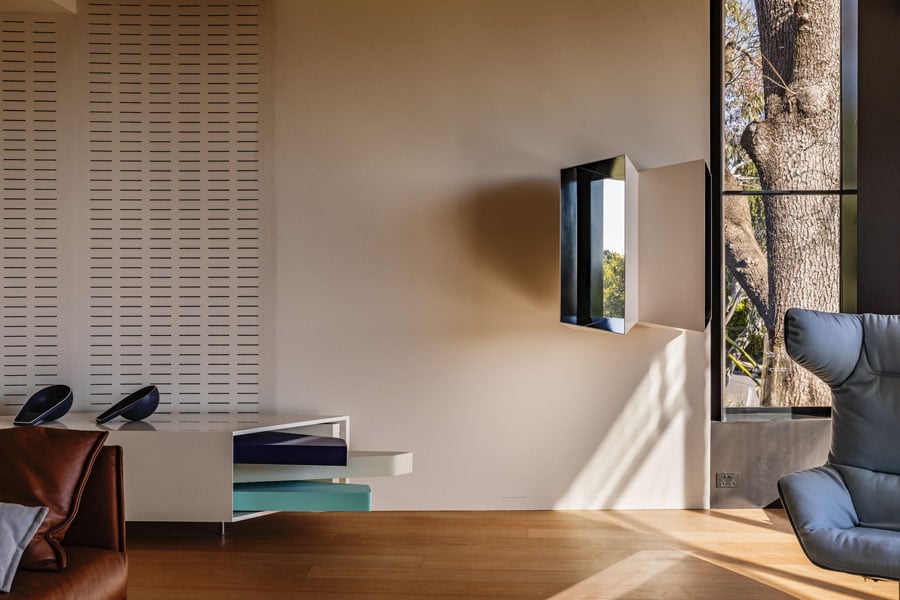 Inside, there are varying unique pieces of joinery, including a built-in bench he designed as part of his M.Arch thesis while attending the Royal Melbourne Institute of Technology in 2001. Above the bench is a "pop-out window" commissioned by Australian-born, New York–based conceptual artist Natasha Johns-Messenger, which has been placed on a plasterboard wall with a painted slatted MDF panel. The unique window is "essentially a horizontal periscope that deflects views from the city into the living room," Wardle explains.
---
More from Metropolis
---
Another impressive element is the timber display cases for Wardle's collection of ceramics and Japanese sculptures in his study, a place he has spent plenty of time in since the beginning of the pandemic. "I wanted to display the collections to their best effect particularly as so many of them are reference objects," he says. Art displays, clever joinery, and hidden storage are themes throughout the residence, including a rotating steel podium and carved-out hand grips on cupboards. The sliding shelving in the study is just one example of how Wardle has crafted unique storage in his home.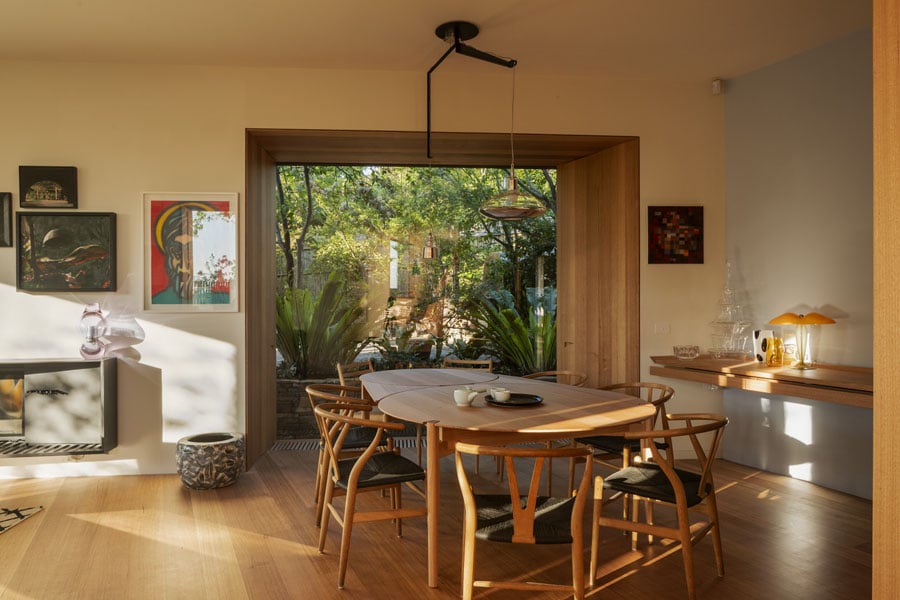 The dining room includes a Wardle-designed table, one that he says, "embraces and subverts traditional notions of the dining room table as a solemn and formal piece of furniture." Instead, his interlocking table is dynamic, geometric, and ideal for ever-changing family life. Constantly curious, he has been designing furniture and joinery in his residential projects for many years. Another major change is the kitchen, dark and moody space with handmade vertical tile from Wakei in Tajimi, Japan. The layout of the kitchen was also changed and now fits around a ceremonial island bench and storage cupboard that forms a spine through the center of the home.
Wardle feels the home doesn't represent just one architectural style and instead pays leans on various influences such as his love for natural light and the site itself. The house exhibits how one's home can successfully evolve over time. "It expresses a strong design for architecture to be responsive to human comfort and engagement with all patterns of life from intimate to the most social," he concludes.
You may also enjoy "Fala Atelier's Latest House is Not a House"
Would you like to comment on this article? Send your thoughts to: [email protected]
---
Register here for Metropolis's Think Tank Thursdays and hear what leading firms across North America are thinking and working on today.