January 9, 2019
Gensler Creates a Showcase of Sustainable Design Near Shanghai
Johnson Controls' 378,000-square-foot Asia Pacific Headquarters aims to be a new symbol of China's environmental coming-of-age.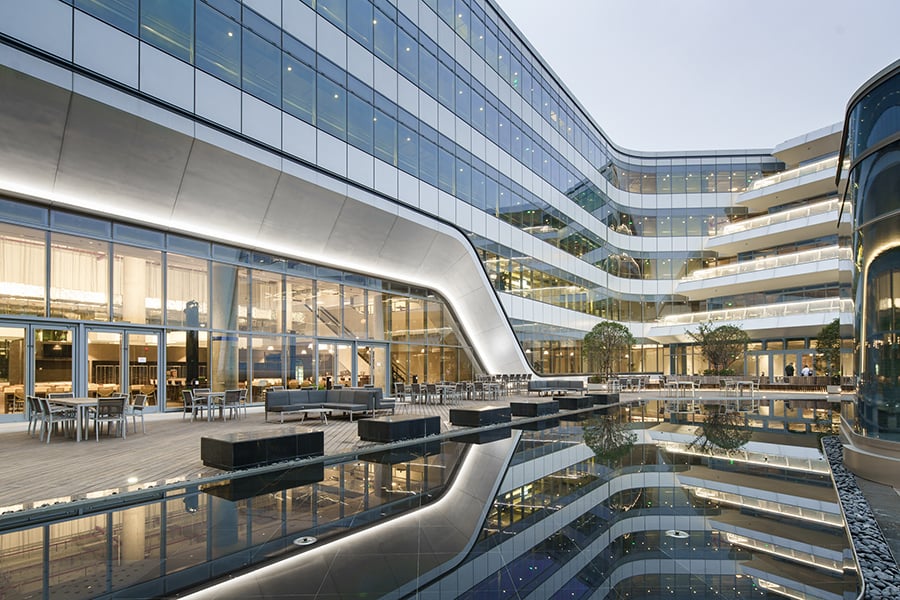 ---
Even by Chinese standards, Hongqiao, a suburb to the west of Shanghai, can lay claim to one of the most remarkable urban transformations of the past decade. Once a collection of fringe villages, it has emerged as a dynamic business district with thriving international connections. Covering an area of about 33 square miles, it is still one of the biggest metropolitan construction projects in China. No longer Shanghai's poor cousin, it is a destination in its own right with a reputation for showcasing innovative architecture. Within a short radius, one can visit key projects by global A-list practices: master plans by Aedas, Atkins, and Make, and designs such as MVRDV's Flower Building or Zaha Hadid Architects' Sky SOHO.
The latest in this roll call is the Johnson Controls International (JCI) Asia Pacific Headquarters, the five-story, 378,000-square-foot office of the eponymous global technology company, which specializes in energy-efficient, renewable, and intelligent building systems. Johnson Controls has had an impressive environmental pedigree dating back to the 19th century, when it invented the electric room thermostat. The new headquarters was therefore created to be a showcase and a demonstration model for the company's sustainable practices.
---
The narrow site—effectively an islet surrounded by canals and Suzhou Creek to the east—restricted the building both in height, because of the neighboring international airport, and in acreage. Gensler developed a sinuous form to maximize surface area in such a tight footprint, carving recesses that optimize views over the waterways and increase daylight in the central spaces.
---
More from Metropolis
---
In plan, two cranked wings shaped like boomerangs sit side by side and overlap to create alcoves, light wells, and an airy, central entrance atrium. The main public-facing elevations are simple curved layers of white structure and bands of glazing, while the more hidden elevations have stepped balconies and roof terraces on each level, providing space for employee relaxation and green roofs for biodiversity and rainwater retention. Since Chinese president Xi Jinping announced in 2013 that cities should become like "sponges," sustainable urban drainage initiatives have become a popular environmental solution.
---
To the north, the building forms a monumental cantilever created for the sole purpose of allowing—and encouraging—the public to access the gardens and riverfront. In the words of Benjy Ward, Gensler's principal in charge, the architectural gesture demonstrates its neighborliness toward the surrounding community. Stephen Katz, senior associate at Gensler, says that this green gateway, which allows the public to pass under and through the building, "offers people daily interaction with nature in one of the densest urban centers in the world."
In conjunction with the Chinese government's mandate that all buildings over 216,000 square feet must meet China's Green Building Design Label Certification, the architects resolved to exceed the brief, utilizing passive systems as well as many of the client's own products, including chillers, underfloor air distribution, heat pumps, battery storage, and automated monitoring systems. The result is the first building in China with three global energy efficiency awards: the U.S. Green Building Council's LEED Platinum certification, a China Three Star rating, and the International Finance Corporation–World Bank Group's EDGE designation. The architects anticipate a 44 percent savings in energy consumption compared with a conventional building of similar size.
The workspaces have been designed so that workers in different company units can mingle and network. Chance encounters (or "collisions," as senior associate Jessica Statz describes them) will happen naturally because of the vertical and horizontal circulation patterns and the provision of social spaces at central entrances and at the ends of each wing. This is certainly a new way of working in China and, to an extent, represents a growing recognition that the quality of the working environment is as important as the form. Katz sees this as reflecting the societal shift from a manufacturing to a service-based economy—making the JCI headquarters a metaphor for China's environmental coming-of-age.
Selected Sources
INTERIORS
Kitchen surfaces: LG, Darren Tile
Kitchen products: Kohler
Bath surfaces: LG, Darren Tile
Bath fittings: Kohler
Wall finishes: Benjamin Moore, Sherwin-Williams, Carnegie
Flooring: Tandus Centiva, Armstrong
Ceilings: Armstrong
Furniture: Steelcase, Haworth, Arper, POSH, Decca
Lighting: Zumtobel, Philips, Targetti, Moooi, Vibia
EXTERIOR
Cladding/facade systems: Netfortune/Far East
Windows: Netfortune/Far East, SYP (glass)
Doors: Netfortune/Far East
Furniture: Mondecasa
BUILDING SYSTEMS
HVAC: Johnson Controls
Fire and security: Johnson Controls
Controls and energy management: Johnson Controls
You may also enjoy "How Gensler Updated the Inimitable Ford Foundation Headquarters."