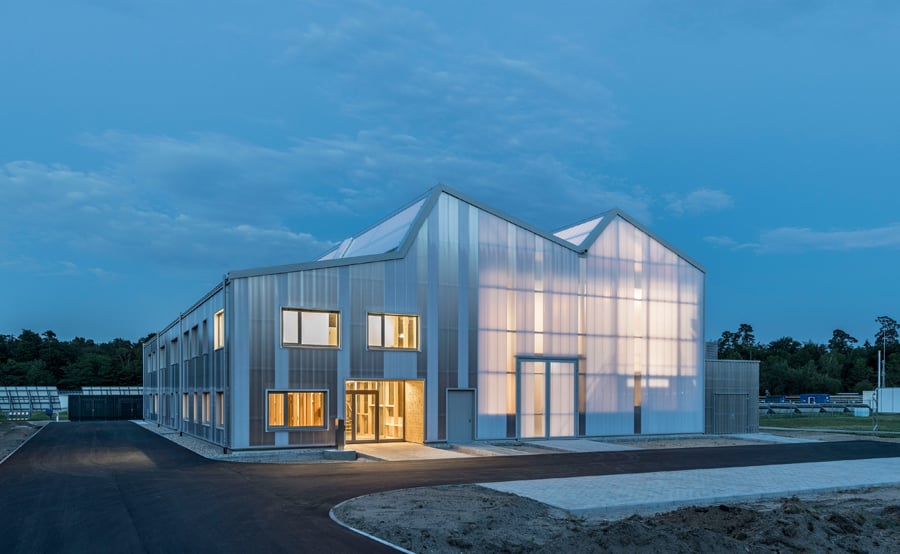 February 21, 2020
Behnisch Architekten Completes an Energy Test and Simulation Lab in Germany
Located at the Karlsruhe Institute of Technology, Building 668 is a massive simulator of new energy systems, tucked behind a semi-translucent facade.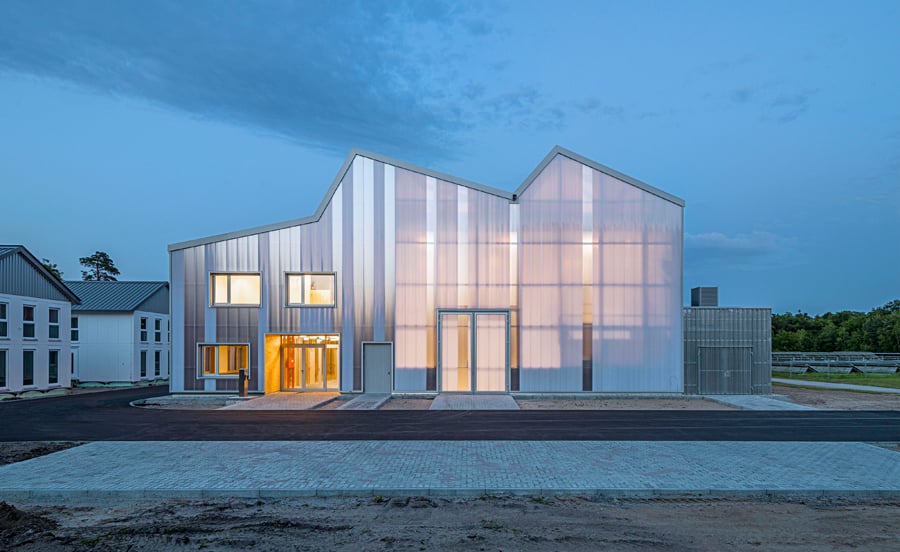 On a research campus in Karlsruhe, Germany, Behnisch Architekten recently completed a building to test energy supply and electricity flows at all scales. Functioning essentially as a big tool, the building sports an unfinished look, with its signature wooden and polycarbonate panels.
This new laboratory is part of the KIT campus, hidden in the woods north of Karlsruhe, a medium-size city in not far from Stuttgart. KIT stands for Karlsruhe Institute of Technology—a name that was developed in 2009 with some purposeful and ambitious references to MIT in the United States. Set back behind gates, the campus is accessible by staff only; members of the public will have a hard time visiting KIT Energy Lab 2.0, or Building 668, as it's known on campus.
The building's main space is a large, empty hall, where experimental machines—for testing and developing faster and more efficient techniques of energy use and production, with a special focus on renewables—will be continually mounted, adapted, and demounted. Currently, over 40 percent of Germany's energy sources are renewable, and the question is how to increase this percentage. That's why a large solar field is placed behind the laboratory and three utterly generic and uninhabited test houses (each fit with different heating systems) stand next to it. They are all parts of this experiment and linked to the laboratory where energy production, storage, and consumption is monitored and adjusted. The new building simulates supplying energy to an entire village.
---
More from Metropolis
---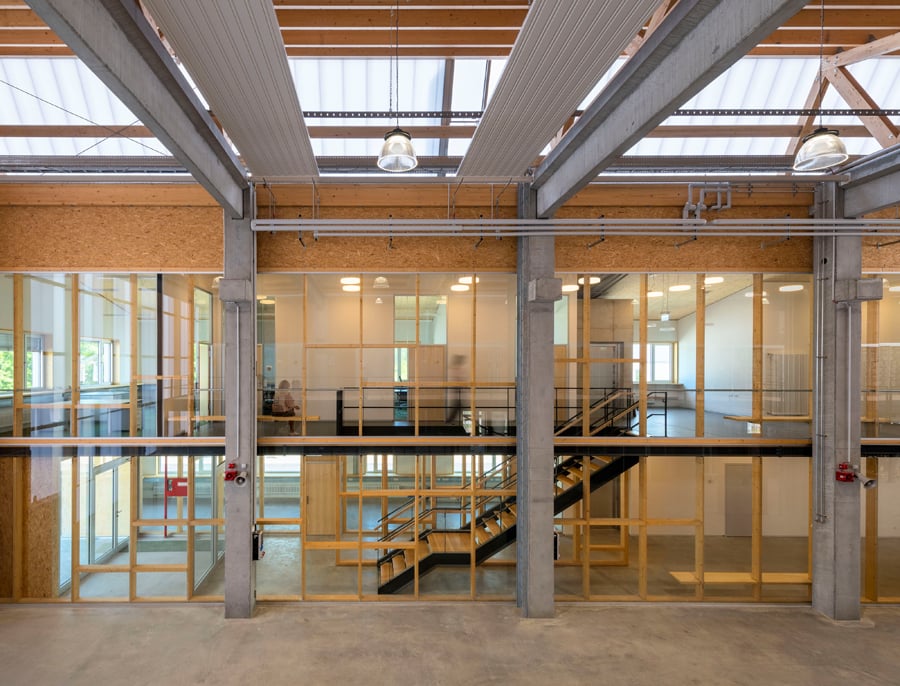 To facilitate this open-ended and dynamic program, the firm devised a simple shell with "many references to the industrial character of the other campus buildings around," says partner Stefan Behnisch. Aside from its explicitly industrial motifs—raw materials, extra-large doors, a sawtooth roof—the laboratory features a superb spatial organization. Supporting the internal crane runway to transport heavy loads is a strong concrete structure with columns and cross girders. The rest of the construction is timber, which wraps offices, preparation and technical rooms, conference areas, and control stations.
Inside, the bones of the structure are left visible, enabling the wooden beams to create a warm, low-carbon atmosphere. Offices are located along the north side, while the south side includes an open gallery of steel for all sorts of technical machinery. The entire space has to be easily adjustable according to the needs of each new experiment setup—and most of all, the entire building had to meet all fire and general safety regulations, as the experiments will constantly include extremely high voltages, also producing unknown amounts of heat. The transformers have thus been put in two small, separate rooms in front of the southern facade.
Building 668's rather original facade is composed of two different polycarbonate panels of varying that cover the walls and parts of the roof, too. This material "lets a consistent amount of daylight enter the entire test area," says Behnisch. At night, the interior furniture, machinery, and researchers shimmer through the semi-translucent facade. The architects call their design "unobtrusive;" but while it's a building completely dedicated to work, the architects were able to create some very atmospheric moments.
You may also enjoy "Hopkins Architects' Geology Park Outside Sharjah Finds Inspiration in the Region's Archeology."
Would you like to comment on this article? Send your thoughts to: [email protected]