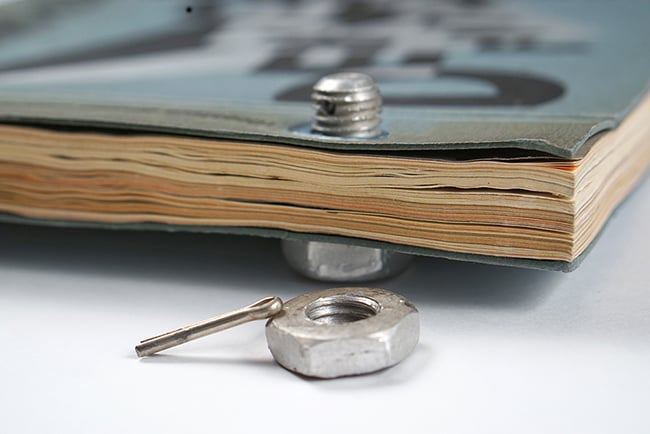 October 18, 2016
Kickstarter Hopes to Reproduce Depero's Iconic Bolted Book
Fortunato Depero's Bolted Book, an icon of Italian Futurism, may just make its return, thanks to a new Kickstarter campaign.
Courtesy Adam Reich
---
Fortunato Depero's Bolted Book—largely considered the first Artist Book of the modern era—is slated to make a return, pending the public's help. A kickstarter, run by Designers & Books, Museo D'Arte Moderna e Contemporanea di Trento e Rovereto, & Center for Italian Modern Art in Soho, is launching today to help raise funds to reproduce this treasure of Italian Futurism.
The Bolted Book is filled with bold color, experiments in type, and even an endearing picture of the artist himself, in the middle of a jovial laugh—but it can also be brutal. As Depero scholar Raffaele Berardia explains: "So many people are surprised by Depero, whose mechanical world can be extremely violent but also playful and fantastical at the same time… he's deliberately playful, brightly colored, and superficial. And then he punches you in the stomach with a smile."
Since the book has the capability to be taken apart and rearranged, Depero used it for a variety of purposes—from portable portfolio to personal museum. Berardia notes that the book's unconventional format essentially exploded the typical reading experience: "Readers are free to follow whatever order they want, unrestricted by the conventions of the printed page (left to right, top to bottom)." The kickstarter edition will similarly allow readers to unscrew the bolts and rearrange them.
---
More from Metropolis
---
Learn more about the campaign, which has already raised $39,437 at the time of this publication, here.
Courtesy Laura Lindgren
Courtesy The Museum of Modern and Contemporary Art of Trento and Rovereto
​
Courtesy 2016 Artists Rights Society (ARS), New York / SIAE Rome
Courtesy 2016 Artists Rights Society (ARS), New York / SIAE Rome