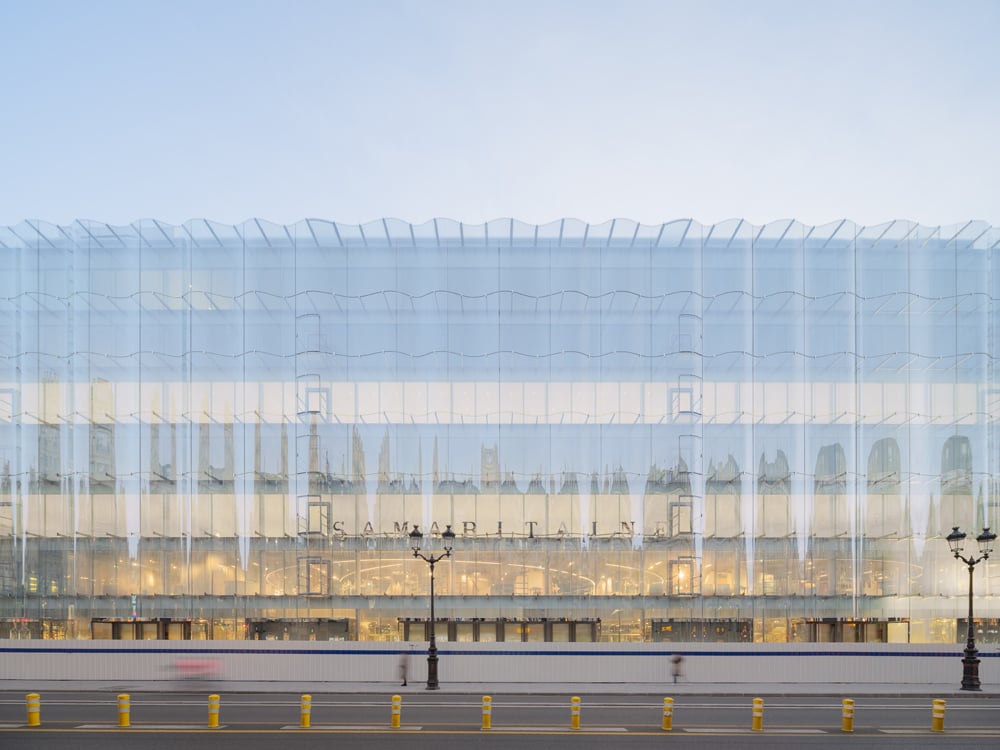 July 15, 2021
La Samaritaine Reinvents the Paris Department Store for the 21st Century
A renovation led by SANAA incorporates futuristic facades, historic restoration, and social housing into the Right-Bank landmark.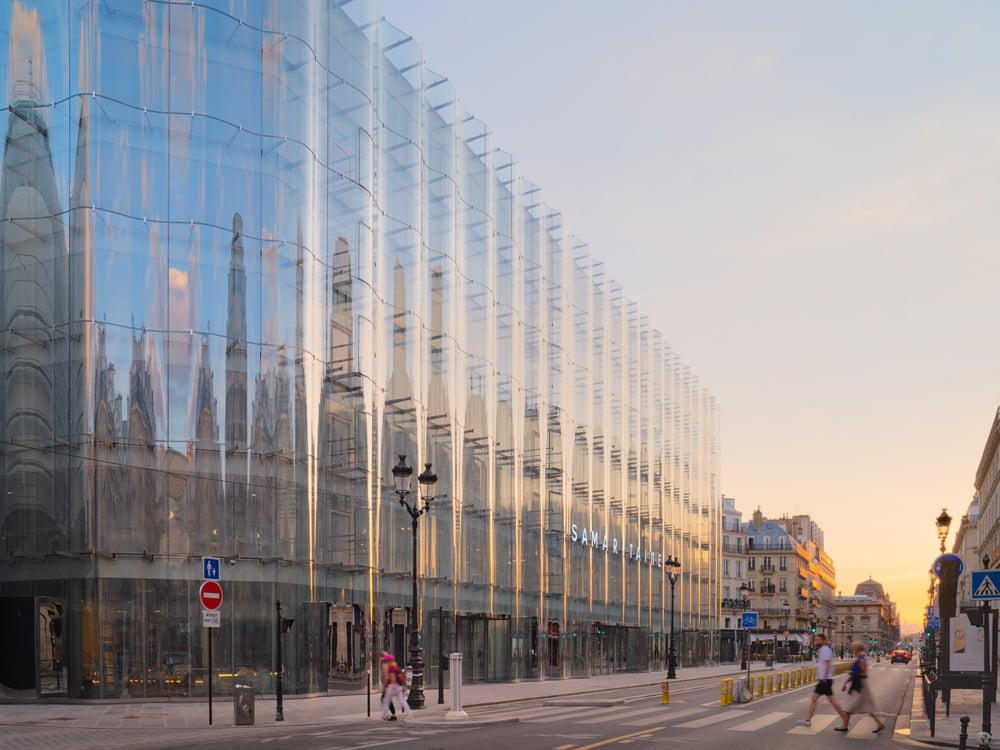 In 1870, architects Frantz Jourdain and Henri Sauvage completed La Samaritaine, the Paris emporium that would be celebrated as an enchanted place where one could find anything. A century and a half later, Samaritaine's newest owner, luxury behemoth LVMH, tapped Japan's Pritzker Prize-winning architectural office SANAA to refashion the property. Renovated, restored and extended to the firm's master(ful) plan, the new Samaritaine frames past and present ingeniously. The complex of five buildings now blends retail, office space, daycare, luxury hotel and, across 10 percent of total floor area, social housing. Just as enchanted, but rather more democratic, it is a place where, truly, almost anyone can find almost anything.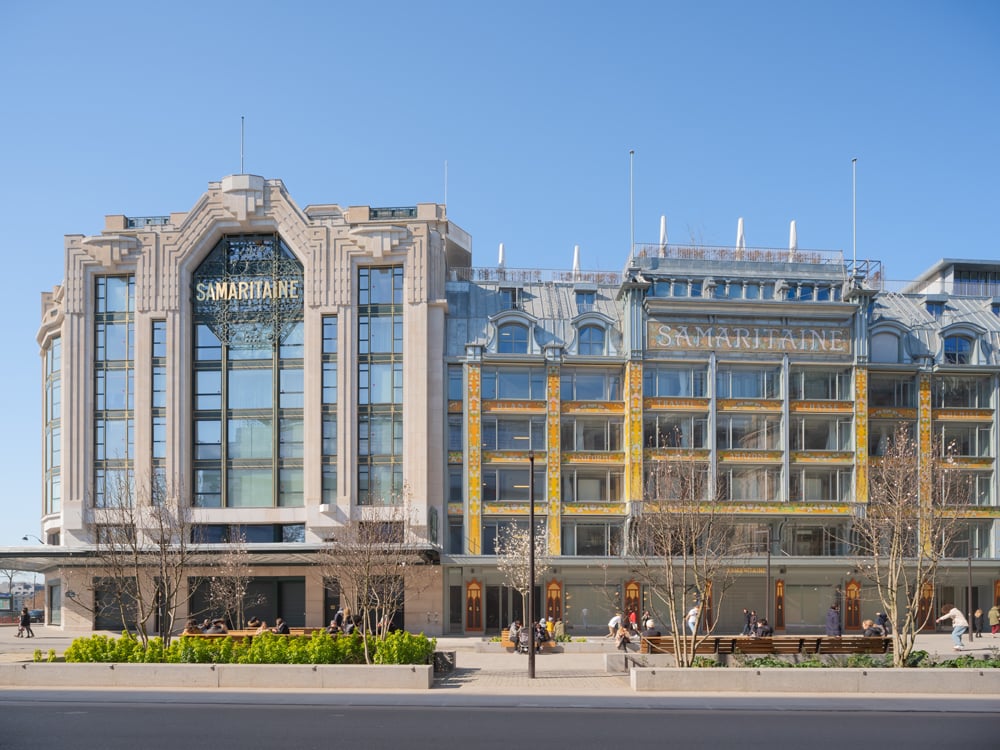 Today, a deeply undulating seven-floor glass curtain wraps three sides of the newly constructed building fronting the Rue de Rivoli. It is transparent and reflective, depending on time of day and point of view. When transparent, the surface is a larger-than-life stage curtain that opens onto scenes of activity within and street life without. When reflective, it mirrors the historical buildings around it, a wholly modern intervention that creates a motion-picture-like dialogue between old and new. "We looked for an idea that would fit into the historic cityscape of the Haussmann street in a contemporary way," explains partner-in-charge, Yoshitaka Tanase. "We took the rhythm of nearby windows as a starting point—vertical, long and with a certain continuity, even though the buildings, themselves, are different–and we studied the depth of the window openings in relation to the stone facades. Our design was a translation of these two qualities."
Inside the Rivoli building, as well as three renovated, original Jourdain and Sauvage buildings and an 18th-century residential structure restored as social housing, the play of glass, transparency, light and reflection continues, especially in the Art Deco verriere or main atrium restored by Lagneau Architectes: sinuously wrought and gilded iron balustrades, lemon yellow murals blossoming with peacocks and curlicued deep-relief panels on the underside of each staircase.
---
More from Metropolis
---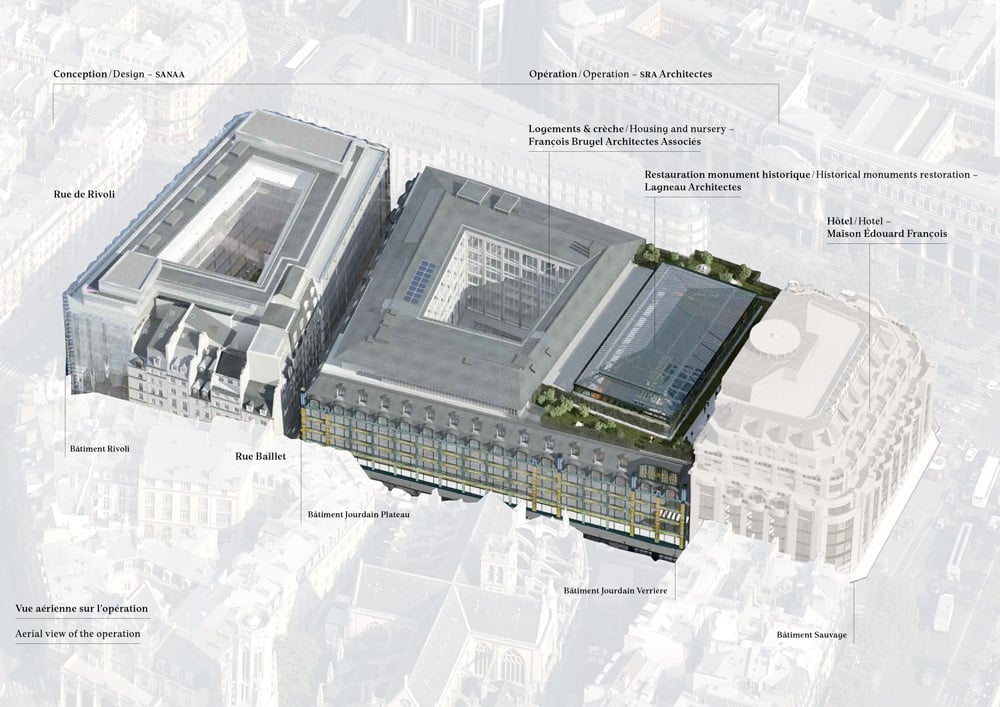 SANAA felt that the project was too extensive to present as a single, monolithic building. Instead they felt it should function more like a neighborhood, a cluster of spaces, new and old, so they opened a promenade through the length of the block at street level, from the Rue de Rivoli hotel to the River Seine and Pont Neuf. SANAA's work often seeks to open a building to many sides, eschewing dogmatic hierarchy or orientation. It helps to "dissolve" a building into its context, lets visitors choose circulation patterns, take short-cuts and occupy space as they would any ordinary neighborhood fabric. This approach is palpable in Samaritaine. Along the passage, they further opened a series of four unique patios and atria, thinking of the sequence, drawing daylight into the core of the complex and visitors intuitively through the building, as "architectural acupuncture".
You may also enjoy "At this Tyrolean Abbey, a Museum Bridges Centuries and Architectural Styles"
Would you like to comment on this article? Send your thoughts to: [email protected]
---
Register here for Metropolis's Think Tank Thursdays and hear what leading firms across North America are thinking and working on today.