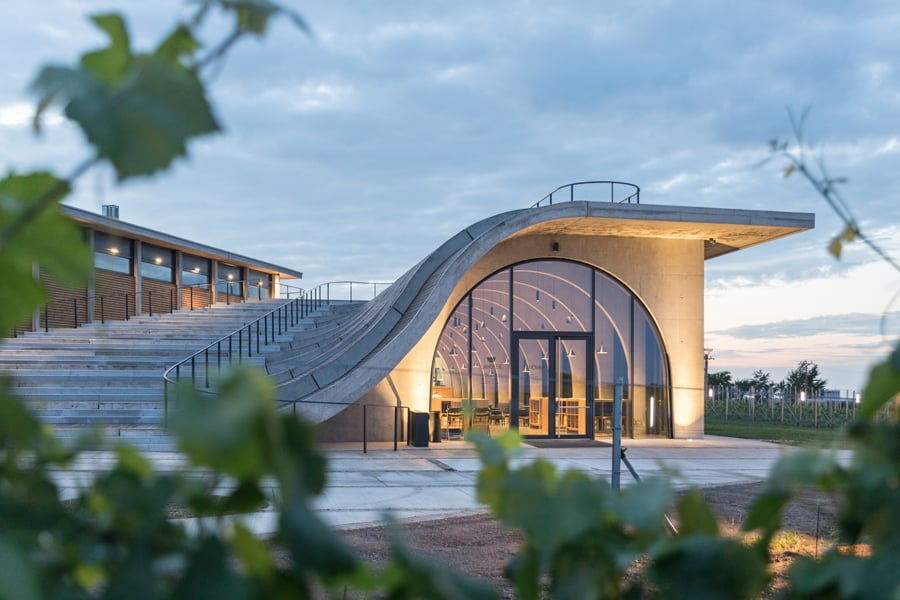 August 11, 2020
Chybik + Kristof's Design for Lahofer Winery Celebrates Winemaking in Concrete
Though thoroughly modern in form, Lahofer Winery in Dobšice, Czech Republic, takes cues from the vineyards of old.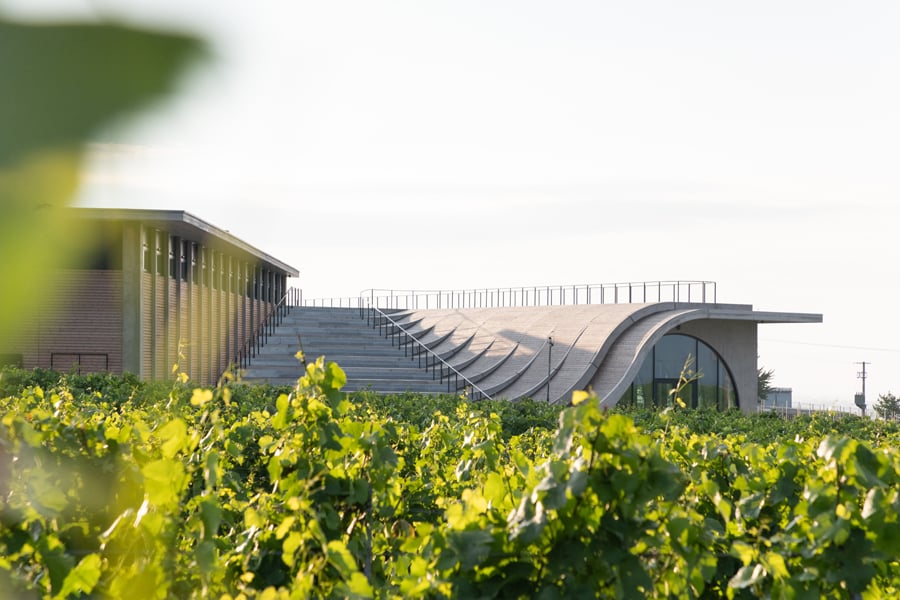 The Lahofer Winery in Dobšice, Czech Republic, opened its new building this June, but the story of how architects Ondrej Chybik and Michal Kristof first got involved goes back to 2015, when they read about Lahofer's expansion plans in a newspaper. "We wanted to design a winery at least once in our careers," says Chybik. "It's a must-have in the portfolio of a South Moravian architect." The duo, who are based in nearby Brno and also have offices in Prague and Bratislava, reached out to the owners directly, impressing them with their chutzpah and a slew of inventive sketches.
A Modern Winery Influenced by Tradition
Eventually Chybik + Kristof's design came to comprise a handful of elements: wine production facilities, administrative offices, a tasting room, a roof terrace, and an outdoor amphitheater. The building's two volumes—one rectangular with a flat roof and the other vaulted—meet at an angle, creating an in-between space for a terraced amphitheater. Lahofer's state-of-the-art winemaking facilities are housed in the boxy wood-clad wing, while the offices and tasting room each occupy half of the arched structure, where south-facing windows provide ample sunlight and a panoramic view of the vineyard.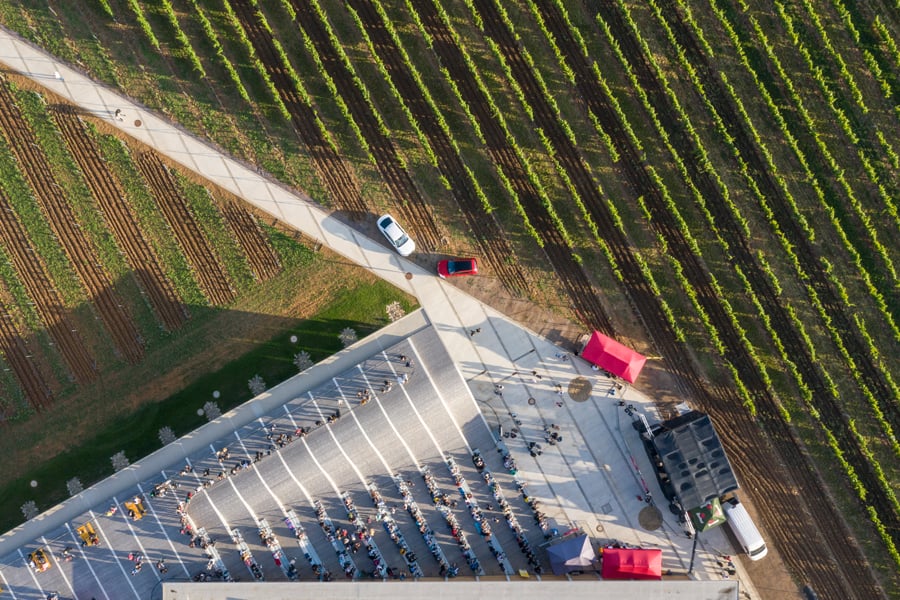 To create a modern building that would coexist in harmony with its environs, the designers took cues from the vineyards of old. Chybik and Kristof raised the arched form—a common element among traditional wine cellars in the region—aboveground, and replaced its brick with concrete. "We are in the field, we are in a vineyard in the middle of nowhere; once you want to build something solid here, you have to pick solid materials," says Kristof, explaining the bold choice. "Even the brick was not solid enough. Stone, it's out of our budget, so we picked the concrete because it's an artificial stone."
---
More from Metropolis
---
At Home among the Grapes
If the sloping roof echoes traditional winery design, the concrete ribs that line it are a continuation of the vineyard's striped pattern, says Chybik. Their aim was to architecturally re-create the visual effect of standing in a vineyard, where grapevines are planted in even rows.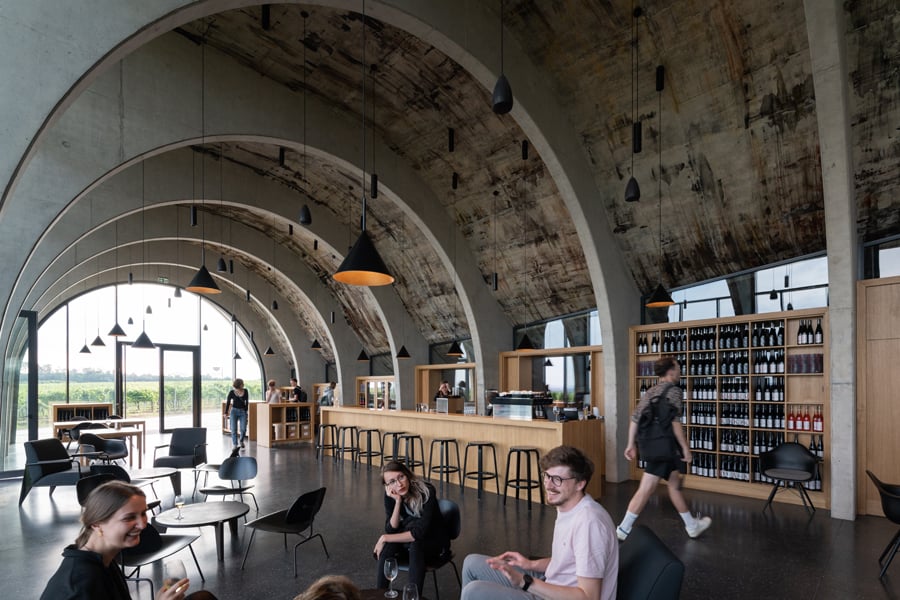 In the tasting room, guests are invited to sample wine produced from local grape varietals such as Moravian muscat and Pálava, as well as more familiar options like pinots and Rieslings. In addition to the wine, visitors can lose themselves in the ceiling artwork; created by Czech painter Patrik Hábl, it happened almost by accident.
The original plan was to line the ceiling in wood, exposing only the ribs of each arch. But once the concrete was poured, Kristof recalls, "I realized how stupid we were in terms of hiding this beauty of the concrete." There was a small complication, though: The concrete was of structural rather than finish quality and showed chemical stains and efflorescence. "It looked like a mistake or like a not-well-done construction," he adds. "But on the other hand, it looked like artwork from Patrik Hábl…so we asked him to merge his artwork with the chemical reactions."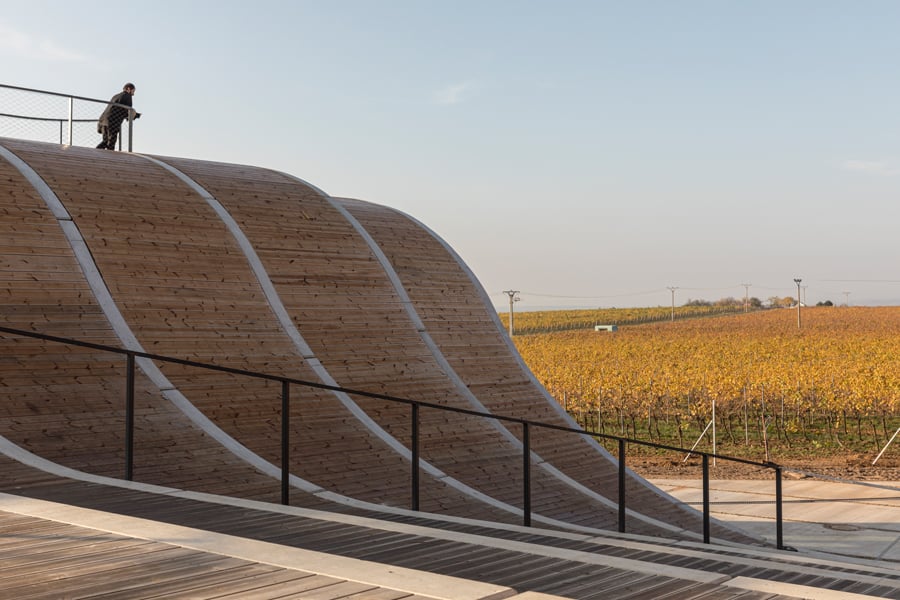 The pair persuaded Hábl to paint the entire ceiling with hues inspired by the site's soil, and crucially, the winery owner agreed to go along with the plan. The result, says Kristof, merges art and nature.
A Building That Ages Like Wine
Chybik agrees. "We selected materials which could get older and older every year, every summer, every autumn, every winter and be, at the end, some part of nature again," he says. The architect cites the concrete and raw steel accents, as well as the wooden cladding on the production wing, which is brown now, but will soon weather into silver. As time goes on, the building will feel more at home in the landscape, gaining character and complexity like a fine wine.
You may also enjoy "An East Austin Fabrication Shop Is Transformed Into a Refined Beer Hall."
Would you like to comment on this article? Send your thoughts to: [email protected]
---
Register here for Metropolis Webinars
Connect with experts and design leaders on the most important conversations of the day.