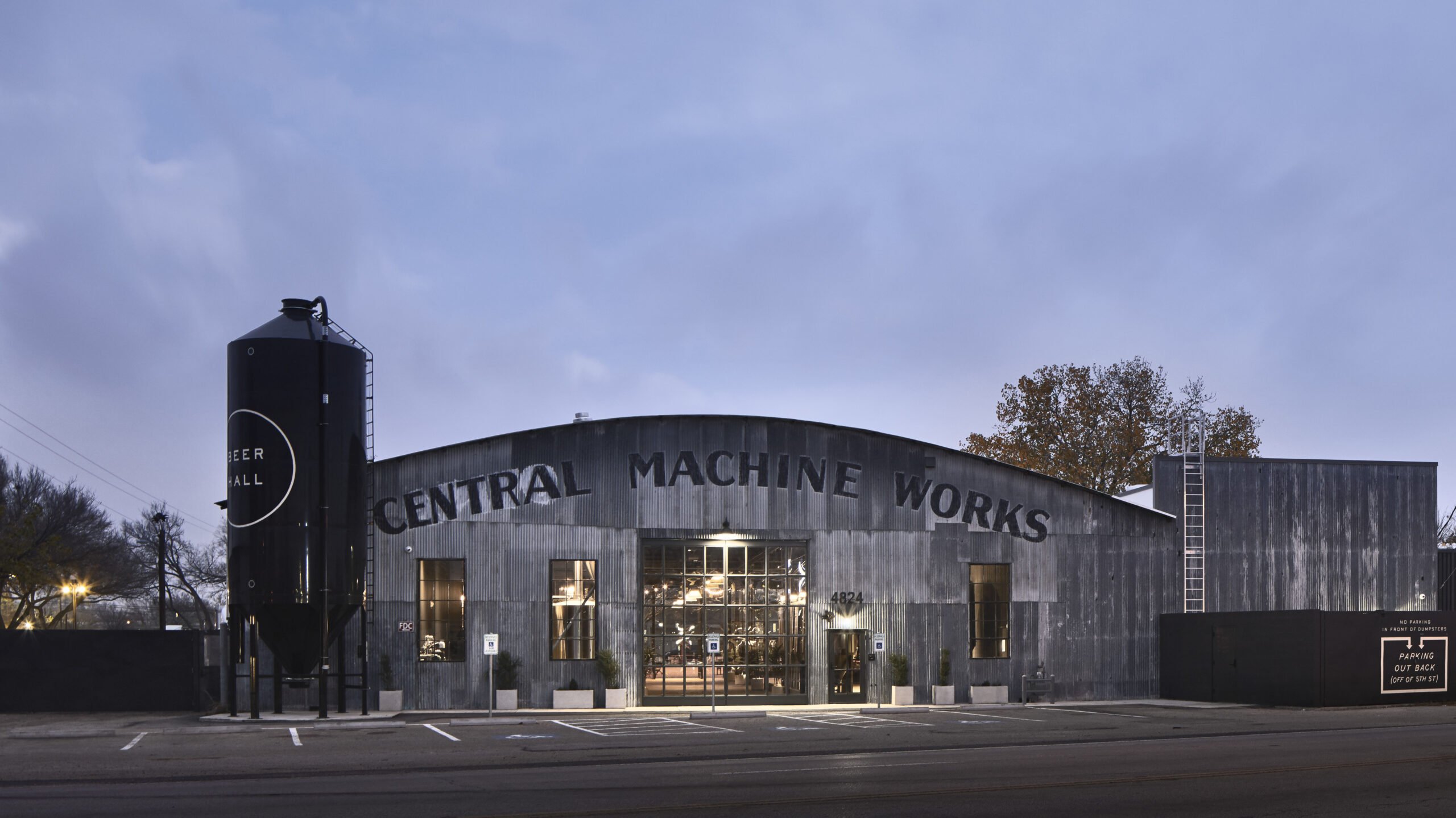 August 10, 2020
An East Austin Fabrication Shop Is Transformed Into a Refined Beer Hall
Kartwhell Studio looked to the past to revive the 80-year-old Central Machine Works.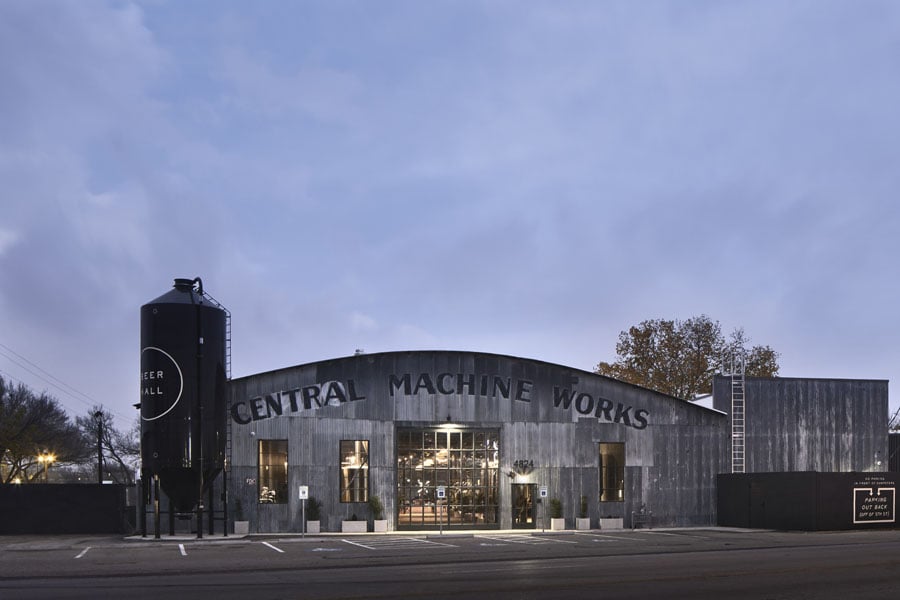 ---
Built in 1940, Central Machine Works, once a metalworks and machining shop in East Austin, has gotten a major facelift thanks to David Clark, creative director at Kartwheel Studio. It was a staple in the community for decades, a testament to blue-collar Texan grit, and that same attitude continues to be apparent in its ever-gentrifying neighborhood. Workers once produced airplane parts and transport trailers in the space during WWII. So, now a 100-year-old lathe, a rotating cylindrical machining tool, is the focal point of its intimate bar. "It weighs 18 tons, so when the building was sold, they decided to leave it there," remarks Clark.
---
The impressive lathe isn't the only remnant of its machine shop past. The exterior facade, a patinated prefabricated corrugated steel Quonset hut, has been left intact, while antique metal parts sub for door handles in some spots. The original door, while in fair shape, was replaced with a large 15-foot centrally pivoting one, a decision that maintained the equilibrium between the building's character, while adding warmth, function, and natural light.
In 2016, Aaron and Andrew Ashmore, Rosa Santis, and John Scott (owner of the popular Austin music venue, Stubb's) purchased Central Machine Works, hoping to create a German-style beer hall and an outdoor garden that encouraged a stay-a-while mentality. Clark was later brought on to collaborate and execute on that vision. From the beginning, everyone involved with the remodel aimed for a design-forward, highly comfortable space, the opposite of what one might think of when entering an industrial brewery. "It had a soul and we wanted to embellish on the soul that was already there," says Clark.
---
More from Metropolis
---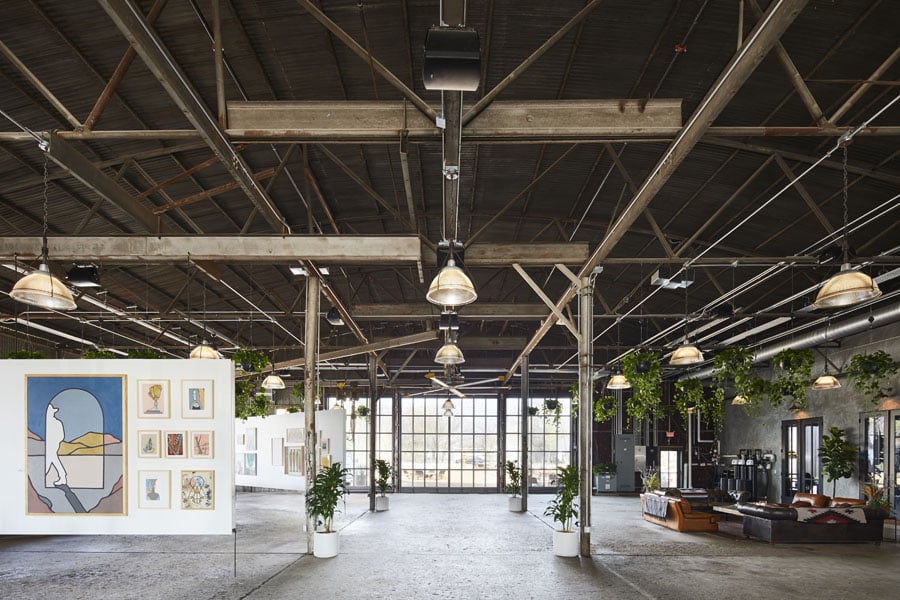 ---
With customer experience at the forefront, the expansive main beer hall and attached bar, which total nearly 10,000 square feet, feel oddly homey. The troweled concrete walls and 20-foot ceilings are juxtaposed with a cozy seating area filled with vintage furniture. In the bar, guests can cozy up to an upholstered banquette, made from a 100-year-old pine found on the site, while other natural materials like steel, white marble, and slate were used as a nod to the building's past. It's a place for everyone, from those looking to enjoy a brew after work to families wanting to revel in an open-air spot on a temperate afternoon.
And for those who aren't there just for the beer, Central Machine Works participates in the annual East Austin Studio Tour, an art walk founded in 2003 by local studio, Big Medium. As a way to support local, and transform a dark bathroom corridor, Clark commissioned a mural from Austinite Tom Jean Webb. The oversized mural features shapes reminiscent of machining parts. "The idea was to have an impact or wow factor when customers walked through that corridor," says Clark. As Central Machine Works hits 80, it's truly never looked better.
You may also enjoy "A Former Auto Garage Has Been Transformed into a Luxe New Dispensary"
Would you like to comment on this article? Send your thoughts to: [email protected]
---
Register here for Metropolis Webinars
Connect with experts and design leaders on the most important conversations of the day.