May 1, 2020
Lighting For Fun: This Public Park in Dallas Makes the Most of the Night
SWA Group and Oldner Lighting designed Pacific Park Plaza so that the lighting scheme responded to all-day conditions.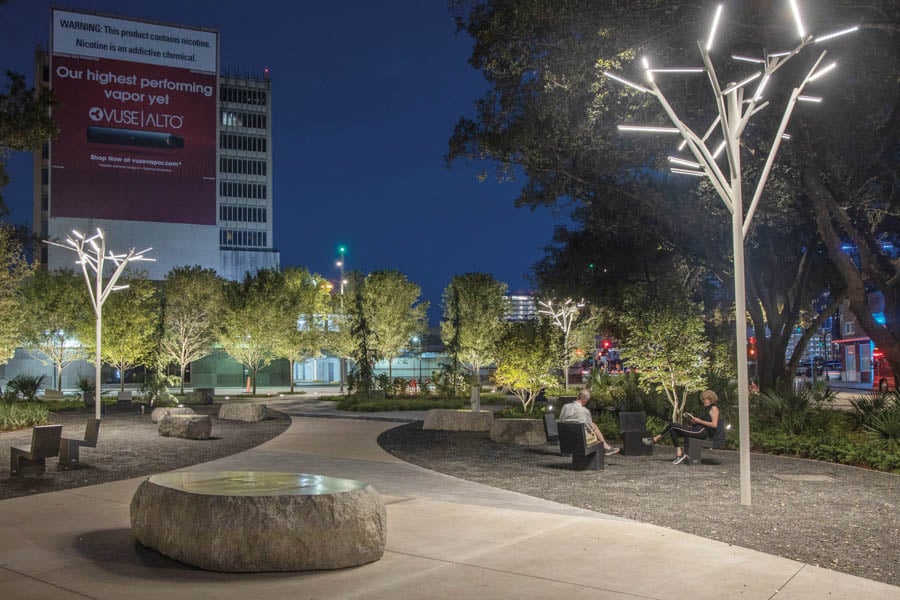 ---
Sited on a former parking lot in downtown Dallas, Pacific Plaza Park was conceived as a place for simple pleasures—a leisurely picnic, a stroll beneath a canopy of live oaks, a moment of midday respite. "We saw it as a neighborhood park," says Chuck McDaniel, the managing principal in SWA's Dallas office.
McDaniel wanted the lighting in the 3.7-acre public park to help the space feel welcoming while also giving it a recognizable identity. SWA worked with Oldner Lighting, a Dallas-based lighting design firm founded by Scott Oldner, to craft a scheme to unify the variegated design even as it provides individual moments of grandeur, visual interest, or whimsy. In the play zone, vivid, sculptural "flambé orange" swings (designed by McDaniel) rise from the ground like a series of submarine periscopes, capped with integrated light fixtures that evenly illuminate the area. In the park's southern corner, where an elliptical perforated-metal oculus soars over a gentle knoll, concealed luminaires trace the shape in the ground plane to uplight the structure and emphasize its sculptural qualities. "I always tell my people, if you've got a fantastic piece of architecture, follow it," says Oldner.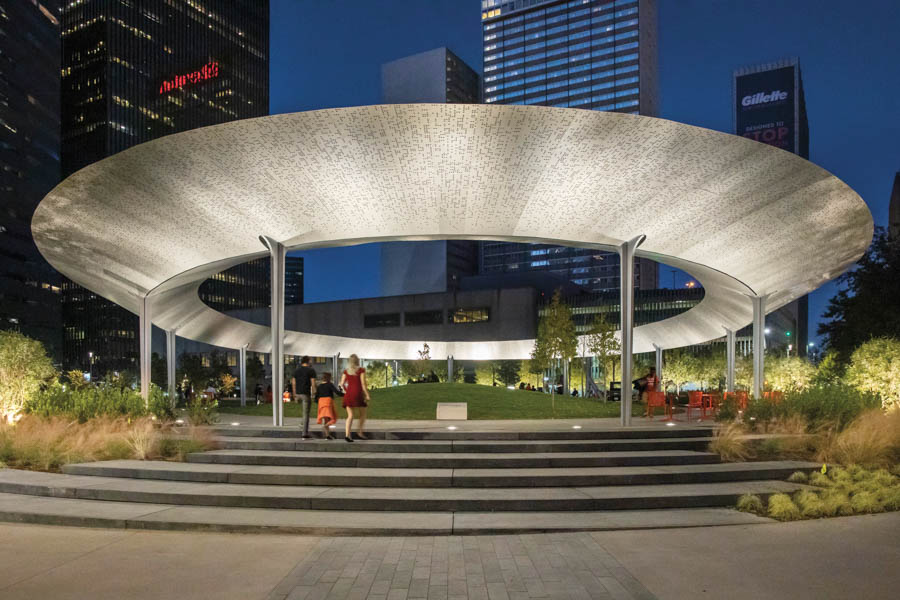 ---
Within an existing copse of mature live oaks on the park's eastern edge called Aston Grove, the atmosphere shifts to that of a moonlit forest. Moonlight falls somewhere between 4000 and 5000 Kelvin, so Oldner suspended 4000K bullet lights from the branches of the trees. Placement was critical. "You want to go up in the tree five feet past where any sane person will go," he says. "When you get up that high and you shine this light down, you get a branching pattern on the ground. That texture is what makes you feel like you're in a moonlit condition."
---
More from Metropolis
---
The final unifying element was a "canopy" of emerald-green lights that make the park visible from a distance of several blocks. "The net effect is it creates this datum some 40 feet in the air that gives the appearance that the park is bigger than it is," McDaniel says. "It's kind of the finishing touch on the lighting [work]. It creates this sense of a canopy that's not really there."
You may also enjoy "9 Interiors From Around the World That Stand Out Because of Lighting"
Would you like to comment on this article? Send your thoughts to: [email protected]