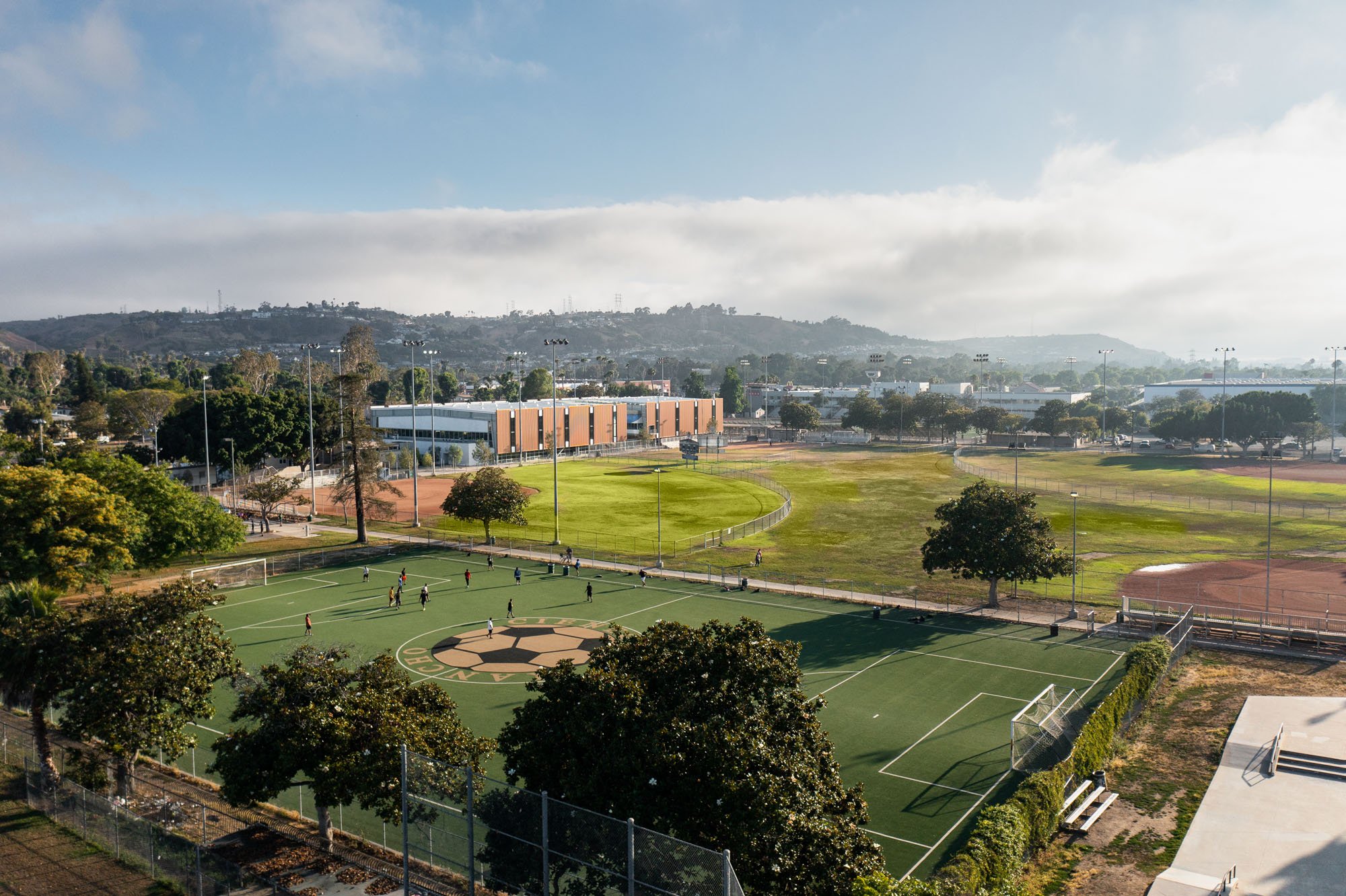 August 30, 2022
In Los Angeles, A New Athletic Facility Responds to Local Needs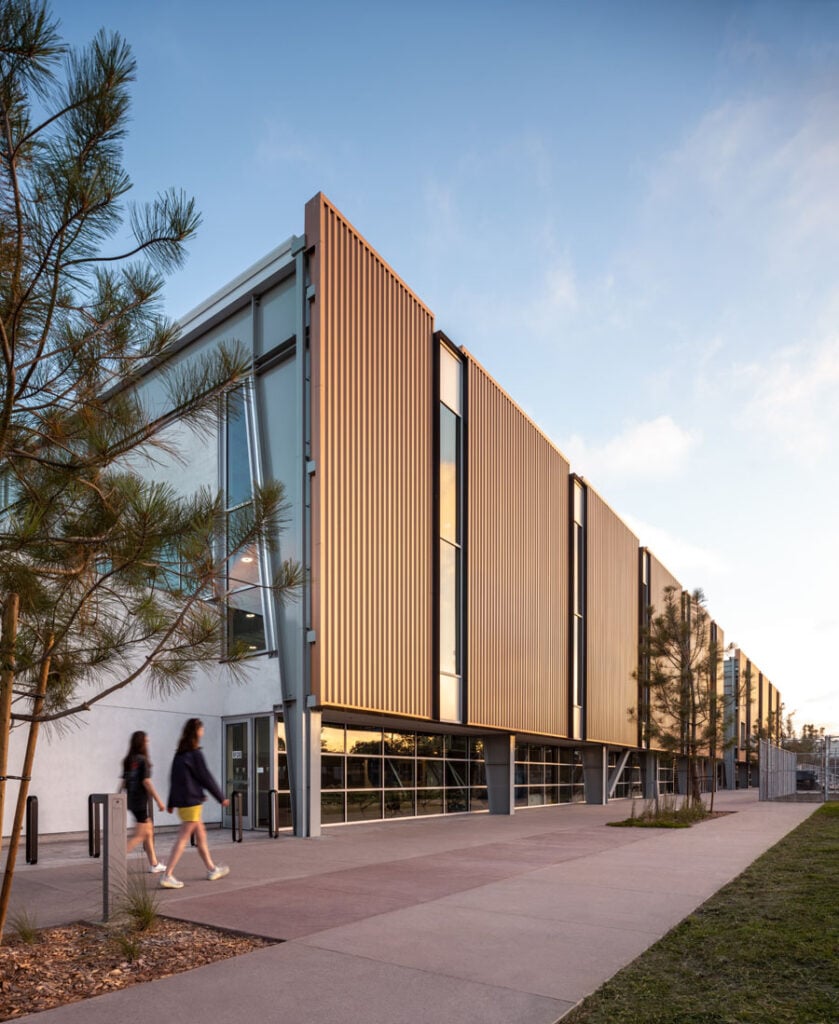 To solicit further community input for a project that was largely designed and built during the pandemic, the SPF:architects team built a website and incorporated feedback to respond to the articulated priorities. Now residents and students have access to a large indoor pool housed in one structure and NCAA-rated basketball courts in a 40,000-square-foot gymnasium, complete with catwalks to support different spectator POVs. The two buildings are separated by an internal courtyard with a connecting walkway above that in turn forms a breezeway below, and the basketball wing is among the first Net Zero Energy structures built by the City of L.A. Local public entities involved with the effort included agencies such as the Bureau of Engineering and Public Works Department; the project consultant and construction team included Buro Happold, Pinner Construction, Tetra-Tech, JCE Structural Engineering Group, Aquatic Design Group, and VME.
In collaboration with landscape designer Walter Hood of Hood Design Studio, Pali explains that in order to accommodate the efficient pre-engineered metal buildings, the team, "took a rational approach from a planning standpoint to create this diagram for the site, with the notion of a simple grid." This plan resulted in "more square footage, more area, and more volume for less money," thanks in part to an elegant tweak to aesthetically elevate the two pre-engineered metal buildings. Instead of relying on what's "usually a box" that sits on the ground clad with metal siding, Pali exposed the frames on the exterior building to reveal the steel support columns and added glass panels "so you get you get transparency all the way through"—a decided contrast to typically dark gyms. The primary and rear facade composition, "became this diagram of column, column, slot window, and panel and panel," which also borrows from the visual language of sports by taking subtle cues from goal posts, scoreboards, and hoop backboards. The basketball gym incorporates roll-up garage doors for naturally occurring cross-ventilation, and the buildings emit a warm, welcoming glow at night.
---
More from Metropolis
---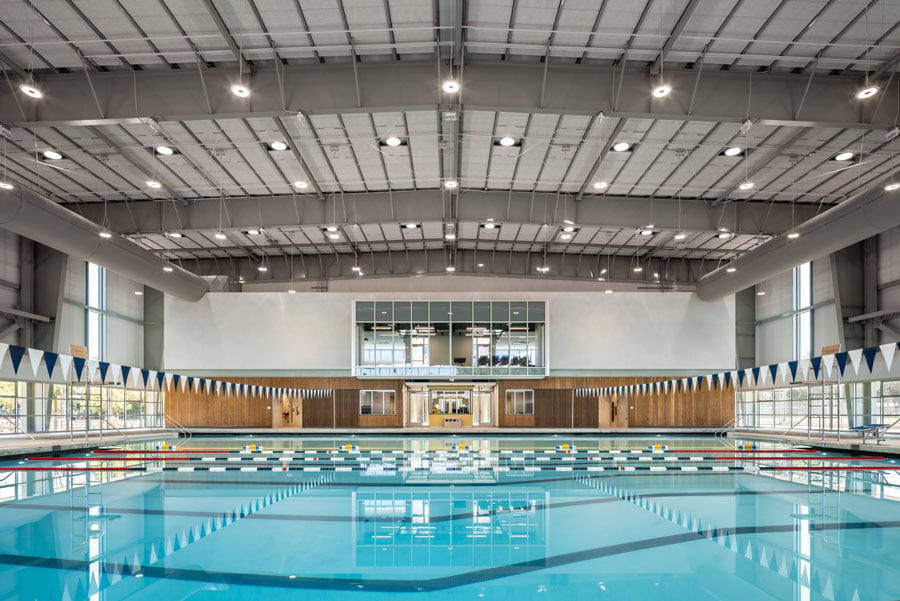 For the landscape concept, Hood devised five regional "ecologies"—high desert, canyon, coastal, chaparral, and medicinal­—placed within a plan that still relates and provides access to the surrounding expansive sports fields. Tools to cumulatively reach Net Zero status on the basketball building in particular include drought-tolerant plantings, gray water systems, permeable paving, and bioswales. The Metro Expo Line light rail trains are also visible at the northern boundary of the fields, emphasizing literal and figurative connectivity on a larger scale. L.A. artist Tofer Chin added boldly geometric and colorful murals on the exterior surfaces facing the courtyard passageway, a gesture that adds to the sense of casual ceremony when arriving and leaving the complex.
From architect Jerrold Lomax, with whom Pali worked early on in his career, Pali learned to "use the materials as you as you find them, and not torture the structure." At the Obama Sports Complex, adopting this clear-eyed philosophy is helping create a place for recreational pleasure and communal joy.
Would you like to comment on this article? Send your thoughts to: [email protected]