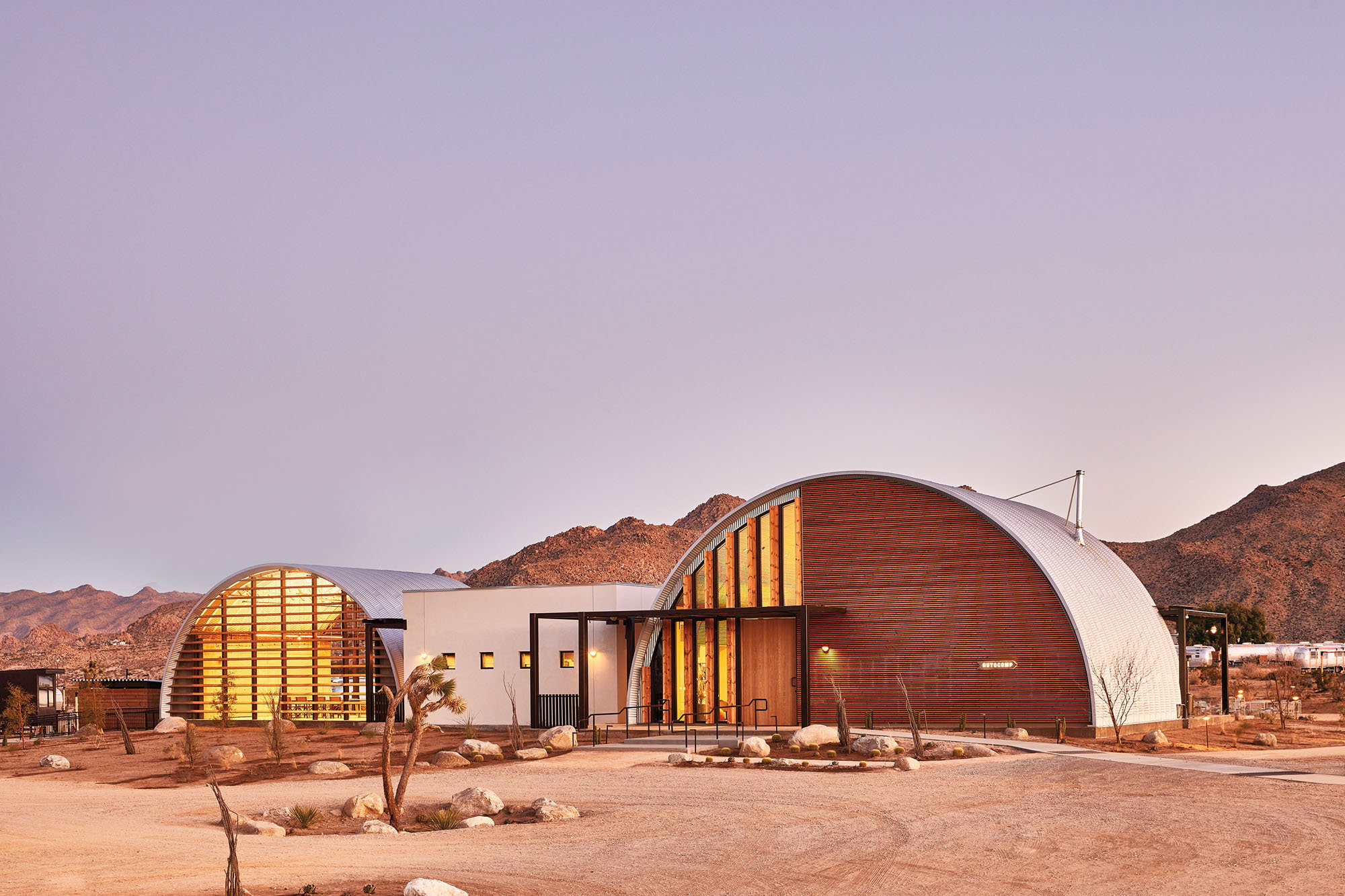 August 11, 2022
Luxury Quonset Huts and Airstream Trailers Encapsulate Joshua Tree's Off-Grid Essence
For a team that included HKS (architecture), Narrative Design Studio (interiors), and AutoCamp's own design staff, the first—and perhaps most challenging—task was to incorporate AutoCamp's campground spirit and rustic-but-not-too-rustic offerings while creating a spot that authentically captured Joshua Tree's brash, unpretentious ethos. After a few visits to the desert, they zeroed in on a logical centerpiece: Quonset huts, raw, proudly utilitarian, self-supporting curved and corrugated steel structures that dot the sparsely inhabited frontier and embody the area's vibe. The Quonset's curved form, adds HKS principal Mark O'Dell, also echoes the natural curves of Joshua Tree's mountains and boulders.
O'Dell and his crew used two prefabricated Quonsets, adapting them for the site's clubhouse and adjacent event space. To counter the desert's harsh elements, they oriented each structure to welcome summer breezes and shelter from winter winds. They shielded much of the clubhouse's desert-facing frontage from the sun with steel louvers and deep steel overhangs, topped with photovoltaic panels. The entrance facade is rendered largely opaque by slats of pine and louvers, ensuring that the desert view's full impact remains a surprise until guests enter.
---
More from Metropolis
---
Inside the clubhouse, Narrative Design Studio cultivated a vibe that feels luxurious yet informal. "You're creating enough interest, but you're not stealing the show," describes Shannon Niehenke, principal at Narrative. "The landscape has to be the 'wow' factor." Like the use of the Quonset, much of the interior design draws from local landscape and culture. Natural wood along the curved ceiling, gray concrete floors, and sand-, timber-, and earth-toned furnishings and surfaces are accented with industrial black louvers and a black, cone-shaped metal fireplace. The team incorporated locally fabricated furniture, artwork, and even food and gifts: a fissured circular mural by Mojave Desert artist Ana DiGiallonardo; textured throw pillows by Yucca Valley–based All Roads Design; and quirky timber stools and side tables by Yucca Valley–based Dan John Anderson, to name a few.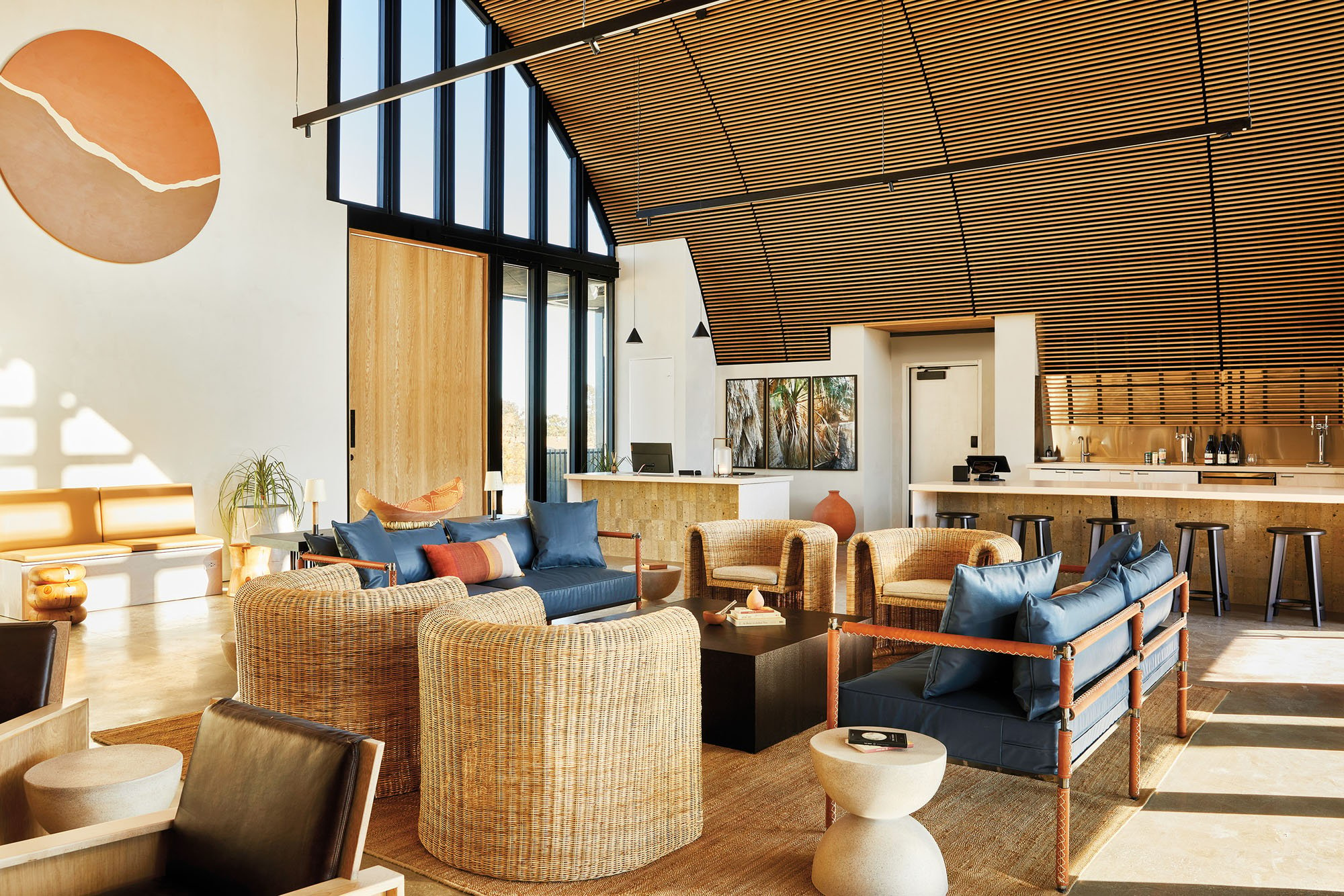 Adjacent to the clubhouse is another Quonset structure. Nicknamed the Mojave Dome, it's used for gatherings that range from morning yoga to concerts and corporate retreats. Extending from there is a progression of outdoor spaces, which include a covered patio/lounge/bar, an exposed sitting area, a plunge pool, and an oversize gas-powered firepit surrounded by white bent steel chairs. Beyond that, 55 freestanding lodging units dot the site along wide, gravelly pathways. Most visitors stay in 31-foot-long Airstreams, fitted with customized kitchenettes, bedrooms, and sitting rooms, not to mention luxury linens and finishes. All have their own outdoor tables and fireplaces. There are also a few suites, black structures shaped like Airstreams but constructed like buildings. Near the center of the site is an open-framed stargazing pavilion designed by Tom Gottelier and Bobby Petersen of the collective Designers on Holiday.
The 25-acre facility is designed to minimize its environmental impact, not just via native plantings and xeriscape but through low–water use fixtures, on-site water treatment, heavy reliance on solar power, and dark sky–compliant lighting. To minimize pressure on the local housing market, which has been turned upside down by Airbnb, AutoCamp acquired a commercial lot instead of a residential one, and they have tried to hire local staff whenever possible.
Of course, no luxury facility can truly fit in a place like Joshua Tree. (Take a look at the designer s'mores packs, or the exorbitant prices for food and supplies.) And no company hoping to add heaps of locations worldwide can claim to be wholeheartedly local. But the team has made a serious effort to respect the place, and it shows. Sitting on the covered patio, gazing at the Mars-like hills of Joshua Tree, the sharp creeping shadows, and the glinting splay of Airstreams that resemble alien space capsules, you start to get it.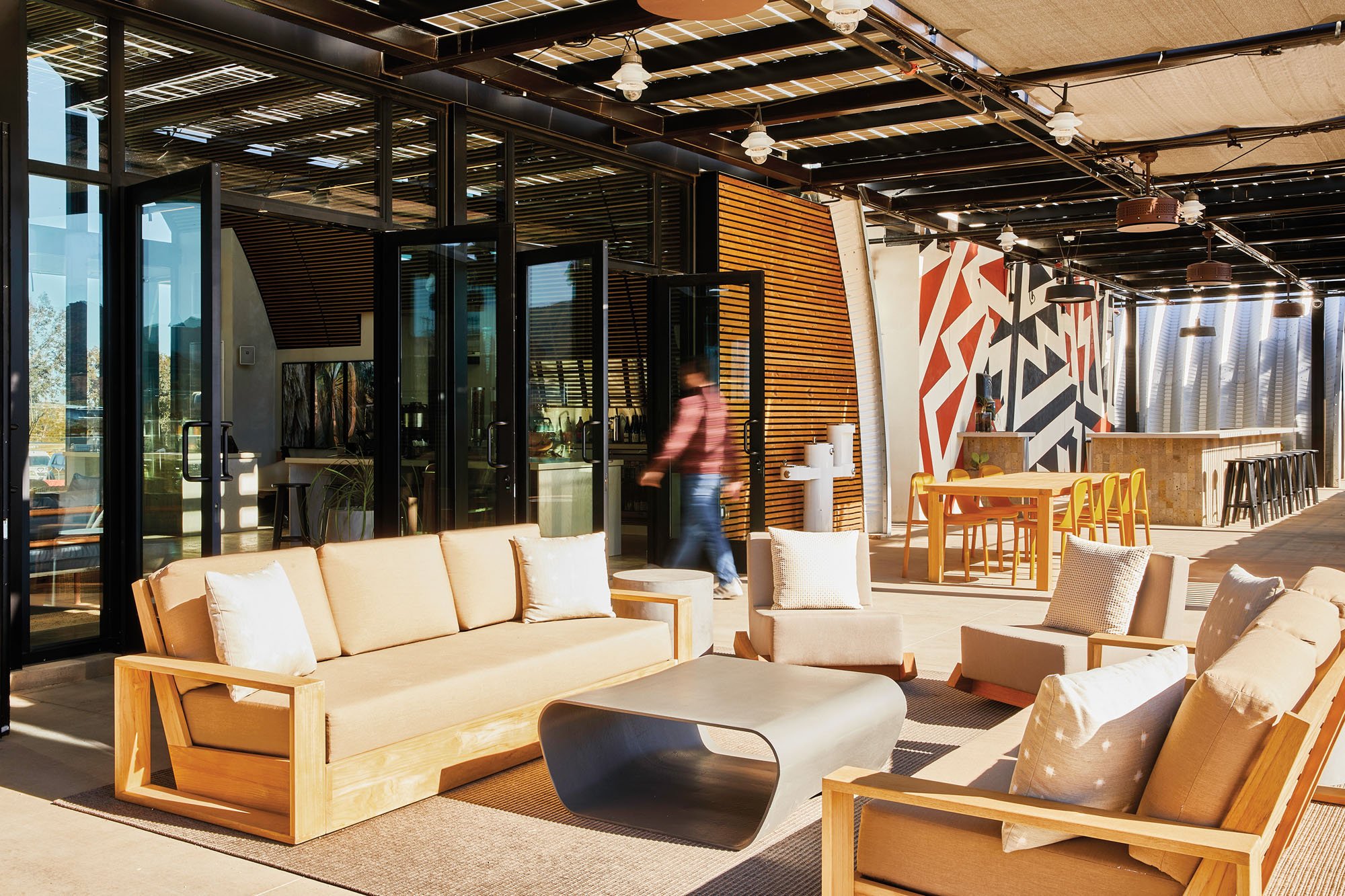 Would you like to comment on this article? Send your thoughts to: [email protected]