June 18, 2018
Mærsk Tower Revitalizes the Gloomy Research Campus in Copenhagen
Wrapped in 3,330 movable copper shutters that will weather to a green patina in the coming years, Mærsk Tower is an unusual but welcome addition to the University of Copenhagen's campus and to the Danish capital at large. Unusual because the 15-story research center is emphatically vertical—architecturally anomalous in this city of church steeples that […]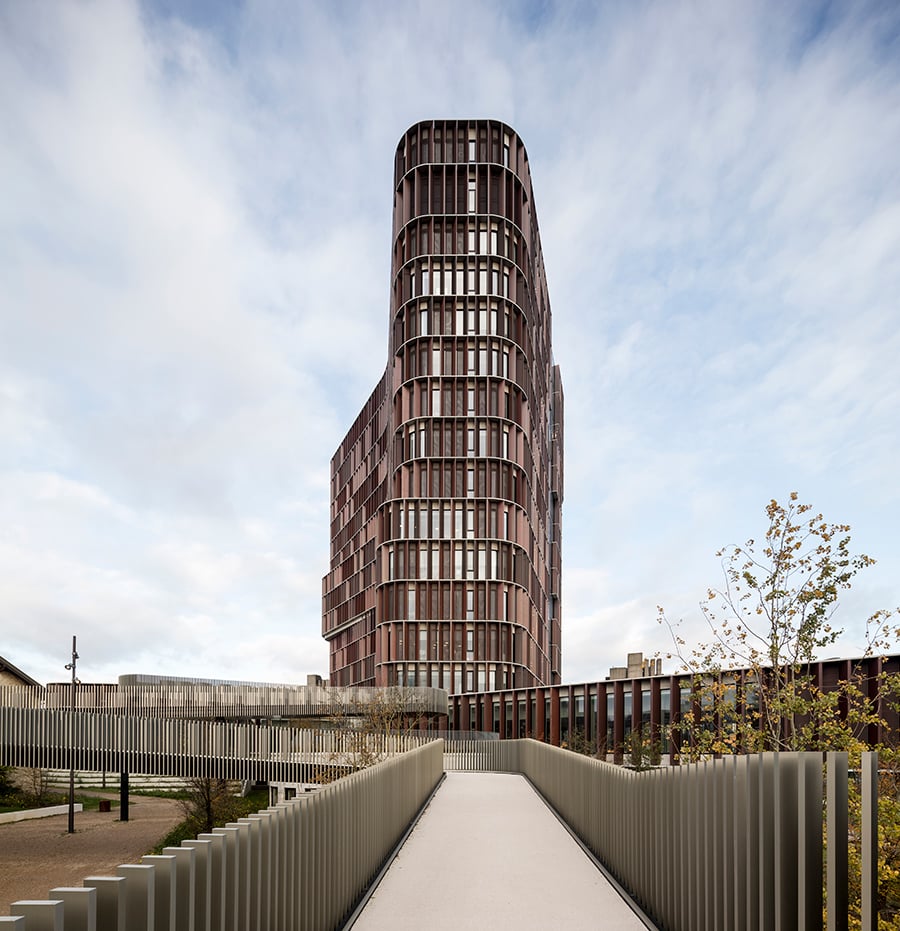 ---
Wrapped in 3,330 movable copper shutters that will weather to a green patina in the coming years, Mærsk Tower is an unusual but welcome addition to the University of Copenhagen's campus and to the Danish capital at large. Unusual because the 15-story research center is emphatically vertical—architecturally anomalous in this city of church steeples that otherwise lacks height-climbing ambitions. Welcome because the tower is sensitively conceived, meeting the streetscape with a lush public park shot through with a snaking pedestrian and cycling path that delivers scientists, faculty, students, and anyone else from the sidewalk directly into the heart of the building.
According to the architects, the reputable Scandinavian firm C.F. Møller, the project is a prototype for a new kind of research facility. "We wanted to build a campus as a living organism with urban openness—a building without walls," Mads Mandrup Hansen, C.F. Møller partner and project lead, explains. A theme of cross-pollination runs throughout the project: The interior is characterized by a sort of urban activity where students and researchers of different stripes can bump into one another in any of the center's various social spaces, including a canteen, auditoriums, and several "breakout" areas featuring bleacher seating.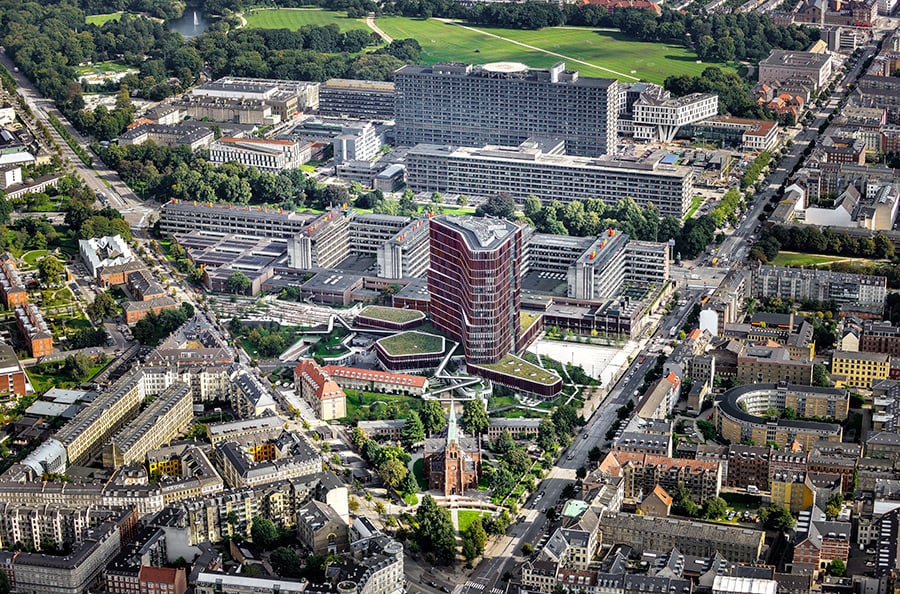 ---
Home to the Faculty of Health and Medical Sciences, Mærsk Tower (opened in 2017 and named after the logistics company that, through its affiliate foundation, was the primary backer) is part of a cohort of new facilities at the University of Copenhagen spread over its four campuses. The Copenhagen Plant Science Centre, designed by Lundgaard & Tranberg Arkitekter, opened in October 2017, and a science park and a natural history museum are set to be inaugurated soon. Together, they are part of what's locally called Copenhagen Science City, billed as one of Europe's largest concentrations of education and research facilities in the fields of medicine and the health and natural sciences.
---
More from Metropolis
---
With a triangulated floor plan and soft curves, Mærsk Tower stands out from its new brethren. While its corners have been rounded to attenuate wind loads, inside they create a continuous loop between different scientific groups. Every level is organized in a way that promotes a diverse talent and knowledge pool: 75 researchers are clustered in three "pads" of the three-pronged floor plate, each one dedicated to a particular focus. Shared technical facilities, in addition to common kitchens and meeting areas dubbed "science plazas," encourage interaction among the lab partners. The 12 research floors are connected vertically by a laminated-oak corkscrew stairway that runs nearly the full height of the soaring atrium. This sculptural element anchors a very open, light-filled interior replete with lines of vision across otherwise specialized branches of research.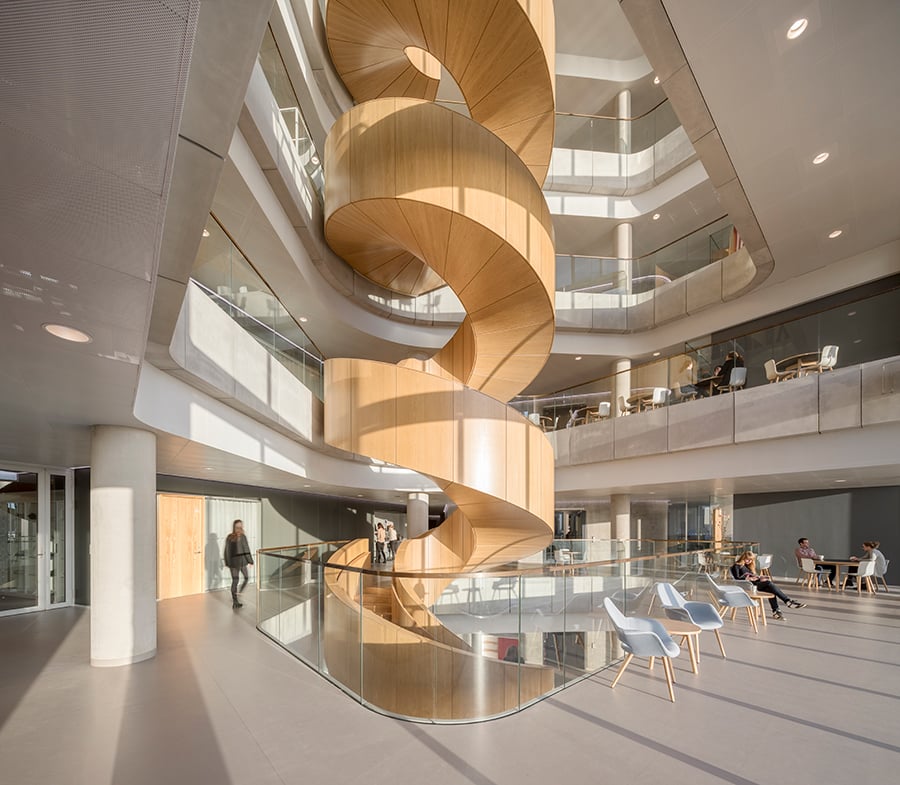 ---
"We call it a three-dimensional research tower," says Hansen, as if challenging the linear dead-end-corridor organization emblematic of the typology. "There is a vertical connectivity that doesn't just provide physical but also visual connectivity. This pushes the boundaries of how traditional research is conducted."
The novelty can be verified by data—indeed, the laboratories, which opened just last year, have already been declared Denmark's most energy-efficient. But it is the building's fluid layout that has been most commended by its new occupants. A scientist working in the Department of Biomedical Sciences on the ninth floor explains that "now we are placed together with groups involved in ion channels, making our field of membrane proteins much more relatable. We also have all machines in the same building and floor, making it possible for us to run several projects at once." Another bonus: The clusters of scientists have a view overlooking Copenhagen and reaching as far as the Swedish city of Malmö.
---
As the building meets the ground, it flares out into four lily-pad-like volumes containing such quasi-public amenities as the canteen. These wings are suspended over a sprawling public landscape that opens up to the Nørrebro neighborhood. It is also at this point that Mærsk Tower connects to its predecessor, the Panum, a Brutalist landmark that opened in the 1970s. The pair could not be more different: The older facility was characterized by its rational, no-nonsense floor plan, horizontal orientation, and heavy-duty shell; the new one is compact, "irrational," and transparent.
The vibrant park, designed with Copenhagen-based architecture and landscape firm SLA, acts as a soft buffer, blurring the edges of the tower and the plot of land it stands on. Not only does it form a kind of microclimatic barrier to wind gusts that swirl around the tall structure, it is also a habitat for insects, birds, and plants—a new green lung in the city. Zigzagging across the park at treetop height is a 1,000-foot-long pedestrian and bike lane connecting both ends of the site. (An automatic door swings open for cyclists.) The pathway creates an architectural promenade that brings outsiders closer to the building, slowing them down and offering a peek into the life of this science village.
While blending into Copenhagen's skyline from afar, the tower stands in stark contrast to the centrally located and multicultural Nørrebro neighborhood, which is well stocked with traditional brick residential blocks, most of them no more than six stories tall. Hansen counters thoughtfully, explaining that the reddish tonality of Mærsk Tower speaks to the surrounding buildings, while its imposing volume adds architectural diversity to the area.
But perhaps more than anything else, the architects' ambition was to create a place for the public to have the opportunity to mingle with the scientific community. This is perhaps characteristic of a Scandinavian attitude that departs from recent precedents in Europe, such as Novartis's cloistered research and company headquarters in Basel, Switzerland, partly designed by Frank Gehry. Conceived as a social place, Mærsk Tower provides a glimpse of a new brand of research facility, in which scientific and urban communities are brought together through accessible architecture and an inviting landscape.
You may also enjoy "KPF's New Building at the University of Michigan Melds Sleek Geometries With Practicality."