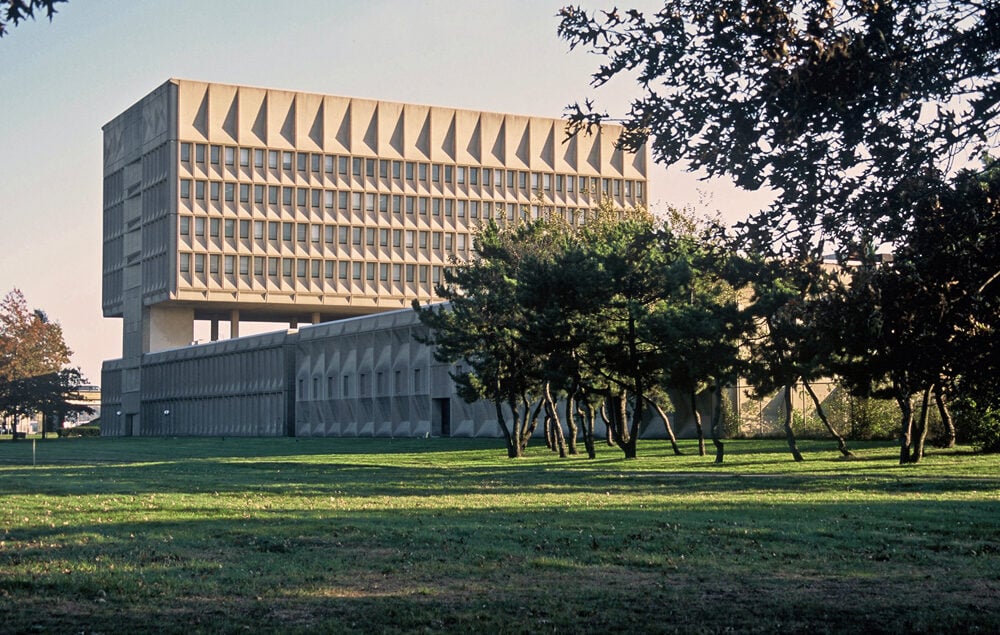 June 17, 2021
An Icon of Brutalist Architecture Gets a Second Life as a Hotel
The Hotel Marcel reimagines Marcel Breuer's Armstrong Rubber Company headquarters as a hyper-sustainable hospitality destination.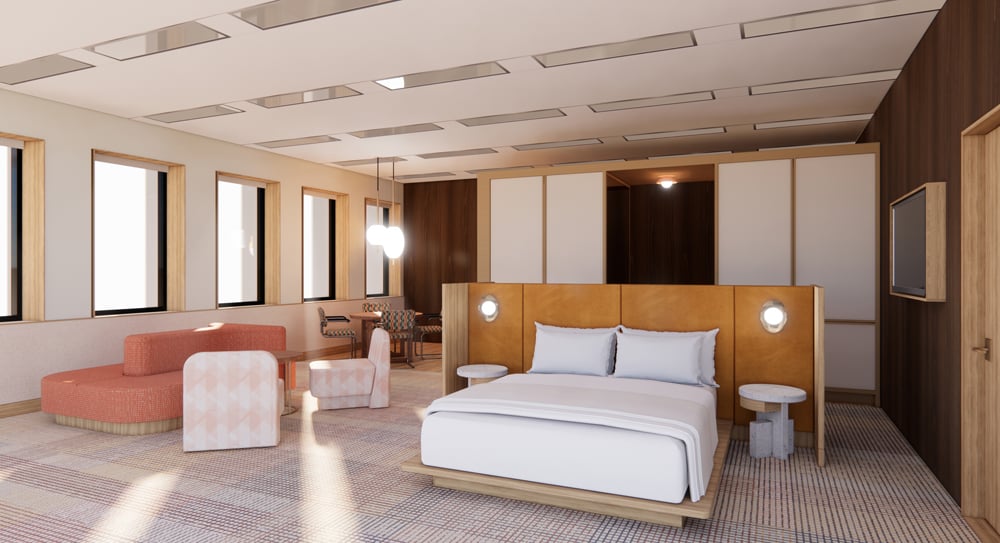 "This building is not one that anyone can ignore," says Bruce Redman Becker, the architect and developer who's firm Becker + Becker purchased the former Armstrong Rubber Building in December 2020 with the intention of transforming it into a hotel. Designed by Marcel Breuer, the iconic two-tiered building was originally commissioned by the Armstrong Rubber Company (later incorporated into tire manufacturer Pirelli) as a headquarters, with administrative and executive offices elevated over factory and testing facilities on the first two floors. The hotel, set to open later this year, will be called the Hotel Marcel, after its famous architect.
Saving One of Marcel Breuer's Most Prominent Buildings
Becker points out that because of its location at the intersection of Interstate 95 and Interstate 91 in the Long Wharf section of New Haven, Connecticut, it is probably the most prominent work of Modern architecture in the Northeast United States, and one of Breuer's best-known buildings. Despite its status as a local landmark, the building has sat mostly empty since the late 1990s and a portion of the ground level structure was demolished when IKEA moved in next door.
Working with the Hilton Hotel brand and Brooklyn-based interior designers Dutch East Design to develop the site into a hotel that was true to the building's Modernist heritage while setting new standards for sustainable hospitality, Becker laid out an ambitious plan to design for Net-Zero Energy and LEED Platinum.
---
More from Metropolis
---
Designing a Net-Zero Energy Hotel
In addition to a massive solar array on the roof and covering some nearby parking lots, the hotel would be fully electrified. Electrical systems will stand in for natural gas in the laundry facilities and kitchen, while emergency power—a must for any hotel—will be supplied by a battery bank instead of a diesel generator. The building's iconic six-foot-by-three-foot windows will be glazed with high performance glass that meets the Passive House Standard (and has the added benefit of completely insulating guest rooms from traffic noise.)
For the guest rooms and other interior spaces, Dutch East Design developed an approachable scheme that paid homage to the building's status as a Modernist icon. "Overall, the interior is kind of a softer, warmer, more human response to the building's exterior. We're trying to reacquaint the public with Brutalism, but in a very approachable way," says Dieter Cartwright, partner at Dutch East Design. He refers to textile patterns inspired by Anni Albers and custom touches like maple window surrounds that match the originals designed by Breuer, only in a warmer material.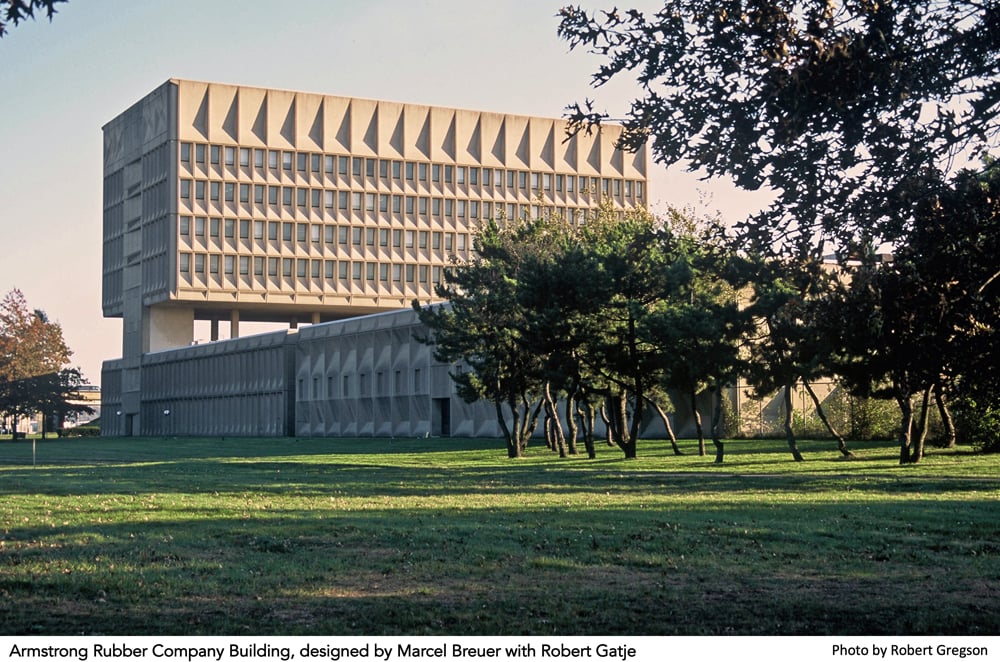 Interior designers also have a role to play in the project's overall sustainability, opines Cartwright. His team strove to select local fabrics and materials with minimal off-gassing. For example, the custom guestroom casework built by The New Traditionalists, in Torrington, Connecticut, helps cut down on shipping-related carbon costs.
Because Breuer's original office program has since been gutted, the design team had few restraints when it came to laying out guest rooms. But for public spaces, a few of the building's old quirks are being transformed into hospitality features. On the ninth floor, a 16-foot-high windowless penthouse with exposed trusses will be converted into a column-free event space with an interior roof courtyard. Originally built to house mechanical equipment, innovations in building systems since over the past 50 years have allowed the designers to reclaim that space. On the ground level, a recess in the floor that originally held 1970s-era computer equipment is being converted into a sunken lounge, says Cartwright.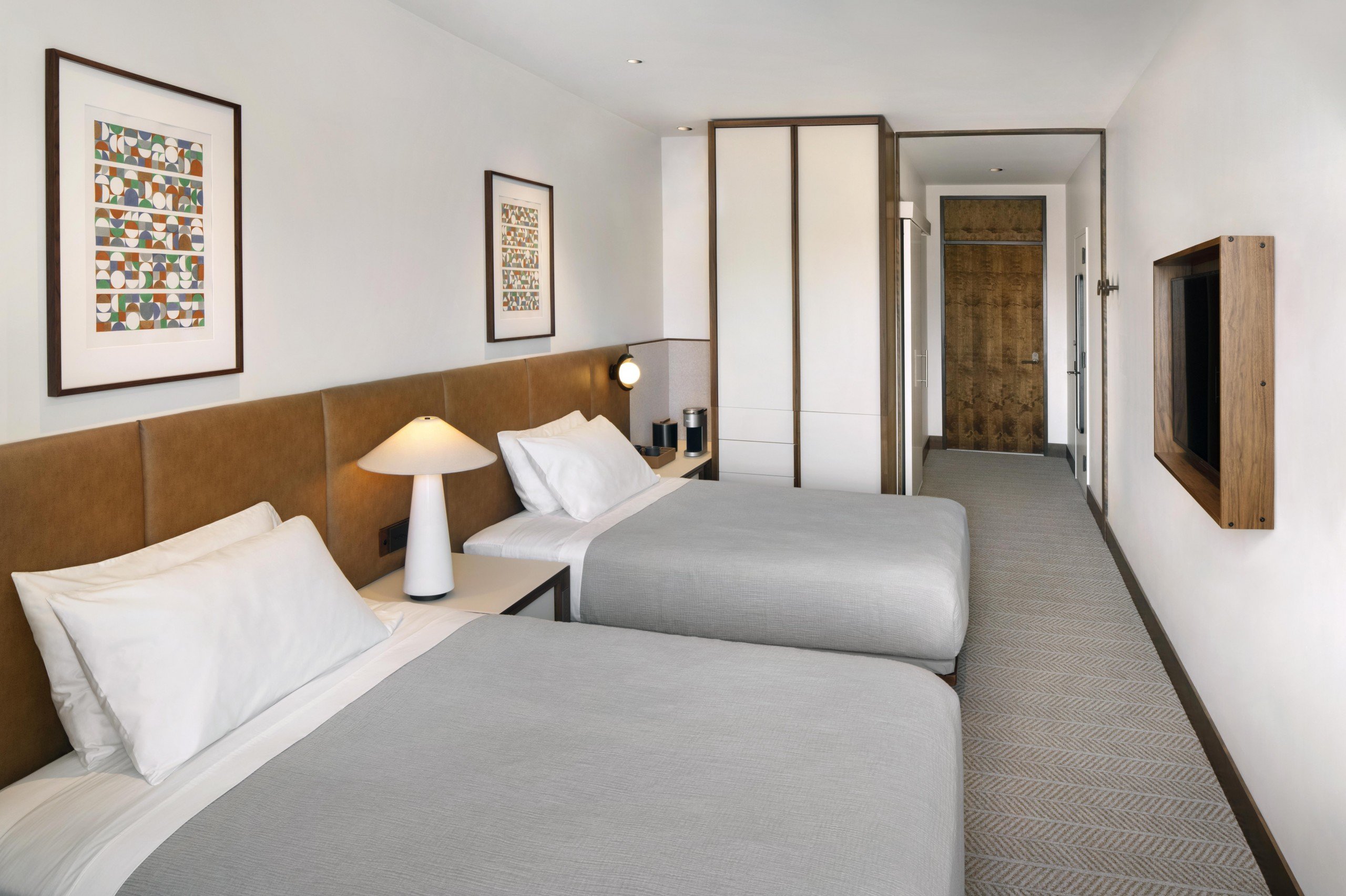 The Complicated Legacy of New Haven's Armstrong Rubber Company Headquarters
When it was completed in 1970, Breuer's addition to the New Haven skyline was as much an emblem of the blind spots of urban renewal and the Modernism it embraced as it was a feat of architecture. Located at the intersection of two major highways that cut New Haven off from its waterfront, divided neighborhoods, and saddled generations of Elm City residents with elevated levels of asthma and blood mercury, the Armstrong Rubber Building was built of carbon-intensive cement for a company that made automobile tires. Sustainability was not a part of the equation in those days. It wasn't even part of the conversation.
But the concrete was poured, the highways were built, and the building was left to sit empty. The Hotel Marcel suggests that we can find a more sustainable way to live with the infrastructure previous generations built. Whether it's running electric cars along the highways, putting up solar panels in the parking lots, sealing building envelopes more tightly, or simply finding a new use for an old building.
You may also enjoy "In Omaha, Nebraska, The Cottonwood Hotel Roars Back to Life"
Would you like to comment on this article? Send your thoughts to: [email protected]
---
Register here for Metropolis's Think Tank Thursdays and hear what leading firms across North America are thinking and working on today.