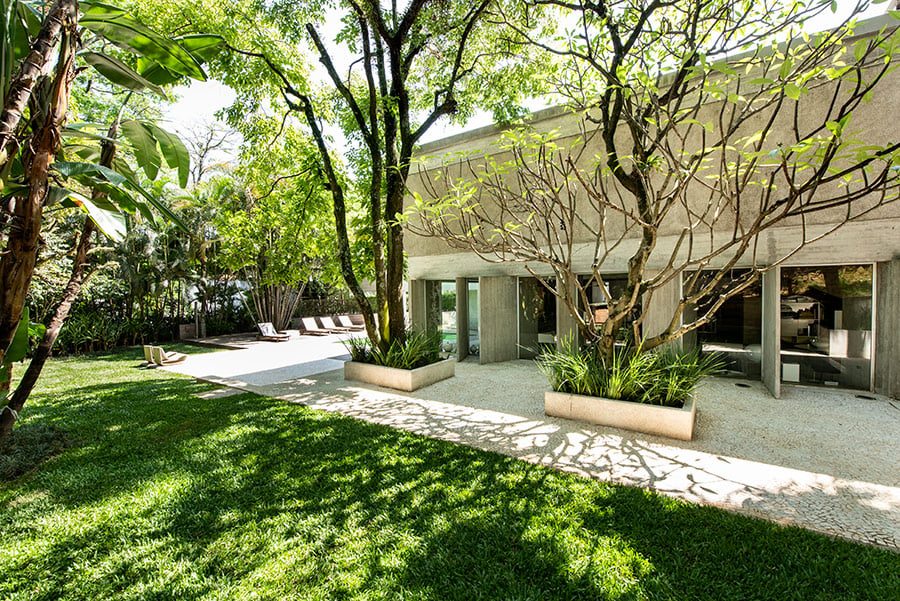 April 10, 2019
A Brutalist House in São Paulo Gets a Modern Refresh
Tucked within the chaotic urban fabric of São Paulo, this concrete home designed in the late 1970s was revived by architect Marcio Kogan of local firm Studio MK27.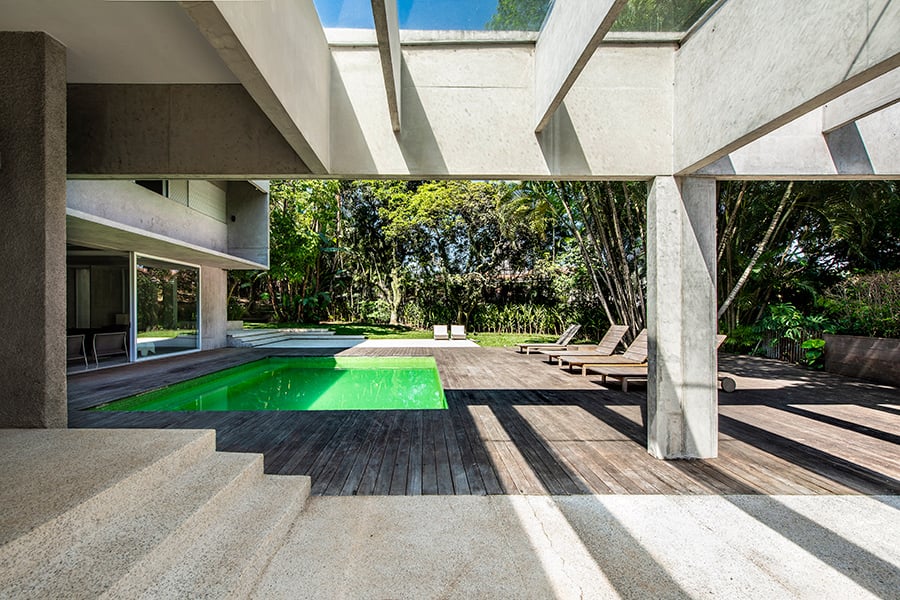 ---
Though Brutalist architecture underwent a relatively brief period of ubiquity in Europe during the 1970s and '80s, it took on an entirely different form and meaning within the tropical climate of Brazil. The country's privileged weather and abundant vegetation allowed for the emergence of a unique dialogue between Brutalism's calculated sterility and the untamable character of nature.
Tucked within the chaotic urban fabric of São Paulo, in the residential municipality of Sumaré, a concrete home designed in the late 1970s by architect Luíz Antonio Vallandro Keating was in a woeful state of disrepair. Sensing its potential, Raquel and Roberto Davidowicz, founders of the Brazilian fashion brand UMA, purchased the building in 2002 and commissioned architect Marcio Kogan and Diana Radomysler of local firm Studio MK27 for its restoration.
"The house had a striking seventies aesthetic and we wanted to incorporate a more contemporary feel to it," says Kogan, adding that the guiding principle of the renovation was to "open the space as much as possible to its surroundings, creating a strong integration between the interior and exterior, which the weather of São Paulo allows." The original interiors were dim and compartmentalized; to create a brighter environment, the home's original dark wooden floors were replaced with a mosaic of irregular white limestone, featuring a pattern originally from Portugal that has been widely adopted in Brazil for both public and private spaces, such as at Rio de Janeiro's famous boardwalk. Seeking to establish a seamless transition between the common areas and the garden, Studio MK27 focused on the ground floor, modifying the entrance and eliminating some of the original walls that separated inside and outside.
---
More from Metropolis
---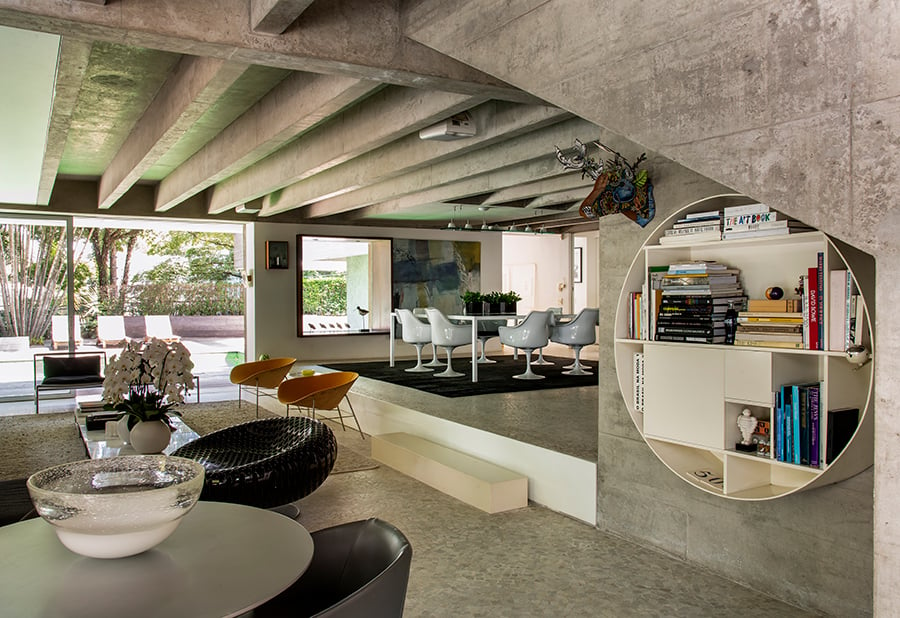 ---
It's no wonder, then, that the architects' main priority was to integrate the home's exterior with the full user experience; in the words of Louis Kahn, "the sun never knew how great it was until it hit the side of a building." In daylight, the structure's stark, geometric design casts a rhythmic play of light and shadows onto the surrounding patio. From the interior, the new open floor plan offers stunning views of the garden and terrace, where an existing pool's gray color was altered with the installation of green tiles that mirror the surrounding verdant landscape.
Kogan's predilection for incorporating natural elements in his designs is a result of one particular project he took on decades ago. "Our first projects were very aseptic spaces, until one day in 1999, a client asked for a house with our architecture, but with natural materials," he recalls. "The event ended up changing the history of our architecture. The projects have become more enjoyable to be experienced and this is obviously what we want." He concludes by quoting the late Oscar Niemeyer: "Architecture is not important; what is important is life."
You may also enjoy "In Memphis, Community Leadership Drives the Transformation of an Abandoned Sears Warehouse into a Vertical Urban Village."
Would you like to comment on this article? Send your thoughts to: [email protected]