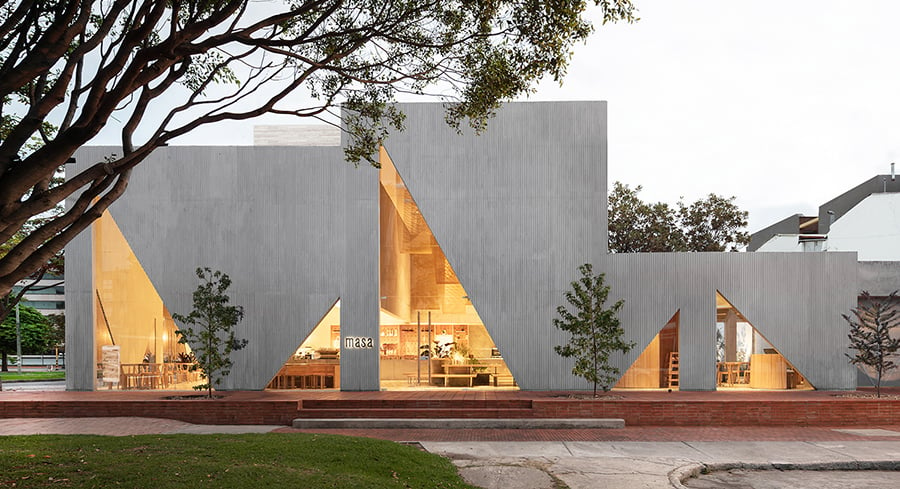 January 10, 2019
Masa, a New Café by Studio Cadena, Uses Simple Shapes and Materials to Bold Effect
The restaurant, located in northern Bogotá, fluidly connects its interiors and exteriors with glass, concrete, and wood.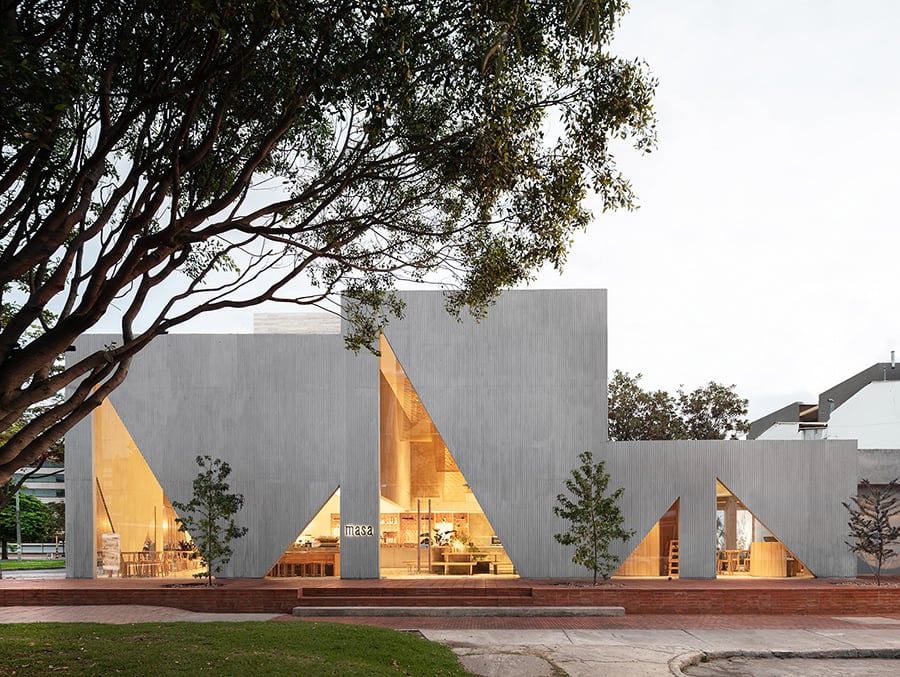 On the corner of Bogotá's Calle 105, a new eatery, Masa, glows like a white paper lantern. As if a giant has etched out the lantern's sides with a pen knife, its triangular windows appear sliced away, revealing a warmly-lit interior.
Opened in October, this iteration of Masa—the third and largest space for the Colombian bakery, at 7,500 square feet—is the work of Studio Cadena, a Brooklyn- and Bogotá-based design firm. Built on the site of a converted residence, the project was initially planned as a renovation. Three months in, after realizing the difficulty of reconciling the original structure's "Frankenstein of additions and demolitions," as principal Benjamin Cadena recalls, the studio scrapped the original plan, opting instead for ground-up construction. Although much of neighboring northern Bogotá is building up in height, Masa holds its own at a residential scale, making an impact through its surprising silhouette and textural finesse.
The space's complementary functions of bakery/café, dining area, and (currently unoccupied) retail space each correspond to a unique volume linked within the building. A language of graphic circles (see the café's terrazzo floors and pendant lighting), warm wooden surfaces, and cast-in-place concrete connect the building as a totality. Meanwhile, different ceiling heights, lighting treatments, and seating options lend a separate character to each space.
---
More from Metropolis
---
Throughout, Studio Cadena has maneuvered to blend interior with exterior—a move apparent in the mullionless triangular windows and in the planters inside, whose greenery reaches upward toward skylights. Noshing on baked goods from the patio seating, guests can watch chefs at work in the kitchen through a large, porthole-like window. This linkage, Cadena explains, was important to the client, who hoped to make a clear connection between process and product. "We made it the centerpiece of the patio," says Cadena. "The idea was that you would see them cook while you eat, and when you're inside, and you can also see the people outside."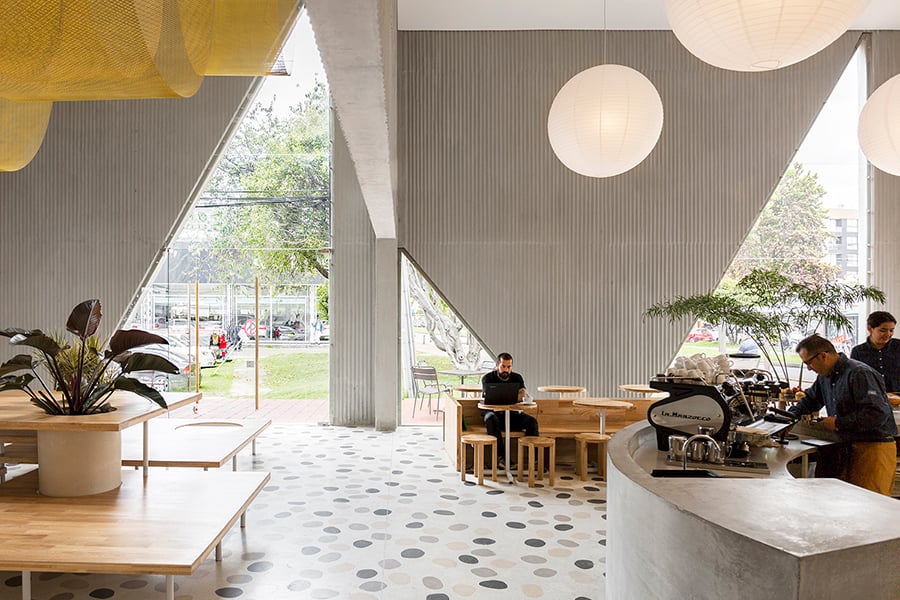 Taking a comprehensive approach to the design, Studio Cadena also designed Masa's fixtures and furniture ("everything but the chairs," says the architect). These pieces are often surprising and multifunctional: a multitiered seating platform accommodates a variety of appropriately picnicky seating postures, for example; and a pegboard-like display system behind the counter presents a clever solution for accommodating a rotating assortment of loaf sizes and coffee supplies.
"The attempt is always to keep it super simple," says Cadena.
You may also enjoy "This Glowing Grilled Cheese Restaurant Offers the Formerly Incarcerated a Fresh Start."