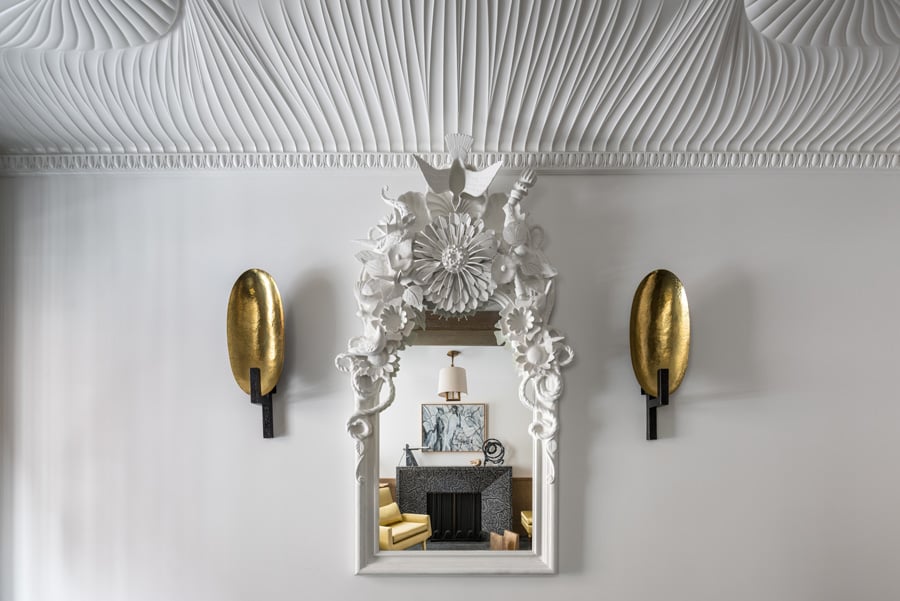 May 10, 2018
Architect Michael Chen Combines Neo-Grec and High-Tech in this Manhattan Townhouse
With his polymorphous design for a narrow 19th Century residence, the architect tackles issues of material experimentation, ecology, and urban density.
Before spending four years rebuilding a town house on Manhattan's Upper East Side, architect Michael Chen recalls, he climbed up on scaffolding and easily pulled off chunks of the original structure's 1879 facade. The historically significant Neo-Grec building was in horrible disrepair and had long ago been downgraded from a Gilded Age single-family home into an SRO with bathrooms in the hallways.
Down it came, to its foundation. Chen then reconceived the house inside and out, making nearly every inch a thesis in material research, craft, fabrication, and collaboration. Take the six-story house's vertical garden off the backyard terrace: Chen worked with Local Office Landscape Architecture and Boston Valley Terra Cotta to develop a kit of slip-cast glazed terra-cotta planters that vary slightly and undulate according to a complex environmental analysis of the wall and each planter's shadow. With help from conservation botanists at the Syracuse branch of the State University of New York, Chen obtained permission from the U.S. Fish and Wildlife Service to propagate and fill the containers with endangered ferns from Hudson Valley cliff faces. Call it micro-ecology.
The architect also received authorization from New York City's Landmarks Preservation Commission to re-create the town house's Neo-Grec facade in terra-cotta masonry units colored and textured to mimic brownstone—a first for Landmarks because the process is typically achieved with stucco or precast concrete.
---
More from Metropolis
---
"In all of our work there is a deep technological backstory and a constant flirtation with industrial design and science," says Chen. In the case of the town house, Chen and his colleagues were inspired by the fact that Neo-Grec was one of the first architectural styles to incorporate machine-made ornamentation, frequently incised with a deep V-groove. The architect replicated and applied that element as a leitmotif throughout the house.
Independent research projects occupy Michael K. Chen Architecture, his office of five employees. Much of their work looks at how emerging technologies influence public health and ecology in cities. A mapping survey in which Chen located all 14,000 NYC cell-phone base stations using permit data was exhibited at the 2012 Venice Architecture Biennale, but more recently it caught the attention of Citi Bike. The public bike-share system wanted to use the data to more efficiently locate its bike stations (and now Chen and his colleagues have free Citi Bike memberships).
---
Similarly, the vertical garden at the town house inspired Chen to think about the city as a three-dimensional volume whose vertical density might impact factors such as biodiversity and urban ecology. This led Chen and his colleagues to compile a field guide of urban wildlife with visualizations of entire city blocks and varied ecological profiles based on building volume. Just as Chen mapped the distribution of environmental variables on the green wall, he used planning data sets and information on native species published by the American Museum of Natural History to model large chunks of New York's urban fabric, with a series of target ecosystems that could be visualized throughout the city.
"I think that design for biodiversity is a bit of a missing piece of the larger discussion around sustainability and resiliency, and it's interesting for us to think about how the built environment can be evaluated and modified to benefit the diversity of plant and animal species in New York," says Chen.
The roots of this commitment to independent research—which is what makes Chen a much more interesting and complex designer than one with simply a body of luxury and micro- residential projects in his portfolio—can be traced back to his time researching military imaging technology at the American Academy in Rome in 2004. After stints at Leroy Street Studio and Polshek Partnership (now Ennead), teaching at Cornell and Pratt Institute (he currently teaches comprehensive design and research seminars at the latter), and hatching a reconfigurable micro-apartment design that went viral, Chen was able to launch his own office when he got the town house commission from a family of international real estate developers based in Asia but with deep roots in New York City.
The house, which Chen calls a "machine for entertaining," was such a vast project that it easily lent itself to sharing the wealth. Its pockets of computational ornamentation and numerous custom furnishings are the results of collaborations with American artists, craftspeople, and furniture designers. Chen also tapped one of his American Academy in Rome colleagues, the artist Sarah Oppenheimer, to develop a custom skylight in the penthouse. For much of the furniture, Chen went to Colony, an independent gallery on Canal Street founded by Jean Lin. The commissions for pieces from KWH, Meg Callahan, Egg Collective, Hiroko Takeda, and Vonnegut Kraft, among others, helped Lin solidify her then-fledgling co-op and pushed some of its designers into new territory.
---
Bedrooms and private spaces are sandwiched between living and entertaining areas on the top and bottom floors. Two richly wrought staircases—one in fumed white oak, the other a travertine stair, featuring faceted geometry and steel and bronze railings set in moiré patterns—form a continuous visual thread that winds through all six floors.
Chen made sure to hint at the details to be discovered throughout the house upon entry: The parlor vestibule ceiling is a billowing horizontal sculpture that references the egg and dart moldings of the original town house's facade. The spacing of the molding determines that of ridges in the ceiling, which were carved using a spherical CNC bit. The folds of the ceiling were designed to house light fixtures and sprinklers, but they also establish a dialogue between the historical context and a contemporary residence. "For us, craft becomes the way that we mediate that transition," says Chen.
Since the completion of the town house in 2017, Chen has been working on other unconventional residential projects that he lovingly calls "a little weird," as well as a ground-up rental building in Brooklyn's Prospect-Lefferts Gardens neighborhood that will have a market on the first floor, part of the city's Fresh Retail Expansion to Support Health program to prevent food deserts. But the architect is perhaps most excited about two library commissions—one for the architecture department at Pratt that puts his expertise in small multiuse spaces to the test, and a pro bono project for children at a shelter in the Bronx called the Concourse House—that he hopes will be stepping-stones to larger commissions and cultural works. With these new undertakings, Chen continues his support of collaborators who are local, independent designers and artists, just as he did with the town house. As he puts it, "I wanted to pay it forward wherever possible."
You might also like, "Lorcan O'Herlihy's New Mixed-Use Project Brings Walkability and Permeability to the Sunset Strip."