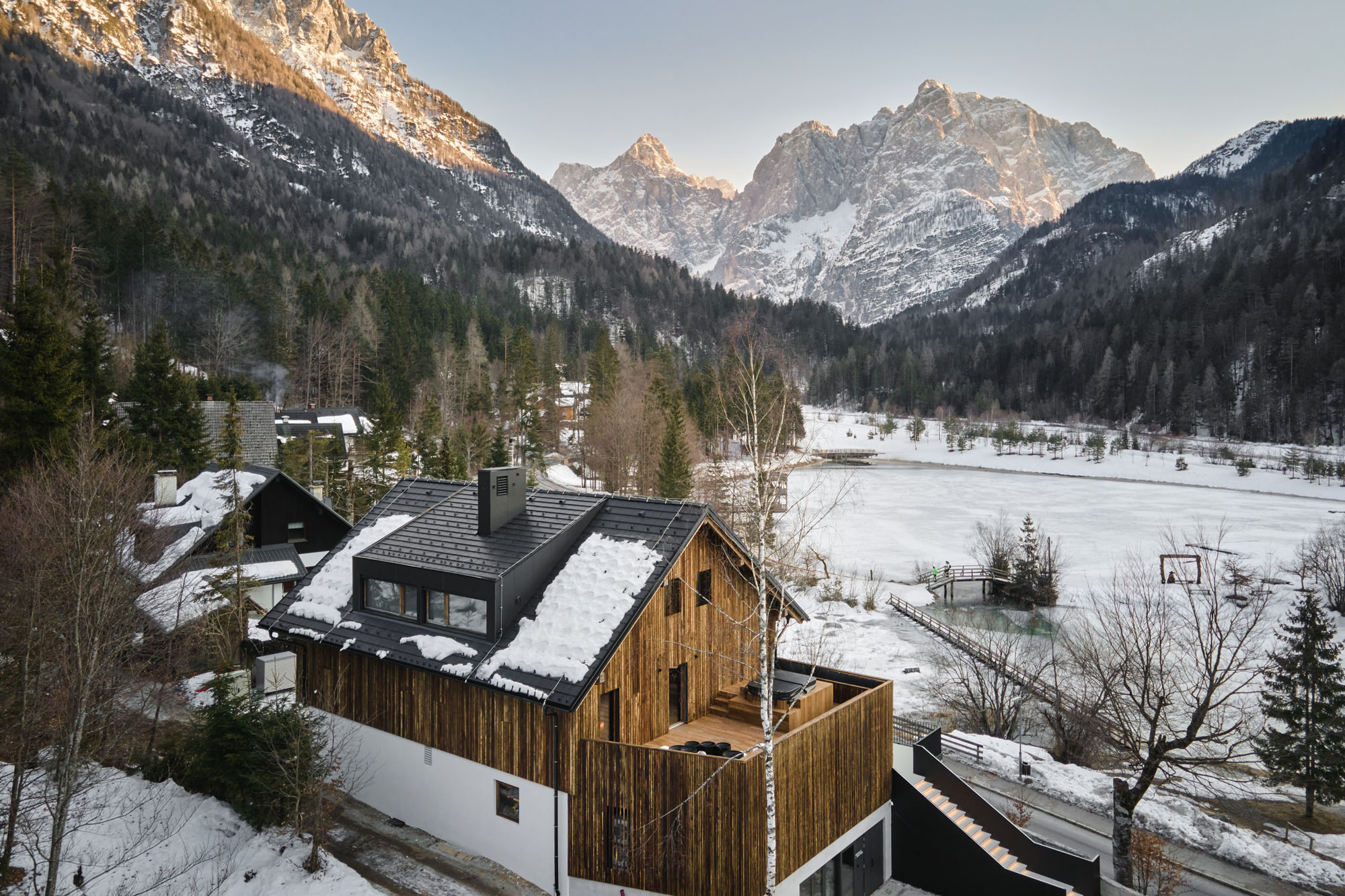 November 18, 2022
At Milka Boutique Hotel and Restaurant, Nature Won't Be Ignored
On the ground floor, Milka's fine-dining restaurant serves fare that reflects the notoriously short but intense Alpine seasons, in bespoke ceramic dishes crafted by local artists. The same burnt larch panels adorning the exterior form the dining room's windowpanes and ceiling panels—a cozy throughline connecting inner and outer worlds. The restaurant opens onto a similarly cozy outdoor terrace overlooking the lake and surrounding mountains.
The hotel's reception area, along with a single basement-level guest suite and private sauna, sit partially buried in the sloped hillside, enhanced by a large limestone monolith serving as a reception desk. The unburied facade is formed from Slovenian limestone finished with two different techniques: in some areas, the stone is polished to blend into the environment, while other areas feature textural, horizontal lines to suggest the flow of movement toward the terrace.
---
More from Metropolis
---
Five guest suites occupy the remaining floors, where limestone is also incorporated into the floor tiles, bathtub pedestals, walls, and accent furniture. In the aptly named Rock Suite, limestone bedrock juts out to create an amorphous, textural foil for the linear wood panels and monochrome linens. One of the primary goals in designing the guest suites was to ensure that each room provided a clear view of the dreamy alpine backdrop. While small, the rooms feel spacious due to the color scheme, open floor plans, and ample daylight. A seasonal understanding dictates the suites' color palettes, which range from saturated cerulean and muted, mossy greens inspired by the lake water to warm golden and mustard tones inspired by the falling autumn leaves. Velvet upholstery, oak wood panel floors, and tree stumps placed throughout rooms and common areas weave warmth and texture throughout the interiors.
Some people travel to distract themselves from the outside world, but here, that's just not possible. Milka offers guests the exact opposite of distraction: Each design element draws deliberate attention to the nuances of the natural world surrounding it.
Would you like to comment on this article? Send your thoughts to: [email protected]