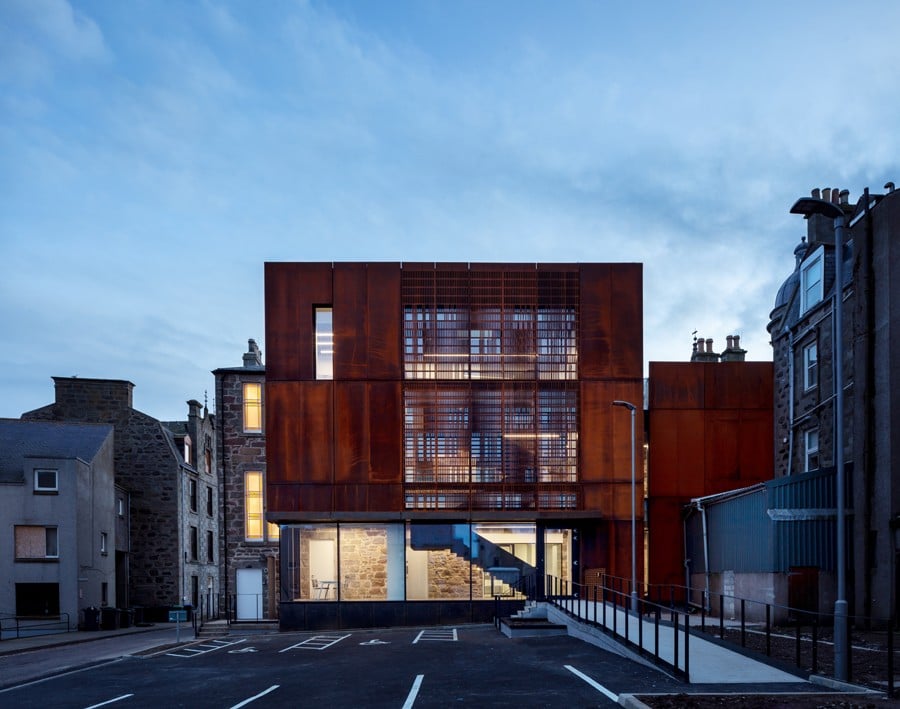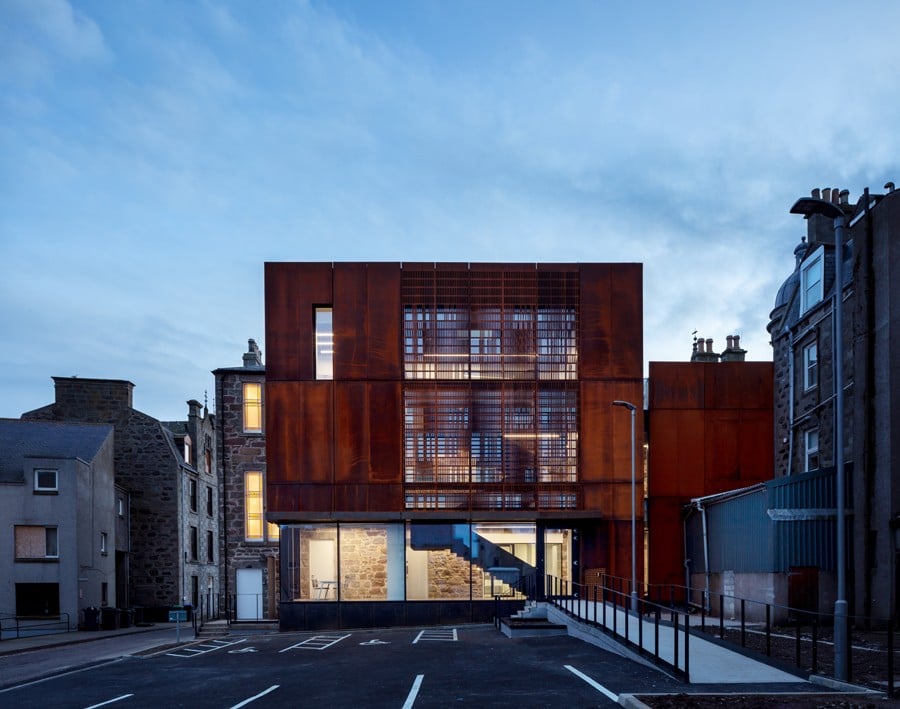 June 1, 2020
Moxon Architects Updates a Civic Building in Scotland with a Bold, Steel-Clad Addition
The expanded 1853 town hall in Fraserburgh, Scotland, now features sandstone, granite—and Corten steel.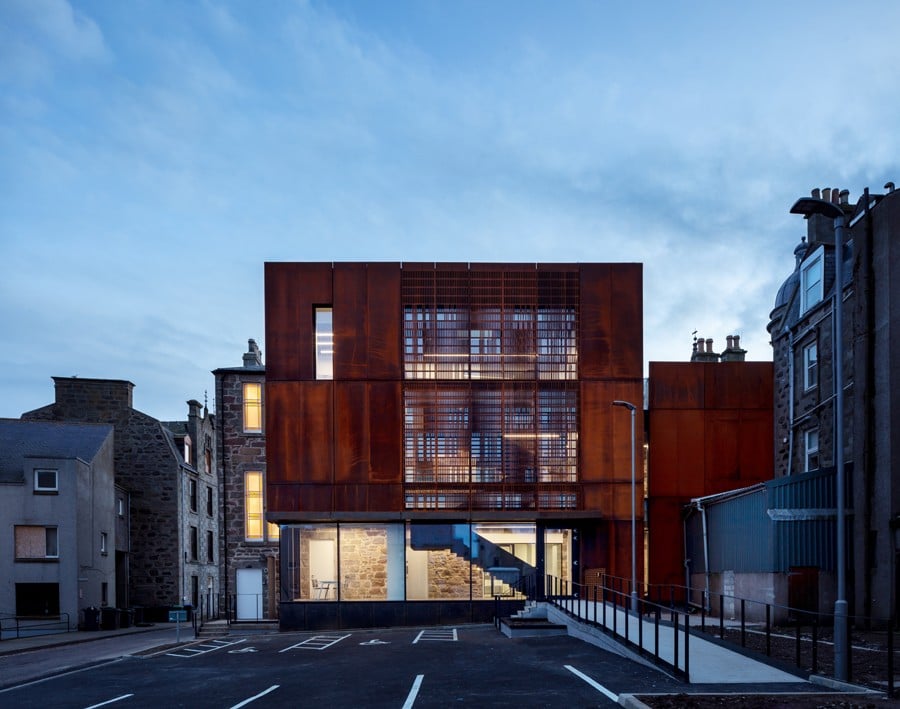 Despite lying within the United Kingdom, Fraserburgh, a small town in the northeast corner of Scotland, is geographically closer to Norway than to London. An important North Sea harbor during the 19th-century herring boom, it is one of the largest shellfish ports in Europe today. But despite its maritime prominence, Fraserburgh is relatively isolated: Its train station closed in 1965 and it is more distant to the rail network than any other town in Scotland.
Having recently completed the restoration and extension of Fraserburgh's historic Town House—a civic building, including a Council Chamber and other public services—Ben Addy of Moxon Architects contends that isolation has had a formative impact on the region's character and architecture. "The northeast of Scotland, Aberdeenshire in particular, has always been a bit self-contained and self-sustaining," Addy says. "Procurement [here] doesn't always attract the usual suspects, and the autonomy and bullishness you encounter in the northeast is reflected in [local Aberdeenshire] council, which was a terrific client with a lot of spirit and commitment."
The council's commitment centered on Addy's vision for an addition, which he describes as a "rusty steel box," and on the meticulous conservation of the Town House's original stonework. Designed in 1853 by local architect Thomas Mackenzie, the cupola-festooned building was constructed entirely in sandstone, enabling finely carved details in the facade, which fronts the main town square. A granite extension to a police station was added in 1906, its elevation mimicking that of the original (albeit with less-finely-wrought details due to the stone's hardness).
---
More from Metropolis
---
While the impervious granite remained undamaged after more than 160 years, the sandstone had suffered considerably due to its proximity to the sea. Moxon partnered with conservation architect Alan Marshall to assess the original stonework. "We took the view to keep as much as possible, but there were no rules about what to save and what to remove," says Addy. "You don't really know what state things are in until you start work, so there was considerable dialogue and decision-making on site."
Moxon's novel contribution is the addition of a three-story, steel-clad extension at the rear of the existing two buildings. The extension unifies the Town House and the former police station, enabling the two to function fluidly as one, in part by collecting all vertical circulation to a single place. Internally, the police station's cellular spaces have been opened up and Town House rooms, including a registrar's office, meeting rooms and a public service point, have been refreshed. The Corten nods to Fraserburgh's fishing industry, acting as a material link to the harbor's rusty steel sheds. Addy remarks that although Corten is often avoided for coastal projects due to problems with stabilizing the oxidation layer, here it has been pre-conditioned and should withstand whatever weather the North Sea brings.
You may also enjoy "Chain Mail Now Protects Charles Rennie Mackintosh's Renowned Hill House"
Would you like to comment on this article? Send your thoughts to: [email protected]
---