May 18, 2018
With a Japanese Garden in Soho, MUJI Highlights the Raw Materials of Everyday Objects
The pop-up, designed by Brooklyn-based Ladies & Gentlemen Studio, celebrates the brand's ten-year anniversary in the U.S. and its revamped Broadway flagship location.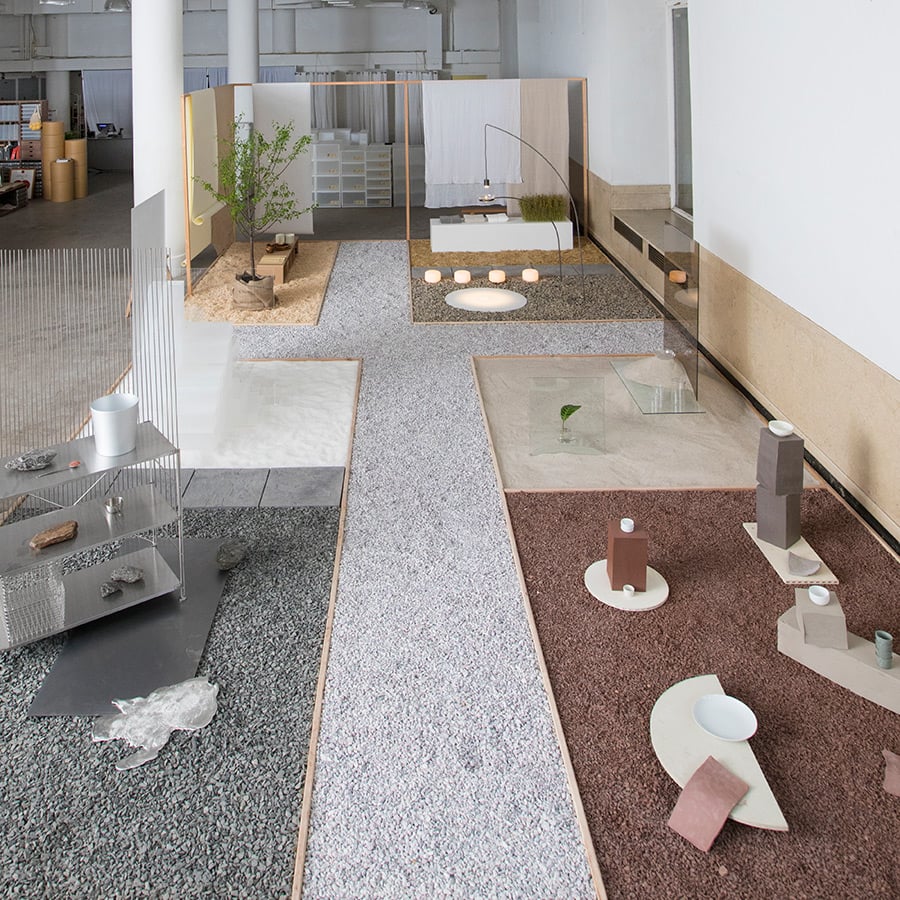 It's easy to forget that linen comes from flax, an inconspicuous plant that would blend into any field of wild grasses. Similarly, humble rock-like ore can be turned into gleaming steel cookware.
Rebuilding that connection between raw materials and everyday objects is the focus of a new installation, MUJI Materials Garden, which opened today in Soho, Manhattan. The garden features MUJI products paired with their respective main ingredients—glassware with sand, paper with wood, ceramics with clay. Each vignette is linked with a stone pathway, and users are encouraged to crouch down and feel the plastic, sawdust, and rocks.
The garden was designed by Ladies & Gentlemen Studio, which had been tasked by MUJI to create an installation for NYCxDesign. (MUJI Materials Garden is located at 434 Broadway, where MUJI opened a temporary store while its nearby flagship underwent renovations.) Ladies & Gentlemen Studio founders Jean Lee and Dylan Davis tell Metropolis that they've always been fans of MUJI's simple aesthetic and honest use of materials. Given this opportunity, Davis said, the studio thought "let's dive into what those materials are and share that wonderment."
---
More from Metropolis
---
MUJI Materials Garden is the Japanese company's first collaboration with a U.S. designer. MUJI USA president Toru Tsunoda, writing in a statement, said "we are thrilled to collaborate with on this creative project timed to New York's globally renowned NYCxDesign event," says Toru Tsunoda, President of MUJI USA. "It feels particularly apt to celebrate 10 years of MUJI USA with Ladies & Gentlemen studio; a local, and revered creative practice who are known for their skill in mixing and matching materials, form and color, to create work that feels welcoming and warm with a simple sophistication."
The installation will be open from May 19 – 29.
Find all of our NYCxDesign updates, previews, and more, here!