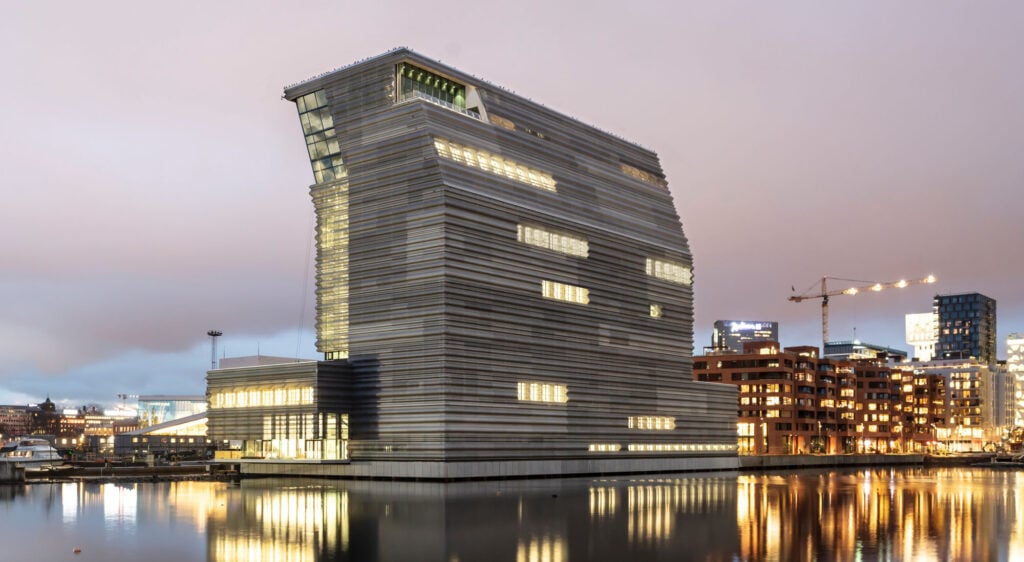 December 9, 2021
Bowing Towards Oslo, the New MUNCH Museum Transforms the City's Skyline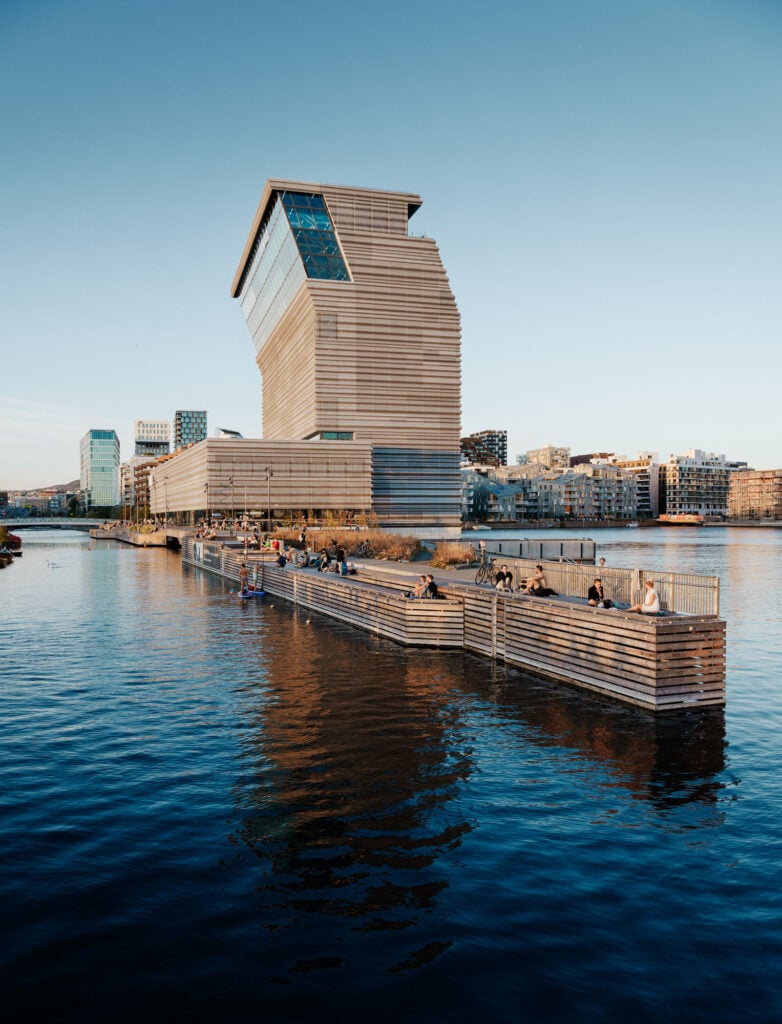 The tower sits on a three-story podium and presents two zones. The static zone is an enclosed concrete structure, which complies with stringent security, humidity and daylight requirements to protect the art within. In the dynamic zone, visitors can move between the exhibition areas and a restaurant and observation area on the top floor with views overlooking the city and the fjord.
Estudio Herreros designed the MUNCH in accordance with the Oslo-wide initiative FutureBuilt and Passive Building standards. FutureBuilt structures must at least halve their greenhouse gas emissions compared to conventional modern buildings in terms of transportation, energy consumption, and material choices.
MUNCH has been built using low-carbon concrete and recycled steel, and its load-bearing structure has been designed with a technical lifetime of 200 years. Recycled, perforated aluminum panels with varying degrees of translucency clad the building, screening and reflecting sunlight to avoid excessive temperature fluctuations.
The tower's concrete body was built in only 33 days and rests atop 300 pilings that descend 131 feet into the fjord.
"It's erected in a so-called slip form, that's a Norwegian technology developed for the construction of oil platforms," said estudio Herreros' partner Jens Richter.
In order to safeguard the priceless art from damage, the structure uses airlocks to control temperature and humidity at the transition points between the dynamic and static zones. These systems also allow the use of energy-saving, natural ventilation in the visitor area. The building connects to a district heating system and a seawater cooling plant, and also features an energy control system that optimizes consumption.
Further expanding its sustainability bona fides, MUNCH has no visitor or staff car-parking spaces. Its proximity to the city's largest public transport hub and the 100 cycle-parking areas at Edvard Munchs plass negate any need to arrive by car.
Despite the many green technologies at work, Herreros clarified that he doesn't like the passive house description.
"It really is a super active house," the Spanish architect said about the MUNCH.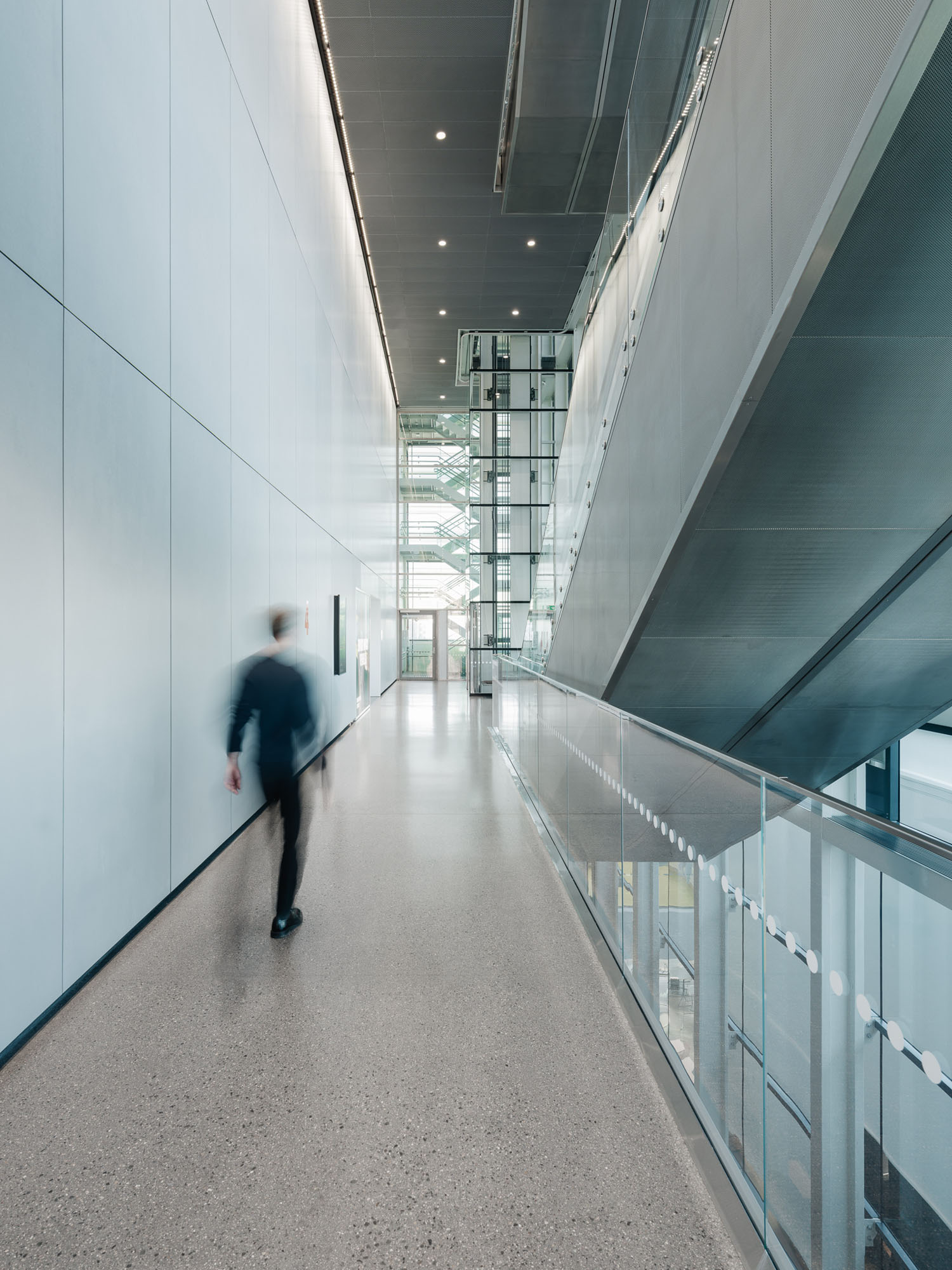 Would you like to comment on this article? Send your thoughts to: [email protected]