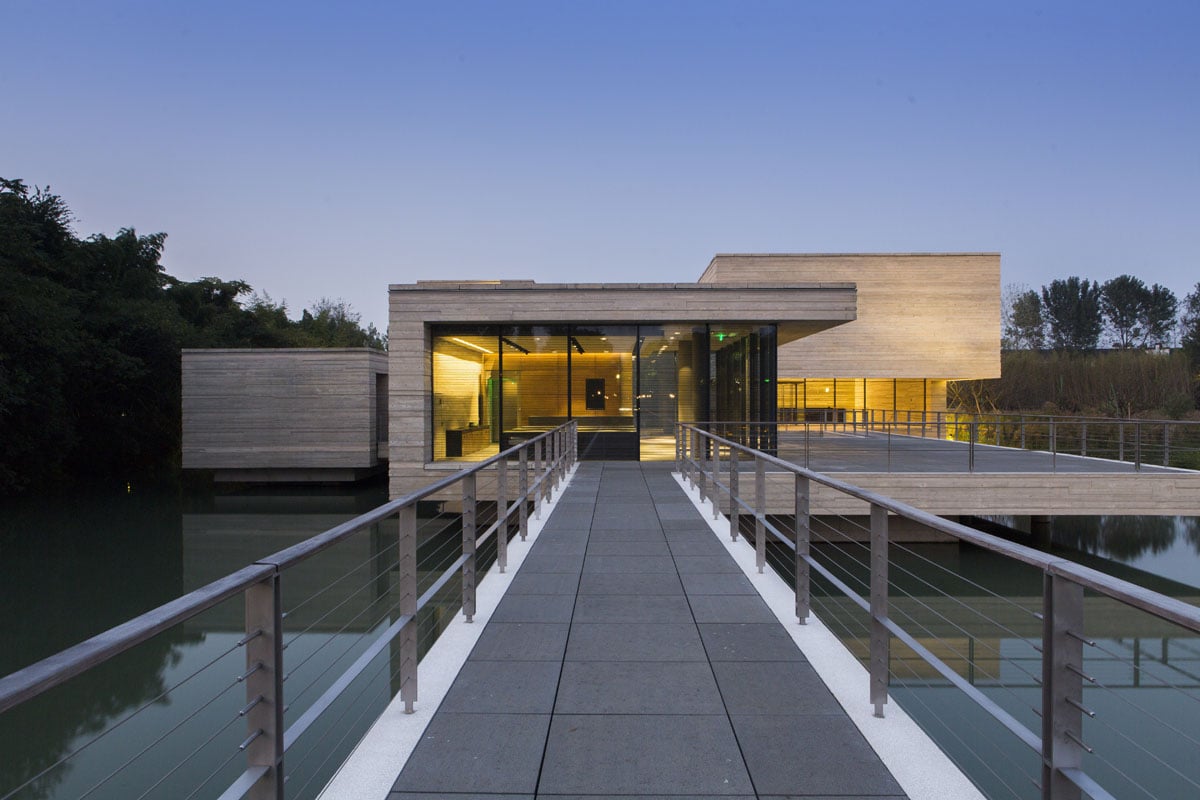 January 12, 2016
A Museum for Mu Xin, the Painter Who Defied the Cultural Revolution
An emerging New York–based firm interprets the oeuvre of a controversial artist for a museum in Wuzhen, China.
Recently opened, the Mu Xin Art Museum in Wuzhen, China, is dedicated to the work of Mu Xin, a 20th-century polymath.
Courtesy Shen Zhonghai, Courtesy OLI Architecture PLLC
When China built its Grand Canal more than 2,000 years ago, it created a series of water cities whose urban fabric became interlaced with a network of smaller canals. One of these cities, Wuzhen, just southwest of Shanghai, was the home of the late Mu Xin, a 20th-century polymath—landscape artist, writer, musician, public intellectual, and clothing designer—and now the subject of Wuzhen's newly opened Mu Xin Art Museum, designed by OLI Architecture.
The museum, a series of interlocking concrete boxes, sits on a small body of water, connected to the city by a long footbridge that shifts its axis near its midpoint. From the outside, the concrete structures remain largely legible as distinct boxes, but from the inside, they meld into what OLI principal Hiroshi Okamoto calls "experiential episodes."
---
More from Metropolis
---
Mu Xin's mercurial personal life and transdisciplinary professional life defy easy categorization. The artist blended Western and Chinese influences in his work—running afoul of the Cultural Revolution in the process—but in a completely internalized, intuitive way. Seen in this light, the museum's interior layout makes a lot of sense. "We didn't want to objectify the space, to create a form in space," Okamoto explains. "We wanted to create experiences—the collapsing and expanding of space is immersive, like Mu Xin's life."
The curatorial effect needs to be experienced as much in section as it does in elevation or plan. Rather than walking from one gallery into another in a linear way, or from one level to another, visitors constantly move up and down, diagonally as often as laterally. As Okamoto puts it, "There are always different ways of mapping a museum—chronological, thematic, or disciplinary—but Mu Xin had all sorts of different elements in himself that overlapped."
OLI also looked to local context for inspiration, but in Wuzhen that can be a perplexing affair. Though there is an impressive stock of historic architecture dating back several hundred years, there are also plenty of imitations of it, making the city a temporal jumble. Most of the city's main sites—libraries, temples, museums—are located off the corridors that run parallel to the canal, and they tend to be accessible via small footbridges with shifted axes. OLI adapted this circulation diagram with a decidedly contemporary architectural language.
Mu Xin's own childhood house in Wuzhen is divided into three principal volumes: two enclosed spaces that sandwich an open courtyard. Though the circulation is enfilade, the courtyard is slightly sunken, meaning a young Mu Xin had to scurry up and down stairs as he moved from one room to another. In certain ways this anticipated the sectional experience of the museum that would come to bear his name.
One of the project's most distinctive features—its board-formed, cast-in-place structure—was custom-made. By using rough-hewn boards of different thicknesses at different depths to shape the concrete, OLI created richly textured surfaces. Because the team used each panel only once, the project's walls are all unique—not made with serial repeats. In contrast to the light-colored exterior, OLI used a darker palette—and lower lighting levels—for the interiors. This was a cue from Mu Xin's life and work. "In his art, it's hard to tell if it's daytime or nighttime," Okamoto says. "And when we went to visit Mu Xin, his space was very dark, lit only by candlelight." The effect in the galleries is a brooding ambience in which the art itself, illuminated against dark walls, really stands out.
"We wanted that separation," Okamoto explains, citing the footbridge and the interior environments. "There's this access into another world: the world of Mu Xin."
The museum, a series of interlocking concrete boxes, sits on a small body of water.
The building's unique concrete work is its most distinctive feature and is visible on the museum's exteriors and interiors.
The board-formed concrete was cast-in-place.
Artist Mu Xin's work was steeped in words—he kept a prison journal during the Cultural Revolution, for example—so it is fitting that one gallery in the museum is dedicated to literary works.
The architects were inspired by Mu Xin's art, in which "it's hard to tell if it's daytime or nighttime," says OLI principal Hiroshi Okamoto.​
Both the interior surfaces in circulation areas and the exteriors of the floating volumes bear custom textures that evoke the ink brushwork of his landscape paintings.