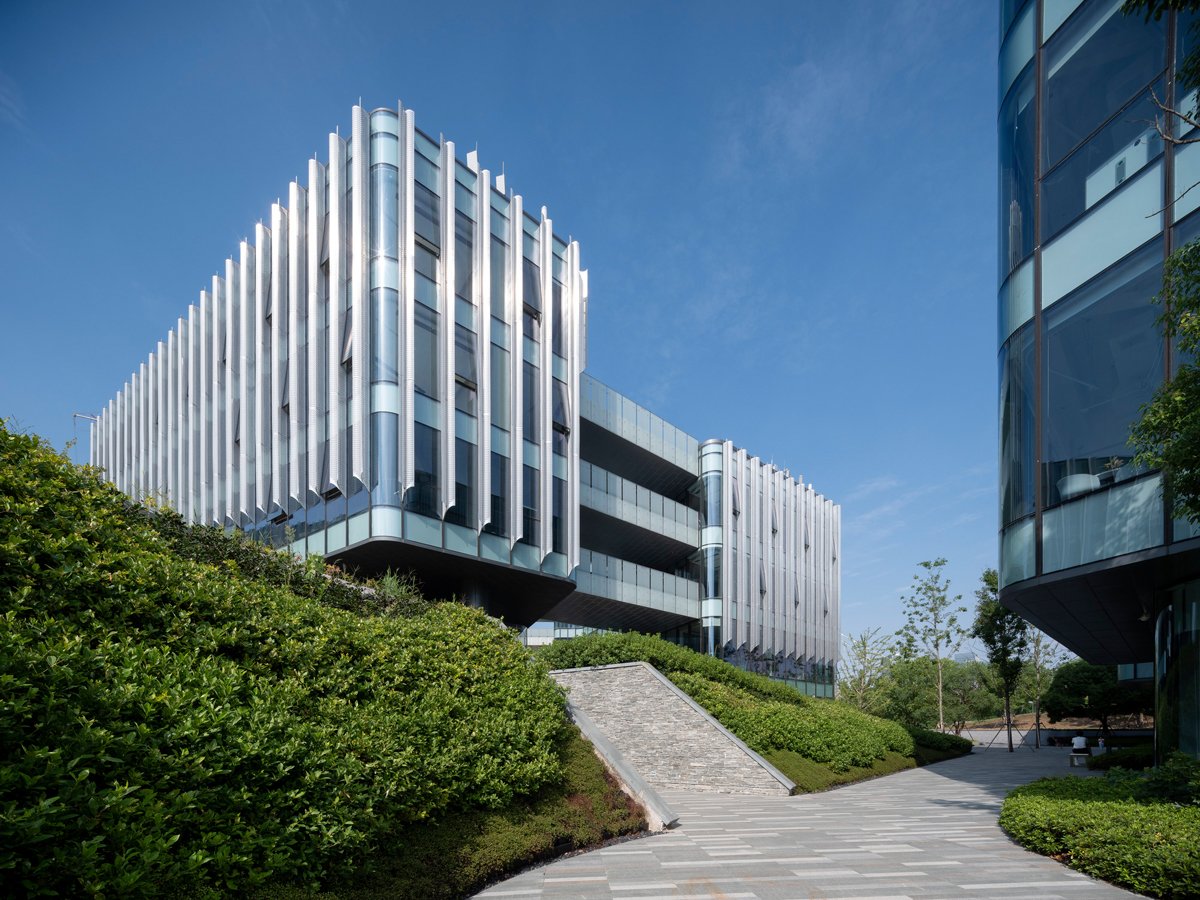 January 12, 2021
NBBJ's Nanjing Technology Park Offers a Glimpse of China's Green Future
The nine-building Xin Wei Yi Technology Park, draws from local inspiration for passive cooling, daylighting, and greenspace.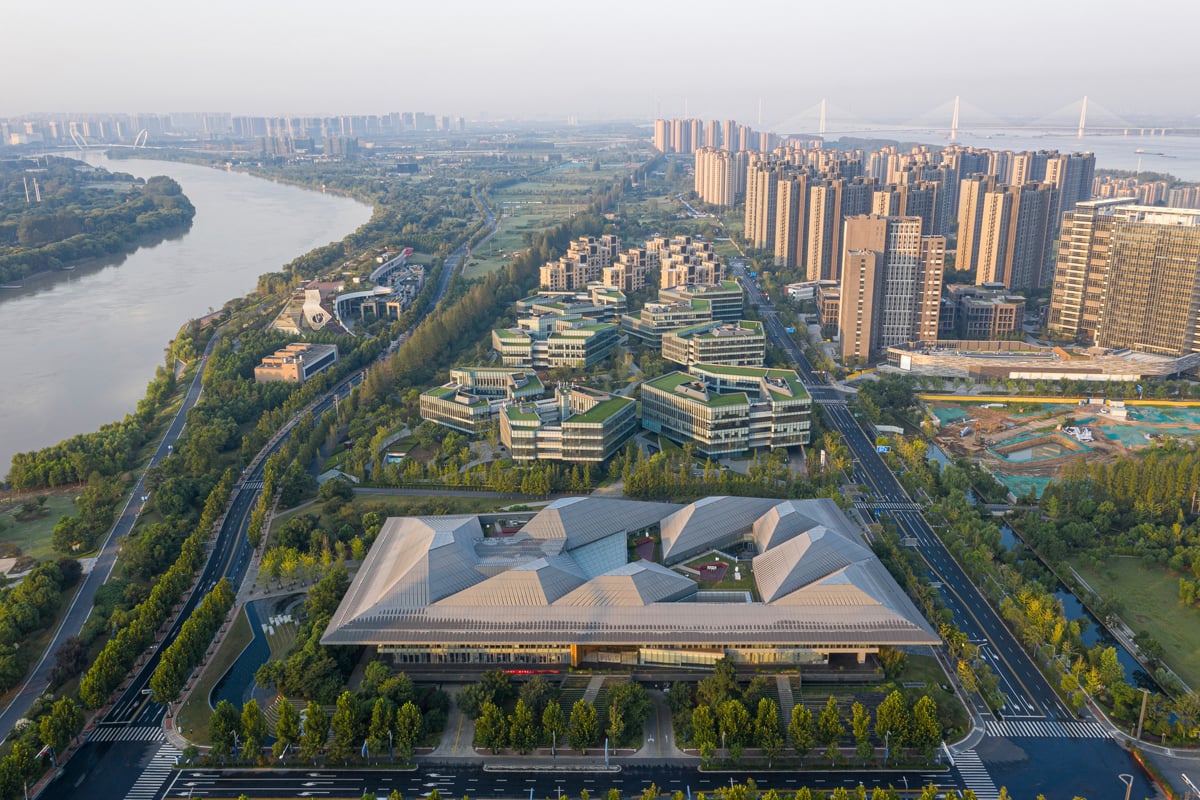 When architect Jay Siebenmorgen of international architecture firm NBBJ first arrived on Jiangxing Island in Nanjing, China ten years ago, "there was nothing there. It was basically farmland," he recalls. Though centrally located on the Yangtze River just four miles from Nanjing's central business district, the island was principally known for its grape-growing before 2009 when the Chinese government resolved to urbanize.
Today, the first major development, a nine-building campus—known as the Xin Wei Yi Technology Park on the renamed Nanjing Eco Hi-Tech Island—exemplifies not only China's rapid pace of industrialization but an ambitious commitment to sustainability. Yet the design concepts were equally inspired by the past.
"Nanjing actually was the capital for many dynasties before World War II, so bringing local history was important, especially in Chinese government planning review," explains Nancy Yin, NBBJ's Asia projects director. "They will always ask, 'What's the meaning of this building in relation to our city?'"
---
More from Metropolis
---
For the project's anchor, a nearly 260,000-square-foot exhibit hall, the architects took inspiration from the nearby Zhong and Stone Mountains for eight pitched roof forms, each affixed with a large tubular oculus—dubbed a "light cannon"—that helps naturally illuminate the center of a building with deep floor plates. Large overhangs are a nod to traditional Chinese pagoda architecture and also provide passive shading.
The second stage of the project, an octet of office and laboratory buildings, were inspired by the Fujian Tolou Earthen Structures, a UNESCO world heritage site: a series of multistory ancient masonry architecture with open central courtyards that could hold up to 800 families, utilizing prevailing breezes and stacked ventilation to move air through the massive buildings. Each of the Xin Wei Yi Technology Park's eight glass-clad Office Research Buildings feature large interior courtyards and landscaped roofs.
To enhance this natural ventilation and meet the client's ambitious sustainability goals—the project received the highest level in China's Three Star green building rating system—the buildings are lifted off the ground by a story or more, which not only helps maximize green space on the ground floor but even increases wind speeds to aid natural ventilation.
"The shaded space underneath the building cools the air, and then the air is pulled up and through," Siebenmorgen says. "In the good seasons, they can passively open up the building as much as possible." The exhibition hall also achieves energy efficiency 30 percent beyond code requirements with the help of a geothermal heating pump. The buildings' green roofs and ground-level landscaping, designed in collaboration with New York's SCAPE Landscape Architecture, harness and treat all rainwater that falls onsite.
The Office Research Buildings' trapezoidal forms not only help maximize daylight but relate to the development's surrounding car-free pathways. "There was a concept of a tree branch that goes through the site," Siebenmorgen explains. "As a result you have these three or five-sided urban rooms based on how they're sited. You never really see through the entire site when you're there, and that's intentional. It creates this constant visual cue or attraction to pull you through the site."
You may also enjoy "Moynihan Train Hall is a New Year's Gift to New York City."
Would you like to comment on this article? Send your thoughts to: [email protected]
---
Register here for Metropolis's Think Tank Thursdays and hear what leading firms across North America are thinking and working on today.