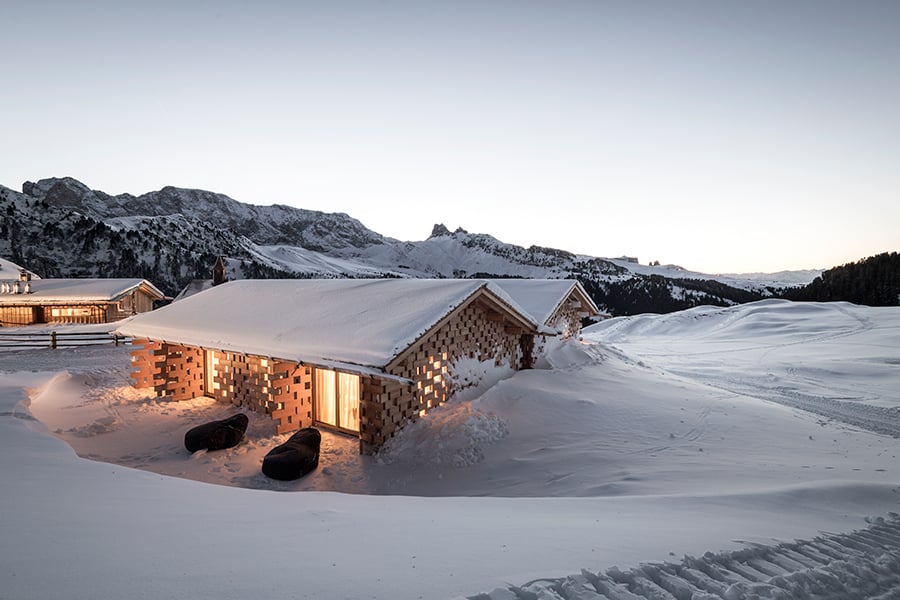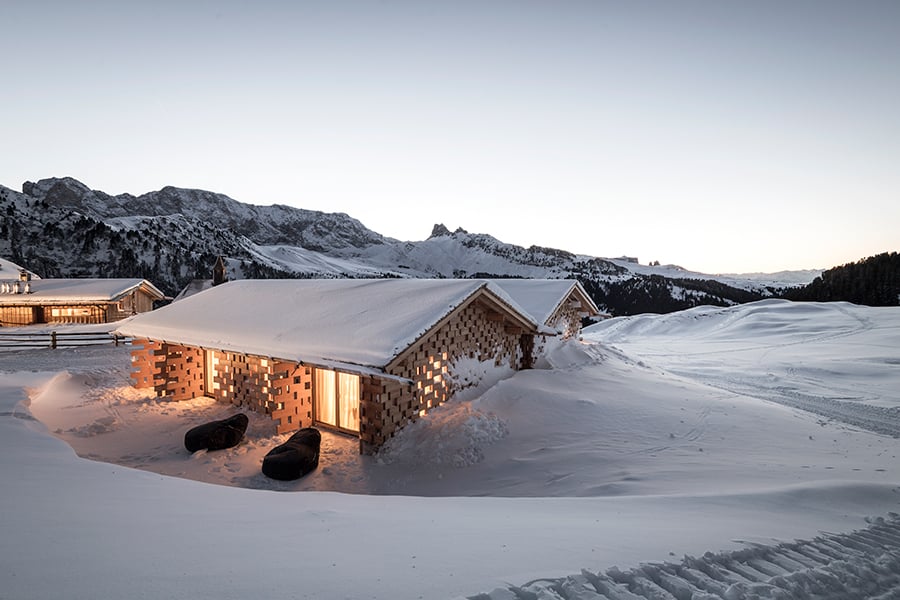 February 1, 2019
NOA* Brings an Historic Alpine Hideaway Back to Life
At the revamped Zallinger Refuge in Italy, a striking landscape takes center stage.
When the Zallinger Refuge was built in the mid-19th century on the Seiser Alm plateau in Italy's South Tyrol province, it comprised a hut surrounded by a collection of seven barns and a petite church. This simple yet idyllic Alpine hideaway is what inspired the Bolzano, Italy– and Berlin-based firm NOA* (Network of Architecture) during a recent renovation and expansion of the resort, which re-opened in late 2017. Given its remote location and NOA*'s dedication to Zallinger's existing volumes, the planning, approval, and construction process took nearly four years to complete.
Preserving both the property's striking landscape and its architectural history was essential to the revamp, says NOA* partner Andreas Profanter. Zallinger had undergone a number of refurbishments over the decades, but the lucky discovery of vintage postcards and photographs in both regional archives and the property's own archives helped determine the initial site plan, allowing NOA* to "go back a few steps and rebuild the situation like it was more than 100 years ago," Profanter explains. The firm has reimagined those seven bygone barns as six chalets containing a total of 24 new rooms and a wellness area.
The three pairs of low-slung, four-room chalets are topped with wood shingles and flaunt a complementary facade of stacked blocks punctuated by peek-a-boo slats. These contemporary log cabins, playfully calling to mind Tetris, are crafted from solid, unvarnished larch, reinterpreting the stadel, the timber-clad barn that is a traditional South Tyrolean building typology.
---
More from Metropolis
---
At just 226 square feet, the chalet rooms are compact, encouraging guests to interact with the outdoors as they make their way to, say, the sauna. Still, large windows that open up from behind the wooden panels offer coveted mountain views and an abundance of larch throughout the interiors further strengthens the connection to the surroundings.
Still home to 13 original guestrooms, the main lodge showcases an interior transformation, with a new layout that incorporates the reception, lobby, lounge, and restaurant. It's buoyed by the presence of regional materials like a bar fashioned from the trunk of a fir tree and felt flooring—a material celebrated in South Tyrol for its acoustic absorption properties and the comfort it brings those who walk across it in ski boots.
Forging a dialogue with nature was at the forefront of the project, leading to a few notable absences: There's no parking lot, for instance ("seeing cars ruins the image of Zallinger," says Profanter), and at night, paths remain unlit for guests to meander by lantern. "The special thing about the Zallinger is its position in the middle of the Dolomites," says Profanter. "I think when you're there it's the Zallinger and nothing else."
You may also enjoy "LABIOMISTA, the Mario Botta–Designed "Reverse Zoo," Set to Open in 2019."