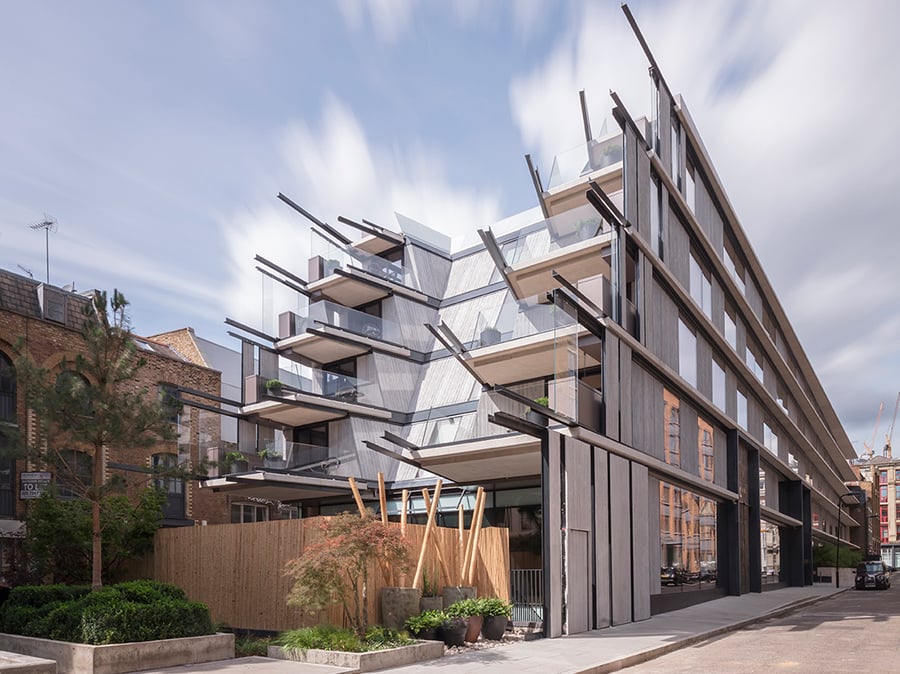 September 27, 2017
Luxe Nobu Hotel Lands in London
Ben Adams Architects uses steel, glass, and concrete to dramatic effect in this 156-room hotel.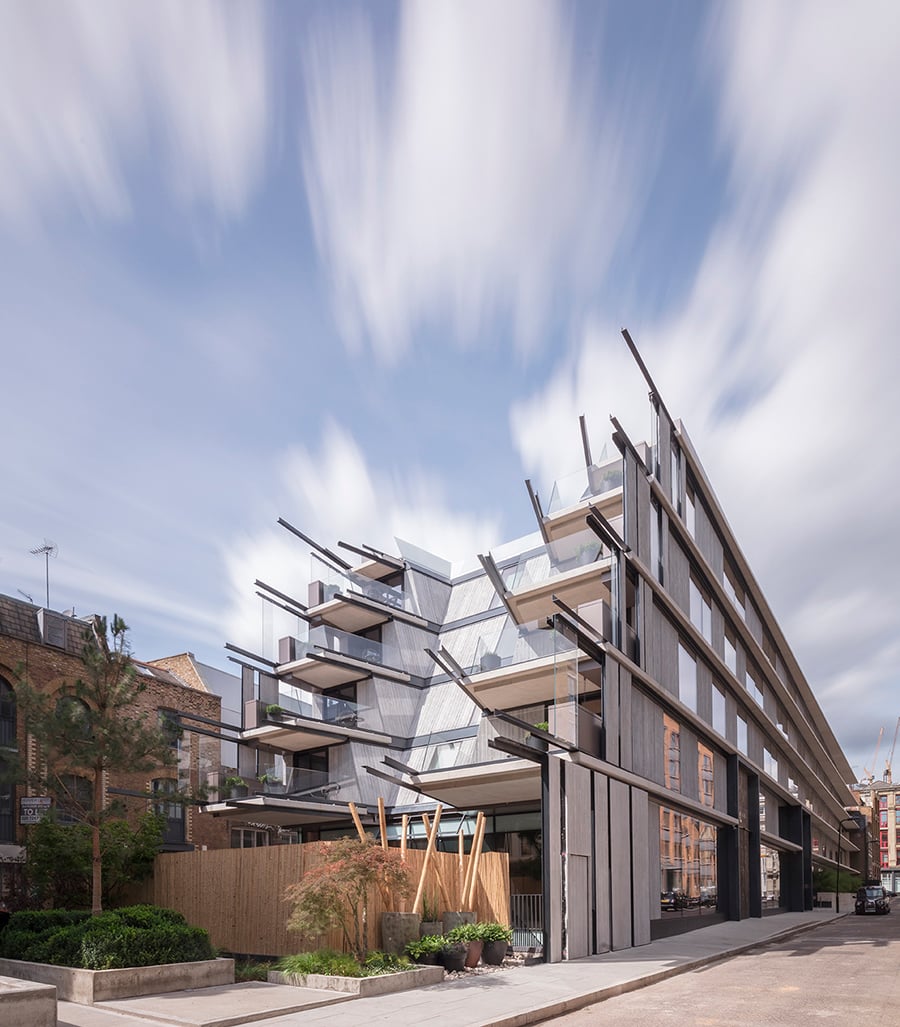 Japanese chef Nobuyuki Matsuhisa's first European hotel has landed in Shoreditch, London. If the Nobu hotel looks incomplete, that's because it actually is, but not in the way you would imagine.
A spa and gym, hidden from view, are still in the making. Of the 156 rooms, only one is available, a hotel staff member tells me as I walk in eight weeks after its opening. Nobu Hotel Shoreditch's stuttering to start to life in this much-gentrified area of East London is perhaps indicative of the project's drawn-out realization. Designs were initially drafted by British designer Ron Arad in 2011, with planning for the hotel approved the following year. However, in 2013, Ben Adams Architects were appointed by developer Willow Corp to complete the project.
The London-based firm has stayed faithful to Arad's concept, amplifying the use of steel, glass, and concrete. Overhanging floor slabs taper the length of the building and culminate in exposed, cantilevered steel beams that face eastward and further into Shoreditch.  The result is a building that would fit into the background of Bladerunner, though the structure doesn't look out of place here either, with its design reflecting the area's native (and now trendy) industrial heritage. "We wanted as much concrete exposed as possible," Mark Conroy, principal architect at Ben Adams Architects, told Metropolis.
---
More from Metropolis
---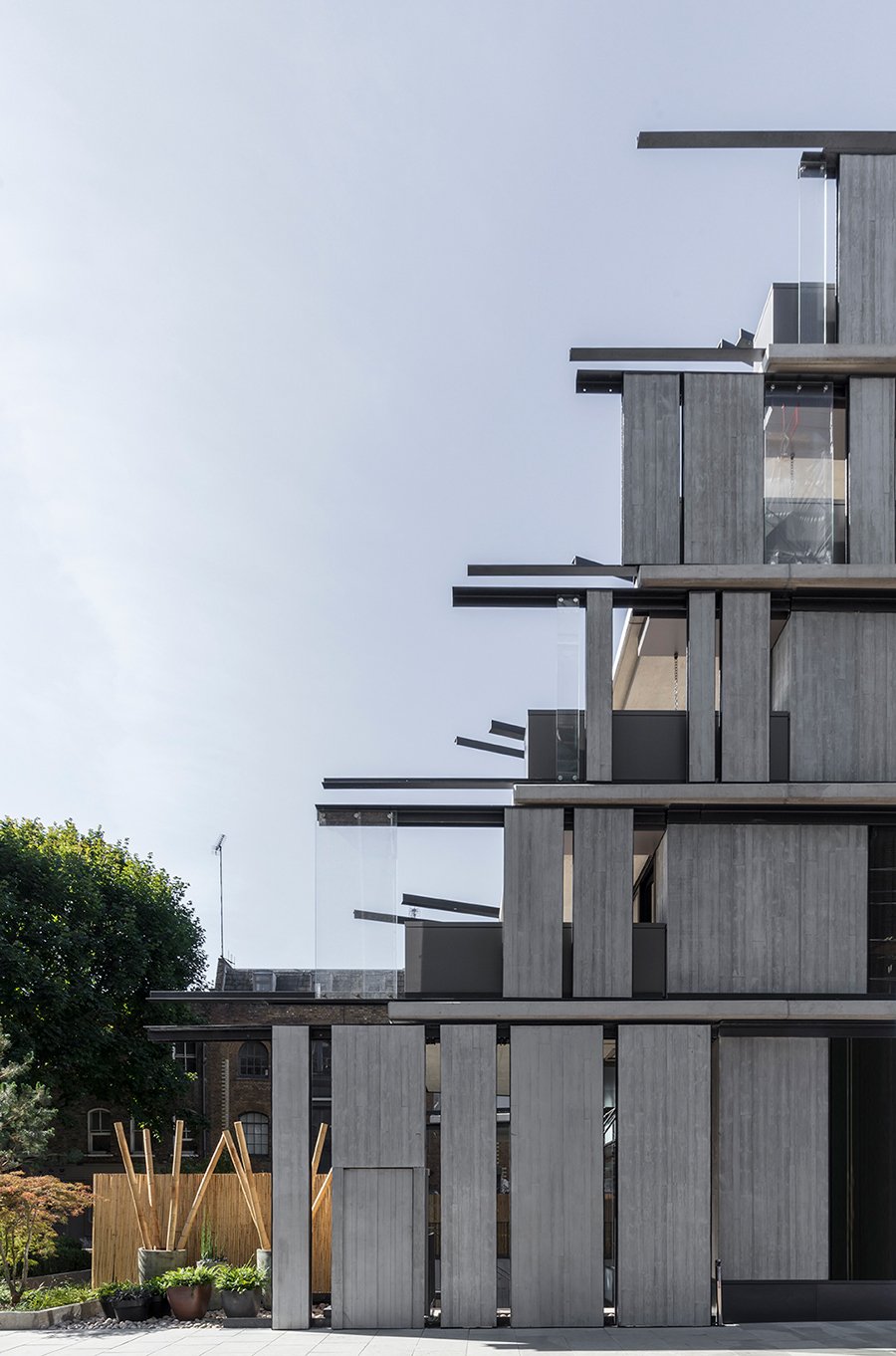 Covering 2.2 acres, the building occupies a diminutive plot of land. The architects sacrificed building size for a submerged courtyard, plantings, and a Ron Arad sculpture (still to come). "We lost a quite a few rooms—twelve could have been fit there—but were able to install a semi-public space," Conroy explained.
This space, realized as a garden and courtyard, feeds off the dramatic eastern facade and allows the convergence of Willow, Ravey, and Great Eastern streets to be an open area, keeping what could have been a potentially claustrophobic myriad of roads breathable.
This also works in the building's favor, allowing light to filter through the foliage and enter the courtyard approximately 18 feet below street level. Looking out onto this courtyard is a bar and sushi restaurant, the interiors of which were designed by Californian firm Studio PCH. Here, there are also private dining areas for functions and parties.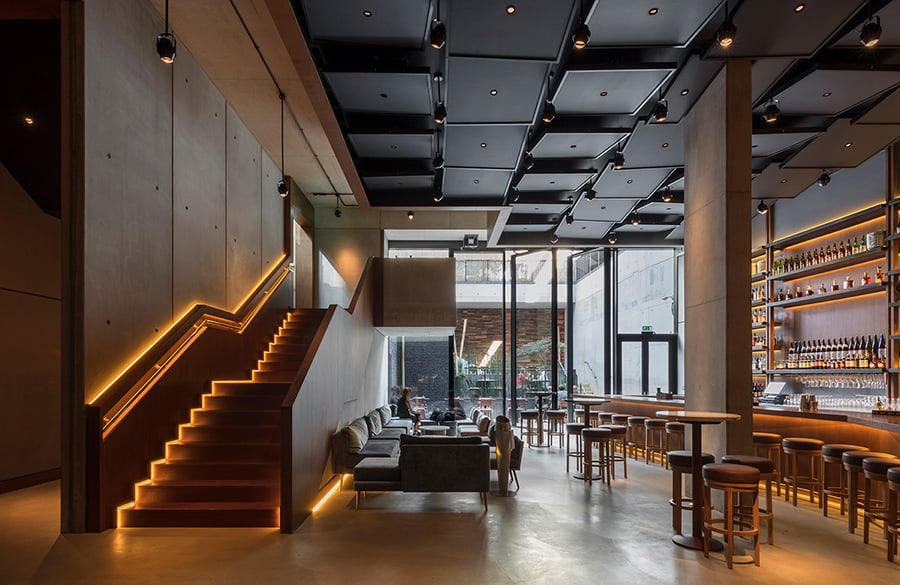 "Without that garden and setback, the restaurant would not work," Conroy argued. "You could be anywhere in the world otherwise."
During the evenings, DJ's play at the bar in a concrete booth—seemingly plucked straight from a warehouse—until 1 a.m. However, unless you walk close enough to the hotel, this nightlife program is relatively hidden from the streetscape as bamboo lines the courtyard's perimeter, shielding outside views.
A reference to chef Matsuhisa's Japanese homeland, bamboo can be found inside as well. Here it is joined by a variety of timbers, notably veneered, solid, and charred maple (best not to touch unless you want dirty hands). Brass—a Nobu hallmark—can also be found along with stained black cork, while concrete (polished on the inside and board formed on the external facade) completes the cyberpunk color palette. "The Nobu brand has a luxury tact to it and we wanted to bring that to Shoreditch, but apply it in a unique way," added Conroy. "Nobu has a very established aesthetic and they were keen very on the materials used."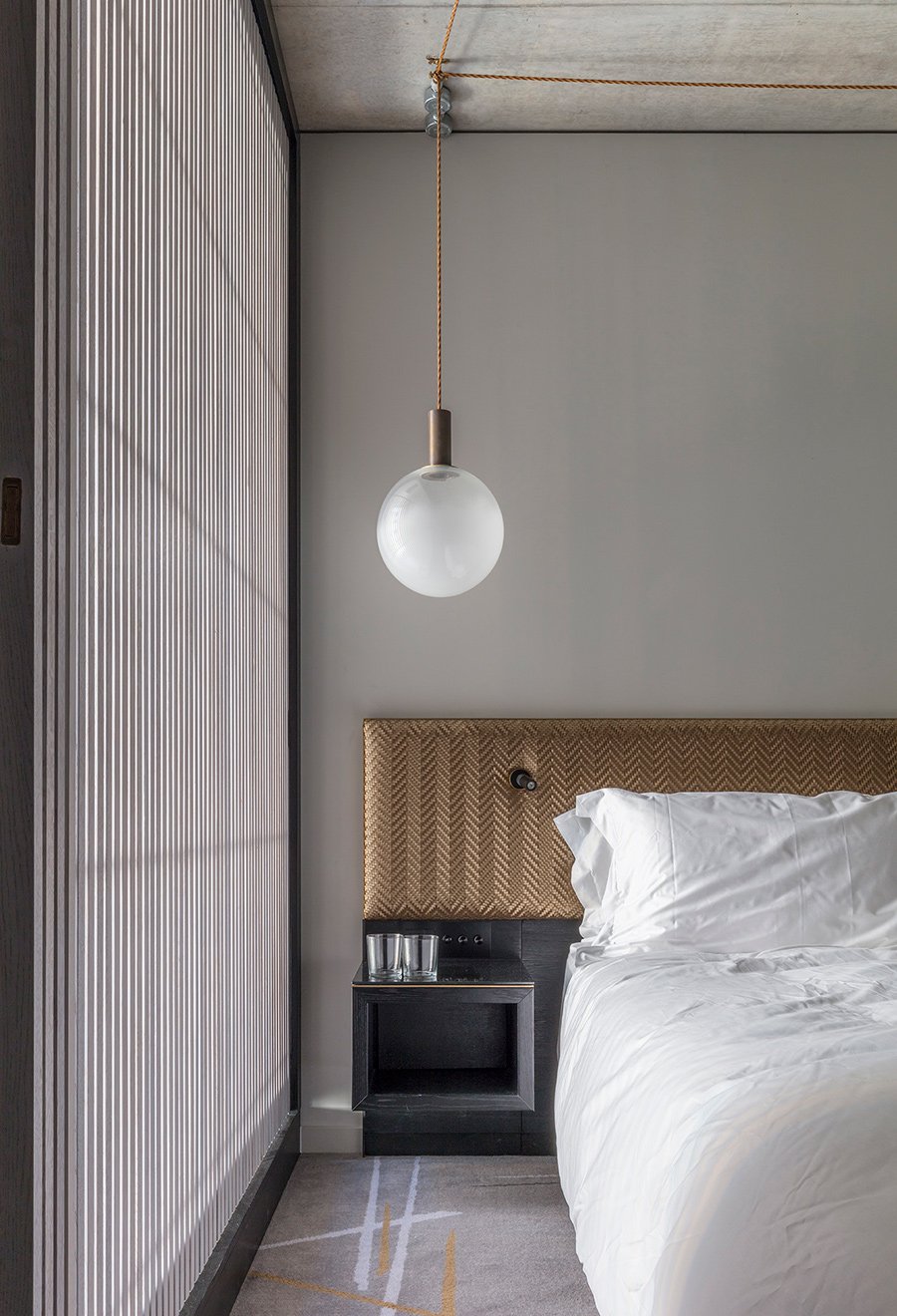 The rooms, designed by London-based Studio Mica, follow suit. Shoji screens provide privacy while allowing light in; polished concrete is used for walls and ceilings. No framed paintings can be found in the rooms, though work from the artist Sichi, who hails from nearby Hackney, fills the walls.
"It's a very simple plan," said Conroy. "The rooms repeat and, although it's narrow, it works perfectly as a long plan for a hotel." At the hotel, there are nine types of rooms. The smallest, known as the "Deluxe Room," is 237 square feet and starts at $262 per night. The largest room, marketed as "The Nobu Suit," starts at $1,137 and is more than three times larger at 861 square feet.
Along with the pending Arad sculpture, Conroy added how "discussions" were being held about a possible roof garden. This would be an extension of the basement restaurant, though with a more open-air feel. It is not known if, or indeed when, this will happen, but for now, Nobu's first European hotel is open for business.
You may also enjoy "Deborah Berke Transforms a 19th Century Asylum into an Elegant Hotel."