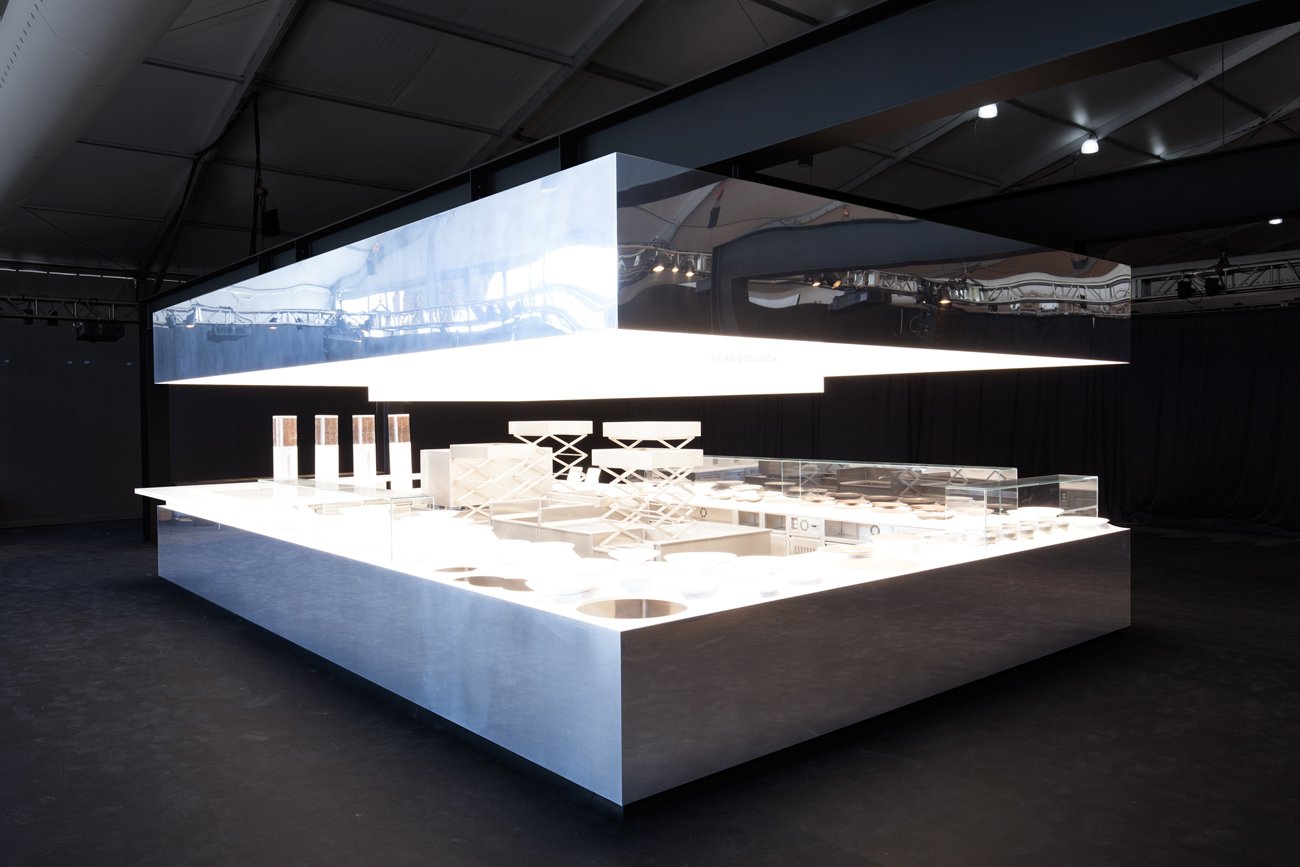 December 9, 2016
Ole Scheeren Elevates Fast Food to the Level of Theater
The architect recently launched his "chef-led fast-food" concept café.
Photography courtesy Büro OS
---
"Drama" is the modus operandi for architect Ole Scheeren's STAGE, a new concept for Dean & DeLuca stores, unveiled at Design Miami and slated to roll out across the country this year. The food-service theater of preparations and purchases unfolds between two rectangular, mirrored stainless steel volumes. One is a floating canopy raining down a halo of cinematic white light, the other a "topography" of milled white Corian, sculpted into peaks and valleys of induction surfaces where pretty circular dishes of cold salads and hot short ribs can rest.
Sorapoj Techakraisri, the Thai developer behind Scheeren's recently completed Bangkok skyscraper MahaNakhon, acquired Dean & DeLuca two years ago and tapped the architect to rethink the iconic upscale New York market for a new generation. "He asked for something like the Apple Store for food, but of course as a very abstract, notional reference," Scheeren says. "He meant that we should be as radical in redefining a new customer experience and how space functions."
---
More from Metropolis
---
The modular, self-contained retail environment is easily installed in the center of any space, and the mirrors "dematerialize" STAGE into its environmental context. Rather than following a straight line, service has a circular orientation split into two speeds, with a slower line for made-to-order foods separated from the grab-and-go coffee line. "The idea was to create food as a landscape, to create a topography that would be dramatic in itself," Scheeren explains.
Scheeren presented the exceptionally thorough research behind his "chef-led fast-food concept" at the Design Miami opening, which evoked the mood of a gadget launch. Donning a microphone headset, he rifled through points of analysis, from the science of coffee consumption to the metrics of lunchtime traffic flow, while also pointing out the spatial shortcomings of current, uninspired fast food typologies. To order at McDonald's, he said, "is always a humiliating experience," and what he had to offer instead was something "spectacular."​