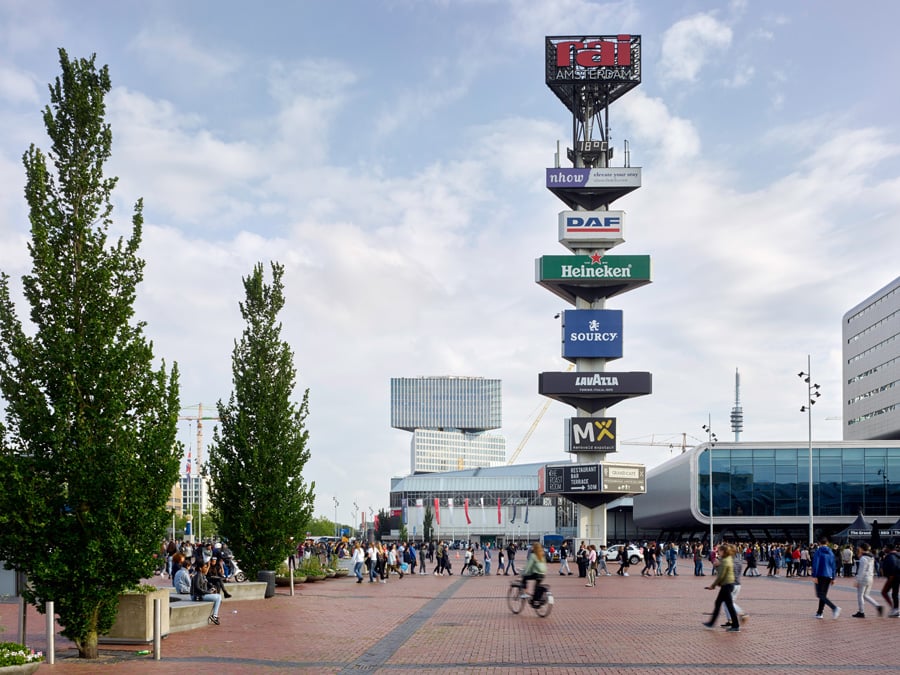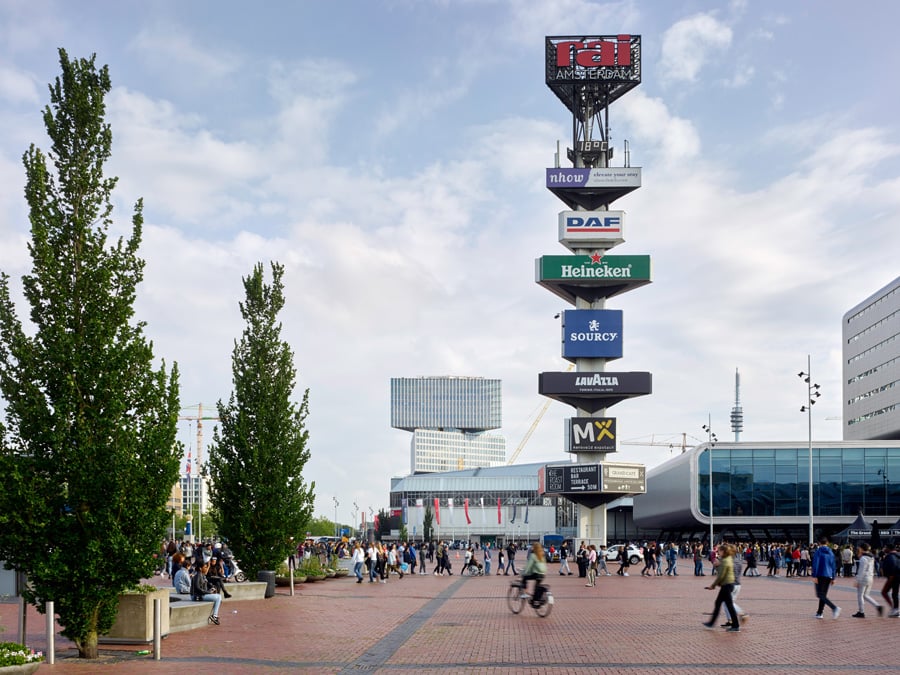 February 12, 2020
Triangle with a Twist: OMA's New Tower Reinterprets Local Commercial Ephemera
In Amsterdam's south, OMA has completed a triangular hotel—the largest in the Netherlands and Belgium—that shows its neighbors how to dance in style.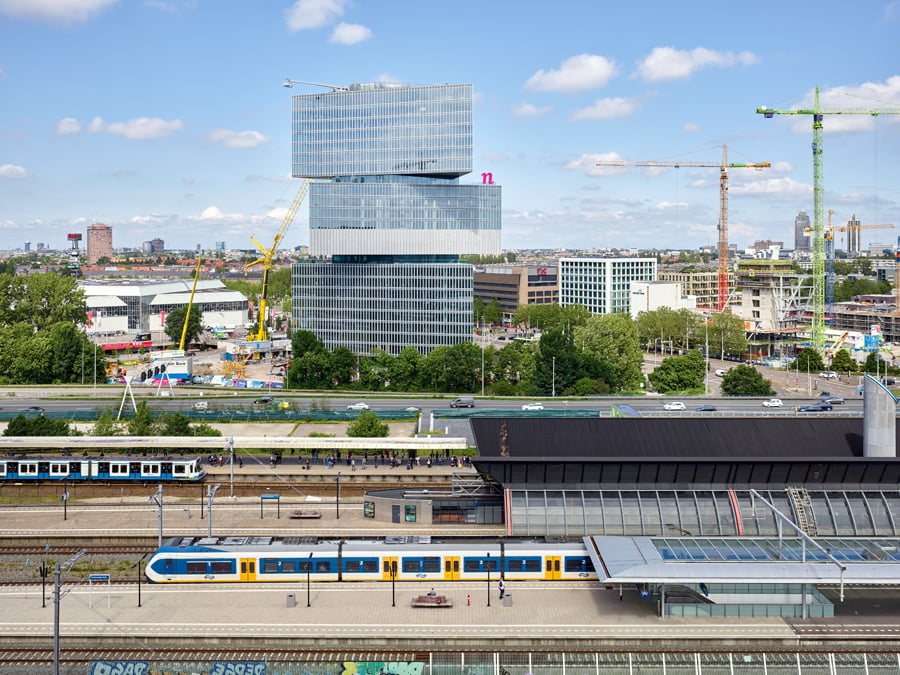 Skyscrapers are a rare breed in Amsterdam. The entire historical inner city, defined by its iconic canal rings, dates from the 17th century and is protected as a UNESCO World Heritage Site; this means preservation prevails, the center's highest peaks still being church spires. Contemporary urban development, then, is limited to the periphery. In the past 20 years, one heavily developed area has been the southern mixed-use area of Zuidas, based around the largely expanded Amsterdam Zuid train station. To the north and south of the train tracks, which effectively bisect the district, new high-rises have been sprouting like mushrooms.
The RAI conference center, which has dominated the eastern flank of Zuidas since the 1960s, has a new, interconnected neighbor: OMA's new hotel skyscraper, which opened mid-January. Standing at 298 feet tall and containing 650 guest rooms, the RAI nhow Hotel is now the largest hotel complex in the Netherlands and Belgium. Its shiny facade is made rather generically of glass and aluminum panels, but the remarkable feature of this new tower is its gracefully twisting belly.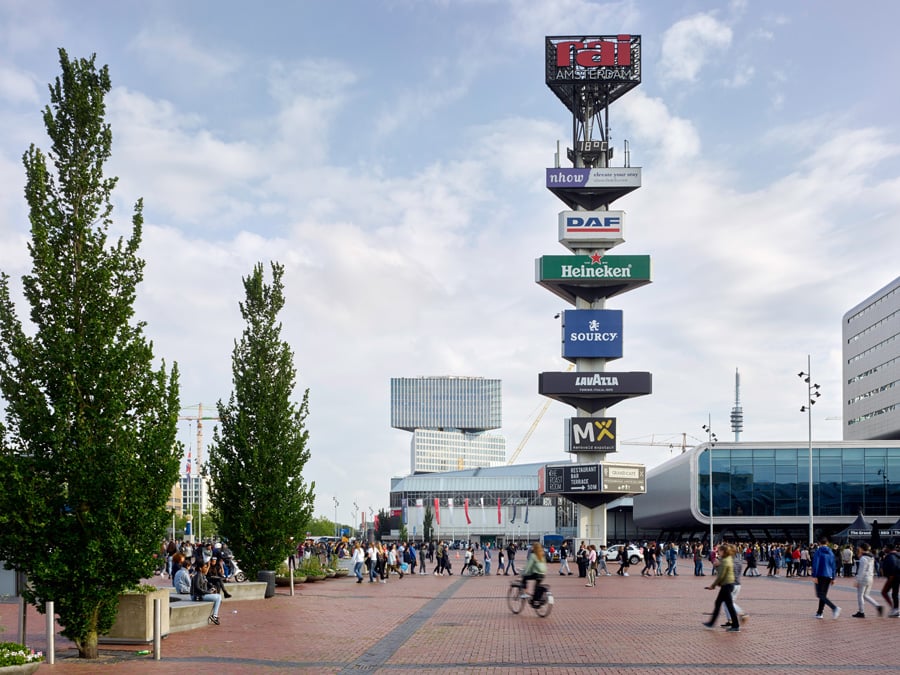 Even before they completed the CCTV high-rise in Beijing in 2010, Rem Koolhaas's firm OMA has been experimenting with skyscrapers that don't just rise straight up, but that challenge gravity with huge cantilevers and stacked volumes: The CCTV in Beijing looks like a broken loop, the Shenzhen Stock Exchange features an enormous cantilevered "raised podium" with a large garden on its roof, while De Rotterdam (in the Netherlands's second city) looks like a roughly stacked pile of six giant toy blocks.
---
More from Metropolis
---
At the new Amsterdam tower, principal in charge Reinier de Graaf took inspiration from just down the road, as they note in their PR material: "The shape of the building draws from the triangular advertising column on the Europaplein which was once so prominent on the site, but now has been overtaken by the many office buildings that have been erected in its vicinity." The hotel is composed of three stacked triangular volumes, the middle part firmly twisted on its axis. This way, the triangular structure becomes visible from all sides.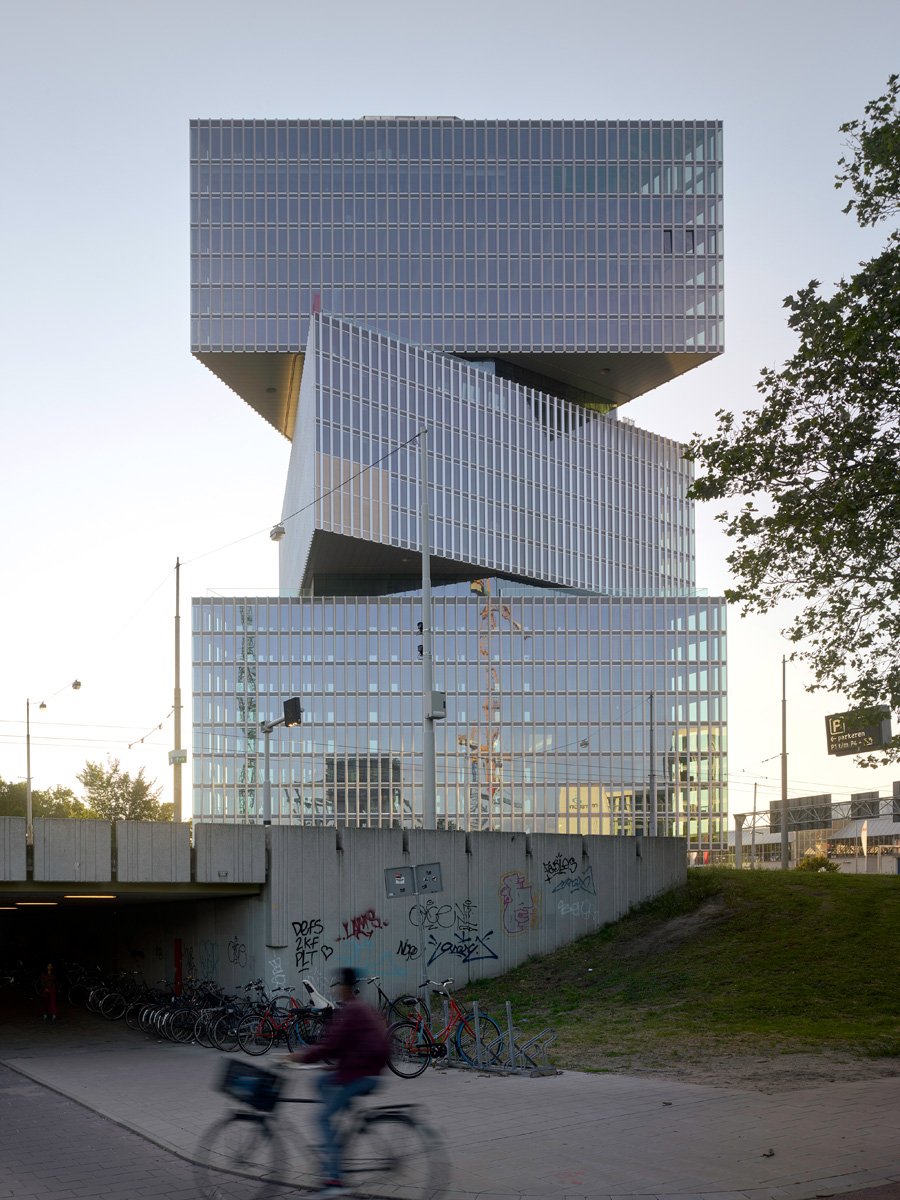 In between the three volumes are roof terraces for the hotel restaurant—with a spectacular view onto the city. Views also abound from the top floors of the 24-story building, where the architects placed nine different rooms as lounges, and meeting and conference areas. From these semi-public areas, a wide view from the hotels top floors is accessible to visitors and residents alike.
The interior design of the 650 guest rooms was done by the in-house team of nhow/NH Hotel Group. Its flashy, pop art–inspired decor features six different designs across four room sizes that were, according to nhow, inspired by different human cultures from around the world.
Standing next to the old advertisement column in Europaplein, the architects' reference becomes pretty clear. As de Graaf says: "Derived from this column, the hotel can be read both as an extension of the RAI complex itself and as part of the new context, giving the RAI a new presence in a dramatically changed cityscape."
You may also enjoy "With the Opening of the West Bund Museum, Reflecting on Shanghai's Cultural Mega-Developments."
Would you like to comment on this article? Send your thoughts to: [email protected]