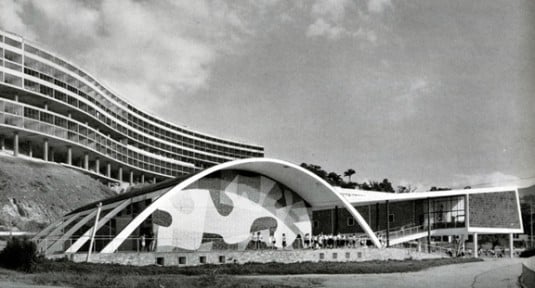 December 21, 2012
Oscar Niemeyer Was Once Considered to Head the GSD
What could have been built if Niemeyer's carreer had been different? Two architects imagine the possibilities.
Alfonso Eduardo Reidy. Primary school and gymnasium, Rio de Janeiro, Brazil, 1948-1950. Printed in Latin American Architecture Since 1945, Museum of Modern Art, New York, 1955.
---
Though this post was originally set to address the exterior enclosures of mid-century modern buildings, we thought it important, instead, to reflect on the recent death of Modernist master Oscar Niemeyer and what might have been. Niemeyer's passing serves as yet another benchmark in the passing of the mid-century modern movement into our distant memory. Generally speaking, North American architects are not very familiar with the Brazilian architect's work. Many would be unable to conjure up mental imagery of it, beyond his government buildings at Brasilia, United Nations collaboration, and perhaps a residence or two. During Niemeyer's prime, these architects were, as they largely remain today, primarily Eurocentric in their focus.
---
More from Metropolis
---
In mid-century America, Le Corbusier, Walter Gropius, and Mies van der Rohe were chiefly regarded as the "true" masters of the modern movement. Even in more recent history, we've paid little attention to the legacy of Niemeyer and his colleagues to the south such as Alfonso Reidy and Lina Bo Bardi in Brasil, Carlos Raúl Villanueva in Venezuela, and the Mexican masters Juan O'Gorman, Luis Barragan, and Felix Candela. We seem to know of them, but not much about them. All of this this might have been very different if the Harvard Graduate School of Design had followed through with its intention to select Niemeyer as its dean when it had the chance.
Carlos Raul Villanueva. Covered plaza, University of Caracas, 1952-1953. Photographer unknown.
Architectural historian Henry-Russell Hitchcock noted in his seminal book, Latin American Architecture Since 1945, that Gropius termed Niemeyer as that "Bird of Paradise." Indeed, the Brazilian's work reflects a passion for life; for the mountains, the rivers, the ocean, and the human body. Niemeyer famously used the phrase, "Form Follows Feminine," and cast his passion into unique, bold curves that tell a distinctive story of modern architecture in the world.
Hitchcock goes on to say: "Even in plan, the curve is more frequently used in Latin America than in the United States and is a characteristic of the personal manner of Niemeyer. A certain lyricism—of which color and curved forms are both important ingredients without being by any means universal—seems to have a continuous appeal to the Iberian temperament." This notion of the "Iberian temperament" is an interesting one that brings Josep Lluis Sert, a native Ibizan whose work our firm has experience with, into this discussion.
Oscar Niemeyer's residence, Rio de Janeiro, Brazil, 1953-1954. Printed in Latin American Architecture Since 1945, Museum of Modern Art, New York, 1955.
Josep Lluis Sert's residence, Cambridge, MA. 1957.
Photo via Wikimedia
The thread of connection between Niemeyer and Sert continues in 1939, when the former collaborated with Paul Lester Weiner and Lucio Costa on the Brazilian Pavilion for the New York World's Fair. Subsequently, according to CIAM documents, Le Corbusier "seems to have introduced Sert to Weiner, mentioning in a letter of May 20, 1940 to Sert in New York that he could speak with Weiner about CIAM and our friends in Rio." The following year Sert and Weiner formed a partnership, Town Planning Associates, and proceeded to formulate master plans for many Latin American cities.
Lucio Costa and Oscar Niemeyer. Brazilian Pavilion, New York World's Fair, 1939.
Photo via Wikimedia.com
Josep Lluis Sert. Pavilion of the Spanish Republic, Paris International Exposition, 1937.
Photo by C.B. Freedberg. Printed in Sert, 1928-1979: Half a Century of Architecture: Complete Work by Josep M. Rovira.
Some years later, in 1953, Sert was appointed dean of the Harvard Graduate School of Design (GSD). Anthony Alofsin, author of The Struggle for Modernism: Architecture, Landscape Architecture, and City Planning at Harvard (W.W. Norton and Company, 2002), details the events surrounding the selection of the GSD's new dean. It was an unsavory affair. Of particular interest is the little known fact that "according to one account," the first choice was Niemeyer, but his membership in the Brazilian Communist Party "made him an impossible choice in McCarthy era America." One can only imagine the divergent course that North American Modernism may have taken if the Brazilian "Bird of Paradise" had a platform as influential as the GSD.
---
Leland Cott, FAIA, LEED AP, is a founding principal of Bruner/Cott & Associates, a Cambridge, Massachusetts, architecture and planning firm.
David Turturo, associate AIA LEED, is a designer with the firm, specializing in contemporary preservation theory.